There are dozens of online platforms that offer mouth-watering rewards for a variety of tasks. Some of these websites turn out to be not as glamorous as advertised or totally a scam. Many people trying to become freelancers may have stumbled on these "opportunities". While in some cases they get paid, in other cases they get scammed and lose all the time invested.
In this review I will show is Writing Jobs Online a scam or a great opportunity to earn money online.
I have worked as a freelance writer, I have hired numerous freelancers and I know how to make a living online by blogging. In addition, I have reviewed more than 200 make money online programs so I believe I'm the the right person to give you an opinion about Writing Jobs Online. My team member made some research of this company and I have added my own comments to her text.
Let's get started.
Writing Jobs Online Review
---
Name: Writing Jobs Online (WJO)
Website: www.writing-jobs.net
Cost : $47/month
Field: Freelance writing
Overall Ranking: 20 Out of 100
Have a look at my #1 recommendation to make money online as a writer. I have used it myself already for more than 2 years and it works great. I have even quit my well-paying 9 to 5 job to earn money with that website.
---

What is Writing Jobs Online About? – Money From Home Up to $5,000/month
This is a website that offers to opportunity to earn a living by writing online. They provide a variety of writing jobs, tools, software, and training. They also offer other money making activities like surveys.
This website boasts that members can earn up to $700 per month, while top earners can get up to $5000 per month.
Writing on this website includes jobs like writing content for blogs, ebooks, websites, and magazines. Even though many bloggers earn +$10,000/month making $5,000/month as a freelance writer sounds a bit exaggerating. Let's dig more into details to find out if they are just trying to fool us.
Who Is Behind Writing-Job.net? – The Guy Who Runs Several Websites
According to the information on the website, the owner is Glenn Anderson. This person also appears to own Gaming Jobs Online. Both websites feature a sales video that appears to be presented by the same person.
Another website that is like the previous websites mentioned is Photography Jobs Online. This website also features a sales video with the same lady as in writing-jobs.net. But one thing is different; the owner of this website is one Chris Page.
The information about these websites definitely raises questions and suspicions about their legitimacy. The outlook of his websites is always the same. It looks similar like Gold Opinions which we already reviewed in the past.
One characteristic to all of these websites is that when you trying to close the tab or leave the website, it gives you a notification, "Are you sure that you want to leave this page?" I am quite sure that the same guy is behind all of these pages.
Who Is Writing Jobs Online For?
Anybody who is looking to become a freelance writer and wants to make some extra cash can become a member. If you think you have great writing skills or you are just a beginner, this might be an interesting opportunity for you.
Writing Jobs Online is basically for anyone who wants to make money from the comfort of their beds.
People from outside the US can also be members of this website. This website is accessible to individuals in over 150 countries. If you are reading this, chances are your country is listed.
Do You Want a
FREE
& Easy-to-Follow
7-Day Course
to
Make Money Online
for Beginners?
Easy-to-Follow

Beginner-Friendly

My Personal 1-on-1 Support for You
Get Started for FREE Below Before this offer goes away!
The downside is that you are going to have to pay to become a member, which defeats the purpose. Considering that many legit freelance websites offer more opportunities for free, you might have to give it some thought.
How to Become a Member of Writing Jobs Online?
Since it is not a free website, you will be charged $1 for a 7 days trial after which you will be charged on a monthly basis. We always recommend that you do your research before signing up on many of these freelance websites. Several of them have numerous complaints on the Internet and are not recommended. Even the biggest ones like Freelancer or Guru.
The reason for a monthly subscription is because Writing Jobs Online will not take any cuts from your earnings. This is unlike many other freelance websites where a percentage of your earning is taken. This is what they promise at least… For instance, if you make $1000 per month, you will be paid every cent of it.
The monthly subscription fee raises a red flag for a number of reasons
1) Usually as a freelance writer you are supposed to get paid to write for businesses and individuals, but this website charges you $47 a month.
2) While free trials are a great way of getting you acquainted with a particular site, Writing Jobs Online charges you $1. On signing up, your credit card information must be provided for the trial period.
These issues raise a red flag, especially if you have to give your credit card information for a free trial sign up.
How Does Writing Jobs Online Work?
It works in 3 simple steps: You choose a job – You submit your work – You get paid. It is pretty simple, right?
How Much Money Can You Make as a Freelance Writer in WJO?
As with many freelance websites, it is not really that easy to earn so much. It can be difficult to make enough money if you do not get hired full time. With that being said, Writing Jobs Online boasts of connecting you with high paying companies.
Companies listed on the Writing Jobs Online website include CNN, TMS, lifeHacker, About.com, and so on.
They make a bold claim that you can earn up to $50 per article and $500-$1000 for ebooks. The Writing Jobs Online also claims that you can earn between from $500 – $5000 every month. That is something. These figures are definitely way too good to be true.
Normally, if you want to earn such income as a freelance writer you need to have years of experience and find great clients who are willing to pay you more than other freelancers. In my experience there are many freelancers that just charge you more but the quality of their text is similar to writers that do it for 3-5 times cheaper.
Conclusion – Is Writing Jobs Online a Scam?
There are a number of questions about Writing Jobs Online that indicate that it could be a scam.
1) Several websites are very similar to Gaming Jobs online and Photography Jobs online. It also happens that the same owner appears on two different websites. We also observed that the same person presenting a sales pitch on 3 different websites. This questions their legitimacy.
2) Another interesting find is the earning calculator. While it is possible to earn up to $14000 a month as a freelance writer, you will have to be extremely good at it. The truth is there really is no way to be sure of your monthly income as a freelance writer. So the earning calculator is quite outrageous.
3) No freelancer should have to pay $47 a month when there are many free websites that are clearly legit and offer more options. Claims such as $30 – $120 per hour or $50 per article are just for the sake of promotions. They are never that good.
4) On the Writing Jobs Online website there more than a dozen reputable companies listed as clients. For many, this raises a red flag immediately, while others just fall for it. CNN, BBC, Engadget, and wall street journal are not likely to be affiliated with a website like Writing Jobs Online. This is because they are very resourceful and will rather deal directly with their writers.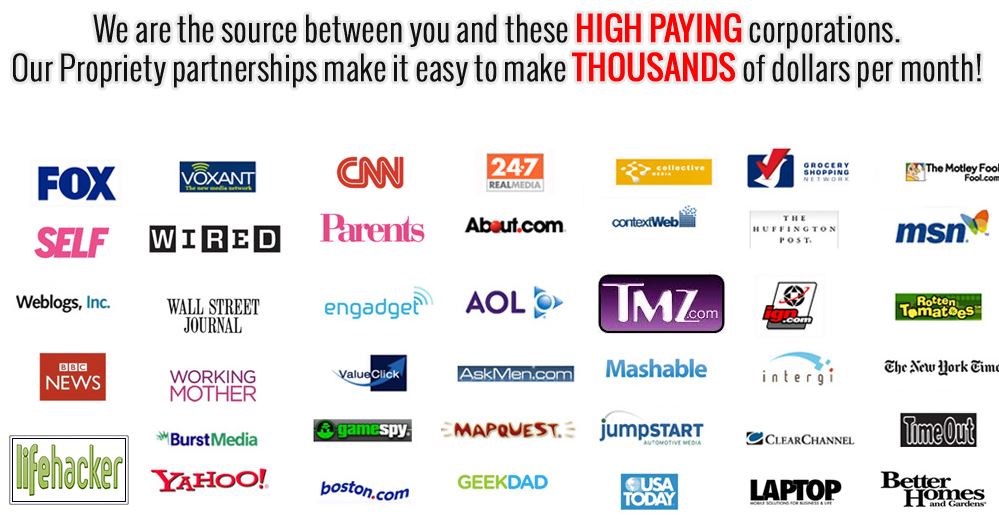 You may have read my post on 5 ways to avoid scams online. Writing Jobs Online doesn't pass my filter. However, I have great news for you because I know several places where you can earn money as a freelance writer.
Legitimate Freelance Writing Jobs Online – 3 Great Options
One of the most famous freelance marketplaces is Fiverr. It's also a great place to find work as a writer. One challenge is just that there are so many cheap competitors. I have still written some articles through Fiverr for one Finnish client because I think there are no many other Finnish writers who could produce the text that I can.
Another place where I have hired freelance writers is called HireWriters. I tried to join there as a writer but couldn't because they use only native English speakers. If you are a native English speaker, I recommend joining there and trying it out.
Third alternative is iWriter. Their platform is very nice and I have enjoyed using their services. In addition, they are currently going to make a big update on their website to make it even better.
I know also many other freelance sites where you can earn money as a writer but I think that you can get started very well with these 3 ones. They are all legitimate services and I bet you'll enjoy. Remember that success, after all, depends only on your own efforts.
7-Day Make Money Online Email Course
Learn SIMPLE steps to make a LIFE-CHANGING INCOME online. I will help you hand-by-hand!
How I Make Money Online As A Writer? – Huge Earning Potential
Nowadays I don't work as a freelance writer so much because I know even more profitable way to make money online. Your earnings are not tied to the time that you use because you are earning passive income with my technique. I write the texts and I will get paid afterwards even years after publishing my posts.
The idea goes like this:
1.I create a blog/website (Have a look at my instructions on how to create a website in 30 seconds.)
2.I write articles on subjects and topics that are interesting to me and other people (for example making money online.)
3.People come to read my content through Google.
4.I earn commissions when my visitors buy products that I promote or click my Google ads.
The process is quite simple, isn't it? The execution is also very simple but of course it requires persistence. Most likely you won't earn $10,000 during the first months. But as you build up your blog and get more visitors to your blog, your earnings will exponentially grow.
The most interesting thing is that my income grows every month. With freelance writing, you will most likely hit your income potential at some point but if you earn money with my strategy, there is not an income limit. The best ones are earning millions of dollars every year.
I bet you would like to learn to do the same yourself. That's why I'll offer you 20 FREE interactive video lessons that will get you started.
If you have any questions regarding making money online as a writer, don't hesitate to leave them below and I will be more than happy to help you out.
I would also love to hear about your experiences.
Have you worked online as a freelance writer?
Have you earned money online as a blogger?