Inspired Opinion Review Update 6/7/2018
I have now tried more than 100 survey sites in total and I created a short video below to answer all your most important questions about Inspired Opinions and other similar survey sites.
In the video, I also show you the way how I learned to make money online and have a financial freedom. I hope you find the video helpful and valuable.
If you have any questions, I will be always more than happy to help you out!
---
I have experience of more than 60 survey sites and I haven't seen any of them paying $100 per survey like Inspired Opinions promises. You may have intrigued because of their high rewards but I would advise you to read my honest review before going any further with them. I bet that this review will save tons of your valuable time.
I'm going to answer the question, "Is Inspired Opinions a scam or not?" I will also reveal the way how I make money online. I found out that earning money on the Internet is much more profitable than a regular 9 to 5 job and I believe you would also like it. Okay, let's get started.
Inspired Opinions Review
---
Name: Inspired Opinions
Cost: Free to join
Field: Survey
Earning Potential: Better than in most other survey sites but still quite low.
Overall Ranking: 40 Out of 100
Pro Tip: Check out my #1 recommendation to make money online (overall ranking 98 out of 100). I have used it already for 2 years and it works great.
---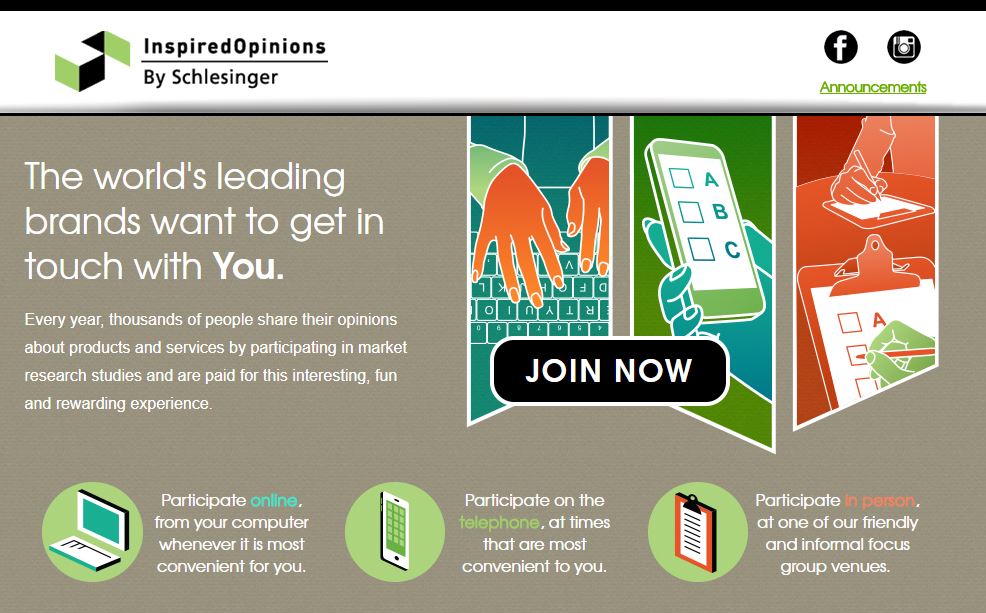 What Is Inspired Opinions? – 40 Years Experience in the Background!
Inspire Opinions is a market research website established by Schlesinger Associates. Schlesinger is a top market research provider with notable clients. They operate from offices located in London, Paris, Berlin, Los Angeles, and Frankfurt.
Schlesinger Associates is a member of respected market research organizations like the QRCA (Qualitative Research Consultants) and Marketing Research Association. They have been in operation for over 40 years.
Inspired Opinions gives you an opportunity to share your opinions about products. You can take surveys via phone, online, and in person at designated focus group venues. Like many survey platforms, the aim is to help businesses grow with your help.
Inspired Opinions is definitely not a scam survey website. Reason being that it was established by a reputable market research company. And the number of years they have been operating. There is enough reason to clear any suspicions.
How To Get Started with Inspired Opinions?
The age limit for signing up on Inspired Opinions panel is 18. You can become an Inspired Opinion panelist easily within their website.
Registration is completely free and takes only a few minutes. Once you click on the "JOIN NOW" button you will need to enter a series of basic information about yourself.
After you have completed the form, you will be prompted to create your user ID and password. The personal information entered on the website is completely secure. Inspired Opinions is legit, so you can rest assured that your information will not be sold.
How Do Inspired Opinions Work? – Invitations to Surveys By Email
Inspired Opinions has a large database collection of all the members. This database helps them link your interests and lifestyle with their research subjects. When they find a match, inspired opinion will notify you through e-mail or phone. A further qualification process follows.
Do You Want a
FREE
& Easy-to-Follow
7-Day Course
to
Make Money Online
for Beginners?
Easy-to-Follow

Beginner-Friendly

My Personal 1-on-1 Support for You
Get Started for FREE Below Before this offer goes away!
When you receive an e-mail invitation, you can choose to complete it at your convenient time. But it is advisable to complete it as soon as you can. E-mail invitations are for online surveys.
If your invitation comes via phone, then it is most likely that is how you will complete your survey. This is one the unique features Inspired Opinions has to offer. It is important to note that you can schedule your phone survey to your most convenient time. You will not be compelled to take the survey at the time that you are contacted through phone.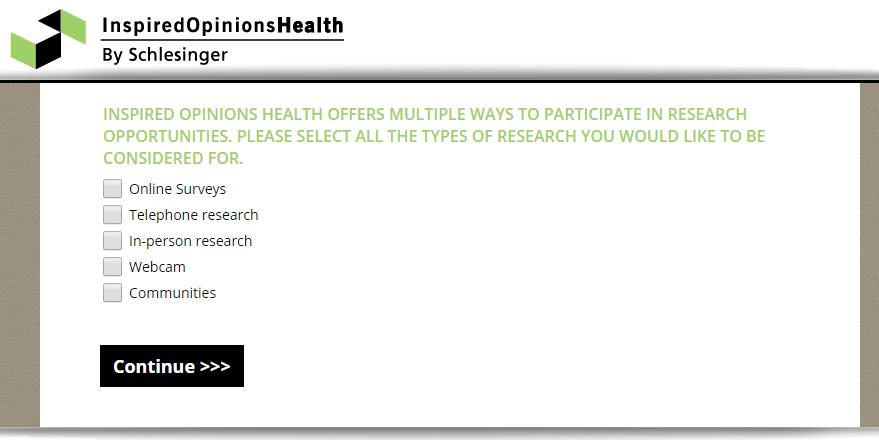 One major incentive that has motivated many to join Inspired Opinions is the focus group. Schlesinger Associates are well known for offering focus groups with very good pay.
It is common knowledge that focus group is the money tree of paid surveys. No other form of a survey can match up in payment. It is only wise for any panelist who has big ambitions to keep their eyes on focus groups. The reason for this is obvious. You can earn $100 or more for attending to a questionnaire that requires an hour or two to complete.
There is a wide variety of topics that are allocated. All the topics are about perceptions and experiences you have about products. These products can be those you regularly use or those you are willing to try out.
How Do Inspired Opinions Reward?
This panel employs a similar reward system as many other panels, which is the points system. Each panelist is rewarded by points for each survey completed; the points have a cash value.
In Inspired Opinions, 100 points are equal to $1, 1000 points are equal to $10, and soon on. These points are earned from participation in online surveys, focus groups, and phone surveys. Another way to understand the point system is, 1 point is equal to 1 cent.
Point system makes you to think you are making fast progress even though in reality they are just paying you cents.
Unlike many other panels, panelists do not get penalized through cancellation of points. You can only get more points as long as you remain an active member. To be an active member means that you completed least one survey over the last 12 months.
You can earn some extra points in a few other ways. Like when you complete your personal profile and make updates to your profile.
Before you can redeem your cash reward, you must earn at least 1000 points ($10). Amazon gift cards are the only way that you can redeem your reward. They come in various denominations from $5 to $1000, which is paid out depending on what you have earned so far.
It will take a while to reach $10 limit. That's why I think it's not very profitable to fill out their surveys. You might be interested in earning a little bit more. There is no limit to how many opinion points you can accumulate, so you can keep going for as long as you want. But, like many other survey sites, most panelists only get to take about 4 to 10 surveys monthly.
High Paying Surveys in Inspired Opinions – Reward Even $100 per Survey!
Rewards are completely different in focus group surveys. When you take part in the "in person" focus groups, you are entitled to a $100 check. The check is handed to you on the spot for your time and opinions.
That opportunity sounds a bit better than it really is. They will not give you these $100 per survey offers every day, every week or even every month. In my opinion, it's like playing the lottery. Maybe you'll win it sometimes, but usually, people are just wasting their time. What do you think?
I believe you would love to hear a few reviews from other people who have used their services. Let's take a quick look.
Inspired Opinions Reviews – Average Rating 2,5 Out of 5
There are 29 reviews of Inspired Opinions in total in a website called Survey Police. Some of the members gave them 5 stars and some of them only 0,5 stars. The average was 2,5 out of 5. I'll show you some of the most interesting ones.


I think that these Inspired Opinions complaints are pretty typical for a survey site. They send you an invitation and you start filling out the survey. Then after a while, you get a message, "Sorry, unfortunately, this time you weren't qualified in this survey." If you've ever participated online surveys, I bet you know the feeling.
However, not all of the member have been so unsatisfied with their service. Let's take a look at one positive review.

If you get lucky and have a chance to participate in those high paying surveys, then this site would be profitable for you. However, the chances are that you won't get invitations for those ones.
Conclusion – Is Inspired Opinions a Scam?
Despite all complaints against Inspired Opinions, it's not a scam. They are paying gift cards and cash for their members honestly. Still, I don't recommend wasting your valuable time on this or any other survey site because you can achieve much more by doing more profitable things.
For example, Wealthy Affiliate teaches you a step-by-step method how you can make a living online. Some members are making even +$10,000/month. It's not a get rich quick scheme so you will need to put in some efforts. But I promise you that rewards will be much greater than by filling out online surveys.
If you need any help with starting out, I will be more than happy to help you out. I have been through the process so I know what it takes to make money online.
7-Day Make Money Online Email Course
Learn SIMPLE steps to make a LIFE-CHANGING INCOME online. I will help you hand-by-hand!
What do you think about Inspired Opinions?
Do you also like more profitable ways to earn money online?
I would love to hear from you in the comments below! 🙂