Are you looking for an honest New Kajabi review? I have seen several reviews of this software online but most of the time they are biased. The writer is earning commissions from Kajabi and wants you to buy it. The purpose of this article is to inform you what is Kajabi all about and how does it work.
I will show features and benefits for you but we'll also take a look at drawbacks. Not a single software is perfect. In my opinion, Kajabi is a wonderful tool but it's not for everyone. Is Kajabi a scam? Definitely not.
Let's get rolling.
New Kajabi Review
---
Name: Kajabi
Founders: Travis Rosser and Kenny Rueter
Field: "All-in-one" Online Business Tools
Target Group: Entrepreneurs who already have a product and they want to sell it online.
Overall Rank: 75 Out of 100
Check out my favorite "All-in-one" online business tool (Overall Rank 98 out of 100). I have used it already for 2 years and I have been greatly satisfied with their service.
---
What Is New Kajabi?
Kajabi is a software and a tool that enables you to create
Online Courses
Membership Sites
Landing Pages
Marketing Emails
Checkout Pages
And Literally Your Entire Website
Let me give you an example. You have a fitness course (or you are planning to create one) and you want to sell it online. Then you can create everything you need with Kajabi.
You can create a sales page where you explain your prospects what are the benefits and why they should buy your course. Then you can create the whole sales funnel. You can add upsells, extra offers, bonuses and whatever you want. The checkout and paying will not be a problem because Kajabi has also a software for that.
Note: It's called New Kajabi because they have completely updated their software and made it new. So it's like Kajabi 2.0.
Insider's Look at Kajabi Member's Area
I decided to show you how it looks inside Kajabi so I took a short video. Notice that the account which I am using to show you around is relatively new. So, when you create an account it looks like in the video but over the time course you will go forward and things will add up.
In the end of the video, you saw the tool that I use to create my online businesses. I have used their service already for more than 2 years and I can honestly recommend it. Have a closer look at it and sign up for 100% in the link below. In addition, you don't need to fill out your credit card information like you need in New Kajabi.
Creating Websites with Kajabi Is Easy as 1-2-3
As you saw in the video, it didn't take lots of effort to create a website with Kajabi. Even if you wouldn't have any prior knowledge, you can do it. On the other hand, you need to remember that there are several similar tools out there. Weebly, Wix, WordPress, etc. Just to mention a few of them.
I have used around 10 different website builders along the way but SiteRubix platform in Wealthy Affiliate is still my favorite. You can create a website in 30 seconds by following my step-by-step instructions.
If you compare Kajabi website builder to some other software, it has sure its own benefits. Ready-built templates are so easy-to-use and they look cool. For example, the fitness template that I showed in the video is pretty straightforward. In addition, they give you tips where you could place your call-to-action and other things.
But if you want a little more freedom with your websites, I would recommend using WordPress (on SiteRubix platform). You can arrange everything on the website in a way you want. You can do many of those things on Kajabi as well but not all. WordPress has millions of independent developers all around the world. Of course, that beats Kajabi in many areas.
Do You Want a
FREE
& Easy-to-Follow
7-Day Course
to
Make Money Online
for Beginners?
Easy-to-Follow

Beginner-Friendly

My Personal 1-on-1 Support for You
Get Started for FREE Below Before this offer goes away!
That's why Kajabi is mainly targeted for complete beginners who don't have any experience of website creation. However, you can see it also on their high price. You must pay for the extra service.
Is Kajabi Any Good? – For Sure But…
Lots of people are asking, "Is Kajabi any good?" The answer is obvious. It's great!
You can build the whole sales funnel using their tools. Then people can sign up to your membership sites and you can charge monthly fees from your customers (by providing a great value for them).
In addition, Kajabi is all the time improving their tools and services. That's why their new version is also called New Kajabi. It's good to know that something you buy is always getting better. You can be sure that founders are doing their best to make your experience better. Their success = your success. That's what successful (online) businesses are all about.
You can build everything using their platform but it has also some downsides. What if you would like to move all your websites to other hosting platform or change service provider? It isn't so simple anymore.
Having all eggs in one basket makes many things easier but if you would like to change somewhere else, it will make things a bit more complicated.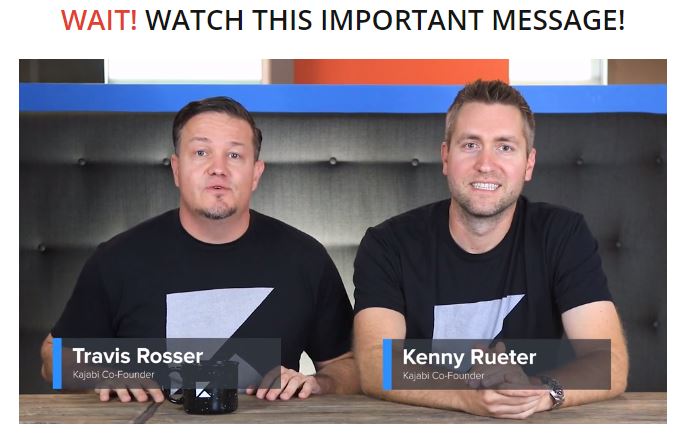 Kajabi Support – Answer in 20 Minutes

Kajabi has a comprehensive knowledge base where you will find an answer to most of your questions. However, sometimes you may need to contact their support for more information.
I asked a question and they came back to me in 20 minutes. Of course, it doesn't always happen so quickly and they don't have a guarantee to reply you within 20 minutes. But for me, it shows a good support.
Of course, some services reply even faster but we can't say that Kajabi would have a bad support. Of course, the more you pay, the better support you will get. If you buy a yearly plan, they will give you two 1-on-1 lessons that last an hour. During those lessons, they'll take you hand by hand and show how you can start using Kajabi.
Kajabi Pricing – They Focus on Value
Kajabi is not the cheapest service out there. I think they want to compete on value rather than with the price. You can see in the picture below that their cheapest "Basic" package costs $103/month when billed annually. So, you need to pay $1,236 at least because it requires annual billing.

Premium program costs minimum $719/month which are quite a large price in my opinion. If you have a small company, then you don't need it. The basic package should be enough for everyone who is starting out. However, with a basic package, you can only run one website and sell up to 5 products.
So, if you are planning to expand, at some point you will need to move up to Pro at least. The basic package is very limited also in other areas because it allows only 1,000 Marketing Emails/month.
With Pro plan, you can run 3 sites, sell 100 products and send 40,000 Marketing Emails/month.
The premium plan is suitable for you if you already have a large business. It allows you to sell an unlimited amount of products, create unlimited landing pages create your own affiliate program and much more.
Conclusion – Is Kajabi Worth It?
First of all, I answer the question that some people were asking online, "Is Kajabi a scam?" No, Kajabi is not a scam but the other question is if it's worth it or not.
I know that there are numerous people who could benefit from their services (including myself and maybe you also). Still, I don't start using Kajabi because it's not worth it for me. Their price isn't very cheap and even though they provide a great value, there are several great alternatives.
If you have a product or a very clear idea in your mind, and you want to start immediately by paying quite a lot of money, then Kajabi is great. But remember that you must be willing to invest money first. It's not a huge sum of money but more expensive than some alternatives.
I would also like to remind that success requires patience and persistence. Don't expect that hundreds of people will immediately sign up to your membership site after creating it. Well, if you have 5 million followers on Instagram, it could be possible. But otherwise, you need to work your butt off.
You will succeed. There's no doubt. But be ready to work hard. I have seen many people "trying" to make money online. Didn't work quickly and they quit in 3 months. Then I have seen people committing to online success and they are nowadays making +$10,000/month.
Is Kajabi the right tool for you? It depends on your situation. I recommend that you first take a look at Wealthy Affiliate for free and decide which one would be better for you. By the way, I will provide my 1-on-1 support for you inside member's area.
What do you think about Kajabi? Do you think it's the best tool for creating an online business?
Let me know in the comments below! 🙂
I would love to hear your thoughts and opinions. I'll reply personally to all of your comments and questions.