Have you ever built websites yourself? Or are you an experienced with these things and you know already several website builders? You may have learned already that anybody can learn to build a website in 1 minute or even less. Today I am going to show What is Weebly Website Builder and how easily you can create your very own website by using their simple platform.
Here is a quick video that I took about Weebly without using their website ever before. You can see how I build a website in 45 seconds for free. Then I already learned how to use different features in 2-3 minutes because it was so easy-to-use. Click play and get surprised 😉
Weebly Review
---
Name: Weebly
Website: www.Weebly.com
Field: Website Builders
Overall Rank:  87 out of 100
---
What Is Weebly Website Builder?
Weebly is a website builder that can help you to create a professional looking website for your business, eCommerce, weddings, sports club or for anything you need. As you saw in my quick video above, it doesn't require any former experience to build a great website with their service. It's made so simple that even a monkey could use it.
It's really possible to Create a website in 30 seconds, just like you can do with my #1 recommendation SiteRubix (WordPress) website builder. After establishing your website, you can drag & drop a different kind of features to your website as you saw in the video. However, some people say that Wix or other website builders are a bit more flexible on this.
Weebly has more than 40 million users worldwide and there are more than 325 million unique visitors on different Weebly websites every single month. We can honestly say that their service is huge and people enjoy using their services.
Weebly Support
Weebly has a very good support system because there are 4 different ways to get support.
1.F.A.Q. -Pages
They have collected most important questions and answer about their service on F.A.Q.-pages. They explain, for example, how to get started, how to use Weebly websites for email marketing, eCommerce, videos, webinars and so on. I believe that you will find an answer to most of your questions by scrolling these pages a little. Having good F.A.Q.-section helps clients and reduces workload from the support team.
2.Community Forum
Weebly has more than 40 million customers worldwide. It means they have a huge community of users. They have a forum where users can interact, ask questions and share their experiences with each other. If you have questions, you can also ask there and see if people can help you quickly.
3.Chat & Email Support
You can also ask questions straight from Weebly staff. Weebly has hundreds of employees worldwide who are willing to help you (in 2014 they had already 600 employees). You write your email, name, and question. Then support team will come back to you with an answer.
4.Phone Support
With Pro, Business or Performance plan you can also have a phone support from Weebly staff. Most of the time this is the fastest way to get help because you can reach the staff in a minute.
Weebly Pricing Plans
As you saw in the video above, you can create a website with Weebly for totally free. But for sure, by paying some money you will get even more value out of their service. In the picture below you can see their 5 different pricing plans: Free, Starter, Pro, Business, and Performance.

The more expensive plan you buy the more value you get for your purchase. Here are some differences between those 5 plans. (There are even more. Read more on Weebly website.) Did you also notice that you will get some extra bonuses with paid plans?
You will be given a Free domain and Google Adwords credits that you can use for PPC advertising. With the most valuable Performance Plan, you will also get a bonus for email marketing.
Do You Want a
FREE
& Easy-to-Follow
7-Day Course
to
Make Money Online
for Beginners?
Easy-to-Follow

Beginner-Friendly

My Personal 1-on-1 Support for You
Get Started for FREE Below Before this offer goes away!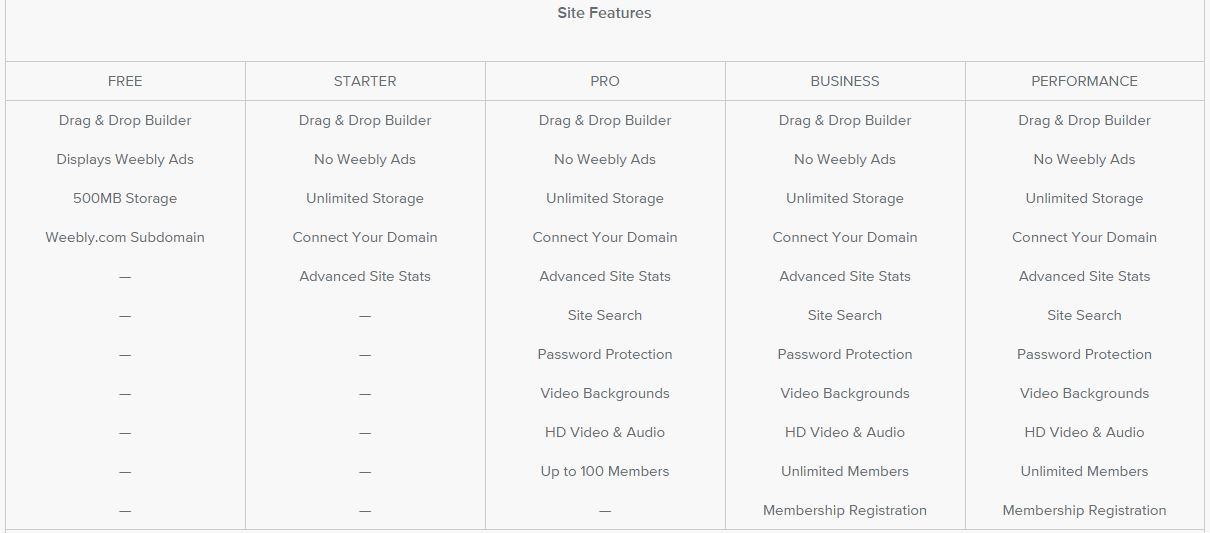 You can easily get started with a free plan and then upgrade your membership if you enjoy using Weebly.
Weebly Vs. WordPress And Other Website Builders
There are millions of Weebly websites worldwide which mean that they are using something very well. However, when I made a review about Webstarts Website Builder, one online millionaire made a really good point. 3rd party services like Weebly and Webstarts have a really hard time to catch up open source websites like WordPress.
WordPress has millions of independent developers who are enthusiastic about making it better. They are evolving website designs, mobile usage, website management tools and plugins which we have already more than 35,000.
Even though Weebly has lots of fans and many people think it's the best website builder in the world, it has some drawbacks. If you export a website to Weebly, you can modify the website in the future only by changing the code. I know from experience that it's not something that beginners would like to do.
What do you think about Weebly? What is your favorite website builder?
Pros & Cons
Pros:
Simple and easy to use
You can create a website in 30 seconds
They have a free plan
+40 million users worldwide
A big staff and support team
Years of experience
Cons:
Competitors like WordPress are providing, even more, features and plugins
Exportin websites to Weebly is not so simple
Conclusion – Is Weebly Worth It?
Yes, for sure! Trying Weebly doesn't cost anything (only a couple of minutes of your time). However, if their paid plans are worth, that's another question. I have much more experience on using WordPress and I can recommend it wholeheartedly for you as well. Sure, there are some things where Weebly is a bit more practical than WP like drag & drop website builder.
Probably the best option for you is to quickly try a few website builders and start using which one you like the most. You can (almost) always move your website from one service to another.
If you would like to learn how to monetize your websites and make a living online, have a look at Wealthy Affiliate. You don't need to have any direct customers because the method they are teaching is affiliate marketing. In means that you will earn money by promoting other people's products.
You will also learn lots of useful other skills on Wealthy Affiliate. Here are some examples:
How to create high-quality and engaging websites
How to drive traffic from Google and from social medias
How to make $10,000/month online
How to create email lists
And much more
Wealthy Affiliate doesn't cost anything to get started. You can have a free account for a lifetime if you don't want to pay anything. I will immediately give you 20 interactive video lessons and 2 websites for free. Of course, I recommend upgrading to premium because it's not very expensive either and it's definitely worth it.
=> Learn to Make Money a Living With Your Websites!
Have you tried Weebly, WordPress or Wealthy Affiliate? Let me know about your experiences in the comments below.
If you have any other questions and comments, I will be more than happy to respond you within 24 hours. So, don't hesitate to leave them below as well.