Have you ever built websites? Do you have any experience of programming or other similar skills? Would you like to have a very own website?
Nowadays you don't to use a single penny to build a professional-looking website without any prior knowledge. You don't need to know anything about programming. The only two things you need are an Internet connection and a device (laptop, smartphone, tablet) to connect to the Internet.
I took a video where I use Wix website builder without any former knowledge or experience of how it works. I had never hardly even visited on Wix website before. And in the video, I build a professional-looking website in 70 seconds. Isn't it awesome that you can create a website so fast?
Wix Review
---

Name: Wix
Website: www.Wix.com
Price: Between Free to 24,50€/moonth
Field: Website Builders
Overall Ranking: 93 Out of 100 (Check Out My #1 Recommendation, 98 Out of 100)
---
What Is Wix Website Builder?
Wix is simply a service that helps you to build wonderful websites easily. The idea is similar to other website builders like Webstarts, Webnode, and Weebly. Did you notice that all of those names start with "W"? Then we have also the biggest website builder in the world which is WordPress.
Wix is different to WordPress in several ways. WordPress has, for example, millions of independent developers all around the world while Wix is a company that runs the whole show.
Who is Wix For?
Wix is a wonderful website builder for beginners. They have pre-built templates where you only need to edit the texts in order to have a website. Have a look, for example, in the image below. I created that website in 70 seconds (the proof is in the video in this article).
However, if you are such a guy who wants to play with HTML and edit your website's programming, then Wix is not the best one for you. It is highly targeted for beginners and for people who just want it easy and simple, yet effective.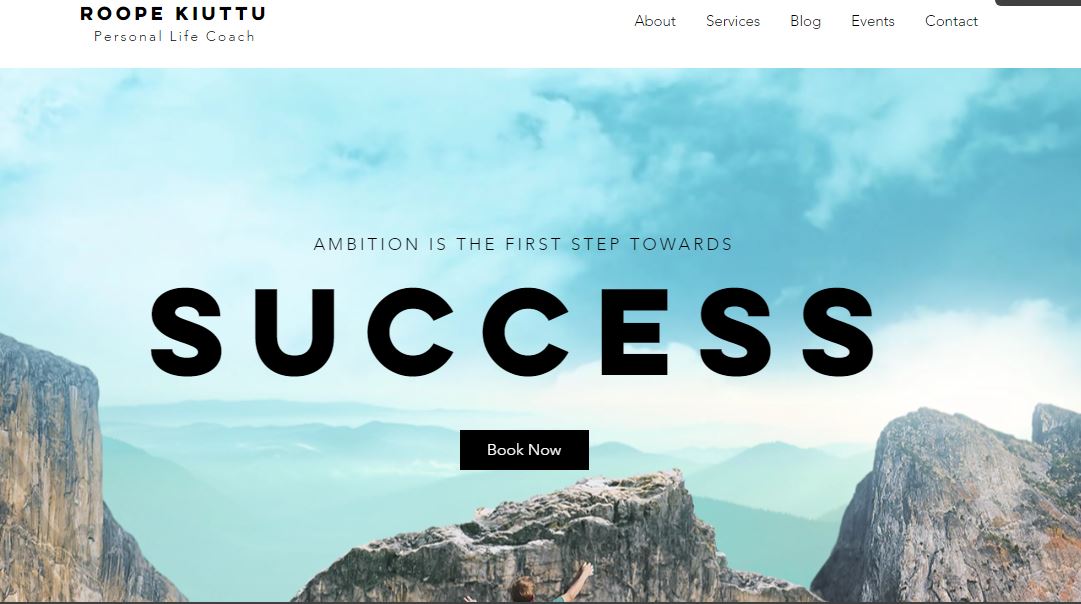 Wix Support
Wix has an ultimately comprehensive support. Their knowledge page answers hundreds of questions right away. You just enter your question or keyword in a box and you will find answers to your question.
They have also an email and a telephone support which is available 24/7. I think that it's quite "must" for so huge company like Wix to have them both.
Wix Templates Review
One of the best things in Wix are their awesome pre-built website templates. They make website creation so fast and easy. Programmers and developers have already written every piece of a code so you don't need to care about it.You just choose what kind of website you want to build and with 5 clicks you have it.
You can quickly search for templates in different categories. Here are some examples of their categories as you can see in the image below: Business, Online Store, Photography, Video, Music and so on.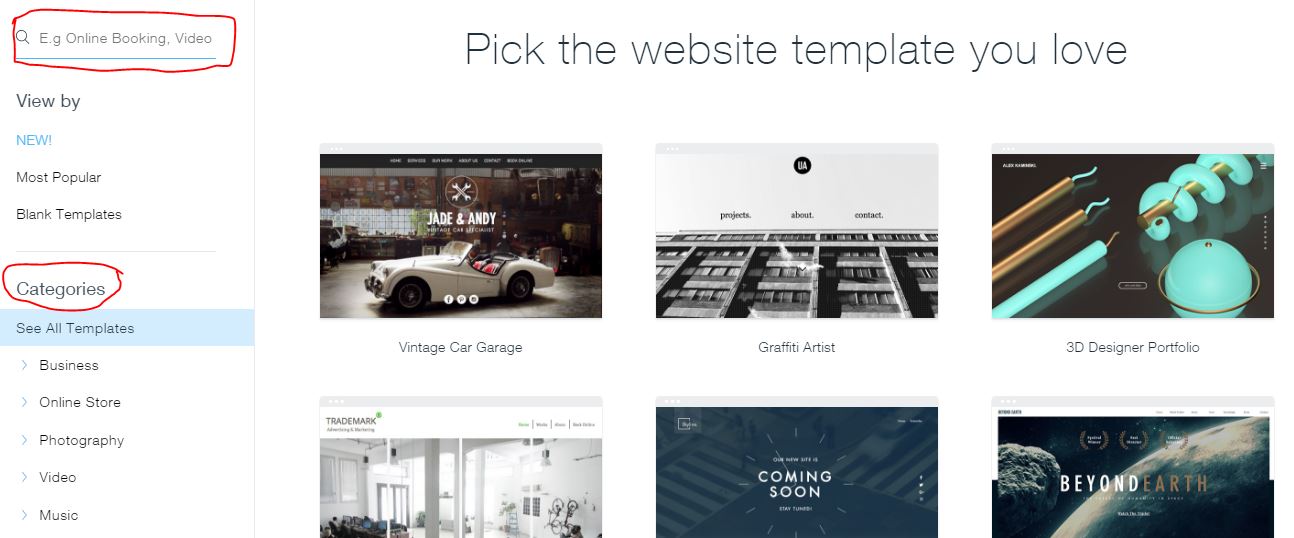 I have to mention one downside in Wix template. After choosing one to your website, you can't change the template anymore. Of course, you can edit your current website and design as much as you want and it can create a big difference.
Is Wix Website Builder Free?
Wix is advertising their services in a way that highlights, "You can build a website for free with Wix." So, you can build a website for free by using their site builder but if you want to get most out of their services, you will need to be paid plan. I recommend investing a few bucks a month for a premium plan because it gives you so much more.
You can get started for free to see how it works but eventually, it's better to use a paid plan. In the image below you can see what kind of pricing plans Wix has. At the moment there are 5 different premium memberships: VIP, eCommerce, Unlimited, Combo and Connect Domain.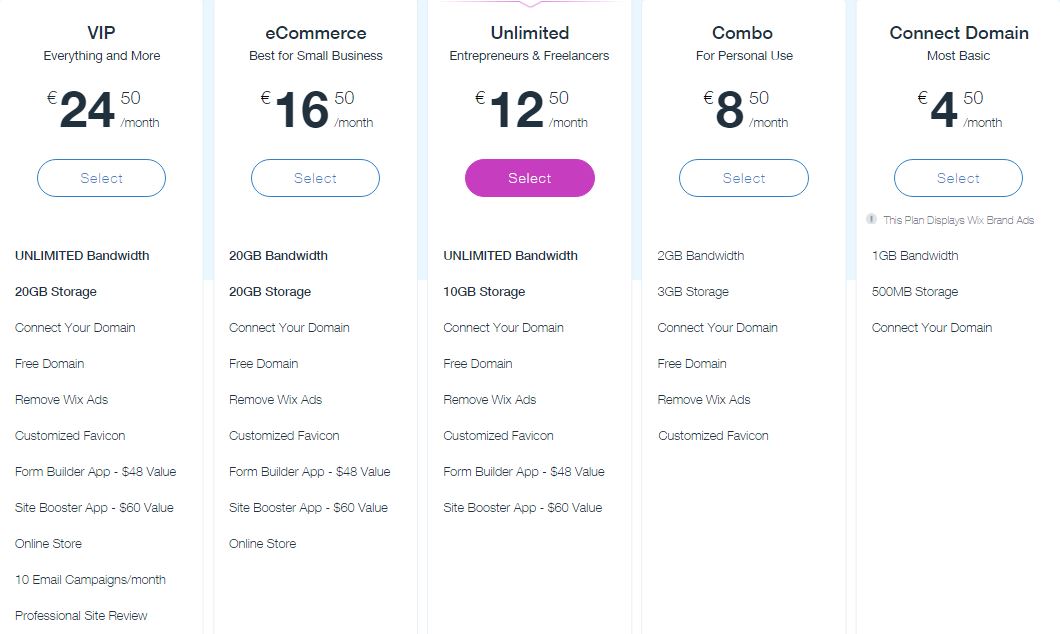 One thing I want to mention is that the cheapest (4,50€/month) plan doesn't remove Wix ads from your website. I wouldn't like to let them have free Wix ads all over my website.
The most expensive plan costs only $24,50/month. However, if you compare the difference between Unlimited and VIP, there is not very much. If you want to have your own online store, then eCommerce (16,50€/month) is the least that you need to have.
I also want to point out that these plans don't include a domain name. In the other words, you will need to invest around 10€/year to have your own domain name. But I think everyone can afford to pay that because it's only less than 1€/month. All of the premium plans include domain hosting so you don't need to invest additional money for that.
Do You Want a
FREE
& Easy-to-Follow
7-Day Course
to
Make Money Online
for Beginners?
Easy-to-Follow

Beginner-Friendly

My Personal 1-on-1 Support for You
Get Started for FREE Below Before this offer goes away!
Pros & Cons
Pros:
Hundreds (or even thousands) of professional-looking templates
You can easily edit your website for mobiles
Doesn't require any prior knowledge of building websites
Creating a website is fast and easy (see an example in my video)
Their support and help is very comprehensive
Cons:
Not optimal for blogging (with too many pages Wix site doesn't work so well)
You can't edit the CSS or HTML of your website
You can't change from one template to another (Compare to WordPress)
Conclusion – Is Wix the Best Free Website Builder?
Wix is very close to being the best free website builder in the world in 2017. On some aspects, Wix is the best. If you want to quickly build a professional-looking website for free, Wix is a great way to go.
If you are a blogger, Wix isn't optimal for you because it doesn't work very well when there are tens of pages in their website. Of course, they have developed it a lot but WordPress still works better for that.
If you want to build a website for free, I recommend following my instructions here. There you can have a very own website even in 30 seconds if you are fast. In addition, you will get a comprehensive training on how to use your website and how to monetize it You will get right away 20 interactive video lessons with tasks to accomplish and it doesn't cost anything.
For people that are interested in making money online, I recommend taking a closer look at the training here. I have friends who went through that training without any prior knowledge and nowadays they are making +$10,000/month. Of course, it took lots of hard work and effort but eventually it paid off.
Wix at a Glance…
Name: Wix
Website: www.Wix.com
Price: Between Free to 24,50€/moonth
Field: Website Builders
Overall Ranking: 93 Out of 100
Now I would love to hear from you.
Have you tried already Wix Website Builder Yourself? What kind of experiences did you have?
What is your favorite website builder and why?
Let me know in the comments below! 🙂
I promise to answer every comment personally within 24 hours.