What Is iBuilt Website Builder? Recently we have researched many different website builders. It's amazing how easily you can create a professional-looking website today in 2017. Tools have become better than ever before in the history. Even a person without any prior knowledge can have his/her own website in 30 seconds.
I have tried a few website builders with 0 experience of how they work. I have been surprised how well-developed site builders are nowadays. Even though I have been building websites already for quite a while, it's always nice to discover some new possibilities.
Today we are going to take a closer look at iBuilt. On their website, they promise that it's everything you need to do business online. Is it true or not? I think that you also need a couple of online business skills that you can learn here. Have a look iBuilt looks like without any former experience of their website or services.
iBuilt Review
---

Name: iBuilt
Website: www.iBuilt.net
Founded: More Than 10 Years Ago
Field: Website Builders
Overall Rank: 65 Out of 100 (Check Out My #1 Recommendation, 98 Out of 100)
---
What Is iBuilt Website Builder?
iBuilt is a tool that helps you to create a website for businesses. They have been online already for more than 10 years which is a remarkable amount for an online service. It's interesting if you are in a "brick-and-mortar"-business, 10 years can be a short time but in the online it's huge. The Internet is still so new invention.
If you watched the video above, you saw how iBuilt website builder looks like in action. You can add items to your website by clicking different icons. So you don't need any programming or other special skills. If you want to have a professional website, you don't need a programmer or study even a day for HTML. Programmers have done the work for you so you can use their pre-built tools.
Of course, it helps if you know a bit about HTML but it's not necessary at all. There are guys who are making +$10,000/month online without any experience of programming.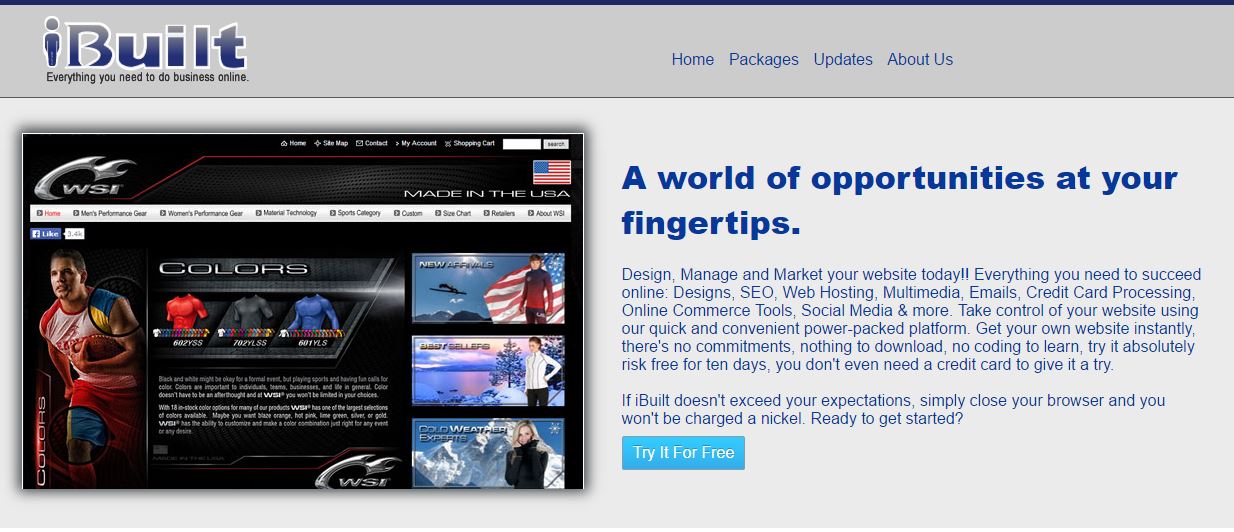 Who is iBuilt For?
iBuilt is created for anyone who wants to business online. You may have an offline business and you want to take it online, or you want to create a real online business. They have a tool for building an eCommerce website. That works very well for selling stuff online.
However, I think that iBuilt is not the optimal tool for beginners because it's not as easy-to-use as WordPress, Webnode, Weebly and so on.
iBuilt Support
In the past iBuilt had a telephone and email support. However, members were reporting problems when contacting them by email. The challenge was that even though emails went through, nobody answered them.
Nowadays they are providing support also but it's if you don't have an account, it's not so easy to find an email address how to ask questions from their support team. You can find their F.A.Q.-pages which gives an answer to most of your questions. Then you need to sign up and hope that they will respond your emails.
iBuilt Pricing
You can see iBuilt pricing in the picture below. They have three options: Essential Website ($19,95/month), Business Website ($29,95/month) and Essential eStore ($39,95/month). Essential eStore is, of course, the most comprehensive package and provides a ton of tools.

If you want to know what kind of details each package include, you can visit their website but I don't think it's worth it. You are paying for Business Website package $29,95/month but it doesn't provide even close as valuable tools like this online business service which costs only $29/month.
With Essential eStore-tool you can add up to 100 products to your online store. If you want to add more, you need to upgrade your plan to even more expensive one.
Of course, iBuilt provides some value for the buck but nowadays the competition is so tough on website builders. WordPress is dominating and then there are hundreds (actually thousands) of other smaller services who are trying to win their part of the game.
Pros & Cons
Pros:
Mobile-responsive tools
You can connect with social media easily
You can quickly build a website by using a free trial
Cons:
A bit outdated
Not so easy-to-use like some other website builders
Design looks 5-10 years old
Premium membership plans are quite expensive compared to its counterparts
Conclusion – Is iBuilt Worth It?
In my opinion, premium plans in iBuilt are hardly worth it. They are much more expensive than in similar website builders. I think that iBuilt could have been an interesting builder 10 years ago but today in 2017 it's just outdated.
Do You Want a
FREE
& Easy-to-Follow
7-Day Course
to
Make Money Online
for Beginners?
Easy-to-Follow

Beginner-Friendly

My Personal 1-on-1 Support for You
Get Started for FREE Below Before this offer goes away!
I stumbled upon a website that had user reviews of iBuilt. Did you know what? All of them were from 2011 or earlier. They didn't have even a single review from the last 5 years. I am not sure how much iBuilt is even updating their services anymore. Probably they are because they have a tool to improve your website's mobile view. But still, this tool can't reach even close to the level of other website builders.
If you are interested in making money online with a business, I highly recommend taking a closer look at Wealthy Affiliate.
iBuilt at a Glance…
Name: iBuilt
Website: www.iBuilt.net
Founded: More Than 10 Years Ago
Field: Website Builders
Overall Rank: 65 Out of 100
Have you ever tried iBuilt or other website builders? Which one was your favorite? Why?
Let me know in the comments below! 🙂