Our iWriter review is divided into two parts. In the first part, we will discuss how you can use iWriter for outsourcing your content writing and the second part walks you through how you can make money as a freelance writer.
I have bought several articles on iWriter so I have written the first part based on my own experiences. The second part is written by our writer who has more experience on earning money on iWriter.
I am sure you will enjoy and find our review helpful.
Want to Get My 7-Day Email Course to Make Money Online?
Enter Your Email Below to Steal My PROVEN Formula to Create Your Own "Money-Making Machine" In a Week...
We respect your privacy. No Spam.
iWriter Review
---
Name: iWriter
Website: www.iwriter.com
Field: Freelance Writer Services
Overall Rank: 95 out of 100. iWriter is one of the best platforms that I have used so far.
I bet you are also interested in My #1 Recommendation with Overall Rank 98 Out of 100. It's a training that teaches how you can make money online by doing your passion. I signed up there 2 years ago for free and I haven't looked back.
---

What Is iWriter? – A Great Place to Outsource Your Content Writing
I am a blogger and an online business owner. I know from my own experience that the most time-consuming part of making money with blogging is content writing. Creating a website and making the design takes only a few minutes but producing content is an ongoing process that you need to keep on doing day in and day out. If you stop posting new content, over the time course your blog will die.
iWriter is a platform where you can outsource your content writing even for a very cheap price like $1,50 for a short article. The higher value and the longer article you want, the more you should pay of course. However, sometimes you get a great writer for a cheap price. Maybe some experienced writer is just starting out on this platform and collecting positive reviews to build up his reputation. Or a full-time writer takes your article because the subject is interesting and easy for him.
Anyhow, iWriter gives you a 100% satisfaction guarantee. It means that you can ask revisions as long as you are fully satisfied. If you don't like the freelance writer, you can give him a rating but somebody else will write the article for you. That's what I have done if I wasn't satisfied with the quality. It doesn't pay you anything extra. In my opinion, the writer needs to be able to provide the content that fits exactly your requirements.
How to Outsource Content Creation on iWriter?
I recorded you a video review of iWriter to explain their service in-depth. I also show the process of buying articles through their website.
The process is very simple. You just need to fill out the following template and click, "Submit Project".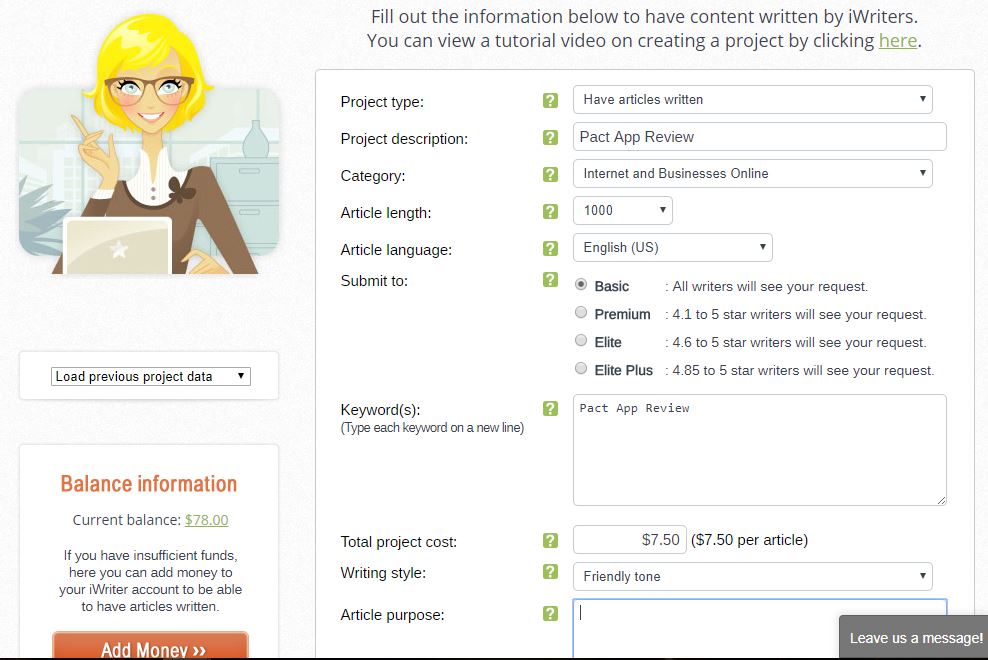 Then you'll just wait that the writer will finish the article and you'll be notified. Many I have received my article within a few hours so they are pretty fast. Then you can have a look at the article.
If you are satisfied with the text, you can download it immediately. If you want that the writer re-writes it or a better writer gives you a text, you can ask for a revision.
Benefits of Outsourcing Content Writing – More Profit for You!
I have written an article where I explain 4 reasons to outsource your content writing. In my opinion, the greatest benefit is that it gives you more time to accomplish other tasks and take your business to the next level.
Guess how many billionaires have become billionaires by doing all tasks themselves? I guess that the number is 0. Of course, you can make a living as a solopreneur but if you want to have even a greater impact on this world, you need to outsource some tasks. There are people who have great abilities to do many things. Why wouldn't you use their talent?
Do You Want a
FREE
& Easy-to-Follow
7-Day Course
to
Make Money Online
for Beginners?
Easy-to-Follow

Beginner-Friendly

My Personal 1-on-1 Support for You
Get Started for FREE Below Before this offer goes away!
If you use $10 for an article that pays you $100 over the time course, I think it was a great investment. In the online business getting profits is not linear and you will earn money even after years after publishing the content. You can get even 10,000% ROI for your outsourced articles. The potential is huge. Other great places to outsource your content writing are HireWriters and Fiverr.
---
Okay, now the first part of the review is over and we are going to take a look how you can make money on iWriter. Also, if you have any further questions on buying articles through their website, don't hesitate to ask me in the comments below.
Making Money on iWriter as a Freelance Writer
iWriter is an online platform where you can write articles and get paid for it. On this second part of the article we are focusing on 'How to make money on iWriter?' and hence we will only talk about being a writer on iWriter. The iWriter Platform offers writers a chance to make as much money writing articles as they can, this, therefore, means the writer earns depending on the number of articles he/she has written.
It should be also noted that the articles written by the writer must be approved by the client and hence the quality is crucial. Therefore, quality articles have the highest chances of being approved by the client and hence the writer who worked on them is likely to earn more. With all that said, iWriter can be a great source of income.
4 Levels of a Writer – Your Income Goes Up
iWriter provides four levels of writers currently. When you first sign up as a freelance writer, you automatically become what is referred to as a 1.Standard Writer. This is the most basic level and as such the earnings for writing articles are less, and for that matter, the least, compared to the other higher levels. This is, however, the norm everywhere, as you have to climb yourself up.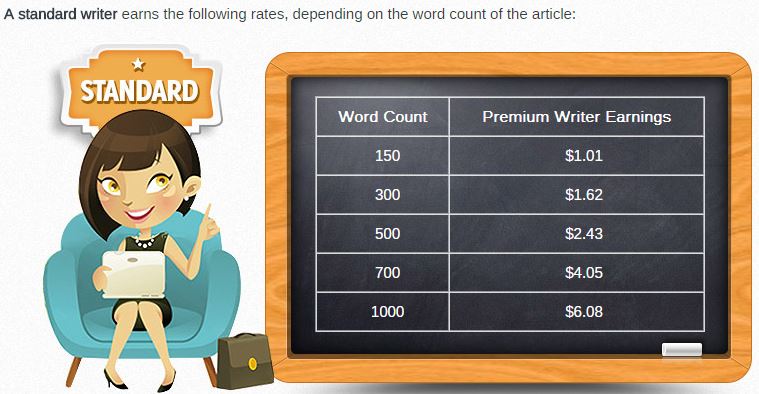 As you write and submit your articles, your clients will approve or reject them. Apart from that, the client will rate your article based on your writing skills. The rates range from 0 to 5 stars. It goes without saying that the higher the ratings you get, the faster you climb up the ladder.
After being a Standard Writer therefore for a while, depending on your rating and number of articles you have successfully submitted, you may be upgraded to a 2.Premium Writer. As a Premium writer, your earnings per article increases. Depending on your rating as well as your number of articles you will be upgraded to become a 3.Elite Writer and your earnings subsequently increase. The highest rank is being a 4.Elite Plus Writer which earns your colossal amounts per article.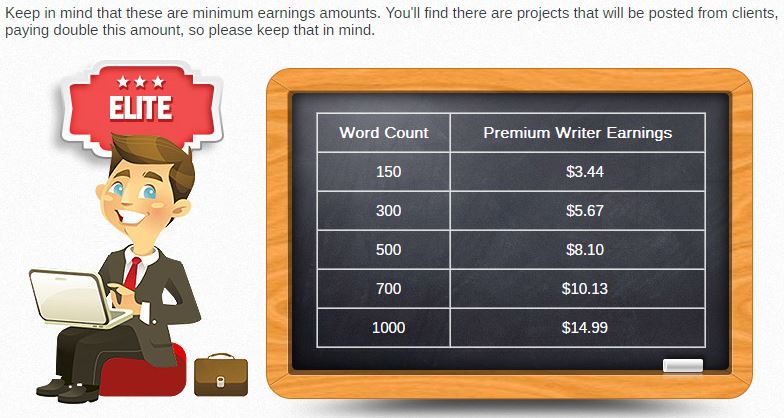 Payment of your articles will be automatically credited to your iWriter account immediately the client approves your article. You will be able to later transfer the funds to your preferred account or bank once you achieve your minimum limit. The transfer is executed periodically, usually after every two weeks.
How to Get Started on iWriter as a Freelancer?
When you first register, through a simple process, you acquire the login details. When you are logged in, you are taken to the iWriter home page.
On the homepage, you click on 'Write content' which takes you to a list of all the available articles which need to be written. You then choose the article you would like to write, but first click on 'Special Instructions' to know what exactly the client needs. After that, click on 'Write Article' and go ahead and work on it.
Be sure to adhere to all the instructions given by the client including the minimum word count. When you are done writing, check for grammar errors and the click on the 'Submit Article'. When that is done, you wait for the client's approval of your article.
If the article satisfies his/her requirements, he/she will approve your article and give you a rating. As soon as he/she does that, your account will be credited with the article amount and you will be notified.
The more you write the articles, as long as they are approved by the client, the more you earn. This also helps in making you climb up the ladder and hence more money.
How Much Can You Earn on iWriter?
This is a question most will ask. Let's take an example of a Standard Writer who earns $2.43 for a 500-word article. If therefore you write only two articles per hour, this again depends on your speed and hence can be more or less, then that translates to $4.86 per hour. If you work for 8 hours a day, then that comes to $38.88 a day. Again, this is a freelance writer who is starting off.
For an Elite Plus Writer who earns $28.35 for the same article, therefore, using the same example it would translate to $56.7 per hour and a whopping $453.6 per day! Now you can answer for yourself whether that can replace your regular income. It should be clearly noted that the amount you will earn as a freelance writer with iWriter will purely depend on the effort you put into writing the articles and their quality.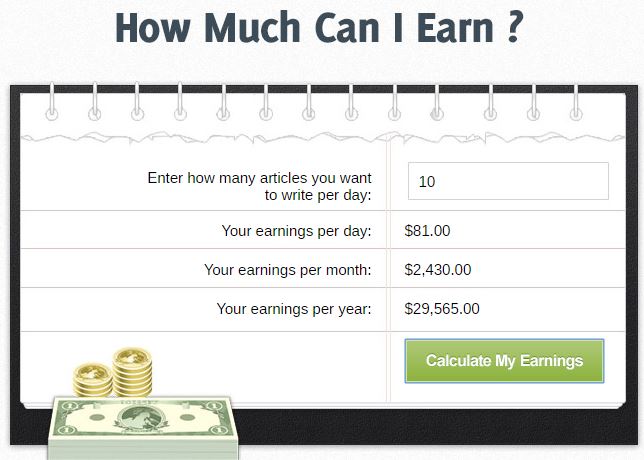 It's completely possible to write 10 articles of 500 words per day and even more. Of course, then writing is a full-time job for you. But imagine that you are living in a cheap country like Thailand, Philippines, Latin America or East Europe. You would be living like a king with $30,000/year.
How to Make More Money on iWriter?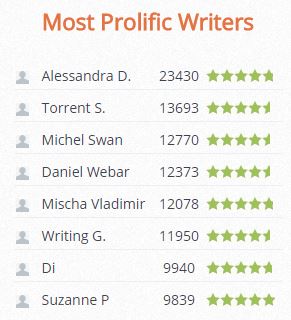 The most basic way of increasing your earnings as a freelance writer with iWriter would be of course to write more articles. Let's say that you earn $30,000/year by writing 10 articles per day. Then you would earn $45,000/year by writing 15 articles per day. If you would be living in a cheap country and earning like that, you could achieve financial independence quickly and even retire if you want.
The other open secret is in the quality of your articles. The higher the quality of articles you write, the most likely they will be approved with a good rating from the client. A good rating would mean you climb up the writing ladder and subsequently your earnings increase as a result.
Writing quality articles would mean you will have to do a couple of things. First, you have to pay great attention to special instructions given by the client. This is critical because the client is the one with the authority to approve or reject your article with a rating, hence strive to always leave him/her happy. Secondly. you should do your research well before writing any article. Thirdly, make sure you understand what the article is all about for you to answer it accordingly.
These may sound like simple things but I (Roope) have ordered tens of articles online and most of the writers don't understand simple instructions. I say, for example, that answer X questions and use them as sub-headings. Then write max.6 paragraphs per sub-heading and max.4 sentences per paragraph. You would be amazed how few writers will follow those instructions carefully.
Apart from writing articles, you can also earn more by being an iWriter Affiliate. This feature allows you to own part of iWriter and hence share the profit. iWriter pays 50% of their profit for affiliates. So, if they earn $10 because of the client that you referred to iWriter, you'll earn $5. If they earn $100, you'll earn $50 and so on.
7-Day Make Money Online Email Course
Learn SIMPLE steps to make a LIFE-CHANGING INCOME online. I will help you hand-by-hand!

You Can Become Elite Writer in 1 Day!
One can ask, suppose you are a seasoned freelance writer, do you have to start with being a Standard Writer on iWriter? Then answer is, not necessarily. iWriter has an interesting feature where you can be given a number of articles to write which will be evaluated and rated by the iWriter team at a small fee and you are assigned a level depending on the average rating you get. Isn't that good news?
You need to have 30 reviews from your clients. These prove that you have already experience as a freelance writer. Then you need to pay $197 fee to start the process to get qualified as an Elite writer. There is this fee so that only those who are serious about becoming Elite writer will apply. Of course, they also need to pay the salary for their employees who check your request.
Then you will write 3 based on the keywords that they'll provide to you. iWriter will give you a star rating of those articles and calculate an average. In order to become an Elite writer, your average must be over 4,5 stars which mean that your ratings of those 3 articles must be at least 5, 5 and 4 stars. If you get on average between 4 and 4,5 stars, you will be upgraded to a Premium writer.
This whole process takes sometimes only 1 day so if you know that you're a great writer, it can be a great way to boost your income.
Whether you choose to be a freelance writer with iWriter in your free time or take it up as a main source of income, be sure to earn a good income from it if you put all your effort in it.
iWriter Complaints – "My Article Was Rejected"
I saw that several writers were complaining that their article was rejected and they didn't get money from that. I believe it must be frustrating to make a little research, write an article and get rejected. That's why I would pay attention to your article quality.
I am not going to approve texts that have lots of grammatical mistakes and the writers haven't even followed my instructions. In my opinion, there's nothing wrong to reject such articles. Unqualified writers need to watch themselves in the mirror and ask why their articles are rejected.
There are writers who almost never get rejected because they provide high-quality work for clients.
Anyway, as a client, you won't have this challenge. You can just order articles and approve texts only if you are satisfied with the content.
---
Conclusion – Is iWriter Worth It?
Based on the reasons that I have given above, iWriter is definitely worth it. You can make a good profit by outsourcing content and publish it on your blog or website. If you are a skillful writer, you can make a living on iWriter. In addition, it gives you the opportunity to work from home or wherever you are in the world with an Internet connection.
My experience shows clearly that iWriter is not a scam. I have received several articles using their platform and I will be using it in the future as well. Why wouldn't you try their services as well? It's completely free to create an account and you can order your first article within 2 minutes.
I hope you have enjoyed our iWriter review. If you have any questions, don't hesitate to leave them below and I will be more than happy to help you out. I would love to hear from you.
Have you used iWriter or other freelance writing marketplaces?
Which one is your favorite and why?
As usual, I promise to reply to all of your comments and questions personally in the section below.