Is Modere a Pyramid Scheme? 2019 Updated Review
You are probably looking for an updated Modere review, right?
I have just published a new Modere review 2019 on my YouTube channel that you can watch below.
You must watch the video until the very end if you want to learn the best way to make money with Modere.
If you have any questions regarding Modere or making money online in general, don't hesitate to ask me in the comments below and I will be more than happy to help you out!
More...
---
Are you wondering is Modere a Pyramid Scheme? You have come to the right place. I am not affiliated with this company so I'm ready to give you an honest review of their system.
In my Modere review, I will show how their system works, what kind of products they offer and the most important, I'll answer the question "Is Modere worth joining or not?"
Let's get started!
Modere Review
---
Name: Modere
Founded: 2013 from an Old MLM Company Neways which was founded back in 1987.
Cost: Startup Cost $29,95. They also encourage you to buy "Builder Collection package" for $399.
Type: Health & Wellness MLM-System
Short Review: There are probably hundreds or even thousands of similar MLM-programs like Modere. It means that the competition is tough in this industry. You can definitely succeed if you are hardworking and you know what to do. But I would consider twice whether Modere is the best one or not. More about it later…
If you are looking for ways to earn money online, you will enjoy this step-by-step training that has taught myself and thousands of other people to make a living online. (It's completely free to get started, unlike with Modere.)
---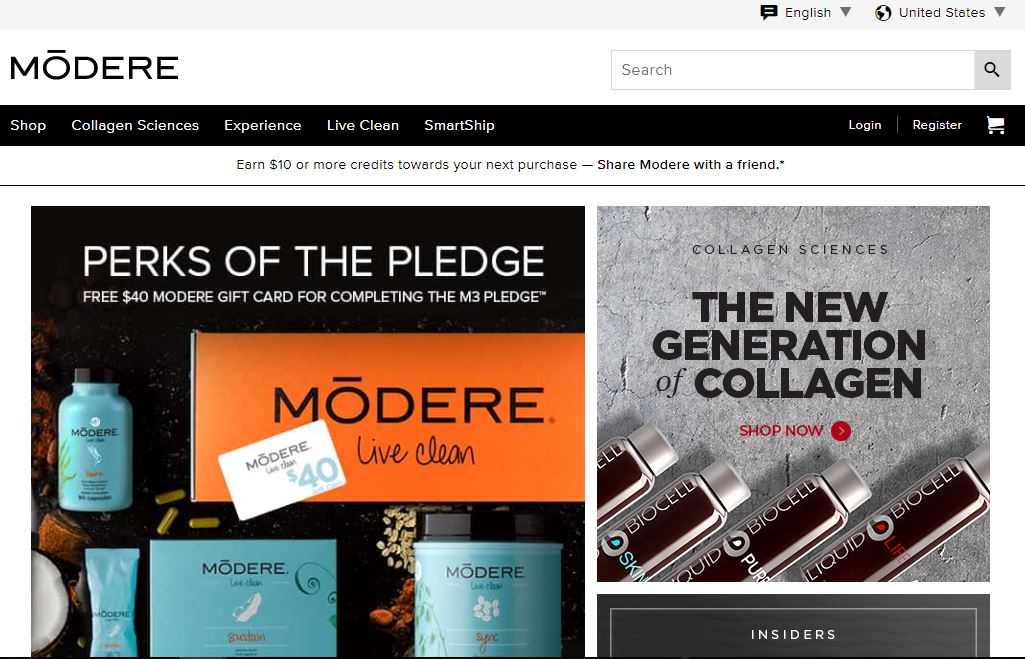 What Is Modere?
Modere is a relatively new company which was created in 2013. However, they have a long history of more than 3 decades because the company is before known as Neways. Even though Neway's reputation wasn't the best their annual revenue was more than $300 million. After changing their name into Modere, the business has still grown as you can see in the Google Trends:

The CEO of Modere is Robert Conless who started with Neways in 2012. In the past, he has been a CEO of big MLM-companies like Xango and Nu Skin. This shows you and me that at least the CEO of Modere is very experienced. That's, of course, a positive sign.
But CEO is not going to make you successful. You need to do the work yourself. Your success will also be highly dependent on the quality of products that you are selling. Let's have a closer look at Modere Products in the next chapter.
Modere Products
Modere has a large variety of products in different categories:
Health & wellness – skin care, nutrition products, active & targeted health products, and weight management
Personal care – body, mouth & hair
Household care – cleaning, kitchen stuff, and laundry products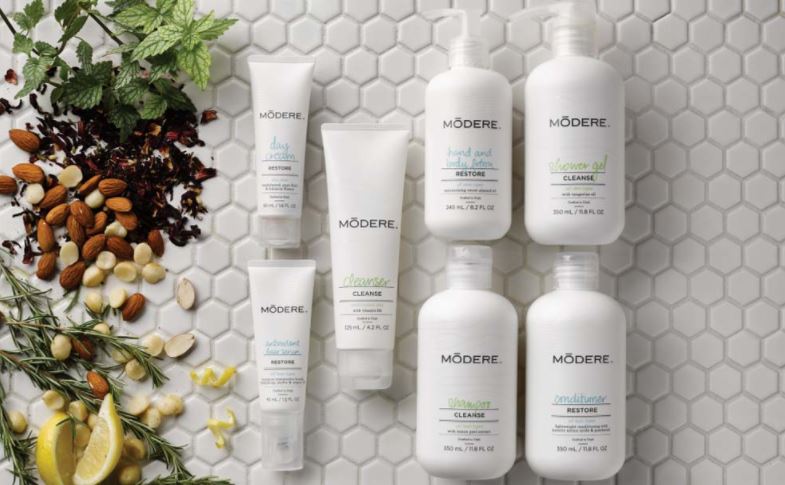 Modere wants to draw you an image of clean, safe, eco-friendly and stylish products. They do it actively with fresh branding and marketing. As you can see in the picture they use a lot of white color in their products and bottles. White symbolizes cleanliness.
Are these products superior to their competitors like Perfectly Posh, Thirty-One Gifts, Younique, Jeunesse and tens of others? I believe it depends highly on personal preferences. Many products offer more or less the same quality and price so it's up to the customer to decide which one he/she wants.
Do You Want a
FREE
& Easy-to-Follow
7-Day Course
to
Make Money Online
for Beginners?
Easy-to-Follow

Beginner-Friendly

My Personal 1-on-1 Support for You
Get Started for FREE Below Before this offer goes away!
The market of these products is so huge that there isn't a lack of customers. People all around the world want to use health, wellness, personal care and household products. I don't have the exact data but I have a gut feeling that the market is even growing all the time when developing countries are getting richer. What do you think? Let's discuss in the comment section.
I know from experience that the competition isn't an excuse for not succeeding. There are around 50 almost exactly similar companies in the area where I live in Austria. Still, all of them get their own market share. The company's success depends on its individuals if the offered products are more or less the same.
In addition, I am making money online using the exact strategy and products like tons of other people. All of us get our own share. There are so many people are looking for the same products.
Modere Compensation Plan
There are tons of different bonuses in their system. With those bonuses, they are actively encouraging you to build your team and downlines. Like in all other MLM-programs, there's a high focus on recruiting new distributors because it keeps the system growing.
When you continue as a distributor of Modere they'll offer you also so-called Lifetime Experience bonus. This reward allows you to enjoy premium access to sporting events, concerts, personal stylist and so on. But remember that you need to make enough sales each month in order to stay in the system.
If you don't make enough sales you can also buy their products to remain in the system. This is what a big part of Modere (and other MLM-distributors) distributors do and that's one reason they end up spending more money than they earn from the program.
Modere Reviews – Why 95% of People Fail in MLM-Businesses?
Modere is still a relatively new company so there aren't tons of reviews unlike about older MLM-companies like Herbalife, Amway, and Mary Kay.
However, I still found several articles written by reliable online marketers regarding Modere. All of them had more or a less similar view of this system.
They admitted the tough competition in the health & wellness industry and said it will require work and persistence to succeed. On the other hand, that's the situation with any kind of business.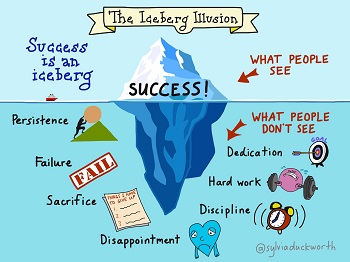 The reason that +95% of people fail in MLMs and spend more money than they earn is that they treat it like a hobby, not like a business. What is the difference between a profitable business and a hobby?
When you have a hobby you do it usually only when you feel like it. You spend time with your hobby a couple of times a week. Some weeks you want to spend a little more time and some weeks you don't feel like it at all. And by the way, we usually spend money on hobbies. We don't usually earn money from them unless we are highly exceptional and treat it like a business.
When you are building a successful business, you have a goal what you want to achieve. You are going to get the result no matter what. You show up whether you feel like it or not. But after all, you have a burning desire to succeed. The main reason to spend time with your hobby is that it's fun.
When you have an interesting business it's also fun but that's not the only reason to do it. You don't just "try" if it works out. You don't just "have a look if I get lucky". When you want to succeed in business put 110% effort into it until you get the result.
Those are main differences between those who succeed and those who don't.
Conclusion – Is Modere a Scam Or a Pyramid Scheme? Is It Worth Joining?
Modere is not a scam nor a pyramid scheme. Even though every MLM-system has a pyramid structure, they are not called pyramid schemes if they have real products or services that they are offering.
If you have fallen in love with Modere products, I don't see any reason why you wouldn't join them and start selling their products also for others. On the other hand, if you don't especially like their products, I don't see a good reason to join it.
Personally, I prefer affiliate marketing over multi-level marketing for many reasons. One of them is that affiliate marketing gives you more flexibility and you are not "married" with one company and their products. You can promote any products you want and diversify your income. I don't even remember from how many different websites I'm earning money at the moment but it's more than 10.
If you want to learn to earn money online like I do, start this step-by-step training for completely free. I'll send you a personal welcome message inside and offer you my 1-on-1 support to help you succeed. (Note: This is not a MLM-system!)
That training will help you also to become successful with MLM because you'll learn how you can reach thousands of people effectively from the comfort of your own home. I bet you'll love it.
---
What do you think about Modere?
Do you have experiences of MLM-systems? Has some of your friends or family members succeeded with a MLM-business?
Let me know in the comments below! 🙂
Also, if you have any questions or comments regarding this article or earning money online, in general, don't hesitate to leave them below. I love to hear from you and I'll reply you personally.
~Roope