Perfectly Posh MLM Review 2019
I have just published an updated Perfectly Posh review on my YouTube channel that I highly recommend watching below.
In the unbiased Perfectly Posh review video, I answer ALL your relevant questions regarding this company:
What is Perfectly Posh?
Is Perfectly Posh a scam or legit?
What is the BEST way to make money with Perfectly Posh?
Etc.
Watch the video until the end because there I reveal you my #1 recommendation to making money from home.
If you have any questions, don't hesitate to leave them in the comments below this video or article and I'll be glad to help you out personally.
---
Today we are going to take a closer look at a relatively new MLM-system called Perfectly Posh. Some women are almost screaming, "Wiihii, this system is so cool!" With pink logos and girly interface, they are targeting women with their products.  Is it worth joining? Is Perfectly Posh a Pyramid Scheme? Find out an answer to all your questions in the next 3 minutes by reading our honest review.
Perfectly Posh Review
---
Name: Perfectly Posh


Website: www.perfectlyposh.com
Founded in: 2011
Field: beauty products
Overall Ranking: 40 Out of 100
Perfectly Posh isn't in the list of our recommended systems.
I bet you would love to see My #1 Recommendation to make money online. It has an overall ranking 98 Out of 100. Hundreds and thousands of people have quit their 9 to 5 jobs because of this opportunity
---

What is Perfectly Posh? – MLM-System for Beauty And Wellness Products
Perfectly Posh is Cosmetics Company founded in 2011 by Ann Dalton and Andrew McBride and has its headquarters in Salt Lake City, USA. The company uses the Multi-Level Marketing (MLM) strategy to sell and market its beauty products. Their target group is women who are looking for natural beauty products that are free of harsh chemicals. Their products are for everyday use for women and can be used on all skin types with no adverse effects
Perfectly Posh's mission is to provide womenfolk with quality products that are natural and are kind to our skins. A lot of negative reviews have come to light claiming the products don't work and are of poor quality.
Perfectly Posh is neither a scam nor a Pyramid scheme, they have products that sell, but also still we don't recommend you to join in this company because you can find lots of complaints from the consumers about its product quality. The company is not taking any initiative of addressing issues raised by improving their products which are said to be too harsh on the skin.
Even though it's not a scam, it's not something that I could fully recommend.
Perfectly Posh Products – Too Expensive?
Perfectly Posh products include lotions, soaps, massage balms, fragrances, lip glosses and balms, body butter and shea butter. These products aren't tested on animals and don't contain parabens, animal bi-products, gluten, soy or any other harmful substances. All their products are made using natural ingredients that nourish our skins.
The products are beautifully packaged to attract customers just like any other beauty products company would do. The company claims that their products are good for all skin types but some consumers have reported irritation of the skin after using their products. The majority of consumers who have purchased their products don't offer many positive reviews. Some consultants even warn their clients that some of the products are not safe while selling these products.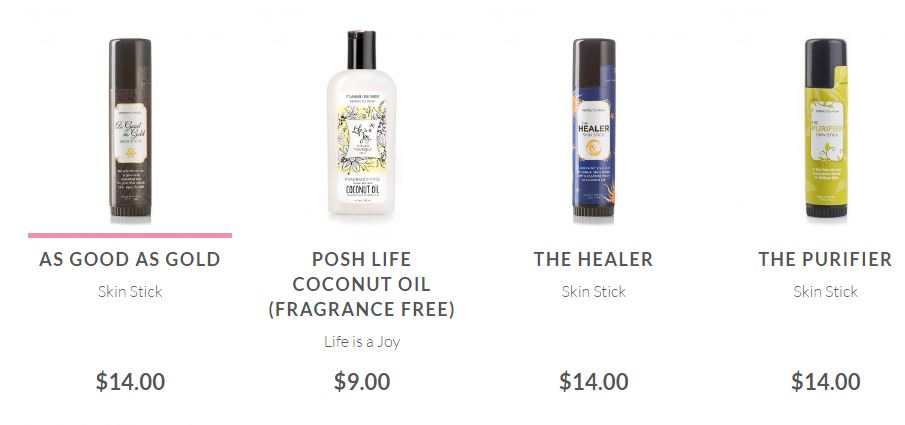 The products are overpriced considering the quality and quantity you get. But don't dismiss them yet. What could work for one person may fail for another? You could start by ordering a sample and testing on your skin. Natural products tend to take longer to act so it's important to exercise patience. Make sure to do a thorough research about the products and if you have sensitive skin, take extra caution before using them.
Perfectly Posh products look somehow similar to Mary Kay products. Both are MLM-systems and both prices are very expensive.

Perfectly Posh Commission Structure 
Just like every other multi-level marketing company, you have to invest in them before reaping any benefits. For you to work with Perfectly Posh, you need to buy a starter pack for 100 dollars. The kit comes with 19 different Posh products. As you use them and sell or give other people, you earn a 20% to 31% commission for each sale.
With a multi-level plan, you can earn an additional commission when you introduce other people to Perfectly Posh and they purchase these products. This is called downside bonus which is 6% for every sale the person you introduced makes. In other words, if you bring in someone and they go ahead and sell products too, you'll receive an additional percentage of their efforts.
Do You Want a
FREE
& Easy-to-Follow
7-Day Course
to
Make Money Online
for Beginners?
Easy-to-Follow

Beginner-Friendly

My Personal 1-on-1 Support for You
Get Started for FREE Below Before this offer goes away!
For you to make a substantial amount of money, you will need to constantly recruit people who can sell these products. Your referrals need to keep selling and to give you the bonus pay as well as your sales. Your recruits will earn 20% to 25% commission from the first tier and 1% to 6% commission on a different level. That means you can also earn passive income from the recruited members of your downline.

With the quality of their products being questioned, it can be a hard task to earn a remarkable income from selling Perfectly Posh products. Building a direct sales business is no easy task and many people rarely make it. You need to make an insane number of sales and recruit many people to help you build a downline that ultimately determines how much you will take home at the end of the day.
With that said, many people are earning a living from this company. A lot of skill and dedication is needed to attain a certain level of success. You need to generate new leads every time after exhausting your family and friends to keep your chain growing and replacing the weak links that are not generating sales. Without new people joining your business, it's impossible to sustain your business in the long run. If you don't like constantly recruiting new people, I would recommend a better way to make money online.
Perfectly Posh Training and Support
Once you join Perfectly Posh, your consultant who introduced you will provide you with information on the products and initiate you into the world of selling Posh beauty products. The consultants are trained by the company to pass the information to new recruits.
There are training materials available online for the consultants through the Perfectly Posh Academy. In this site, consultants can learn about the products and get valuable training from experienced consultants. You also get to learn about the products being launched and the ones going out of production. The company organizes events and conferences in different cities where their associates can meet and learn from each other as well as meeting the founders and management.
Perfectly Posh is very supportive of it agents. Through their website, all question or issues raised can be addressed by a team of dedicated staff. They also have telephone lines where you can get in touch with the team at the head office. Consumers can review the product through forums online and the company is responsive.
Now, a lot of people might think that Perfectly Posh is some type of a pyramid scheme but that isn't the case. This company has a product that is being sold and you make money on products sold, not only enrolling new members. A good number of people are earning a decent income through this company. Their products have received mixed reviews but the majority say their products work. Just with any brand, you can't be able to satisfy every client so the focus should be creating better products that best serve their consumers.
I would like to share a short training video by a Perfectly Posh distributor. She teaches how you can earn money by selling their products even without arranging any parties. She explains how she makes most of her income by selling Perfectly Posh products online. If you would like to make money online by selling other people's products, I recommend starting this free training. I have used it myself and it works like a charm.
Conclusion – Is Perfectly Posh Worth It?
In my opinion, there are better ways to make money online than Perfectly Posh
Even though Perfectly Posh is not a pyramid scheme, I can't recommend it. Their products are very expensive. What happens with most MLMs is that there are so many hands who want to get money so the customer needs to pay the much higher price than normally.
I wouldn't like to be a businessman who is selling 2-4x more expensive products than in any supermarket. I could always say, "But hey, my products have much higher quality!" Anybody can say this and 95% of the time MLM-products don't have a better quality than normal products. That's just the cold fact.
I prefer affiliate marketing over MLM for many reasons. Instead of selling overpriced products you can provide discounts and bonuses for your clients. And I am not meaning the same kind of "discounts" that you provide in MLMs. "Get a huge 50% discount on this product that normally costs 5x more than in your local supermarket." With affiliate marketing, you can sometimes give discounts even from the real market prices.
In affiliate marketing, you don't need to recruit new people or try to convince your friends and relatives. The focus must always be on helping people to improve their life.
If you would like to become a successful affiliate marketer, I recommend taking a look at Wealthy Affiliate. They offer +12 hours of free video training and 2 free websites to help you to get started. WA is a community of successful affiliate marketers and for those who are still learning. I will offer you my 1-on-1 mentoring and support to help you to succeed online.
Have you tried Perfectly Posh? What kind of experiences did you have?
Do you also prefer other ways to make money online?
Let us know in the comments below! 🙂