Today we are going to take a closer look at one of the biggest MLM-companies in the world. Even though it has been already around for over 37 years, there is a lot of controversy around this business. Is Herbalife a Ponzi Scheme? You will get an answer to that and your other questions in the next 3 minutes.
---
Name: Herbalife


Website: Herbalife.com
Founded in: February 1980
Field: Nutrition and Personal care products (MLM)
Overall Rank: 40 out of 100 (Check Out My #1 Recommendation. 98 out of 100)
---
What Is Herbalife?
Herbalife is a leading network marketing company that sells products for health & wellness, and personal body care products. The company was founded by entrepreneur Mark Hughes in 1980, and it claims to have employed around 7,800 people worldwide. Herbalife is a direct-selling company, which means you cannot buy its nutritious snacks, protein shakes, vitamins, energy products, skin and hair care products in stores. However, these products can be ordered directly from a Herbalife member or purchased via online retailers.
In July 2015, the company claim to be operating and distributing its products in about 95 countries around the world through a network of over 3 million Herbalife independent distributors. These Herbalife Independent distributors tend to earn a profit on product sales, and additional commission from a multi-level marketing compensation structure. In 2014, Herbalife reported net sales of US$3.825 billion. The goal of Herbalife is to improve the nutritional habits of the world, one person at a time, and to offer people a way to work for themselves while offering great nutritional products.
Herbalife Products
Herbalife has a huge selection of products for weight loss, energy, fitness, and complete body nutrition. They obviously have tons of products, but I will just list a few;
Weight management products – you can find the Formula 1, Protein drink mix, Protein powder, herbal tea concentrates, snack defense, formula 3 activator and so on.
Targeted Nutrition products – They have Herbalifeline, mega garlic plus, nite works, woman's choice, triple berry complex, xtra-cal advanced, herba aleo powder, flora fiber, and many more suiting different age and health management issues.
Energy and fitness supplements – This include; Liftoff, fitness drink, Herbalife24, green tea.
Personal care products – Herbalife skin, and Herbalife aloe bath & body care.
Yes! There have been a lot of success stories over the years by consumers using certain products, and as well a few cases where the products did not settle well with the consumer. But let's not forget that our body reacts differently to certain things, therefore not everyone will probably experience good results.
Prices of Herbalife products really depends on what type of products you are looking to buy. The majority of the people I know are looking to lose weight, and on the average spend about $200- that will get the Advanced Program and an extra shake. To view prices for Herbalife products, you can simply create an account on the Herbalife website or contact a Herbalife Independent Member in your area. Alternatively, you can check prices for certain Herbalife products on Amazon.com.

Herbalife Prices
MLM-products are 99,99% of the time overpriced. Why? Because there are so many hands between you and the producer who want to take money in-between. If you want to buy exactly similar nutrition products, they may be 2 times cheaper (it, of course, depends on the country).
Some MLMs have totally crazy prices and you need to pay even more than 10 times more than in a supermarket. Herbalife's prices are not so crazy but, of course, they are still overpriced because this is an MLM-system. That's why I prefer affiliate marketing over MLMs because I can offer people products for the best price and sometimes even with a discount. If I would be a network marketer, I should sell those overpriced products which is against my conscience.

Herbalife Commission Structure
Herbalife independent members buy Herbalife products in bulk, and can then either consume them or resell them to earn income. However, to earn income; they are paid based on the usual multilevel-marketing model. This means that they earn commissions, which comes not only from the products they sell but also from bonuses related to sales by new members they recruit (passive income).
There are two Herbalife Member Packs:
The Mini HMP which contains sample-sized products at $59.50
The FULL HMP which contains full sized products at $92.25
As you advance as a distributor of Herbalife, you gain access to product discounts from 25% to 50% and commissions that are paid when distributors in your downline make purchases from the company. In other words, the more Herbalife protein shakes, skin care products or nutritional supplement that members you signed up buy, the more money you will eventually make and move up in rank as well. That motivates Herbalife distributors to sell more.
However, you have to understand that it is not that easy because you and your recruits will need to buy a whole lot of these products and supplements worth several thousands of dollars' before these bonuses kicks in and there comes even a bigger risk- if you do not drink or resell the products you buy, or return them within a specified window of time (usually 90 days for the first purchase), you will be stuck with them.
I find it deceitful that most recruiting distributors, usually don't explain to the new recruits how difficult and expensive it is to advance in rank. Instead, most recruits are simply made to think that with hard work they can make a lot of money from Herbalife. Sadly, it is always a different story.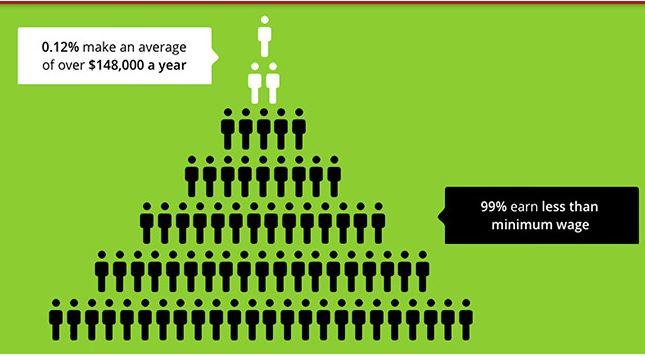 Pros & Cons
Pros:
You can start with low start-up costs around $108 for the standard opportunity pack or $78 or so for the mini-pack.
Herbalife allows you to sell at your own pace and set your own hours.
Very well-established, company has been around for over 30 years
Products mostly have a good reputation.
Good retail margins on products.
Genuine retail sales are made to genuine retail customers
Cons:
Outdated stairstep breakaway compensation plan.
Many people claim that Herbalife is a scam and that very few people can make a sustainable living by selling the products, which can give you a tough time promoting it.
Less than 1% of the people make +90% of the money
There has been some previous litigation in at least 2 countries I know of.
Products are overpriced
Most people lose money on Herbalife. Some people even tens of thousands of $$$.
Conclusion – Is Herbalife a Ponzi Scheme?
Overall, I conclude that Herbalife is a legal and ethical multi-level marketing company that offers health-related products to the end consumers. The company is undoubtedly one of the biggest network marketing companies in the world.
However, its MLM operating module still affirm that it's a big deal making a living out of it. You should also be aware that there is a massive failure rate because of the competition, skill-set, and exposure that most recruit lack. But still, let's not forget the company has survived for decades in an industry where most companies don't even last a year, so they must be doing something right.
Do You Want a
FREE
& Easy-to-Follow
7-Day Course
to
Make Money Online
for Beginners?
Easy-to-Follow

Beginner-Friendly

My Personal 1-on-1 Support for You
Get Started for FREE Below Before this offer goes away!
I don't recommend selling Herbalife products at least in U.S. and most other countries because they are just too overpriced. You can get much better products on the supermarket or from a direct retailer. I was in Indonesia and some people were selling Herbalife products. There buying them would have been more reasonable because it was so hard to find any other protein supplements in town. Still, the prices were huge if compared to other prices in Indonesia.
If you are interested in becoming your own boss and making money online, I recommend Wealthy Affiliate. It is an online "university" and a community of online entrepreneurs. They have a step by step training how anyone can start making money online. I know people who have started without prior knowledge and are nowadays making +$10,000 per month income.
Wealthy Affiliate is not an MLM-system. You don't need to buy your own products or invest ANY money if you don't want. You will have 20 interactive video lesson (with tasks), 2 websites and my 1-on-1 mentoring for free.
I hope that you enjoyed our Herbalife review. Now I would like to hear from you.
Have you been in touch with Herbalife? What kind of experiences did you have?
Let me know in the comments below! 🙂