Netflix and YouTube changed the movie and video industry. Facebook helped us to connect with each other. Amazon and Alibaba revolutionized eCommerce world.
Will Send Out Cards be the next big thing? Are they going to revolutionized the card industry? At least that's what they are talking about. Is Send Out Cards a scam or do will they really change the world? What kind of business opportunity do they provide?
I will answer to all your questions in this article. I strongly believe Send Out Cards is not going to be the next Netflix, Facebook, Amazon or anything similar. Let me explain you why.
Want to Get My 7-Day Email Course to Make Money Online?
Enter Your Email Below to Steal My PROVEN Formula to Create Your Own "Money-Making Machine" In a Week...
We respect your privacy. No Spam.

Send Out Cards Review
---
Name: Send Out Cards
Founded: 2003 by Kody Bateman
Type: MLM-Program. Cards and Other Gifts.
Short Review: Send Out Cards has chosen a unique unique industry in MLM-scene because they are concentrating solely on cards. They have been already more than 14 years in the business which shows that they have done something right.
I don't see their company as a good money-making opportunity. You can make pocket money by selling their cards but the most money is done by recruiting lots of new people. Only less than 1% of distributors on top of the pyramid make a significant amount of money.
If you are looking for better work from home opportunities, I recommend taking a look at My #1 Recommendation. It has helped thousands of people (including myself) to make a living online by doing what they love.
---
What Is Send Out Cards?
Send Out Cards (SOC) is a multilevel marketing created by Kody Bateman back in 2003. I have researched tens of network marketing companies but Send Out Cards is the only one that solely concentrates on cards. They have chosen an interesting industry.
There are thousands of MLM-programs in the nutritional industry like Herbalife, Isagenix, Mannatech, etc. Then there are thousands of beauty & cosmetics MLMs like Avon, Thirty-One Gifts, Perfectly Posh, etc. But do you know some other network marketing companies in the card industry? Not many.
The values Send Out Cards represents are basically good… They talk about sharing love, kindness, and strengthening relationships with your loved ones. However, anybody can talk a good talk but it's another thing to do it in action. Send Out Cards has a nice idea but it lacks good execution.
Anyway, let's move forward. First, let's have a quick look at their products and then we will start analyzing their business opportunity more in detail.
Send Out Cards Products – Different Kind of Gifts
You  can send almost any kind of cards on SOC. They have different kind of templates where you can choose from. Then they have also many other kind of gifts that you can send. In the picture below you can see a few examples:

They offer, for example:
Wine Bottle Holder
Oreos
Gift Set
Playing Cards
Caramels
Etc.
Still, the company's core competence is with any kind of cards. That's what their name also represents. But as we can see they have expanded on also other fields over the years. It's typical for MLM-companies to enlargen their product catalog when they start getting more members and business is growing.
If you love their products, it could give you more motivation to join their program. Otherwise, it wouldn't make a lot of sense to promote them. You need to convince yourself before you can convince others, right?
Okay, now let's have a closer look at their business opportunity. How does it work? How much does it cost to join? How much can you earn? Let's take a look!
Do You Want a
FREE
& Easy-to-Follow
7-Day Course
to
Make Money Online
for Beginners?
Easy-to-Follow

Beginner-Friendly

My Personal 1-on-1 Support for You
Get Started for FREE Below Before this offer goes away!
How to Get Started with Send Out Cards Business?
They different options to get started:
Personal Bundle $195
Marketing Bundle $395
Business Bundle $795 and
Monthly Subscirption $39/month
Below you can see a quick overview what these different packages provide.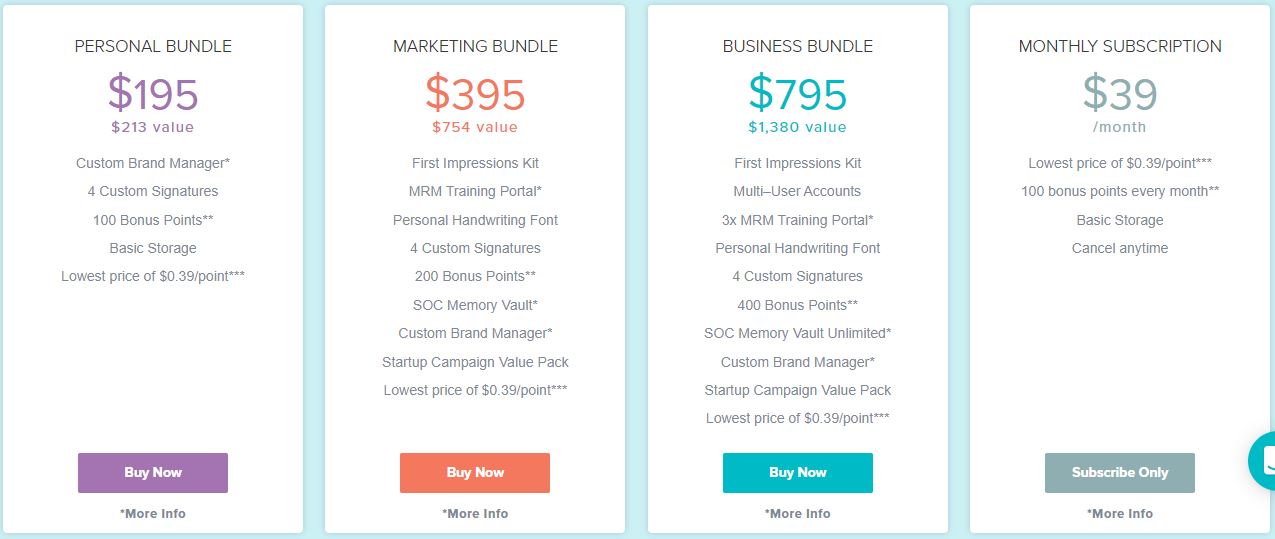 At this point you may be asking are we really talking only about the cards. I mean the prices for memberships are so huge. $795 for the business bundle. Couldn't you just create your own card business by buying them from Alibaba and selling on Amazon for much less?
Anyway, this is what they provide for you to get started. At least it's easy because you don't need to do the hard work at this point. They want to make it easy for you to get your  to become their member. However, this is the only place where this business is easy (=this phase where you give money for them).
Send Out Cards Compensation Plan & Income Opportunity
How much can you really earn with the system? Let me first give Send Out Cards a chance to explain their system for you in the video below. I warn you that the video is highly promotional and it doesn't really show how much work you would need to do to achieve success.
You can have a look at Send Out Cards compensation plan here. They will pay you bonuses and commissions up to 7 downlines and in some cases for unlimited downlines. In the other words, there's a big focus on recruiting new members.
I have also studied the Send Out Cards income disclosure statement from several years. It clearly shows that the biggest part of their representatives earn less than 100$/year. Usually, in MLM-programs 2-5% of all members make good money but with Send Out Cards only around 0,5% or less make good money.
So, we can honestly say only a couple of people are really succeeding with the system. If you are interested in having a look at their income disclosure, you can check out 2015 disclosure here.

In the picture above you can see a little glimpse of their report of 2015.
81,42% of distributors belong to "Qualified Distributor" group. Their average earnings are $29,95/month.
11,10% of distributors belong to "Manager" group. Their average earnings are $59,93.
Keep in mind that a few guys in these groups earn hundreds of dollars per month so they raise the average. Anyway, we can quickly see that almost nobody is earning good money with their system.
"Send Out Cards is a great way to make little or no money." -Ethan Vanderbuilt
Strict Marketing Rules on Send Out Cards
You are not allowed to promote their system on your own websites if you are their distributor. It's hard to understand why they are making such rules because it would be much more effective.
Distributors could create niche websites about cards and promote this opportunity there but for some reason it isn't allowed. You are only allowed to use their official website. This is another big reason which makes their income opportunity unappealing.
Send Out Cards Reviews – Nobody Recommends It
There are lots of Send Out Cards reviews written by famous Internet marketers like Dom Wells, Nathaniell Brenes, Ethan Vanderbuilt, Jesse Singh, etc.
None of them recommends this system.
For me it's always a big sign if many experienced entrepreneurs write negative reviews of some system. In fact, it's one of the most important scam signs. Why would successful entrepreneurs criticize the system if it would be really so good.
You may be wondering why there aren't many negative reviews written by Send Out Cards distributors. The simple reason is that they aren't allowed to say negative about the company. They need to keep up the facade to draw a positive picture about SOC.

Conclusion – Is Send Out Cards Worth It?
Thousands of people have joined their MLM-opportunity and it has been worth it for only a few of them. Most distributors have lost time and money with this business opportunity.
Of course, you could buy some cards from their distributors if you want but I recommend staying away from their MLM-system. Save your time and energy for better possibilities.
Because you read this far I am sure that you are interested in work from home opportunities. I have good news for you. I make my living online and I have many friends who do it as well. This website YourOnlineRevenue.com is created to help you to earn money online.
I have reviewed already hundreds of make money online opportunities and my #1 recommendation is still Wealthy Affiliate. It's especially good for beginners who don't have former experience of online marketing but I know some people inside the community who have earned money online for +10 years and they still love WA.
Wealthy Affiliate is not an MLM-system. It's a step-by-step training and a community that teaches you everything you need to know from zero to hero for making money on the Internet.
---
What do you think about Send Out Cards? Do you have friends who have joined this or other MLM-programs?
Do you prefer making money online rather than going to a 9-5 job?
Let me know in the comments below! 🙂