Gaming Jobs Online Review 2018
I have just created an updated video review of Online Gaming Jobs that you can see below.
In the end of the video, I show you the 4-step process to make money online as a gamer so I advise that you watch until the end.
If you have any questions about making money online as a gamer, don't hesitate to ask me and I will be more than happy to help you out.
---
Would you be interested in earning $39,063 per year by playing video games? Well, who wouldn't?
That's what Gaming Jobs Online promises. They say that you can easily earn $39,000 per year through their website. Based on my researches of more than 300 make money online program I know that a website that promises lots of easy money is usually a scam.
Is Gaming Jobs Online Legit? Could you really make a living just by playing video games online? Spend the next 1-3 minutes and I'll give you an honest answer.
Gaming Jobs Online Review
---
Name: Gaming Jobs Online (GJO)
Website: www.gamingjobsonline.com
Cost: $1 for 7 days, $27/month
Type: Earn Money Online by Playing Games
Short Review: Gaming Jobs Online is another online scam with exaggerated promises. You can earn some money through their website but the numbers they are presenting are certainly too much. Their website is a part of a suspicious network of services that give lots of false promises and wrong information.
That's why I just recommend staying away from their service. Don't give them your credit card information.
If you are interested in making a living online, have a look at My #1 Recommendation. I know people who make a living on online gaming industry through that website. However, you don't need to be interested in games to make a money there. You can choose an interest and build an online business around your own passion.
---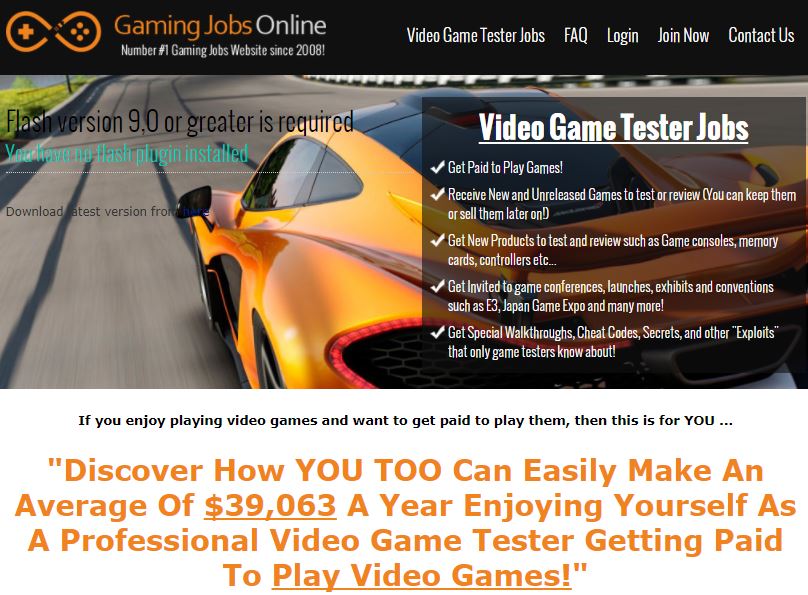 What Is Gaming Jobs Online?
Gaming Jobs Online is a website that promises to pay you for playing games. Here are a few claims they make on their homepage:
You can earn money by playing games no matter where you live. This opportunity works in more than 150 countries.
You can decide how much you want to work.
You will earn easily $39,000 and if you are hard-working there's potential for more (even $180,000/year).
They have tons of high paying corporations as their partner who are ready to pay you for playing.
Does it sound a bit too good to be true? Well, I have a freedom to work wherever and whenever I want. I have friends who make +$10,000/month by doing the exact same thing like I do. That's why I know that there is a small possibility Gaming Jobs Online could be talking true.
Let's take a closer look!
How Does Gaming Jobs Online Work?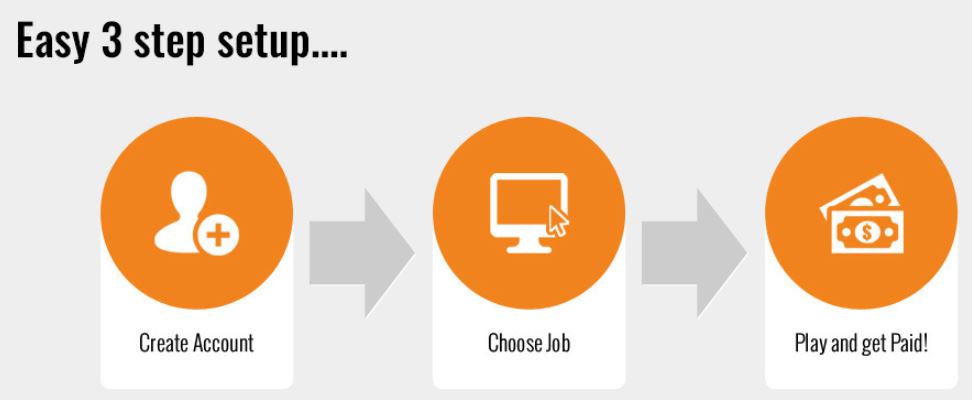 Getting started on GJO isn't hard. You just create an account and choose which jobs you want to do. Then you play and get paid.
However, do notice that they ask your credit card information and some money right away when you want to join. They offer a 7-day trial for $1. Afterwards, the membership costs $27 per month. That wouldn't be too much if you could really earn easy $39,000 with the help of their website.
But what kind of jobs do they really provide?

Do You Want a
FREE
& Easy-to-Follow
7-Day Course
to
Make Money Online
for Beginners?
Easy-to-Follow

Beginner-Friendly

My Personal 1-on-1 Support for You
Get Started for FREE Below Before this offer goes away!
The picture above shows that they also offer online surveys and an opportunity to get paid for watching trailers and movies.
The reality is that Gaming Jobs Online is only a platform of links to other "get-paid-to" sites that pay you for answering surveys and doing some mini tasks like playing games. I have reviewed more than 80 such websites and I know that the numbers in the picture above are hugely exaggerated. Your typical earnings on such GPT-sites is only $1-3 per hour.
Gaming Jobs Online doesn't offer jobs. They just offer links to other (low paying) websites.
There are many reasons why I don't trust on their website. Let me show you a few red flags.
#1 Red Flag – 

Huge Promises
I make money online and I know lots of online entrepreneurs who do it as well. It's a fact you can make a living online and there are tons of ways to make it. However, there isn't a push button to riches. It requires work and persistence to make a sustainable living on the Internet.
Once you have worked and you have passive income flowing in it gets easier. But it certainly requires work and time to get your business to that level.
There's a calculator on Gaming Jobs Online that lets you calculate your potential earnings by using their service. I put all variables to maximum and took a look at the potential. Here's a screenshot.

It says that my yearly income could be $182,000. Well, I definitely believe in a few years I probably will be making such income but not through their website. They are promising "easy" $39,000 which just isn't reality. In addition, $182,000/year income will be hard to achieve for most people. It requires lots of sacrifices and hard work. We can forget the "easy money" here. 😉
#2 Red Flag – 

Exactly Similar Websites Weren't Reliable Either
You may have seen already similar websites that use exactly the same concept of Gaming Jobs Online. I have written an article about each of them:
These websites have lots of similarities and they are probably created by the same person/company. Here's a list of a few characteristics:
Similar platform and design
Similar exaggerated promises = "Earn easy money online!"
Similar false information. (For example, they say that a special offer ends tomorrow. Even if you would check the page after a year it's still ending "tomorrow.")
Similar pricing. $1 trial and $27 per month afterward
Similar business model. They offer lots of links to other websites but don't offer a money-making opportunity on their own platform.
Similar pop-up. Sometimes when you try to leave the website pop-up appears and it asks if you really want to leave the site.
All of these websites are extremely shady and I recommend that you stay away from these "xxxxx Jobs Online" opportunities.
#3 Red Flag – 

Part of a Suspicious Affiliate Network
Gaming Jobs Online is a part of Clickbetter affiliate network. They don't have a reliable reputation among affiliate marketers. Many online entrepreneurs claim that most ClickBetter products and partners are just blatant scams.
That's not a good sign for us.
#4 Red Flag – 

False Information on Their Website
As I mentioned above, they always give an information that their special offer expires tomorrow:

That "special offer/promo" has been there already for years. It doesn't seem to come to an end. In other words, they are just lying to you. I wouldn't trust websites that openly lie.
Gaming Jobs Online Reviews
Also, other reliable online entrepreneurs have written and published reviews of this site and they have noticed the same like I did: GJO is not a recommended opportunity.
They pointed out that there are opportunities online to make money as a video game tester but it requires experiences and sometimes even a degree. Usually, testing is only a small part of a job.
However, you could make money by testing video games and writing reviews of them with affiliate marketing. I make money online with affiliate marketing but I don't promote video games myself. I have wasted way too much time during my life on online games and now I want to spend my time more profitably.
One possibility to make money with video games is become the best of the best and win competitions. However, that's only for a very few and it requires an ultimate commitment and sacrifices. If you are not willing to play 15 hours per day, I recommend looking for other options. 😉
Conclusion – Is Gaming Jobs Online a Scam?
Gaming Jobs Online is not a reliable website and I highly recommend staying away from their services. There are much more reliable and profitable opportunities out there so you don't need to spend more time on sites like GJO.
I bet that you are interested in earning money online because you have read this far. Am I right?
That's why I would like to introduce Wealthy Affiliate for you. It's a step-by-step training and community of people who make money online. I landed on their website some years ago. I didn't know anything about affiliate marketing. I just thought earning big money online is only for a very few people and most people are just fooling.
However, I am glad I took a closer look. I started their training and it taught how I could make a living online as well. I'm glad that I found their training. It was definitely a life-changing thing for me. Now it's a payback time and I am ready to teach how you could make money online as well.
Joining Wealthy Affiliate is completely free. You get several awesome resources right away: 2 free websites, 20 interactive video lessons, my 1-on-1 support and much more. I offer personal support and mentoring as a bonus for those who join through my website.
7-Day Make Money Online Email Course
Learn SIMPLE steps to make a LIFE-CHANGING INCOME online. I will help you hand-by-hand!
---
Have you made money online by playing video games?
Did you check out Wealthy Affiliate training?
Let me know in the comments below! 🙂