Photography Jobs Online Review 2018 Update
Before you dive into my article, I want to give you an opportunity to take a look at my updated Photography Jobs Online video review.
In the video, I reveal you the truth behind Photography Jobs Online and the reasons why I don't recommend it.
In the end of the video, I walk you step-by-step my #1 recommended way to make money online so I advise that you watch until the end (Pro Tip: You can use 1,5X speed to watch it faster!)
If you need any help to start making money online as a photographer, don't hesitate to ask me in the comments.
I've helped +3,000 to start making money online and I would be more than happy to help YOU as well.
---
"$5,000,000 have been paid for our happy members just for uploading their pictures. Now it's your turn to take action!" That's who Photo Jobs Online starts their marketing speech. They continue by explaining the process in a nutshell and showing huge dollars amount you could be earning.
They show testimonials from guys who are making $13,000/month just by selling their photos online. Then their calculator shows you maximum earnings of $800,000/week. Is Photography Jobs Online? You will get a detailed answer in the next 1-3 minutes.
I am not affiliated with Photography Jobs Online many other reviews that I found on the Internet. They are just promoting the system to make money when you sign up. I don't earn money whether you join or not. This review is written for the sole purpose to give you the most engaging and accurate information about this opportunity.
Photography Jobs Online Review
---
Name: Photography Jobs Online (PJO)
Website: www.photography-jobs.net
Type: Make Money Online by Uploading Your Pictures
Short Review: Photography Jobs Online is basically just a website gathered full of affiliate links and B-class information. You can find more valuable information on YouTube. In addition, their website is so shady that I don't even recommend trying their trial.
If you are interested in earning money online, I rather recommend this website. Their training, support, and tools have helped me to earn good money online and I'm sure they'll help you as well.
---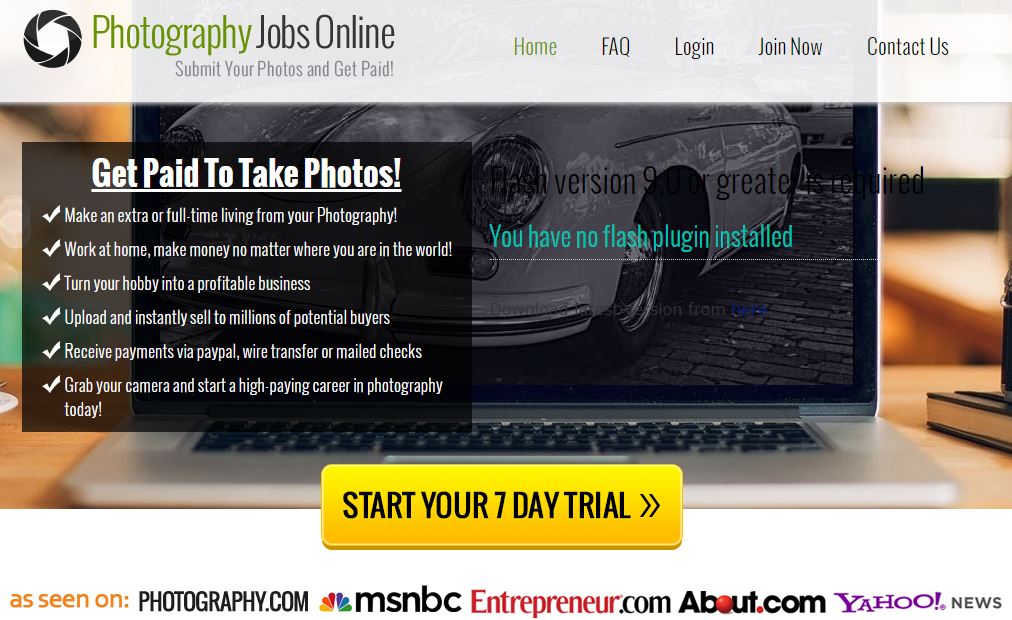 What Is Photography Jobs Online?
Photography Jobs Online is a website that promises big earnings for you by taking pictures and uploading them on the Internet. I don't know if you are already familiar with the concept but there are probably hundreds of photo banks that will pay you for uploading and selling your pictures. PJO has the following picture on their site that shows some of the photo banks.
Photography Jobs Online is supposed to be a middleman between you and those HIGH PAYING companies. They also promise that you could make thousands of dollars per month. Is it really so simple and easy? Let's have a closer look at the process they offer. I recommend that you don't give them any money before you have read this article until the end. Then you are totally informed what will happen on their site.
Here are some big promises that PJO gives:
Work anywhere you want.
Earn thousands of dollars each month. (They have testimonials of persons who make +$13,000/month and calculator that shows you could earn up to $800,000/week.)
60-day money back guarantee.
No commissions taken out of your earnings unlike other websites take.
You can choose what kind of pictures you want to take.
PJO says their opportunity is literally a GOLDMINE!
Is that true? Let me show you how their system works.
How to Make Money with Photography Jobs Online?
The process is simple:

The process itself is very simple and easy-to-understand. You just take a picture and submit it online to some photo bank. You wait until enough photos get purchased to reach your minimum cashout limit. Then you can take money to your account.
Do You Want a
FREE
& Easy-to-Follow
7-Day Course
to
Make Money Online
for Beginners?
Easy-to-Follow

Beginner-Friendly

My Personal 1-on-1 Support for You
Get Started for FREE Below Before this offer goes away!
What's the catch here? Is it really so easy? No, it's not.
One of my best friends is an amateur photographer and he has been doing it for around 10 years. Recently he got an idea that he would like to earn passive income. He figured out that one potential way to achieve it would be selling stock photos online.
He started uploading pictures to Fotolia, Shutterstock, etc. Now 4 months have passed and guess how much he has earned? Around $5-10. Easy money? Not really! 😉 My friend is still constantly uploading new pictures and it seems that his earnings are steadily growing even though they have been very small.
This example illustrates that making a living by uploading pictures to photo banks really isn't so easy like these marketers want to make you think.
How Does Photography Jobs Online Really Work? –

 IMPORTANT!
Their website is basically a full of (affiliate) links to other websites that help you to earn money online. You saw the screenshot taken of their partners? iStock, Shutterstock, Fotolia, Dreamstime, Photos.com, Shutterprint etc.
You can have an access to all those websites even without having PJO as a middleman between you and them. If you use Photography Jobs Online you are just basically paying for their membership in vain and also sponsoring their founders by using their affiliate links. What is the benefit for you? None.
They have also some "training" on their website but in my opinion, you don't need it because you can get more high-quality training on YouTube or from some professionals for completely free. PJO has also downloaded their training from other sites so they don't really have a personalized step-by-step training to make money online like Wealthy Affiliate has.
There are also other reasons why I don't recommend signing up to Photography Jobs Online.
Similar Websites Like Photography Jobs Online?
It seems that the same person or team has created many similar websites. I have reviewed some of them already in the past.
All of these websites use exactly the same design and concept. They are full of links to other websites that really pay you for doing the job. The concept is interesting but it doesn't really provide good value for you.
The thing that I especially don't like is that they are lying about the earning potential. Well, of course, you can make $5,000 for freelance writing online but it requires years of experience. With affiliate marketing, the process can be quicker and you can reach $5,000 per month income faster but it still requires work and persistence.
One interesting characteristic on these "XXX Jobs Online" websites is that when you try to leave the site, usually the pop-up window appears, "Are you sure that you want to leave the site now?" The window doesn't always appear but at least if you are on specific pages on their site.

What About the 60-Day Money Back Guarantee?
Yes, they promise you a 60-day money back guarantee if you don't like their website. But they promise you also many other things. How could I trust on their money back guarantee if I can't trust them on other things that they are saying?
Photography Jobs Online is backed up by Clickbank which helps a little bit. However, I know people who have bought Clickbank products with a money back guarantee but never received any money back. When they contacted the customer support, nobody answered.
All in all, you are taking a risk if you give your credit card information for PJO and pay them money.
Conclusion – Is Photography Jobs Online Legit Or a Scam?
Photography Jobs Online is a borderline scam. They give exaggerated promises but provide only very little value.
Don't be fooled by fake reviews on the Internet. I noticed that people were promoting PJO because they offer commissions for people who bring new customers to their website. So, affiliates have a financial incentive to sell their membership for you.
Instead of promoting PJO and earning money by doing that I prefer telling the truth and showing what it really is. In my opinion, it's not worth it.
If you are looking for a great way to earn money online I can honestly recommend Wealthy Affiliate. Their website won't make you rich overnight either but it really works. You can earn extra $500, $2,000 or even $10,000 per month through their website but it requires work.
Their training has taught me how to earn money online and now I am ready to help you as well. I offer my 1-on-1 support and mentoring as a bonus for anyone who joins Wealthy Affiliate through my website. Get started for free.
---
What do you think about Photography Jobs Online?
Have you earned money online with photographing?
Let me know in the comments below! 🙂