Is Survey Compare a Scam? How much do they pay for surveys? Should I join their website to earn money? Can I trust them? How could I make a living online?
If you are looking answer to any of these questions, feel free to read this full article because I'll answer all your questions in a minute.
Let me start by saying that Survey Compare is a completely legitimate company from London and they pay honestly for their members. However, the more important questions for you and me is whether this opportunity is worth it or not.
Survey Compare Review
---
Name: Survey Compare
Type: Online Surveys
Short Review: Survey Compare falls in the same category like hundreds of other survey sites. You can earn some pocket money but nothing more. I don't waste my time on surveys anymore and I don't recommend that you do it either. 😉
There are numerous ways to make a living from home. My #1 Recommendation for making money online especially for beginners is Wealthy Affiliate. I started their training when I didn't have almost any experience of earning money online. However, I learned everything I needed inside their community and now I'm making a living from home.
---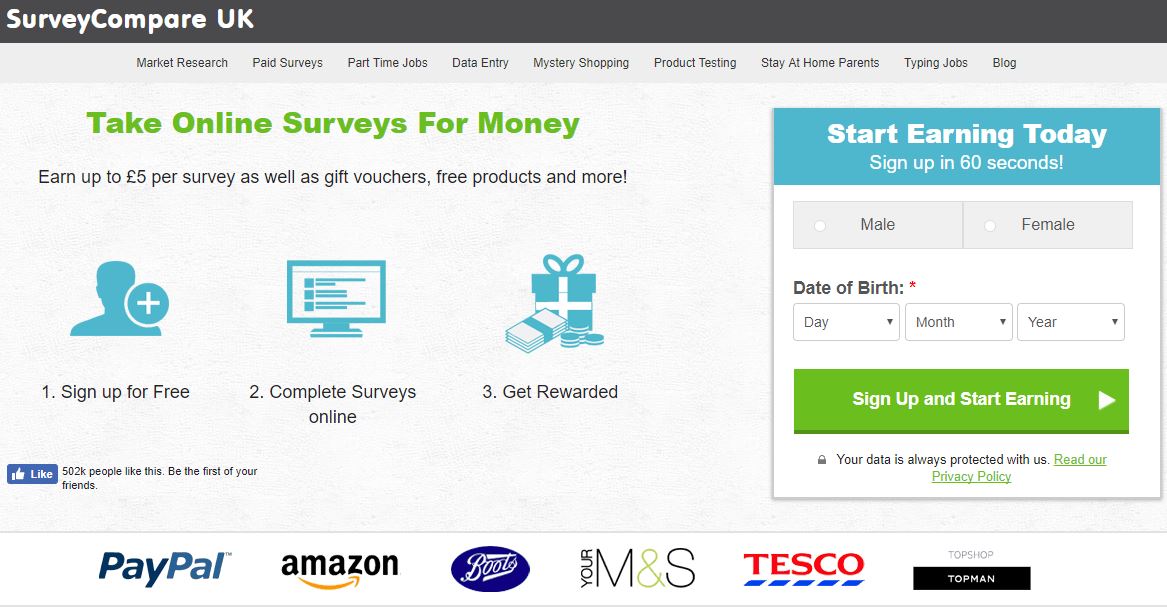 What Is Survey Compare?
Survey Compare is a pretty similar website like BigSpot. It connects you with other survey panels where you can earn money by giving your opinion and answering questions. Survey Compare website is owned by a company called Marketing VF Ltd which is based in UK, London.
Big companies like Amazon, Tesco, Boots, and many others need feedback of their products and they want to know what people need nowadays. It helps them to target their products and marketing for specific target groups.
There are more than 500k likes on Survey Compare Facebook page which tells that their website has enjoyed lots of popularity during the last years. Let's take a closer look at earning money on their website.
How to Make Money with Survey Compare?
The following picture explains in a nutshell how Survey Compare works: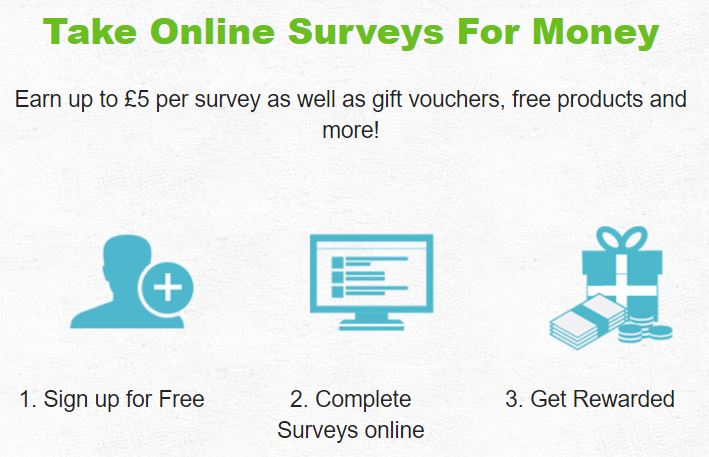 First, you need to sign up. Then they'll offer you surveys and polls that you need to answer. After giving your opinion, they'll reward you with some pocket money or by gift cards.
Survey Compare connects you with their partners that can offer you online surveys. There are at least following partners in their network:
You are headed to these websites and you'll have an opportunity to answer their surveys. Survey Compare will inform you by email when there are new surveys available for you.
How Much Money Can You Earn on Survey Compare?
I have researched around 80 survey websites and opportunities. Guess how many of them I am using at the moment. 0. It means that the earning potential for answering so low that it's not worth my time.
From Survey Compare partners I have researched Ipsos I-Say surveys, Toluna and MySurvey. Yes, I earned some money on Toluna and cashed it out. However, if I would have calculated my hourly salary, it would probably have been around 1-2€.
MySurvey is one of the most reliable survey sites on the Internet so it's not a good sign that Survey Compare accepts them as a partner.
You can earn a little bit more on the best survey sites but your earnings will always be way below the minimum salary. One lady spent several months on Survey Compare and worked diligently to earn money. Guess what was her record as a monthly income. $78.
I would earn the same amount in less than 3 hours on One Hour Translation that this lady earned during one month by answering surveys. Sometimes while I sleep I earn around $200-commission from my affiliate marketing websites.
So, what would be the point of answering surveys if the earning potential is really so small?
Do You Want a
FREE
& Easy-to-Follow
7-Day Course
to
Make Money Online
for Beginners?
Easy-to-Follow

Beginner-Friendly

My Personal 1-on-1 Support for You
Get Started for FREE Below Before this offer goes away!
"But They Promise Up To £5 Per Survey. Isn't That Enough?"
On the homepage of Survey Compare, there is a text, "Earn up to £5 per survey as well as gift vouchers, free products and more!"
You may be thinking that £5 per survey is enough for you. Well, it would be enough for me as well. The only problem is that the reality is a bit different. You won't be earning £5/survey on this website.
Most surveys pay only $1-2. They are saying that you can earn up to £5 per survey. To be honest, after going through tens of survey sites I have never been able to receive such survey so I'm quite skeptical.
Another challenge is that even though they would have such survey, it's targeted for a very specific group. For example, dog owners who are 30-50 years old and live in the UK. If you have answered online surveys in the past, you are probably very familiar with the text, "Unfortunately you were not qualified for this survey. Better luck next time."
These sites don't offer surveys all the time. There are a few every now and then. That's it. You need to check your email regularly to see if they have new ones. Even though they would have new offers you may be disqualified from the survey because they look for a specific group.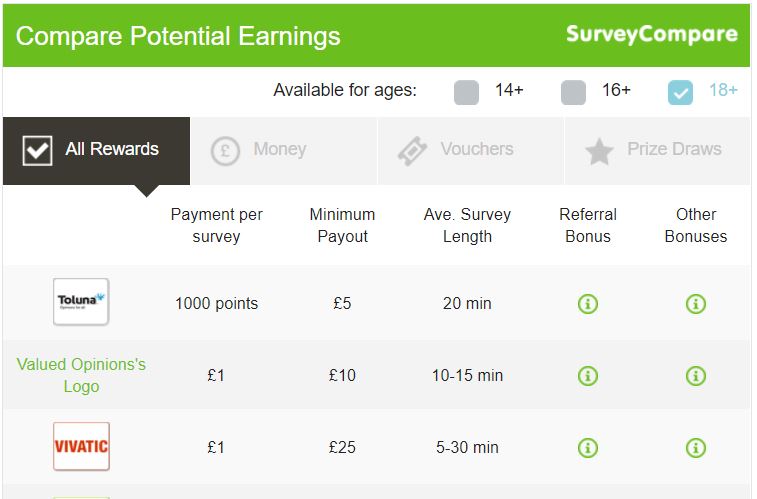 Survey Compare Reviews & Complaints
I read numerous Survey Compare reviews to find out what other people think about this website. It seems that only those who are satisfied with small earnings are satisfied with the website. In my opinion, they are just closing their eyes from better opportunities.
Who would like to earn $3 for surveys while he can earn $30 at the same time by doing some much more interesting activities?
Many people are complaining that they don't earn enough on Survey Compare. Well, actually they don't even promise big money on their website. They say it right away on their homepage that you can only earn some pocket money and not make a living by answering surveys.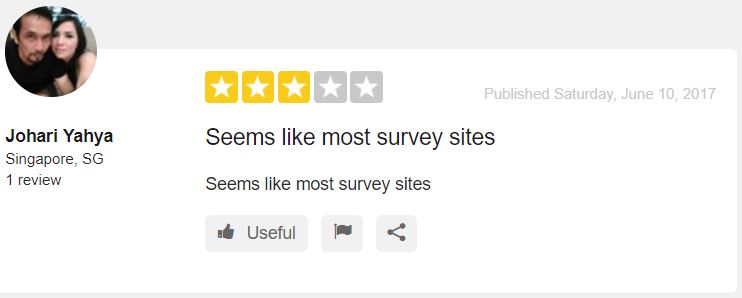 Conclusion – Is Survey Compare Worth It?
No, it's not. The earning potential isn't enough.
There was a time when I still didn't know how to make money online. I didn't even know whether it's possible or not. I had heard that some people are just lying on the Internet. I saw some false advertisements saying that a stay-at-home mom was earning $8,683 per month from home.
However, then I found a website which is run by an American guy called Nathaniell Brenes. He was living in China and earned money by teaching English. Then he started looking for better opportunities on the Internet. He started thinking, "What if I could earn dollars on the Internet and live like a king in China?"
His idea worked even better than he had expected and now he has made more than $10,000/month online for several years. He introduced the same opportunity for me and I started learning. I was still a bit concerned whether this will work or not. Then I thought, "If he can do it I can do it."
Nowadays I make a living online just like Nathaniell. I am not earning $10,000 per month yet but hopefully, in the future, I'll reach that mark as well.
Now I want to introduce you the same opportunity that helped me and Nathaniell to work from home. It's called Wealthy Affiliate. You can get started for totally free. I'm paying for their premium membership which is less than $1 per day.
I offer also 1-on-1 support and mentoring for all who join Wealthy Affiliate through YourOnlineRevenue.com. Remember this advice about earning money online: "If I can do it, you can do it." 🙂
=> Start Making a Living Online! 
---
What do you think about Survey Compare? 
Have you also stopped answering online surveys concentrate on making money online with better opportunities?
Let me know in the comments below! 🙂