Have you heard of One Hour Translation Service? Are you thinking if it's reliable or not? Are you thinking if you can make money there as a translator? Read our review to find the answers to your questions.
One Hour Translation Review

---
Name: One Hour Translation
Website: www.OneHourTranslation.com
Field: Translation Service
Overall Rank: 92 out of 100
---
What Is One Hour Translation (OHT) All About?
One Hour Translation is the world's largest online translation agency. Here are some important statistics about the company:
Their translators from +100 different countries are translating 75 different languages
They have +80,000 business customers
Customer satisfaction is 9,32 out of 10
They claim to be the Fastest translation agency in the world
(Statistics Collected 7.1.2017)
Here are some well-known businesses that have used One Hour Translation:

So, OHT is really a big company with reliable translation services. If you buy a translation from them, you don't need to be afraid of low-quality product.
What Is the Price of Translation on OHT?
You can buy translations individually or by buying a monthly membership which contains certain amounts of translations.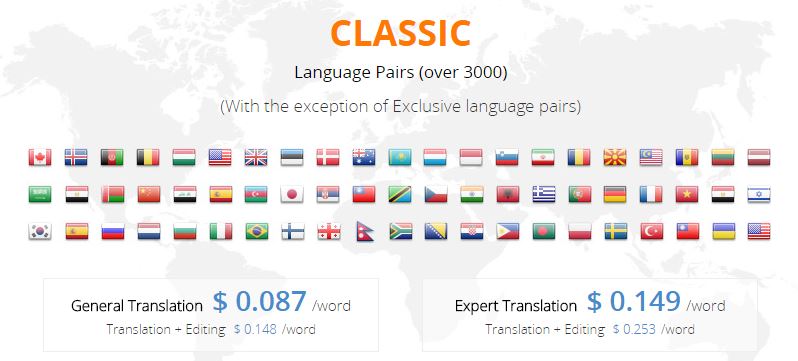 I need to admit that translation prices on One Hour Translation are not the cheapest ones but that's because their translators go through screening to make sure all of them are great translators. You can get much cheaper translation on Fiverr but there you can't be so sure about the quality.
In One Hour Translation you can be sure that they provide high-quality translations. If not, you can always contact their support and they will help you for sure.
The price for general translation is $0,087/word which equals to $87 for 1,000 words. Then if you want to have an expert translation in a very specific subject like legal issues or with lots of medical jargon, then it costs $0,149/word which equals to $149 for 1000 words.
These prices apply to most common languages (over 3,000 language pairs) but if you want to have a translation fore more rare languages, then a price for general translation is $ 0.164/word and for Expert Translation $ 0.192/word. One example of these more rare language pairs is, for example, Finnish -> English or Hebrew -> French.
What Is the Quality of Translators?
One Hour Translation requires that every translator are certified professionals that translate for a living as their main occupation and have sufficient experience.
Even though I speak 5 languages and I have worked in 4 different countries, they didn't at first accept me as a translator. I don't have a certificate and my full-time profession is not a translator so I didn't get qualified. But this only tells that they really want to provide the best quality for their clients.
Here you can see a 1-minute review made by the professional translator in OHT

How can I become a certified translator in OHT?
To become a certified translator you need to update your profile and provide the required details such as a CV, certificates, your language pairs, a LinkedIn profile, fields of expertise, etc. Note that they will not be able to review your profile without an up-to-date resume and an updated list of skills.
Then you send them a request to review your profile and you want to work as a translator for them. If you fill their criteria, they will accept you and you can start getting translation projects from OHT.
But as I mentioned before, you need to have enough skills to work for them. Not necessarily a full-time translator but sometimes that's what they require. Probably it depends on what languages you are translating because they must have lots of translators for something like English => Spanish or Spanish => English.
Who is One Hour Translation For?
There are two ways to benefit of One Hour Translation:
1.Earning money as a translator.
2.Buying high-quality translations.
If you are a translator but don't know where to find clients or job projects, One Hour Translation can be a reasonable choice for you. The more language pairs you can choose, the more tasks you will get on One Hour Translation. My language pairs are Finnish => English and English => Finnish so there are not so many jobs. But if you translate more popular languages than Finnish, there must be much more jobs.
When they offer you a task to translate, you need to be quick because otherwise someone else may do the task for you and earn the money.
You can also sign in as a client. Then you can buy translations for yourself or for your business, for example. There are hundreds of different language pairs that you can choose from and the quality is guaranteed in One Hour Translation.
Pros & Cons
Pros:
High-Quality Service
All Translators Are Qualified Professionals
You Can Earn Good Money If You Know Many Languages
Reliable Company
Fast Translation
Cons:
A Little Bit Pricey Compared to Some Other Services (but the quality compensates)
Conclusion – Is One Hour Translation Worth It?
In my opinion, One Hour Translation is probably the best translation service that I have seen on the Internet. They only qualify translators who have enough skills to do the job well. So you can expect a very good quality if you are buying from them. Even though it's more expensive than some Asian translators on Fiverr, it can be definitely worth it.
You can also sign up as a translator to make some money. However, translating is not the most profitable way to make money online. Check out my #1 recommendation to make a living online.
One Hour Translation at a Glance…
Name: One Hour Translation
Website: www.OneHourTranslation.com
Field: Translation Service
Overall Rank: 92 out of 100
VERDICT: LEGIT
Have you bought translations online? Where? How was your experience?
Let me know in the comments below! 🙂