EarnHoney is a relatively new make money online company that has been launched in September 2014. However, tons of people have joined their sites and cashing out money. The website claims that you can earn 3x faster on EarnHoney than any other rewards site.
Is that true? Can you really earn good money? Is EarnHoney a scam or should you join right away?
In this article, I'm gonna show you how the exact strategy that some people are using to make up to $300 per month on EarnHoney. In addition, I will also tell you why I don't use that strategy myself. Let's get started!
EarnHoney Review
---
Name: EarnHoney
Founded: September 2014
Type: Get-Paid-To Sites
Short Review: EarnHoney is a typical get-paid-to site where you can earn money by accomplishing tasks. If you have 10 phones that can watch their videos on autopilot, then this website could be worth it. If not, I just recommend taking a look at a better way to earn money online which I use myself to make a living.
---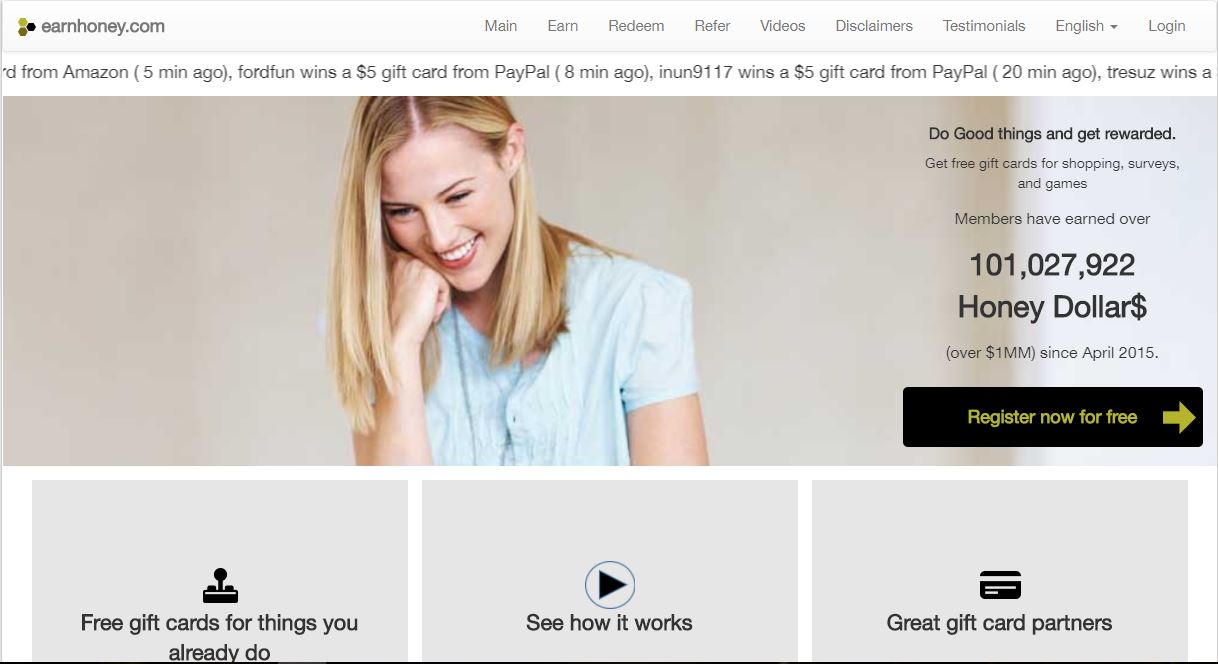 What Is EarnHoney?
EarnHoney is a similar page like Swagbucks, PrizeRebel, and many other get-paid-to sites. You have probably tried some of them in the past. The idea behind these sites go like this:
You finish some tasks (for example watching videos) and the website pays you a little reward for each activity. The reason that the company can pay you money is that they earn even more money from their advertisers.
In this post, you'll also find a video that I recorded about EarnHoney. In the video, I explain the strategy that some people use to earn up to $2,000 per month using smartphone apps.
How to Make Money with EarnHoney?
There are at least 5 different ways to earn money on EarnHoney. Let's go through them one by one.
1) Videos
This is probably the most interesting way to earn money on this website. You get paid for watching short videos and ads. However, you don't need to actively watch them because you can leave the device in the background while you are doing other tasks.
Before each video, they show an ad and then a video will play. Ad lasts maximum 30 seconds and the video is around 1 minute long.
If you run videos on one device (phone, tablet or PC) you can earn 1-2$ per day which isn't very much. The only way to earn more is if you have more devices like I showed in the video.
2) Surveys
We have reviewed probably already more than 70-80 survey sites on YourOnlineRevenue.com. If you have read any of those articles, you know that online surveys are not worth it.
On EarnHoney you can earn $0,10-0,80 for surveys so it's really not worth the time. In addition, there are not many surveys available. You can fill out a few per day and that's it.
3) Games
You can earn $0,15 per hour for playing games like 2048. I don't recommend it. Playing games like this doesn't really make you closer to your life goals.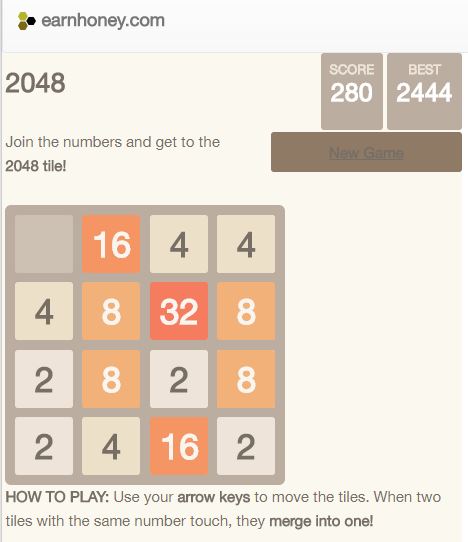 4) Refer Friends
You will earn 10% of all earnings that your referrals earn. Usually, the most profitable way of earning money from sites like EarnHoney is to have lots of referrals making money for you.
I know some guys who have a big audience and they promoted get paid to sites on their websites and YouTube channels and nowadays they make thousands of dollars passive income from their referrals. However, the cost is that thousands of people are wasting their life on those apps at the moment.
Do You Want a
FREE
& Easy-to-Follow
7-Day Course
to
Make Money Online
for Beginners?
Easy-to-Follow

Beginner-Friendly

My Personal 1-on-1 Support for You
Get Started for FREE Below Before this offer goes away!
I prefer telling honestly what's the truth behind these apps because I want the best for your life. If you still, want to try EarnHoney, you can support my blog by using my EarnHoney referral code ROOPEK.
5) Other Offers
EarnHoney has several partners that have offers on their site. One of them is PeanutLabs which is a partner of many of these websites. However, it seems that there are rarely offers available. Even though there would be the rewards are so small that it isn't worth it to check it out often.

How Much Can You Really Earn on EarnHoney?
Here is a video where I explain the real earning potential of EarnHoney.
You can earn maximum $10 per day if you are using it on one device and you are actively completing their offers. However, if you have 70 phones like the guys in the video, you have a potential to earn passive income with this app.
$2,000 per month using smartphone apps sounds good and it definitely beats a boring 9 to 5 job. On the other hand, it's nothing compared to the earning potential what you have with affiliate marketing. Many of my friends are making +$10,000 per month even while they are traveling the world. I still have to work hard to achieve that $10,000/month mark but I'm sure I will get there sooner or later.
EarnHoney Payments
Once you have reached your cash out limit $5 (=500 honey dollars) you can take the money out. They will pay you with gift cards to Amazon or to other online stores. Or by cash through PayPal. You can decide.
Anyhow, the great thing is that you can earn real money because they pay through PayPal
EarnHoney Reviews & Complaints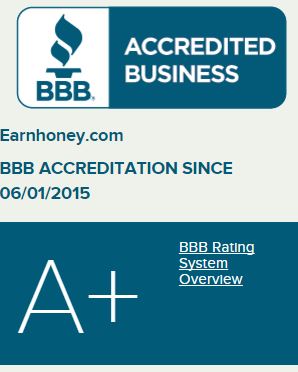 I've read and watched tons of reviews of EarnHoney to get a better understanding of their website and whether I should start using it or not.
Most people admitted that they earning potential is so low that you shouldn't use it if you don't have several devices that you can use for watching their videos.
In addition, some people got banned for running too many devices at the same time on EarnHoney. I wouldn't like to end up in a situation where I buy 50 phones to earn money by watching videos on EarnHoney and then get banned.
Some members also reported about technical issues when using EarnHoney. The system collapsed when they were doing a task and they needed to restart the website. This also happened to me when I was trying out their website.
It's obvious that if you are just trying to complete EarnHoney offers, this website is not worth it. But the more interesting questions is whether a$2,000/Month Strategy using smartphone apps strategy is worth it or not? Let me give you my analysis.
Is $2,000/Month Strategy Worth It?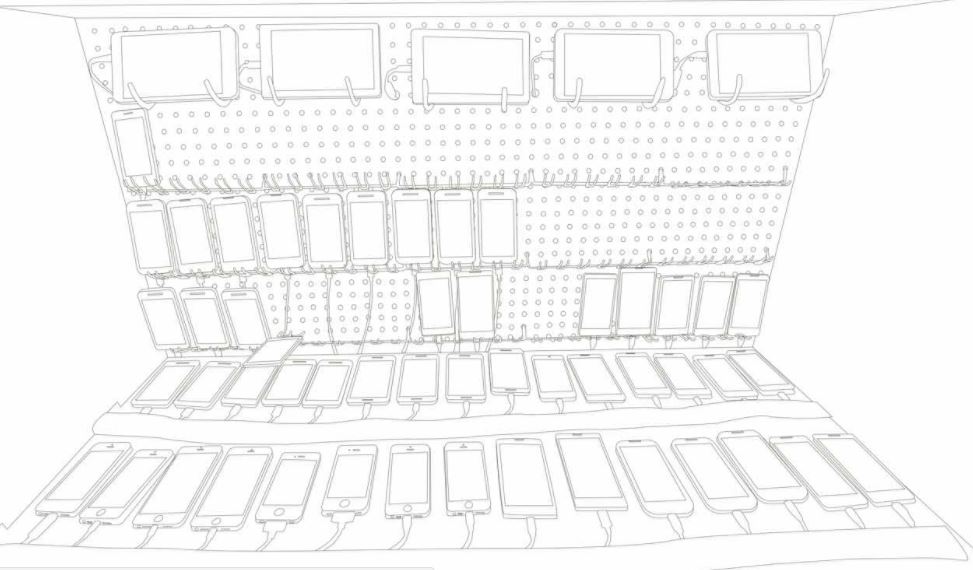 First of all, you would need to buy at least 70 phones/tablets/PCs. Let's say each one costs $50 which is, of course in the lower end. 70*$50 equals to $3,500. Then you need to buy cables, chargers and all the other stuff. Let's say that this costs $25-30 per one device making it around $2,000 in total. Then the electricity costs at least $30 per month (of course depending on where you are living).
There are at least 5 reasons why I don't want to go for it.
1) Initial investments are higher than with affiliate marketing. 
When you start out with 70 phones, you have already invested $5,500 and $30 running costs each month. You would need to use several months to make it profitable.
2) You need to set up all devices which take lots of time. 
Let's say that it takes 45 minutes per device until you have downloaded all necessary apps and it's running on autopilot. Notice that you need to get it from the box, plug it in and do other stuff until it's running.
45 minutes * 70 => 52,5 hours. So you could theoretically set up all phones in a week. Notice that you need to add all chargers, wires and other stuff which also takes time so you would be working at least 2 full work weeks which is at least $2,000 in money if you would use the same time on working in an average job.
3) Traveling isn't really possible if you want to earn money with this strategy
You have all devices in the same place. You need to monitor them every now and then to see that everything works well. You can't pack 70 phones and chargers in your backpack and go traveling the world. On the other hand, with affiliate marketing, you can work wherever you want and everything you need is a laptop.
4) Income isn't completely passive
You need to use some time to make it run anyway:
Check that all apps are running and making money.
Cash out the money when you have earned enough.
Buy a new phone if some of them break down.
5) You are kinda tricking the system
Did these guys create these apps so that somebody could buy 70 phones and run them on autopilot to run them dry? No, they didn't. If everyone would be using the system like this, it would collapse over the time course because the advertisers wouldn't be earning anything from app users.
Even though it could be legal to make money with this strategy it's still a little bit of a gray area. I don't know what those app creators think when they see these guys setting up 70 phone on the autopilot.
Conclusion: Affiliate Marketing 1 –  Smartphone Apps 0
The guy who makes YouTube videos showing his smartphones and how they make him money earns most likely much more money with affiliate marketing than with his system. He has already millions of views on his YouTube channel and in the description of every video, he has tons of affiliate links.
7-Day Make Money Online Email Course
Learn SIMPLE steps to make a LIFE-CHANGING INCOME online. I will help you hand-by-hand!
He earns money when people sign up to these apps and play them and when they buy stuff on Amazon through his links. After all, we come to a conclusion that even he is earning much more with affiliate marketing. So why would we try to set up the same system like him?
If you don't know yet how to earn money with affiliate marketing, don't worry. This step-by-step training will teach you everything you need to make a living online. You can get started for completely free without giving any of your information.
In addition, I'll give you my 1-on-1 support and answer all of your questions. As  I mentioned in the video, I honestly want to see you succeed. I want to see how I take you from $0 per month to $5,000 (or $10,000. It depends on you) monthly income. Let's do it together!
What do you think about EarnHoney?
Do you think it would be worth it to buy 50 phones to make money on this kind of apps?
Let me know in the comments below! 🙂