Are you wondering is I-Say Survey legit or a scam? This article will answer your questions.
I wanted to give I-Say a closer look because one of our readers said he is using this website regularly to earn extra money from surveys.
When I was about to sign up, I realized that the website is not available in my country. So this review is based on my research and many other people's experiences of this website.Who knows if they'll expand to my country or I'll move to a country where I could use their website?
Who knows if they'll expand to my country or I'll move to a country where I could use their website? Anyhow, I wanted to find out whether this I-Say Surveys would be a great opportunity or not.
I-Say Survey Review
---
Name: I-Say (Also Known As Ipsos I-Say)
Type: Online Surveys
Short Review: I-Say has one of the highest payments for answering surveys in the industry. However, based on my calculations, your overall earnings won't be very much more than $3 per hour in the long run.
In addition, many accounts have been closed and sometimes you receive only a few survey invitations per month.
That's why I feel I don't miss anything even though I can't answer their surveys. There are way better opportunities out there. For example, One Hour Translation just recently paid me +$40 for using around 70 minutes of my time translating their texts. That's way better than you could ever imagine on I-Say Survey.
Affiliate marketing is even better because sometimes I earn $175 while sleeping or $130 while I'm walking from the library back home. If you would like to earn such passive income, start this training for free today. (I'll send you a personal welcome message inside the community.)
---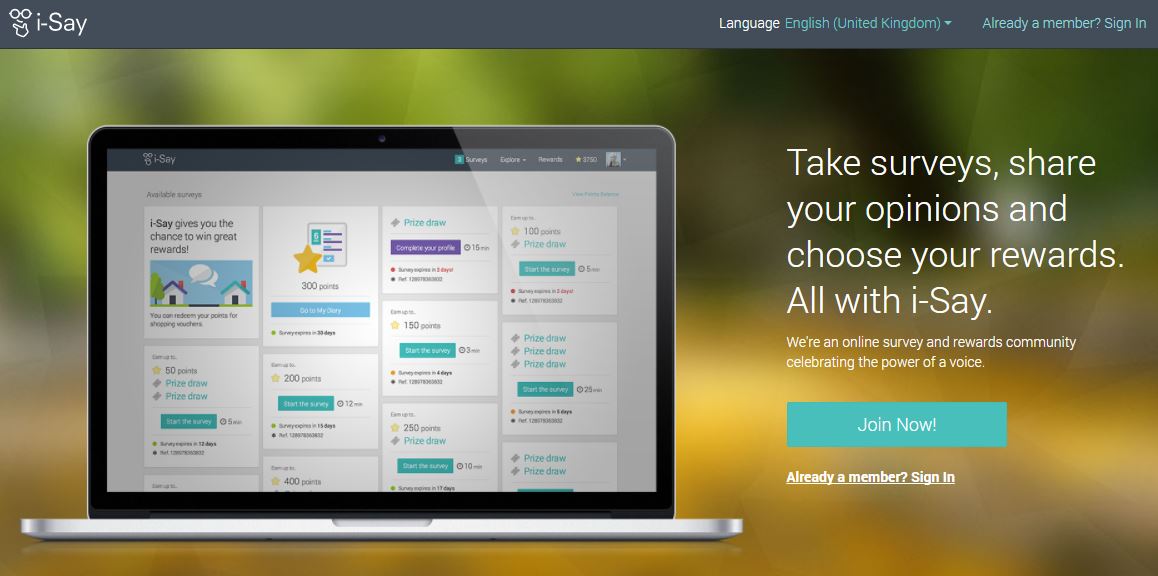 What Is I-Say Survey?
It seems that I-Say is available in a few countries like the US, Canada, and the UK. I couldn't use it in Austria or Portugal so I needed to make a research based on other people's videos, reviews, and articles of I-Say. That's not a problem because I have experience of 70-80 similar websites so I know what is the name of the game with these sites.
On I-Say you get paid for answering surveys ( the survey is a series of questions regarding some products or brands). When you have answered enough of them and reached the minimum threshold ($15 or £10), you can cash out the money through PayPal or by gift cards to Amazon, Target, iTunes or to other stores.
Ipsos offers also a possibility to give the money for the charity if you want.
How to Make Money with I-Say Surveys?
Here are some examples that I've seen of their survey offers:
Earn 45 points for answering a 10-minute survey.
Earn 45 points for answering a 20-minute survey.
Earn 45 points for answering a 2-minute survey.
You can see that the last offer is obviously the best one because you can earn points in 5 times faster time than in 2 other offers. The offers vary and sometimes there aren't new surveys available.
For each survey that you fill out, you'll earn 10-100 points. If you keep on answering their surveys, even more, they'll reward you with bonus points. After you have answered 5 surveys, they'll offer you 20 extra points, after completing 10 surveys they give you 50 bonus points. These bonuses are supposed to keep you motivated but they aren't very significant.

How Much Can You Earn with I-Say Surveys?
100 points equal to $1. If you can accomplish all those reviews that I mentioned above in their target time and your Internet connection works well, your earnings would be around $3,20 per hour. That's way below the minimum salary in I-Say's target countries.
In addition, my calculation of $3,20 per hour is probably even quite optimistic. You won't have surveys available surveys all the time so calculating an hourly salary doesn't even make sense. You'll lose lots of time over the time checking their website/your email regarding available offers and answering surveys where you don't get qualified.
They only want to get very targeted audience answering I-say surveys. If you aren't a part of their target group, they'll glad you with a message like, "Unfortunately you weren't qualified for this survey opportunity. We hope you have a better like next time." At least, they give you 5 points for answering pre-qualifying questions.

I-Say Referral Program and Cashing Out
You can earn some extra money by referring your friends and audience to join I-say surveys. You will usually earn 100 points (=$1) for each new member that you refer. However, I-Say has also had promotions when you have been able to earn more for referring new members.
Do You Want a
FREE
& Easy-to-Follow
7-Day Course
to
Make Money Online
for Beginners?
Easy-to-Follow

Beginner-Friendly

My Personal 1-on-1 Support for You
Get Started for FREE Below Before this offer goes away!
If you want to withdraw your money as cash through PayPal, the minimum amount is $15 and you need to collect at least 1,530 points.
If you don't have the patience to wait for so long, you can use it for their raffle by using 250 points. However, with raffles you can naturally lose all your points.

I-Say Reviews & Complaints
Here are some statistics that I collected of I-Say reviews:
1,8 out of 5 stars on SurveyPolice based on 331 reviews.
3,4 out of 5 stars on GetPaidSurveys based on 82 reviews.
4,1 out of 5 stars on Google Play store for Android phones based on 4,554 reviews.
One reason for good reviews on Google Play store could be that many teenagers are using a smartphone and they are not looking for so big income. Many of them are happy for just earning $1 here and $2 there.
However, my advice for all teenagers is that don't waste your valuable time on apps like I-Say.
The most recent reviews of I-Say on SurveyPolice described the service like this: (these are the titles that they used in reviews)
"too much time wasted"
"Deactivated Account"
"Disappointed"
"Below Average"
"Will cut you off if you're making too much."

These are all titles of I-Says that I was able to find on the front page of reviews. Doesn't sound very promising, huh?
Ipsos I-Say has an interesting fine print in their terms & conditions. Their rules state that in the event of an error, Ipsos reserves the right to make adjustments to your balance or reduce points at their discretion.
As a result of this rule, many accounts have been closed and they are claiming that I-Say is just a scam site fooling their members. Even though I don't think that I-Say is a scam I find that rule a bit suspicious.
Conclusion – Is I-Say Worth It?
Based on my research, I-Say is not worth it. I would be earning at least 10 times less than on other make money online opportunities. That's why I don't see a single reason why I would like to fill out spend time on their website. I don't have a burning passion for answering surveys just for fun.
However, I have a passion for creating and producing something new. I enjoy reviewing different services and informing you about new opportunities.
I've had the moment many times in my life when I've said, "I wish I would have realized this opportunity earlier." That applies, for example, to stock market investing and earning money with affiliate marketing.
I wish I would have started making money with affiliate marketing already when I was 15 years old. Now I could be a millionaire. Anyhow, we'll never get back the past and the best choice is to take a full benefit of this moment.
Now I'm making good money with affiliate and I'm working for earning a free trip to Vegas including flights, hotels, food, extra cash ($200), etc.
If you want to open your life for such opportunities, I recommend starting Wealthy Affiliate step-by-step training for free. It was a game-changer in my life and I believe it could turn your life around as well if you want.
I'll also give you my 1-on-1 support and mentoring inside the community. I am open for all questions you have. I want to see you succeed! 🙂
---
What do you think about I-Say? Are you satisfied with their rewards? How much have you approximately earned per hour?
Let me know in the comments below! 🙂