Have you seen BigSpot ads on a TV? Or have you found them somewhere else? Are you wondering, "Is BigSpot a scam or legit way to earn money online?
You have come to the right place. I'll answer all of your questions in this article in the next 1-2 minutes. Just fasten your seat belts and let's get started.
BigSpot Review
---
Name: BigSpot
Type: Online Surveys
Short Review: BigSpot is another online survey site among thousands of others. They are promising easy money for sharing your opinions. Doesn't it sound good?
The truth is that they are just a middleman between you and other low paying online survey companies. Your earnings won't be more than $2-3 per hour by filling out their offers so it's definitely not worth it.
If you are looking for ways to earn a living online, I highly recommend having a closer look at My #1 Recommendation. Their training has taught me and thousands of other people worldwide to make a living online.
---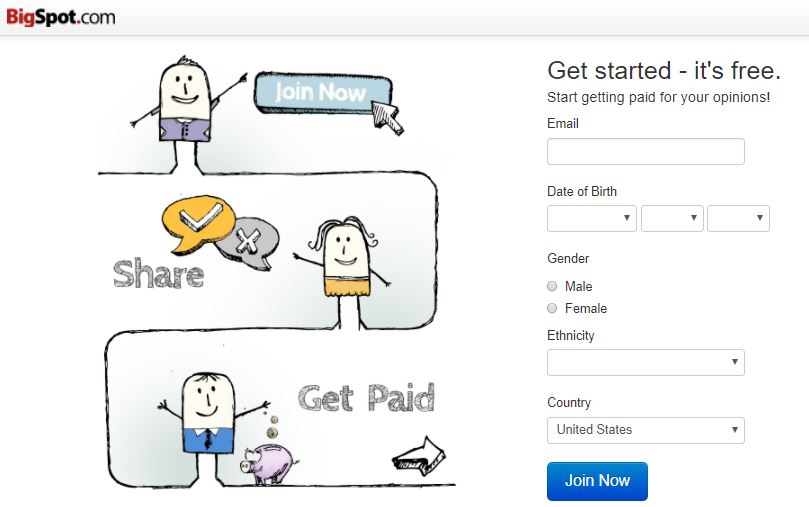 What Is BigSpot?
Even though BigSpot advertises that they pay you if you share them your opinion, they don't actually pay you a dime themselves. They connect you with other online survey websites that can pay you some money.
Those websites ask you questions regarding different kind of products and brands. Then companies use this information for improving their products. That's why they are willing to pay you a little reward for hearing your opinion.
However, the reward is so small that it's not worth the time. I'm not using my time with any online survey websites. Anyhow, it's interesting that BigSpot has even been promoting their website on TV:
It's true that survey companies pay millions for their members and users. But the fact that they don't mention is that each member is only earning a few dollars each. If you share $10,000,000 with 5,000,000 people, they don't get very much money each. Got the point? 😉 Good.
Let me show you the process of earning money on BigSpot.
How to Make Money with BigSpot?
When you land on their website you see the sign-up form. You need to fill out your personal information: Email, Date of Birth, Gender, Ethnicity, and Country. Then click, "Join Now".
BigSpot will offer you companies that are targeted for people that match your demographics. I "matched" with 5 different survey sites that you can see below: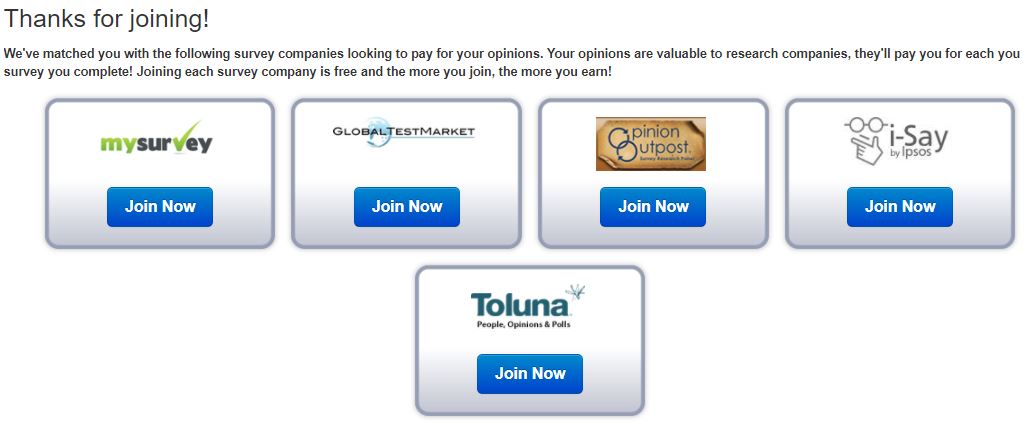 I already know some of these sites. You can have a look at my Toluna review here. I earned some little money from their website but I quickly stopped answering their surveys because I realized it wasn't worth it. Toluna was actually one of the first survey sites that I ever tried.
Then I quickly learned the name of the game and I realized it's better not to waste my time on these sites.
As you can see, BigSpot was just a middleman that takes you to other survey sites. They earn some affiliate commissions from each member that joins the survey sites through their website.
They ask for your information when signing up because they collect some statistics and data for themselves. Actually, you wouldn't need BigSpot for anything. You could sign up to their partners' website even without that middle man.
BigSpot Reviews & Complaints
I took a look at other BigSpot reviews to see what other people are thinking about this website. I wanted to see if they recommend it for you or don't. The results are obvious:
Do You Want a
FREE
& Easy-to-Follow
7-Day Course
to
Make Money Online
for Beginners?
Easy-to-Follow

Beginner-Friendly

My Personal 1-on-1 Support for You
Get Started for FREE Below Before this offer goes away!
Most people are giving BigSpot only 1-2 stars out of 5 which means that they don't recommend it for others. They have come obviously to the same conclusion like I did: wasting time on sites like BigSpot is not worth it.

Conclusion – Is BigSpot Worth It?
Is BigSpot a scam? No.
Is BigSpot Worth it? Not either.
Even though their website isn't a scam, the reward is so small that I don't recommend their services for you. You can make a living online or earn even a fortune so why would you waste your valuable time on sites like BigSpot?
The most successful investor in the world, Warren Buffett, once said; "The more you learn, the more you earn." This is quite true. If you use time on answering surveys, you are not learning almost anything. As a result, you won't earn almost anything.
If you want to make good money online, you need to learn new skills and put them into action. You may be asking, "But how and where could I learn those skills?"
Brian Tracy says, "If you do what other successful people do, you will eventually get the same results like they do." So I recommend that you learn the process from those people who have already walked the path before you.
I want to offer you my 1-on-1 mentoring and support inside Wealthy Affiliate. You can get started for completely free and you'll get 20 interactive video lessons which will teach you the process how you can start making money online.
If you think whether it's possible or not to earn a living online, have a look at these 5 guys who make +$10,000/month from the comfort of their own homes. Of course, that kind of income requires lots of hard work. But if you are satisfied with an extra $500 per month, you'll achieve that more easily.
---
Have you also stopped answering online surveys? 
What kind of activities do you like to do to earn money online?
Let me know in the comments below! 🙂
If you need any help with getting started to earn money online, just drop me a question below and I'll be happy to help you out. As I always use to say, Wealthy Affiliate training and tools are literally everything you need to earn a living online. And it doesn't cost anything to get started.