You probably already know that I am rather a long-term investor than a short-term trader. However, some time ago one of my friends what do I think about IQ Option. Is IQOption a scam? Is it a good place for trading currencies and binary options?
I had heard about the company because their trading platform is one of the most popular on the Internet. But before my friend asked for my opinion, I hadn't tried it myself. I promised my friend to take a look.
I created a profile and started trading on that platform. Contacted IQ Option support for questions, took a call with them, won some money, then lost something and so on. Here is my honest IQ Option review. I hope you will enjoy and find this helpful.
IQ Option Review
---
Name: IQ Option
Type: Binary and Forex Trading Platform
Number of Assets for Trading: +500 different ones
Minimum Investment: $1. Also a Free Demo Account Available.
Short Review: IQ Option is probably the best trading platform in the world. They have a great support, the platform is easy to use and the company is reliable.
However, trading is very risky and I don't recommend it for almost anyone. I know from my own and other people's experience that you can lose lots of money in a short period of time. In addition, trading doesn't really provide for the other people in this world.
You can have a look at my #1 recommendation for earning money online here.
If you like investing in Bitcoins, I can offer you $10 free bitcoins here.
For long-term investing, I use Nordnet bank but at the moment it's only available in Nordic countries.
---

What Is IQ Option About?
IQ Option is the industry leader in trading. They have more than 21,800,000 members already from all around the world. Their success is not a coincidence. While using their services I realized why they have succeeded so well.
On IQ Option you can trade:
CFD Stocks
ETFs
Forex
Options
IQ Option is especially designed for short-term traders, not for long-term investing like Nordnet. In this article, I'll share a few words about the danger of trading and why +90% of traders lose money and only less than 10% win money.
How to Get Started on IQ Option?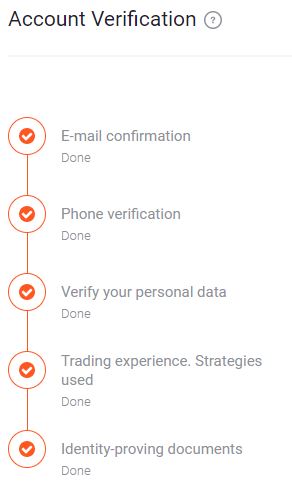 You can easily sign up using your Facebook, Google+ account or email. Then you can start using their trading platform and see how everything works.
On the right-hand side, you can see the verification process on IQ Option. There are 5 steps:
E-mail confirmation
Phone verification
Verify your personal data. (Address, etc.)
Trading experience. Strategies used. (IQ Option wants to be sure that inexperienced traders are aware of risks of trading.)
Identity-proving documents. (Proof of identity and proof of your address.)
IQ Option is very professional with their identification because they want to make sure your account is secure and other people can't use it.
They use the similar verification process like other reliable online platforms.
IQ Option Trading Platform – Ultimately Easy-to-Use
Do You Want a
FREE
& Easy-to-Follow
7-Day Course
to
Make Money Online
for Beginners?
Easy-to-Follow

Beginner-Friendly

My Personal 1-on-1 Support for You
Get Started for FREE Below Before this offer goes away!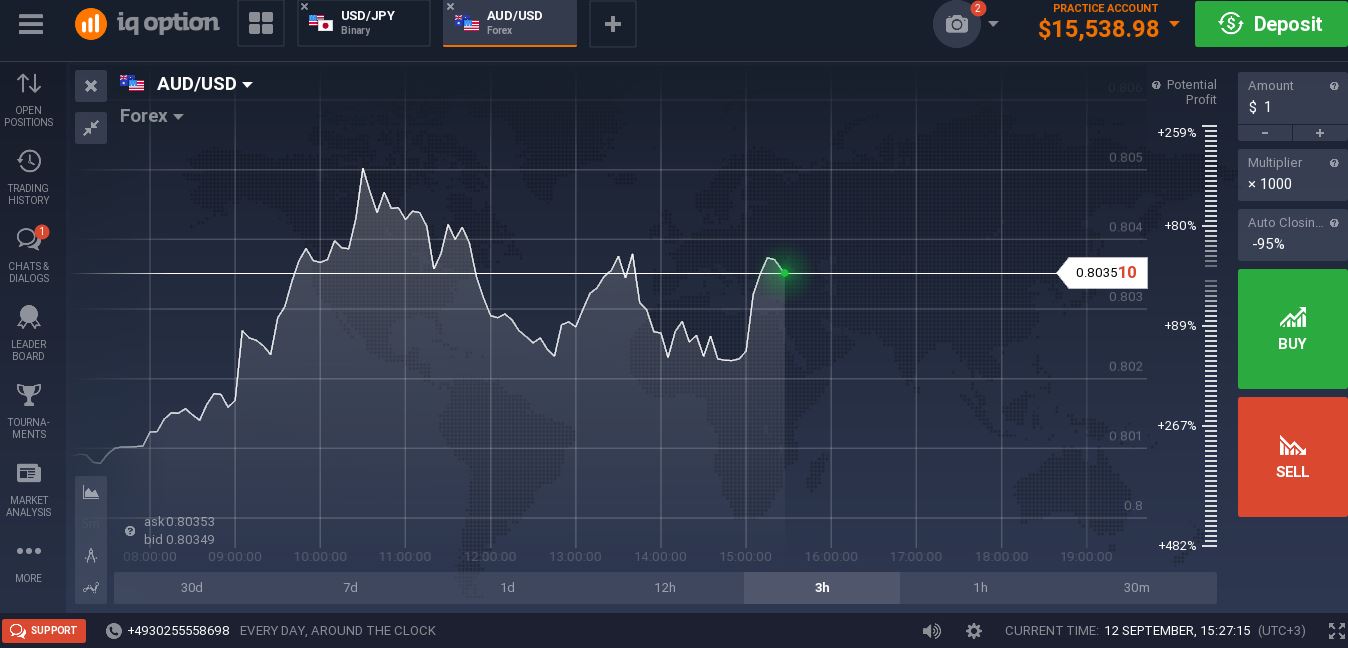 In the picture above, you can see how IQ Option platform looks like. The green point moves forward all the time and shows you the current value of the assets that you are trading. In this example, the currencies are AUD/USD.
On the right-hand side of the picture you can see multipliers, an amount for investing, auto close option, buy and sell. On the left-hand side, you'll find support, chat, your open positions IQ Option tournaments and other useful stuff.
You can change the view of the platform because it's quite flexible.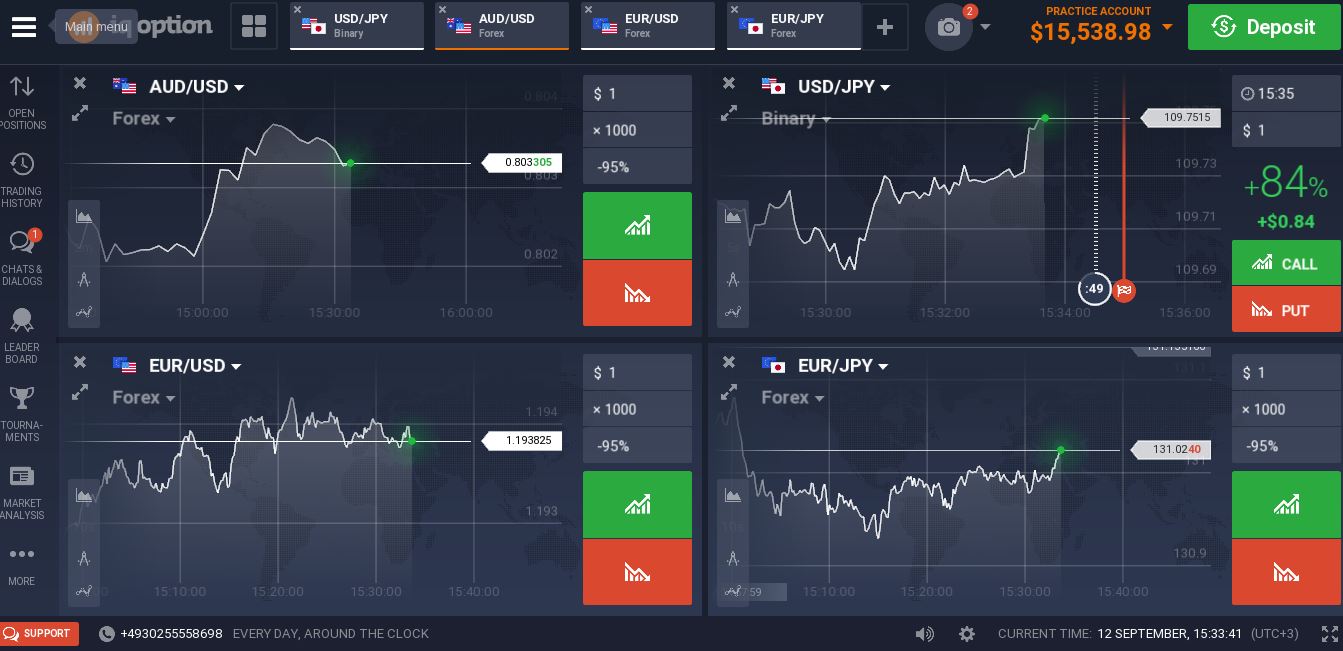 You can use IQ Option trading platform on your browser or you can download their app to your phone or to your computer.
I recommend being careful if you are using IQ Option software on your smartphone. I accidentally hit my screen once and lost $50 because of that. That's why I would rather recommend using the platform on your computer. IQ Option naturally wants that you download their software. It's also a bit faster than a browser platform.
IQ Option Tournaments
One very interesting possibility is are IQ Option tournaments. They are an opportunity to earn good money with a little investment. However, you need skills and luck to win it and again, it's more like gambling than investing which is a reason I don't really like them.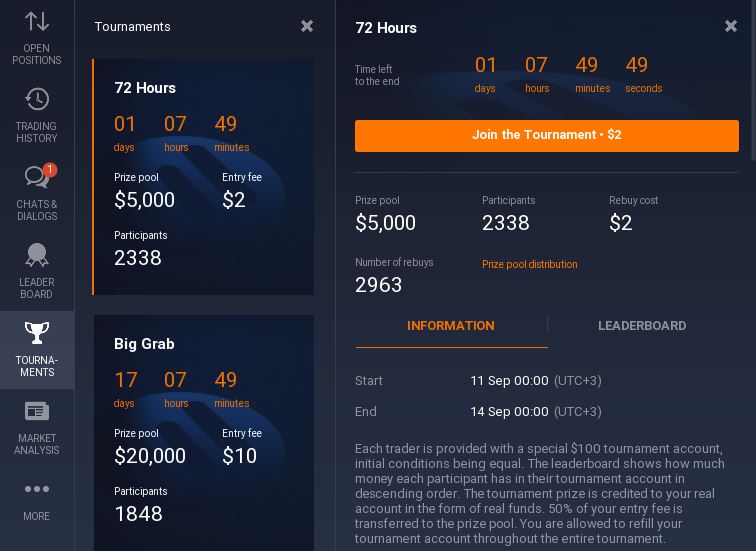 In the image above you can see an example. There is a tournament that started 11.9.2017 and lasts 72 hours. So, it ends 14.9.2017. You can participate the tournament for $2 and the prize pool is $5,000 at the moment. 10 first ones will get prizes and the winner gets $1,100. The more participants there are, the higher the prizes will be. Here are the prizes for this tournament at the moment: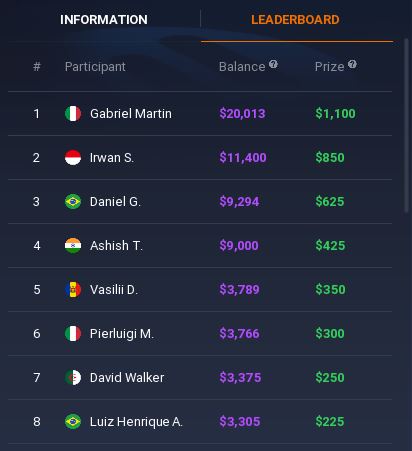 IQ Option Support – The Best That I've Seen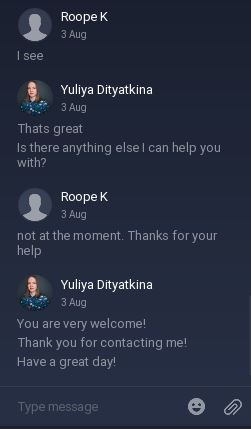 I was literally surprised how good support IQ Option has. I believe it's one of the reasons for their success. When I signed up, I received a call from their support team asking if I need any help. They have also responded all my messages and requests within the platform.
I have never had any money withdrawal problems on IQ Option but I'm sure I would get support if I ever need it.
The support team has been very friendly as you can see in the picture on the right side.
Dangers of Trading – Why +90% Traders Lose Money
Many people see trading as a way to earn lots of money in a short period of time. There are many success stories of traders who made millions in a couple of months. But do you know how many failure stories there are? For each success story, there are at least 9 failure stories in trading. While one guy earned millions in a few months, 9 guys lost millions in a few months.
Is it even possible to make a good money with trading in the long term or is it just gambling where the luck plays a big role?
Most of the traders are just gamblers even though they call themselves investors. They are just "playing the roulette" and trying to hit big. Do you know where it usually leads? To losing money.
First of all, for successful investing, you need a strategy and follow it with a discipline. I've seen many people who have a strategy but they forget to follow it diligently. In addition, there are many strategies that just lead to losing in the long run.

If you think about the most successful investors in the world, none of them are traders. They invest for long term, not for quick wins. I am not saying that it would be impossible to make the profit when you are trading. But I want to remind you that it requires LOTS of studying and skills to become a profitable trader.
I know from my own experience that you can lose money very fast if you are gambling with the money. My record is losing 1,400€ ($1,670) in 5 minutes. That's why I recommend that you don't start trading before you have read at least a few books or watched videos from successful traders.
Binary Trading – Please, Don't Do It
One of the most common options for trading is called binary trading. I highly recommend avoiding it.
Binary trading is just a gambling where you will lose money in the long run. In addition, the binary trading industry is full of scam artists who "teach" you how to get rich quick. I have reviewed some of those binary scams on my website: Free Money SystemBinary Matrix Pro, , Financial Independence Academy, etc.
If you really would have a profitable binary trading strategy, I would love to hear it in the comments section. However, I strongly believe it doesn't even exist.
In my opinion, binary options are the same as playing slot machines.
Conclusion – Is IQ Option Legit Or a Scam?
IQ Option is definitely a legit company and you can trust on their service. However, I am not a big fan of trading and I don't really recommend it for you either. Long term investing is easier and many times even more profitable.
At the moment we have also an interesting option to invest in Bitcoins and other cryptocurrencies. It will be interesting to see how the value of Bitcoins will move in the future. I believe in the long term potential. I give $10 free Bitcoins for all of my readers through this link.
If I would be a trader, I would probably use IQ Option because I like their platform and support. But as I mentioned in the beginning of this text, trading doesn't really provide value for other people. You are just earning money from people who are losing it. Then the company in between (in this case IQ Option) takes its fees always.
I enjoy affiliate marketing because by doing that, I can provide value for thousands and even millions of people all around the world and I don't even need to create my own products.
If you want to learn to earn money online with affiliate marketing, I recommend having a look at this step-by-step training. In my opinion, it's a more sustainable way to earn money than forex trading.
---
What do you think about trading?
Do you prefer trading or investing?
Let's discuss in the comments below! 🙂
If you have any questions regarding IQ Option or earning money online in general, feel free to ask me below.
(Disclaimer: Trading and investing involves substantial risk of loss and is not suitable for every investor. I recommend that you study the subject carefully before investing your money.)
7-Day Make Money Online Email Course
Learn SIMPLE steps to make a LIFE-CHANGING INCOME online. I will help you hand-by-hand!