GPTPlanet claims that they have already paid more than $780,000 for their members. "Everyone can join for absolutely free and you can get paid by completing simple tasks!" Shouts the text on their homepage.
Is GPTPlanet a scam or would they really pay for you? How much could you earn on their website? Is it worth the time and effort?
Check out my honest and unbiased review to get answers to all your questions. If you have any comments or questions after reading this article, you can always feel free to ask them below. I will reply you personally.
Alright. Now it's time to take a closer look at GPTPlanet.
GPTplanet Review
---
Name: GPTplanet
Founded: 2010 by Greek Dimitrios Kornelatos
Type: Get-Paid-To Sites
Overall Rating: 30 out of 100
Short Review: GPTplanet is a legitimate website and they pay members as they have promised. However, if you have experience of GPT-sites you may already expect that making money on this website is almost impossible. Well, you can make a few bucks but that's all.
I believe you would be interested in more profitable opportunities, right? Take a look at my #1 recommendation for making money online. That training has taught me and thousands of other people how to make a living online.
---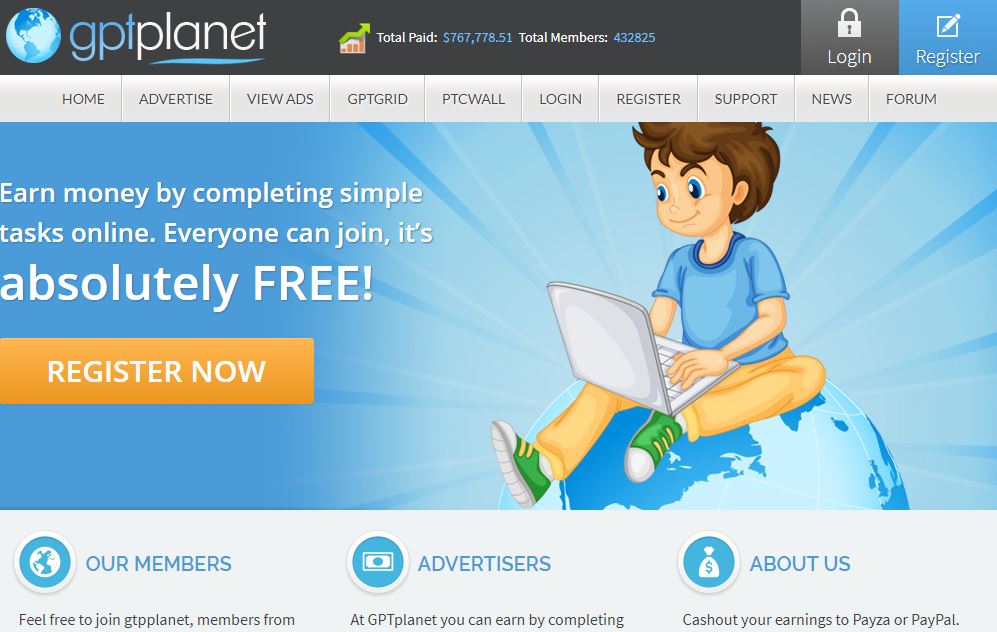 What Is GPTPlanet?
GPTPlanet is a PTC (Paid to Click) website that pays you for watching advertisements. On the other hand, you can use it also for advertising your website and offers for visitors. The website has been around already for more than 7 years so it's quite an established company.
You have probably heard or even tried similar platforms before. Some of the most famous ones are Easy Hits 4U and Neobux. I have bought ads and visits to my offer on Easy Hits 4U. However, I stopped doing it for several reasons that I'll explain further in this article.
By the way, did you notice the trick that GPTPLanet is using on their website? They say that they've paid in total $767,778.51 for their members. That sounds like a lot of money. But take a look at the number on the right-hand side. It says they have 432,825 members in total.
We can quickly calculate that each member has only earned less than $1,8 on average. That's not much if you consider how much each member has spent time on their website.
Now we'll analyze GPTPLanet as a money-making opportunity. Then I'll show how their website works for advertisers.
How to Make Money with GPTPlanet?
There are a few ways to make money on this website. Let's analyze them one by one.
Watch advertisements
PTSU = get Paid To Sign Up
Earn money from referrals (rented or direct)
1.Watch Ads and Get Paid
Doesn't it sound easy? "Earn money by watching ads" Anybody could do it. However, if anybody can do it, that usually means the earning potential is extremely minimal. That's the case also with GPTPlanet. Here are some of their advertisements below:

People who have used this website for even years say that you can earn maximum $5-7 per month. Some people claim that your maximum ad earnings are only around $10 per year. Anyway, it's clear that earnings are ridiculously small and not worth it. That's why I don't even bother to spend endless hours clicking those ads and trying to earn a few bucks.
2.Get Paid to Sign Up
In this section, you can earn rewards for signing up to their partners' websites and completing certain tasks. Have a look at the current offers below: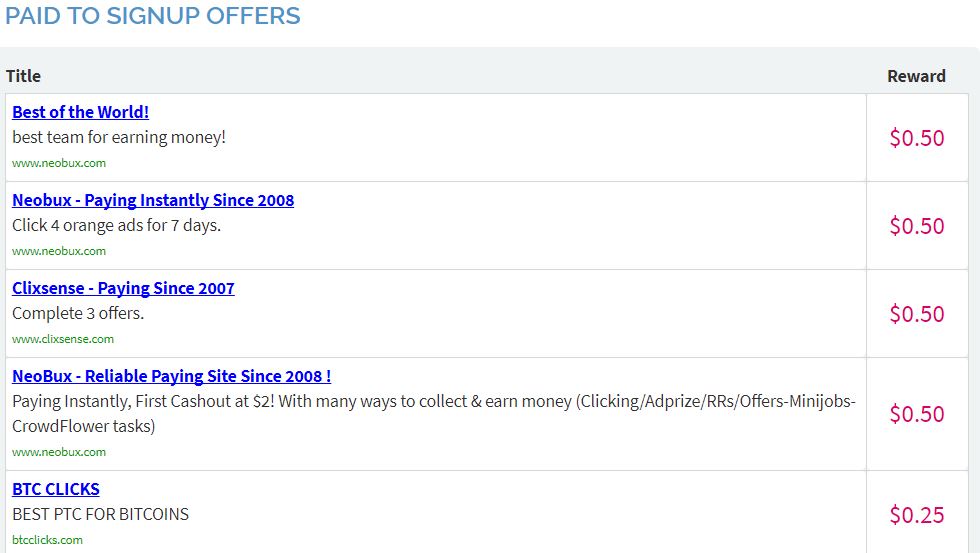 You may think, "Hmm… $0,50 just for signing up sounds good. Maybe I'll try it." But, please, not so fast my friend. There are specific requirements what you need to do in order to earn that money. Let's take a look Neobux, for example, which seems to be their biggest partner. (ClixSense is also huge.)
Do You Want a
FREE
& Easy-to-Follow
7-Day Course
to
Make Money Online
for Beginners?
Easy-to-Follow

Beginner-Friendly

My Personal 1-on-1 Support for You
Get Started for FREE Below Before this offer goes away!

First, you need to sign up. Then you need to be active in Neobux for 7 days by clicking 4 orange ads every day. Then you can enter your username on a specific place to earn $0,50.
Sounds quite time-consuming. In most jobs (in Western countries) you earn $0,50 in a minute or two so why would you bother spending tens of minutes on Neobux. Even if you are living in a cheap country where $0,50 is more valuable, I wouldn't recommend spending your time on this kind of things.
You would earn so much more with affiliate marketing. Yes, it requires a bit more work but rewards are much greater in the long run.
3.GPTPlanet Referral Program (rented or direct referrals)
This is probably the most interesting section. In most GPT or PTC sites you won't earn almost any money by completing their tasks. Only a few cents or pennies. On the other hand, there's a potential to earn passive income by having referrals.
On GPTPlanet you will earn 10% of your referrals earnings. So, if your referral makes $10, you'll earn $1. If you have 100 referrals who earn $10, you'll get $100. That doesn't sound very much but could be a nice if you are living in a cheap country.
You can also rent referrals. This means that you pay money for buying referrals from other members. Then you will earn money if your referrals earn well. On the other hand, if your rented referral doesn't earn enough, you'll just end up losing money.
However, there are a few reasons why this isn't a very effective strategy either.
First of all, most people just try GPTPlanet for a while and they go away when they realize how little money their earning potential really is.
Second, I wouldn't like recommending something for other people that I wouldn't be ready to use myself. That's why I'm not recommending any GPT or survey sites. I know I would make quite nice extra income by recommending those sites for my tens of thousands of visitors. However, I only want to recommend you the best opportunities like Wealthy Affiliate or Chris Farrell Membership.
GPTPLanet Cashout 
A positive thing on GPTPlanet is that you can cash out immediately when you have earned $1. So, you don't need to pay until you've made $25 or even $50 like some other similar sites requires. You can get paid through PayPal or Payza so there shouldn't be any problems with the payment.
GPTPLanet for Advertisers
Could GPTPlanet be more interesting for advertisers? Let's take a look at their pricing: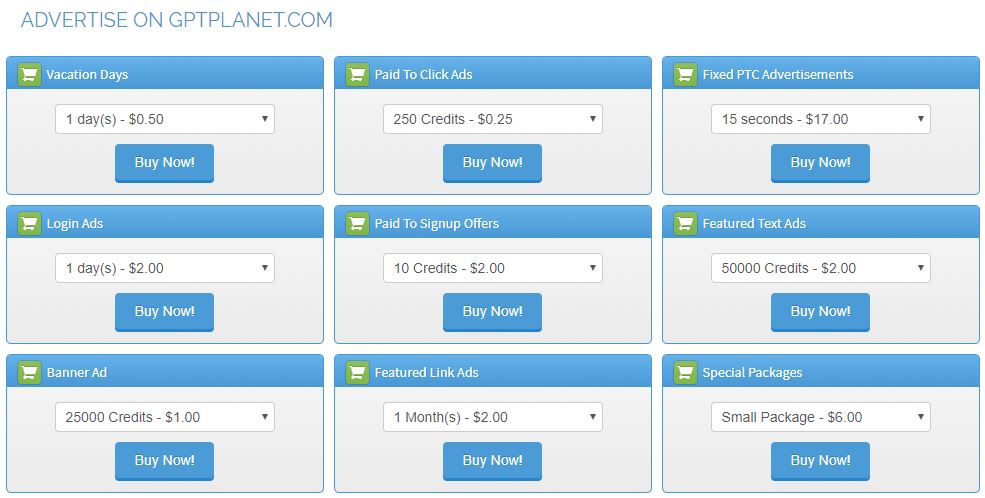 In the image above, you can see that advertising on GPTPlanet platform is relatively cheap. You only need to pay $0,25 for getting 250 PTC credits. Or you can buy 25,000 banner ad credits for just $1.
You'll get tons of visitors to your website or offer for an extremely low price. That's why it could be worth trying. You don't have almost anything to lose. However, there are a few reasons why I am not so excited about it.
The traffic you would get from this kind of sites is extremely low quality. It means that most likely they don't buy your offer. Most people on GPTPlanet will just visit your site for a millisecond and go away immediately when they have earned their reward.
I have tried a similar service but results for buying ads was right around 0. In the other words, I didn't make any sales. Of course, websites like Neobux or Clixsense may use it in a profitable way because their websites are almost exactly similar to GPTPlanet. The traffic is extremely targeted for their site.
Anyway, I would like to hear what do you think about advertising on GPTPlanet. Would you like to leave your opinion in the comments below? 🙂
Conclusion – Is GPTPlanet Worth It?
Even though GPTPlanet is a legitimate website and they pay members on time, in my opinion, it's not a good money-making opportunity. You can only earn cents and in the long run maybe a few bucks. That's all.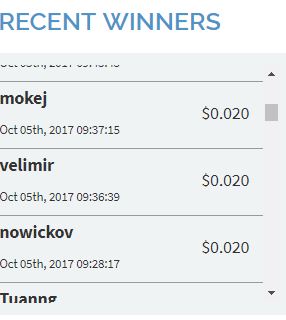 I believe you would prefer earnings thousands of dollars instead of just a few dollars per month. Am I right? In that case, I recommend taking a look at Wealthy Affiliate. It's my #1 work from home recommendation. Their training has taught me and thousands of other individuals how to earn a living online. It's completely free to get started and as a bonus, I offer 1-on-1 mentoring for YourOnlineRevenue.com readers like you.
The only way I could consider using GPTPlanet, in the long run, is advertising on their platform. People who use their website are interested in earning money online so I could help them a lot. However, the traffic from their website is so "low quality" that I'm not very excited about it.
---
Do you also prefer more profitable money-making opportunities than GPTPlanet?
Have you already tried Wealthy Affiliate? What did you like? 
Let me know in the comments below! 🙂