Is Chris Farrell Membership a Scam? – Definitely Not!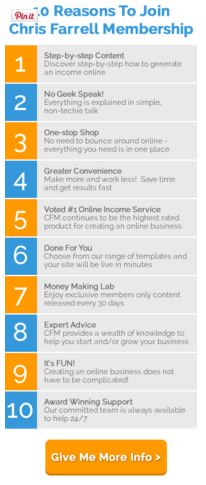 Name: Chris Farrell Membership
Website: ChrisFarrellMembership.com
Price: $4.95 First 7 days, $37/month afterward or $297/year
Owners: Chris Farrell
Overall Rank: 87 out of 100
Introduction
Chris Farrell Membership is one of the best online business training out there. It is voted #1 Online Income Service 2011-2015.
The founder Chris Farrell is the very successful online entrepreneur. He started online in 2008 without former experience.
Within 6 months – he was having many $250/days.
Within 9 months he had his first $1000/days.
In August 2010 – Chris made over $1million in sales…in 24 hours – with Affiliate Dot Com.
What is his program like? Let's find out!
Pros and Cons
Pros:
Simple and enjoyable teaching
Great for beginners
Inspiring and motivating
Good support
Well-structured sections
Honest and pleasant founder
Cons:
Made for beginners (can be good for you if you are a beginner but you won't benefit too much if you have many years experience in online marketing)
Members' forum is a bit clumsy

Chris Farrell explains the things quite with down-to-earth attitude so everyone can understand. He explains the things that even a child can understand them.
His teaching style is captivating and I bet that you will like his British accent! (He used to be a radio DJ before becoming an online marketer.)
Chris Farrell Membership Tools & Training
CFM training is well-structured and it guides you step-by-step to online success. There are for example 5 money making labs which you can see below.
Understand Facebooks Ads
Video Made Easy!
Clickfunnels Made Simple
GoToWebinar Training
Simple Security Steps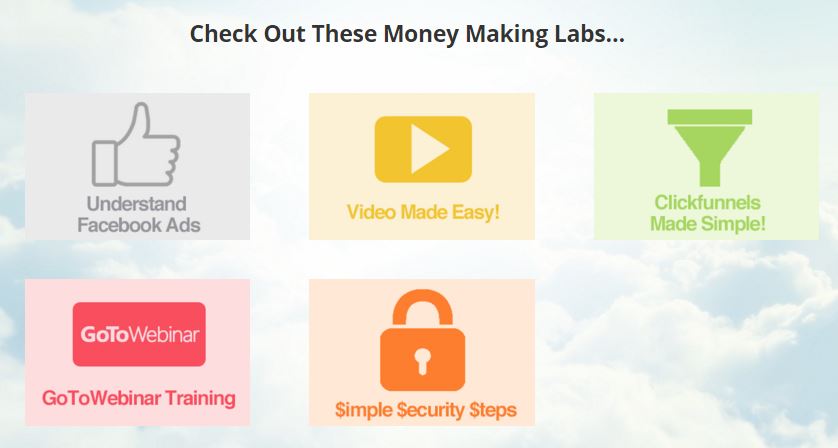 There are also much other great training like 10 minutes to success.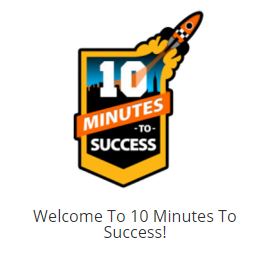 10 Minutes to Success is the 1-month course where you will watch one ten minutes video every day and after watching it, you can accomplish one task that was discussed in the video.
You can print the task sheet and mark the date when you have finished a task so you can see your concrete progress.
In my opinion, this is a great and motivating training resource because it's easy to follow and it always fun to make progress and learn.
Chris' 3 steps to Success
Here are the three steps which are required to build a successful online business according to Chris.
1.Find a Profitable Niche. Chris guides you how to find a profitable niche that you like to work and suits your own interests. He gives tips how to find a niche what people are interested in meaning that there is a real need.
2.Build a List. After you have found your own niche you can start building a list of people who are interested in your niche. Most typically this is an email list. If you don't have any former experience with it don't worry, Chris will guide you step-by-step.
3.Market Related Products to Your List. Once you have a list of people you can offer them products that they are interested in. You don't need your own products. You can market the products for example from Amazon or anywhere else and get the commission for every sale.
Chris Farrell Membership Support

As the image shows, there are 3 types of 24/7 support. That means you won't be left without answers. You will get the answer from someone of the CFM team if you want or someone from the community.
There is a forum area for members where you can ask questions, discuss and learn from other members.
Many online programs don't have a practical community so it's definitely a great benefit in this program. Still, in my opinion, Wealthy Affiliate's community is the best you can find on the Internet related to online business.
Who is Chris Farrell Membership For?
CFM program explains you everything you need to know to start an online business. It starts from the total beginner level and it is designed for the starters.
I believe that those who don't have any experience about online business will get the greatest benefit from the program.
If you have years of experience about online marketing CFM can give you some new insights and tips but probably you won't learn as much as the beginners.
But I like the approach of the CFM. They teach you online marketing from a little bit different perspective than for example Wealthy Affiliate. So I believe that even if you are a member of Wealthy Affiliate or other training program CFM can give you new insights and ways to earn money online.
Chris puts the better emphasis on the list and the using of Facebook than Wealthy Affiliate's basic training. But WA focuses more on the creating of websites than CFM. Both of them have their own good features but Wealthy Affiliate is the most comprehensive program with keyword tool, free websites, live chat, etc.

Chris Farrell Membership Pricing
CFM it's not very expensive but not the cheapest one either. It is cheap to start because first 7 days cost only $4,95. So you can try the program and see if you like it.
After 7 first days the pricing is $37/month or $297/year (save $147).
You have always 30-days money back guarantee. So if you don't like the training and the product for any reason you can always get your money back. No questions asked. In that sense, you can start it for free without any risk to lose your money.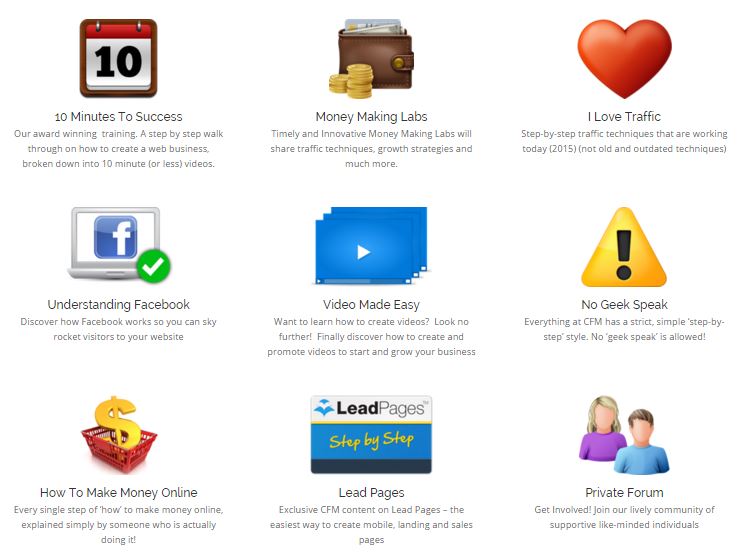 My Final Opinion of CFM
All in all Chris' program is full of informative and helpful teachings. He definitely provides value for the price.
But as any other business in the world, success doesn't come overnight online. You will need to work and put your knowledge into action. Chris Farrell provides you the education but you have the responsibility to do your own part.
Online success may take time but as Chris' and many other people's examples shows it certainly can be the worth of the invested time and money.
I recommend giving a try to Chris' program. I'm sure that you will learn something new. If not, you have always 30 days money back guarantee.
Even though Chris Farrell Membership is a great program, it's not my #1 recommendation. Wealthy Affiliate provides by far the best training and the community to learn to earn money online.
CFM at a Glance
Name: Chris Farrell Membership
Website: ChrisFarrellMembership.com
Price: $4.95 First 7 days, $37/month afterward or $297/year
Owners: Chris Farrell
Overall Rank: 87 out of 100
VERDICT: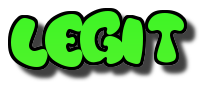 I hope you find this review useful and helpful. If you have any questions or comments please leave them below.
Have you tried Chris Farrell Membership? I would love to hear your experiences!