There are two key elements in having a successful online business. The first one is attracting traffic and the second one is converting that traffic to buying customers. Easy Hits 4U promises to solve your first problem. You can get traffic for less than 0,5 cents to your website through their service and they have already delivered more than 3,4 billion clicks during 14 years.
In this comprehensive and 100% honest review I will explain What Is Easy Hits 4U. What are the things that I like about their service and what do I dislike? Is it a really good money-making opportunity? Fasten your seat belts, take your hat and let's GOOOOO!
First, I want to give you a little spoiler! Even though I have reviewed more than 200 make money online products, I almost never spend money on them because most of them are not worth it. But Easy Hits 4U was an exception and I decided to make a small financial investment on their services.
EasyHits4U Review
---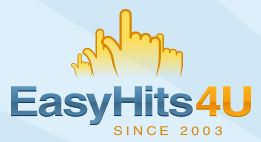 Name: Easy Hits 4U
Website: www.easyhits4u.com
Founders: Relmax Inc. in 2003
Price: Free – Up to $19,95/month
Field: Traffic Exchange program
Overall Rank:  87 Out of 100 (Check Out My #1 Recommendation, 98 Out of 100)
---
What Is Easy Hits 4U?
Easy Hits 4U is a traffic exchange platform which helps you to get traffic to your website. The idea works like this:
1.You visit a website and stay there for 15-20 seconds.
2.You will get a credit for each site that you visit
3.With credits, you can "buy" free visitors to the websites that you want
You can either promote your own websites or you can also put your referral links to other services in order to earn commissions. If you don't want to use your time visiting other websites, you can also buy ad credits on Easy Hits 4U and use them for traffic.
Easy Hits 4U has been already in the industry since 2003. 14 years is a huge time in an online world. One of their mottoes is, "Our numbers speak for us." So, have a look at the picture that shows how many members they have in total and how many clicks they have already delivered.

EasyHits4U video
I took a video where I walk you through basics of EasyHits4U. I also show my results for the first 500 credits that I bought. I used them on promoting Wealthy Affiliate because it's in my opinion the best place to learn how to make money online. Enjoy the video and if you have any comments or questions, don't hesitate to leave them below!
How Do You Earn Credits?
You need to have credits to invite people to your website. You will go to another website and there will be a timer ticking how long have you been there. After you have been there for 15-20 seconds, the timer will go away and you need to proof that you're not a bot by clicking the picture. See the example below:

So, there are 5 objects and two of them consist a pair. You need to click either one of them to earn a credit. If you don't click an eye in this example, they will not give you a credit because they think you are a bot.

After visiting 50 websites, I decided that I am just wasting my time and bought a credit package on Easy Hits 4U. It will give me enough information if this will work well or not. To be honest, I am a bit skeptical but still interested to see if it works because it's easily scalable.
Can I Earn Money With Easy Hits 4U For?
There are a few ways to make money on Easy Hits 4U.
1.You will earn $0,30 always after visiting 1,000 websites. As you can quickly calculate, this money is really nothing. You would need to spend at least 7 hours to earn that $0,30. So little money is not worth it.
2.You can earn money through new referrals to Easy Hits 4U. Each time when you refer a new person to Easy Hits 4U, you earn $0,10. For each purchase that your referrals make, you will earn 10-40% depending on your membership plan (I will explain more about them below).
3.You can earn money from people who visit your websites and links. Let's say that you use credits for driving visitors to your affiliate website. You earn, for example, $50 for each purchase and the conversion rate is 1%. It means that you would earn $0.5 for every 100 visitors. Even though that doesn't sound very much, I think it's still way too optimistic.
What Kind of Traffic Will You Get through Easy Hits 4U?

Even though you will have an opportunity to get tons of traffic to your website and offers through Easy Hits 4U, I must say that it's very "low-quality traffic." Let me explain what I mean with that.
Most people who visit your page will just be there for the minimum time 15-20 seconds and leave right away when they have earned the credit. There are no guarantees that visitors would be interested in your niche at all.
Do You Want a
FREE
& Easy-to-Follow
7-Day Course
to
Make Money Online
for Beginners?
Easy-to-Follow

Beginner-Friendly

My Personal 1-on-1 Support for You
Get Started for FREE Below Before this offer goes away!
Let's compare this traffic to the traffic that we get from the search engines (my favorite source of traffic). When you somebody comes to your website through Google, he has first written a keyword in the search. It means that he is already interested in that subject.
Then he sees your website on the first page and clicks to see what you have there. Then your website gives the answer to visitors question and you have built trust with that visitor. Maybe he will turn into a new customer. The traffic from the search engines is free and highly targeted. Many times it's the best converting source of traffic.
If you would like to know what is probably the best tool to find keywords for Google, have a look at Jaaxy. And if you are interested in learning how to drive tons of traffic through search engines to your website, have a look at this step-by-step training.
Anyway, even though the traffic from Easy Hits 4U is not very high converting traffic and I decided to give it a try. I bought 500 credits (=500 visitors) for $3,95. I will promote them my affiliate offer and analyze if I earned something through that offer. You can also give it a try and see if you could make a profit with Easy Hits 4U traffic packages.
Easy Hits 4U Pricing
You can also buy credits for a cheap price if you don't want to spend your valuable time on visiting random websites. You can see in the image below that 500 credits, for example, cost $3,95 and 5,000 credits cost $27,95 which means that each credit costs only $0.00559 ~ 0,56 cents in this package.
So, we can quickly make a conclusion that it's easier to buy a credit package than visit websites for endless hours. It would take around 7 hours to visit 1,000 websites = earn 1,000 credits.

As you can see in the image above, you can also become a premium member. They have 4 different pricing plans for a premium membership. The shortest one is for one month which costs $7,95. They also have an ultimate plan which gives, even more, features and bonuses to your account. Its price is $19,95/month or less if you buy a longer plan.
The picture below shows some differences between Free, Premium and Ultimate memberships.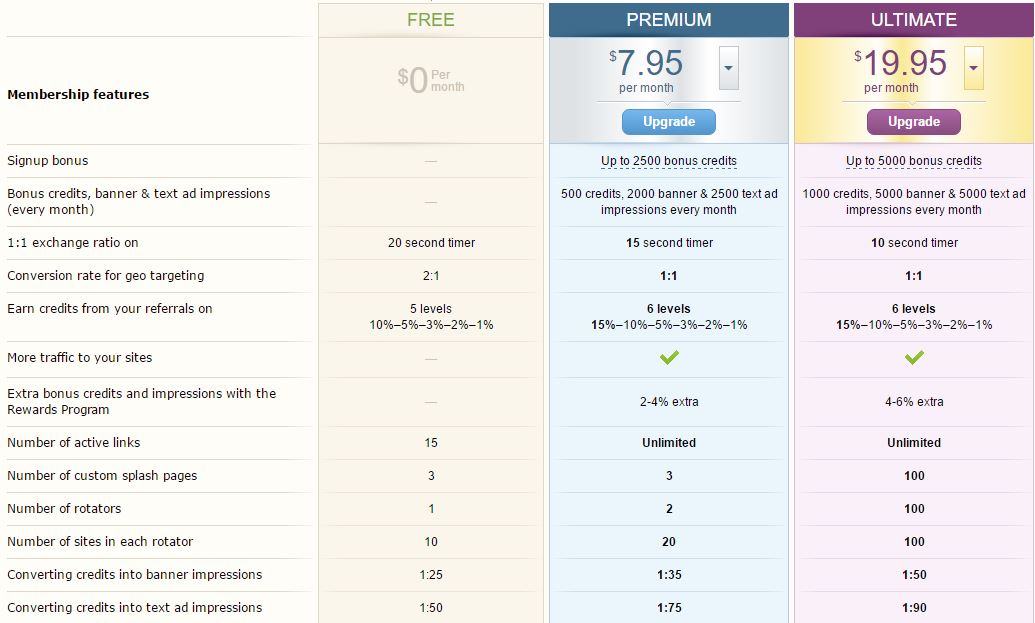 As you can clearly see, Premium and Ultimate memberships give lots of different kind of benefits. Are they worth investing the money? That's a decision that you need to make yourself.
Pros & Cons
Pros:
You can get a huge amount of traffic to your website and to your offers
Reliable company has been in the business already since 2003
You can earn some money through their referral system and through the traffic you get
Traffic from Easy Hits 4U is very cheap
Cons:
Traffic that you get is not targeted
If you spend your time checking websites, you may easily waste lots of time
Some of the websites and offers that you see on their websites may be scam
Conclusion – Is Easy Hits 4U a Scam?
Easy Hits 4U is not a scam. I wouldn't spend my hard-earned money on scams. After reviewing around more than 200 online products, I can quickly recognize a scam. I am excited to see what kind of results I will get with their service.
However, I think that Easy Hits 4U is not the best money-making opportunity on the Internet. My #1 recommendation is Wealthy Affiliate because they teach you every single step you need to take in order to create a successful online business. I have friends who started in WA without any prior experience of online business and nowadays they are making +$10,000/month online.
Wealthy Affiliate is also 100% free to join. It takes around 10 seconds to create an account and you will get an immediate access to all premium resources for a week. After that trial, you will have a lifetime access to free resources in WA which includes 20 interactive video lessons with tasks for you to accomplish, 2 high-quality websites with a domain hosting and so on.
What are you waiting for? You have nothing to lose but everything to win. What would it feel like to quit your 9-5 job and have a freedom to work whenever you want wherever you want?
Easy Hits 4U at a Glance…
Name: Easy Hits 4U
Website: www.easyhits4u.com
Founders: Relmax Inc. in 2003
Price: Free – Up to $19,95/month
Field: Traffic Exchange program
Overall Rank:  87 Out of 100
Have you ever tried Easy Hits 4U or some similar services? What did you like them?
Let me know in the comments below! 🙂
Reading comments from my visitors makes my day. That's why I promise to respond every single comment personally within 24 hours.