Is Teens Earn Cash a Scam? You are probably asking this question after seeing their huge promises, "Earn up to $500 Today!" "Get $25 Sign Up Bonus!"
I have experience of more than 300 make money online programs. Among those programs, I have seen various scams and I was a bit suspicious about those huge claims so I decided to give a closer look.
In this review, I'll reveal you the true nature of Teens Earn Cash program.
Teens Earn Cash Review
---
Name: Teens Earn Cash
Founded: 2017 (They Falsely Claim "Founded in 2008")
Type: Ad Affiliate Network for Teenagers
Short Review: Teens Earn Cash is a blatant scam. Their homepage is full of scam signs and suspicious details. All other reliable online entrepreneurs have also claimed it's a scam. I recommend staying far away from their website.
If you are interested in earning money online, I recommend taking a look at this honest and profitable opportunity. It's not a get rich scheme but the training will certainly help you to make money on the Internet. Nowadays I am making a living online because of their training.
---

What Is Teens Earn Cash?
In July started something strange. A few websites popped up claiming that teenagers could earn up to $500 per day just by sharing a link with their friends. There were several websites that looked exactly the same. Their names were TeensEarnCash.com, TeensEarnMoney.com and so on.
The idea of the website is that you share an invitation link to your friends on social media and you earn money. You could earn $10 for each person who signs up to their website through your link. Notice that they aren't talking anything about buying here. The person you invite needs only to sign up and you earn the money.
By referring 15 people you would have already earned $175 (sign up bonus $25 + $10*15). Is this too good to be true?
I decided to sign up and take a closer look.
Signing Up on Teens Earn Cash
I filled out some information to get started (I use a second email for scammy sites like this one so my primary email won't be filled with spam).
After signing up and clicking the link in my email I was directly taken to this page.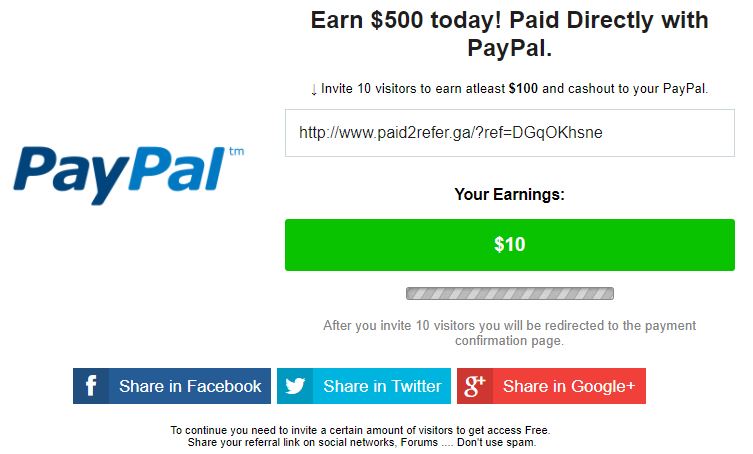 I couldn't move further. The only option they gave me was to share their page on my social media. I refused to do it because I don't want to promote scam websites for my social media circles. Let me show you what makes me convinced that their website is a scam.
#1 Scam Sign: 

False Promises
I have been a few years in "make money online" industry and I have reviewed hundreds of programs. I make a living online myself and I know personally many online entrepreneurs. We all know that success requires work and effort.
There isn't a shortcut to success. I have never seen an honest program that would pay you $500 right away without any work. Of course, you can make $500 per day online passive income (and much more) if you become successful but it requires work, preparation and building the foundation.
Teens Earn Cash is promising $500 for teenagers who have zero experience of making money online. That's a lie.
#2 Scam Sign:

 False Dates and Numbers
Teens Earn Cash claims on their website, "We have been making teens money since 2008." In addition, their page shows that they would have already paid $18,300,000 for their members.
Do You Want a
FREE
& Easy-to-Follow
7-Day Course
to
Make Money Online
for Beginners?
Easy-to-Follow

Beginner-Friendly

My Personal 1-on-1 Support for You
Get Started for FREE Below Before this offer goes away!
Have a look at the following information: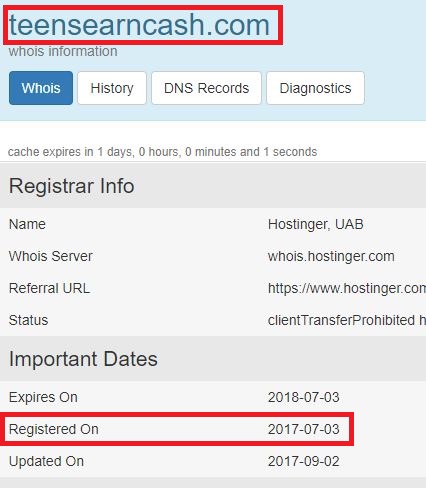 Their website has only been around 2 months. That's also the case with other similar websites like TeensEarnMoney.com. They all were registered in July 2017. Then after a few days of registering they were already saying that TeensEarnCash has paid their members $18,000,000. How do they dare?
#3 Scam Sign:

 Suspicious Terms & Conditions
I took a closer look at their terms & conditions. Usually, this kind of dodgy websites has something strange there. Have a look at the following text on their website:

Let's say that you start inviting people to their website. Then you have earned $165 and you want to cash out. TeenCash can immediately terminate your account so you can't take any money out. And they can do it because when you have signed up you have agreed their terms & conditions.
Their rules are designed to be against you. Lol.
#4 Scam Sign:

 Everybody Says It's a Scam
In my article of 5 incredible tips to avoid scams online I say that it's good to ask what other reliable online entrepreneurs think about the product. People who have lots of experience usually spot scams quickly and you can trust on their words.
Every single review that I have read or seen about TeensEarnCash says it's a complete scam. I haven't seen anyone reliable promoting the program. That's a huge sign.
Reliable make money online programs like Wealthy Affiliate have tons of positive reviews all over the Internet. If the program is good, people usually write positive reviews. If the program is a scam, you'll find tons of negative reviews. That's common sense.
At this point, you may be wondering how is their website then making money by fooling people. Let me show you.
How Does TeensEarnCash.com Make Money?
There are several ways how this kind of websites can earn money.
1.Advertisements
They are able to advertise products on their website and earn money for each click.
2.Purchases from Their Members
If you want to cash out your money, they may require you to buy some cheap product first. Let's say that you are about to cash out $175. They require that you buy first a $10 to "confirm" your PayPal account works. When you have bought the product they won't pay you anything but just take your cash.
3.Selling Your Personal Information
TeensEarnCash asks for your information. Don't give it to them if you don't want to get spammed by email and calls.
They have a right to give your information to third parties. It means that you may be receiving marketing calls and emails where TeensEarnCash's partners are trying to sell you some products. If a website/company is a scam, it's better not to associate with them.
Of course, you can send them an email by using your secondary email address but I think it won't be worth it either. You'll just receive some automated message or they'll just try to convince you to try their program.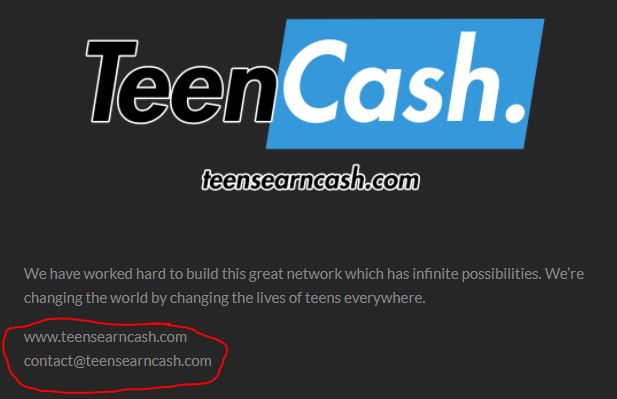 Conclusion – Is Teens Earn Cash a Scam?
As it has become clear in this review, Teens Earn Cash really seems to be a scam. I recommend that you don't register on their website and just use better opportunities. There are tons of ways to make money online honestly so there isn't a single reason to associate with scam programs.
I have been pretty harsh against Teens Earn Cash in my review but I think it's allowed here. It's ruthless that they are trying to scam young and innocent people who don't have any experience of earning money online. C'mon!
The Bible says that the love of money is a root of all evil. I think it explains this kind of scam artists. They have started to love money more than they love honesty.
I believe that TeensEarnCash and similar websites won't be there for a long time. A lie has short legs. There will be tons of complaints and they need to shut down their websites.
Anyway, if you have read this far I believe you are interested in earning money online. Why wouldn't you take a look at my #1 recommended program for making money online? I am sure you will fully enjoy their training.
I offer also 1-on-1 support for everyone who joins Wealthy Affiliate through my website. That's a special bonus for my readers. For example, today I received very positive feedback from one Latvian guy who had joined WA recently through YourOnlineRevenue.com. He was so happy that I had shown him that opportunity. It's always great to hear positive feedback like that.
I want to see you succeed as well. 🙂
---
Have you ever been scammed online? What happened?
How do you spot online scams nowadays?
Let me know in the comments below! 🙂