Are you wondering if LuLaRoe is a pyramid scheme? Then you have stumbled on the right page. I am going to review this opportunity and give you my own understanding of what this system does.
I will be honest in my review and I am in no way affiliated with this scheme. This review will cover what the LuLaRoe MLM-program is all about, its products and how to join.
If you have any questions about their program (or earning money from home in general), do well to drop them in the comment section.
LuLaRoe Review
---
Name: LuLaRoe
Founded: 2012
Cost: $5,000 – $10,000 On Boarding Package
Founder: Deanne Brady & Mark Stidham
Type: Fashion MLM-System
Short Review: LuLaRoe is a unique MLM-business because there aren't much similar fashion business in the MLM scene. Their founders have an interesting and inspiring idea behind the company.
However, it's expensive to get started with their program (+$5,000) and it requires tons of hard work to succeed. It isn't easy to earn passive income with their system like other business models. You have to recruit lots of new members in order to make a big income.
If you are interested in earning money from home, have a look at my #1 recommendation to make money online program. I have used it myself and it works great. You don't need any initial investments or even your credit card to get started. Their premium membership is less than $1 per day which makes it very cheap. Still, it can help you to make a life-changing income.
---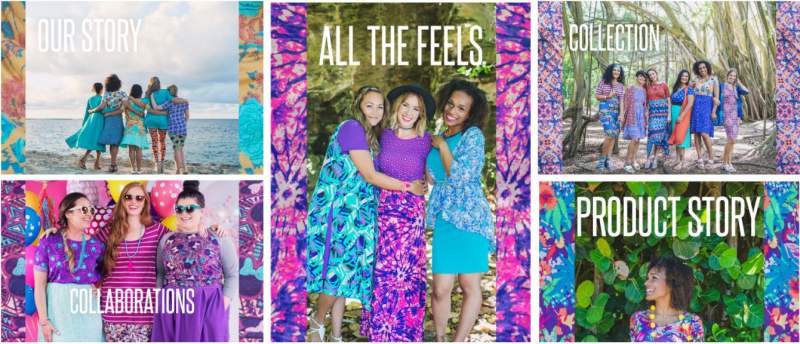 What Is LuLaRoe?
LuLaRoe is a multi-level program which sells women's clothing. This company is based in the United States. Its founders first started this business in 2012 when they first produced skirts for their daughters and their friends. The company is only 5 years old which means it's relatively new compared to older MLM-programs like Avon or Amway.
Since then, the LuLaRoe has grown from 20 to over 2,000 distributors. The company experienced a fast growth in 2016 where they made sales which exceeded US$1 billion. That all came to a standstill in early 2017 when LuLaRoe faced a class action lawsuit.
In this video the co-founder of LuLaRoe DeAnne Stidham explains the story and vision behind the company:
LuLaRoe Products – Clothes for Women and Children
LuLaRoe products are produced basically for women and children and they include items such as
Women Products – Leggings, tops, skirts, dresses, etc.
Kids Products – Skirts, dresses, shirts, etc
LuLaRoe clothing can only be bought through their multi-level marketing system. When you purchase their items of clothing in wholesale from the company, you can then resell. Its products are mainly shirts, leggings, and dresses. The company deals with items of clothing which show modesty.
Several ladies love quality over quantity, the company in 2016 began receiving reports that the quality of their clothing items are not up to standard. This was probably one reason why Better Business Bureau downgraded the company's quality rating to F. notwithstanding, there are still a lot of women who love the LuLaRoe products. While some buy the clothing as retailers, others buy them as wholesalers and enjoy retirement benefits and every other compensation plan it offers to its distributor.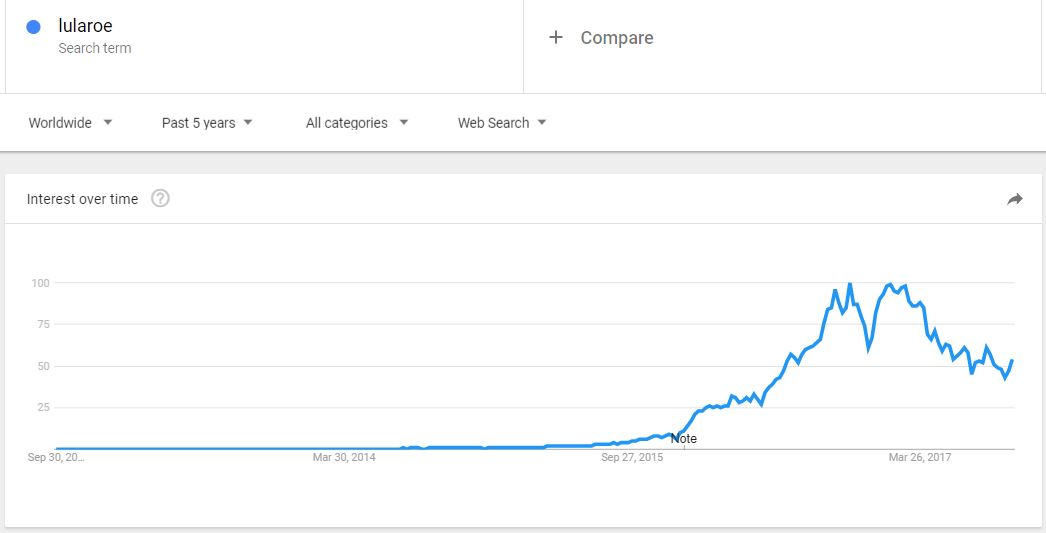 Getting Started with LuLaRoe
To become a fashion consultant with LuLaRoe, you will need an initial start-up cost of $5,000-$6,000. Before you join this program, you need a substantial amount of money and you need to be ready to purchase this clothes in bulk. It does not have an online shop where you can do affiliate marketing.
If you choose to join the program you are all on your own when it comes to marketing your product. It is an MLM program, which means it is a Pay to Play. You have to pay the initial startup before you get any product from the company.
Do You Want a
FREE
& Easy-to-Follow
7-Day Course
to
Make Money Online
for Beginners?
Easy-to-Follow

Beginner-Friendly

My Personal 1-on-1 Support for You
Get Started for FREE Below Before this offer goes away!
LuLaRoe packages
According to research, the LuLaRoe inventory packages go for
1st Package – $4,812 in total for 336 pieces
2nd Package – $5,365 in total for 365 pieces.
3rd Package – $6,784 for in total463 pieces
Unlike other MLM programs, in LuLaRoe you can not just go to their office and buy the products whenever you like even if a customer urgently needs it. You first have to buy a package and the items included in that package is what you sell. Before you choose to join, you need to know that you do not choose the patterns, colors, size or style of your inventory. You may end up with items which you cannot sell because of the wrong size and other basic dimensions.
The initial investments of a LuLaRoe program are huge compared to other MLMs. In addition, you need to buy 33 new pieces of clothing every single month to remain an active distributor.
You can imagine how much time and effort it will take to manage your LuLaRoe inventory. Wouldn't it be just easier to promote products on some online store like Amazon? If you want to learn how to do it, just follow this step-by-step training.
I am making a living online even though I never even see the products. I just leave links all around the Internet and I make commissions when people buy through my links. Sometimes I have even forgotten the link but then I receive an email, "You just earned $130 commission!" I think it's much easier than managing a LuLaRoe store. What do you think?
LuLaRoe Compensation Plan
First, I would like to show you a video where a LuLaRoe retailer explains how their system works:
As a newbie to how to make money from home, you may be anxious on how fast you will stay receiving your commission. But put first things, first. You need to know the different compensation plans and how much you earn for every sale.
LuLaRoe compensation plans do not depend on the inventory package you bought. The compensation plan rather depends on your recruitment level and your sales.
Fashion Consultant: When you join the LuLaRoe, you first start as a fashion consultant. You are required to sell a minimum of 33 pieces of the inventory you registered with. At the end of any sale, you get around 40-50% commission for every product sold by you.


---

Sponsors: To earn any commission at this level, one must sell at a minimum, 175 pieces of their products in a one month. You earn an extra 5% commission on the gross sales made by your personally recruited distributors.


---

Trainer: At this level, you are expected to have downlines, you can only earn a commission when your downlines are able to sell a minimum order level of I,750 pieces per month. The number of fashion consultants in your downlines should be up to 10 and you have to be active on your own part to achieve this. Each of your downlines should be able to sell 175 pieces in one single month.


---

Coach: to attain this level, your recruits should have become trainers. At least a minimum of 3 of your downlines should have attained the trainer level. Once you have achieved all these, you stand to earn 1% on the sales of those you have coached.
All in all, making big money with any MLM-opportunity requires lots of recruiting. If you only sell products yourself, you won't be earning passive income which is, in my opinion, the most interesting form of income.
LuLaRoe Business Opportunity – What About the Competition?
I think that joining LuLaRoe has been a more interesting opportunity a few years ago. All the time the competition is becoming tougher in the US as you can see in the picture below.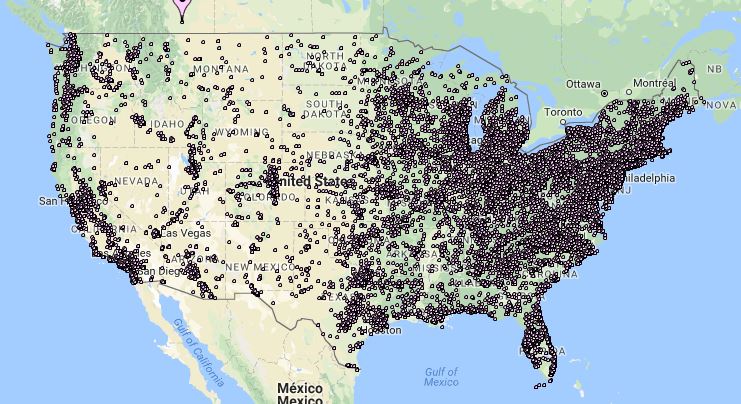 Of course, this is a good thing for the CEO and founder of LuLaRoe because they are making huge profits for all sales in total. But for you as a retailer, it's a thing that can significantly affect your sales.
LuLaRoe is still a relatively new company because they have been only 5 years in the business. Many retailers say that they are still making "baby mistakes" and they have tons of things to improve. In my opinion, this is an important thing for you to consider if you are thinking whether or not to join their program.
Before joining any MLM program, it is always good to check out what other people are saying about it. After carefully reading what other blogs and customers said about it, we were able to pick up few positive and negative points.
LuLaRoe Positive Reviews
Customers felt that the clothes were comfortable but made with inferior materials. Several Women loved the idea of having to shop and earn while at home. And they have the freedom to market their clothes using any marketing platform.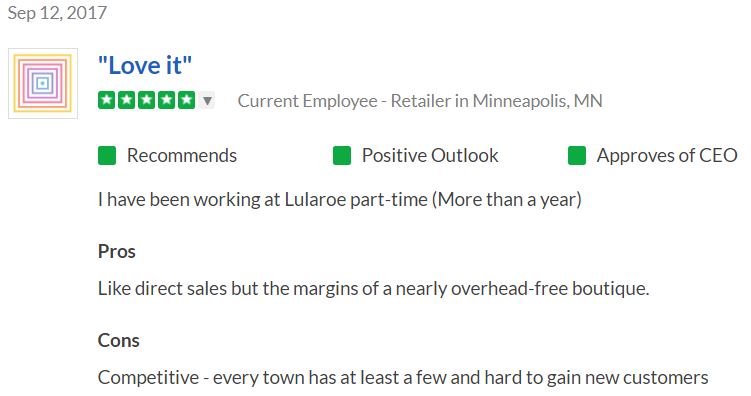 LuLaRoe Negative Reviews
Negative reviews were also given by people who thought the wait to become a fashion consultant was quite lengthy. Seeing as their office is in the United States, most customers were surprised to see a made in China tag.
Also, the cost per cloth was too pricey and the limitation to which retailing store to use like eBay, Amazon which is not allowed. Going clearly by what this program offers, the positive of joining the program is more than the negatives.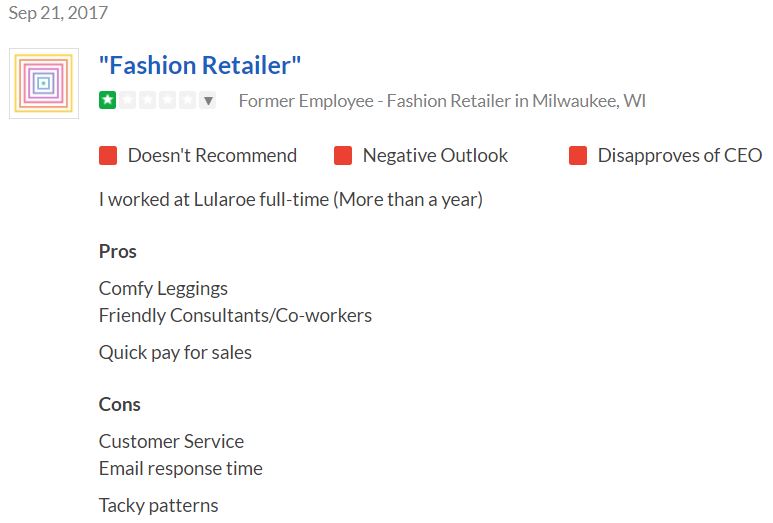 Many LuLaRoe members have reported about the low support like you can see in the image above. It seems that after the rapid growth, the quality of their support team has significantly gone done.
Many members say that you are on your own with the business. That's why you'll need to have a strong commitment mental dedication. Of course, a good upline member can help if you have a good person there.
However, the fact is that you need be able to put in lots of work. Otherwise, you can't succeed with this kind of business. My suggestion is that you shouldn't be afraid of +60-hour work weeks if you want to succeed with LuLaRoe.
Conclusion – Is LuLaRoe Worth It?
My sincere advice to you is that if you don't have a burning passion for LuLaRoe products and having your home inventory, don't start this program. There are many better opportunities to make a living by selling clothes with a smaller amount of work.
Tim Ferriss' book 4-hour work week described some examples how his friend made big income online with little efforts by selling unique t-shirts.
LuLaRoe isn't a pyramid scheme because they are offering real products and they don't solely rely on recruiting. However, in any MLM-program recruiting plays a big role and you need to be ready to sell the program also for other people.
7-Day Make Money Online Email Course
Learn SIMPLE steps to make a LIFE-CHANGING INCOME online. I will help you hand-by-hand!
Then there is a possibility called affiliate marketing. You just promote other people's products on your website, blog or social media channels and earn sales for each commission. Based on my and other people's experience the start can be slow but then your business will grow like a snowball and the scalability is limitless. You can make $10,000 per month or even much more if you become successful.
This step-by-step training will teach you every step you need to make a full-time income online. In addition, you'll get a 1-on-1 support and mentoring from me when you sign up through my website. It's completely free to get started so you don't have anything to lose but everything to win.
---
What do you think about LuLaRoe business opportunity?
Would you prefer selling products online like I do so you never need to so the shipping and handling?
Let me know in the comments below!