Is Valued Opinions a Scam? That's what people were asking all around the Internet. Some members said it's a scam but other ones told they were paid. So, what's the truth?
I wrote this unbiased Valued Opinions review to answer all your questions. I am not affiliated with their website so you can trust in my words here.
I can already tell that Valued Opinions is not a scam. They have a good reputation and millions of people all around the world have used their services. Still, I don't use it myself and I recommend that you wouldn't use either. Read until the end of the article to find out the reasons.
Valued Opinions Review
---
Name: Valued Opinions (VO)
Founded: Originally in 2000. Bought by Now Research in 2009.
Type: Online Surveys
Short Review: Valued Opinions is a typical online survey site. It's a legitimate website that pays for their members like they have promised. However, the earning potential is so small that it isn't worth the hassle. (If you have read my other reviews of online surveys, you know the story 😉 )
My #1 Recommendation for making money online (especially for beginners) is Wealthy Affiliate. If you have are ready to learn, start their training for completely free and you'll learn how to make a living online like I do.
---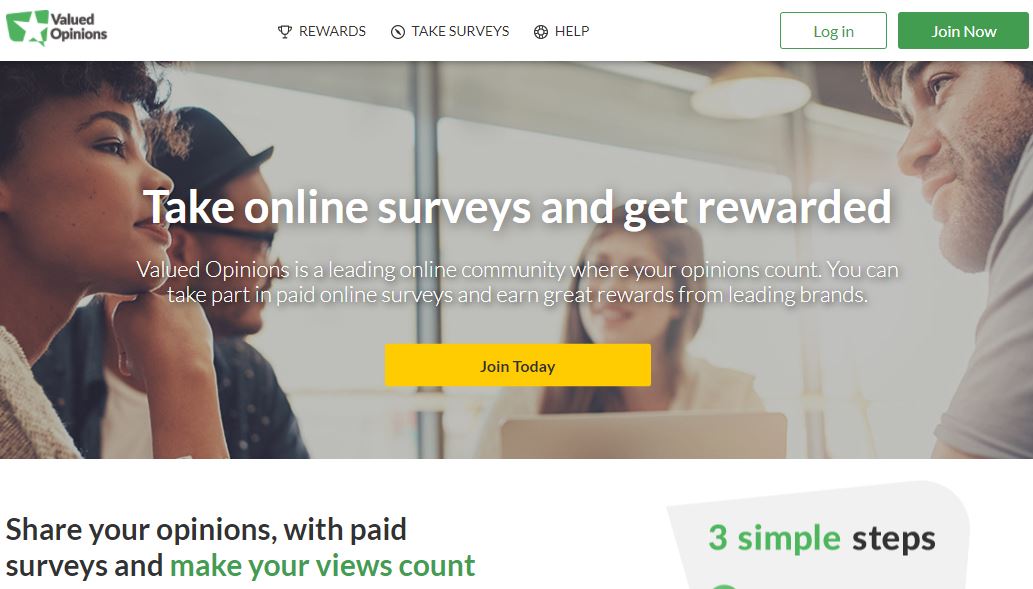 What Is Valued Opinions?
Valued Opinions is an online survey website which has been around already for years. It was originally founded in 2000 and bought by Research Now Ltd in 2009.
The company gathers information from consumers that will be helpful for their partner companies. Huge players like Coca-Cola, Pepsi, Amazon, Ikea and literally any big company will benefit from the feedback of their clients. It will help them to make their marketing more targeted in the future and improve their products to meet customers' needs.
Valued Opinions operates in many countries but their online surveys are available at the moment in the UK, USA, Canada, Australia, and New Zealand. However, sometimes they have enough people answering their surveys so they don't always look for new participants.
How to Make Money with Valued Opinions?
Earning rewards with Valued Opinions is simple. It works in the same way like other similar websites. The following image from their website explains the process in a nutshell: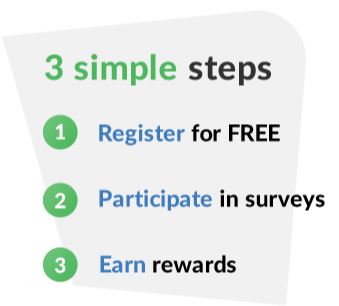 Step 1 – Create Your Profile
So the first step is to create your profile. It happens usually in a little while if Valued Opinions is accepting new members. When you have signed up and confirmed your email account they'll ask you some pre-qualification questions like,
"How many children do you have?"
"Where do you live?"
"How much is your annual net income?"
Etc.
This kind of questions will help them to target future surveys suitable for you. Let's say that they want for some survey: Men who live in the US, have 1-3 children and earn  $30-50,000 per year.
You won't get paid for signing up and answering pre-qualification questions on Valued Opinions unlike on some other survey websites like PrizeRebel, CashCrate, and InstaGC.
Step 2 – Participate in Surveys
When you have filled out the basic information about yourself they start offering you surveys. Notice that there isn't a constant flow of new surveys. There will be a new survey every now and then. They will inform you about new surveys by email.
How much can you earn per each survey?
Valued Opinions advertises that you can earn up to $5/£5 per each survey. However, many members report that they have never seen a survey that would pay more than £2.
Based on my experience of 80 online survey site I can say that I have never seen a survey that would pay $5. On the other hand, I have seen many sites that talk about it. The reality has been a bit different.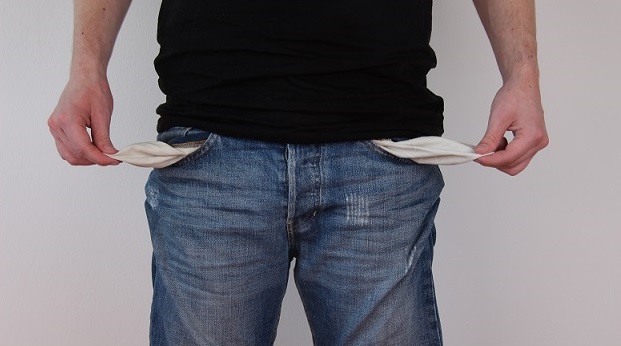 Most people estimate that your hourly earnings will be maximum £3 or $5 per hour. Notice that I am talking here about the maximum income. 10 days ago I just met a guy in Lisbon who is making +$100,000 per month with affiliate marketing. I have also written an article about friends that make consistently +$10,000/month online.
Do You Want a
FREE
& Easy-to-Follow
7-Day Course
to
Make Money Online
for Beginners?
Easy-to-Follow

Beginner-Friendly

My Personal 1-on-1 Support for You
Get Started for FREE Below Before this offer goes away!
The truth is that you could probably never reach even $500 per month with online surveys. That's one reason why I think surveys aren't worth it. If you are interested in making money online with affiliate marketing like I do, just click the picture below and I'll teach you more.

Step 3 – Cash Out Rewards
After you have answered enough surveys on Valued Opinions you can cash out your rewards. I want you to know that on VO you can't get money, check or bank transfer.
It means that you can only get paid through gift cards and vouchers. The most common gift card is probably a $20 gift card for Amazon.
Valued Opinions has a relatively high cash out limit. The smallest Amazon gift card they offer has a value of $20. However, you first need to earn $22 to get it. So, they take a $2 fee there.
Earning your first gift card on Valued Opinions can take a few months. Notice that you don't get your rewards to your account immediately. It can take extra 4-6 weeks that your points are rewarded after answering the questions.
Valued Opinions Affiliate Program
Valued Opinions has also an affiliate program where you could get paid in the following way: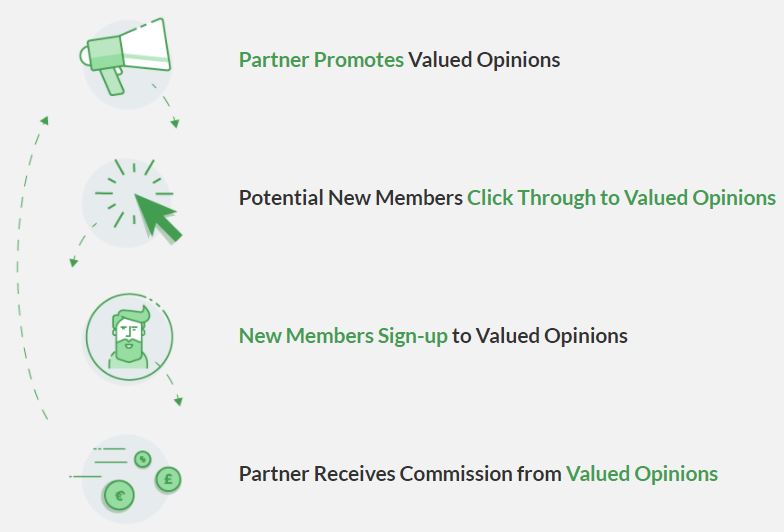 It's a typical process of affiliate marketing. You share the link and you get paid when new members join the program and start earning money.
However, I don't want to promote Valued Opinions so I am not part of their affiliate program. I don't recommend online surveys for you. I could consider using this kind of websites to gather information for a company but answering questions isn't really worth it.
My principle as a full-time affiliate marketer is that I only promote services that I find valuable and I would recommend even to my best friends and family members.
---
Valued Opinions Reviews & Complaints
In my reviews, I usually tell you what other people think about this opportunity as well. So, I took a look at Valued Opinions reviews to find out.
Almost all people said it's an honest company and they pay you in time (even though it takes time but at least they pay as they have promised). However, I found some major complaints that I'll show you:
1.Low Rewards
As I explained below, the rewards on online survey sites are really low. That's the case with Valued Opinions as well. I don't know many people that would be satisfied a salary of $3 per hour.
2.Lack of Surveys
They don't offer you new surveys all the time. They'll send you an email every now and tell, "There's a new survey available!" However, most of the time you just need to wait…
3. Disqualified from Surveys
If you have ever used online survey sites, you know the following scenario:
You get an email that says, "We have a new survey available for you. Start now and earn rewards!" You click the link and start answering questions. However, after 5 minutes of answering their questions, they inform you, "Unfortunately you weren't qualified for this survey. We hope you have a better luck next time."
The following short review by Valued Opinions member says the most important thing. Look at the title: (Don't worry about the typo)

Conclusion – Is Valued Opinions Worth It?
Even though Valued Opinions is not a scam, it's not worth answering their surveys. Rewards are so small that you would be earning 10-50 times more on other websites at the same time by doing even more interesting activities.
I have talked with tens of online entrepreneurs and also with people are just starting out with earning money online. Usually, all of them say that they tried online surveys in the beginning but stopped doing them when they realized how low the earning potential really is. I have the similar experience.
Nowadays I research new survey websites just for the curiosity but usually, I know that they aren't worth the hassle. Some of them pay a little bit more but the "salary" is still way below the minimum wage.
If you are interested in earning money online, I have good news for you. I can teach you how to do it. My recommendation is that you still continue your regular job and start earning money with Wealthy Affiliate on the side. That's how I did it. Nowadays I'm a full-time online marketer and most likely I will never go to back to a 9 to 5 job.
7-Day Make Money Online Email Course
Learn SIMPLE steps to make a LIFE-CHANGING INCOME online. I will help you hand-by-hand!
If you want to start making money right away, freelancing is one good choice. There are tons of websites where you can get paid for your writing, designing, editing, translating and other skills. But I highly recommend that you don't only rely on freelancing. It's still like a 'job' and usually, the earning potential isn't huge.
Start the training in Wealthy Affiliate for free and you'll learn how to earn big money online.
---
Would you like to learn to earn a living online as well? What do you think about affiliate marketing?
Let me know in the comments below! 🙂