Name: Cashcrate
Website: www.cashcrate.com
Price: Free
Founded: 2006
Overall Rank: 30 out of 100
Field: Surveys/Little tasks
What is Cashcrate All About?
Cashcrate is similar to other survey sites that we have reviewed here in YourOnlineRevenue.com. If you remember for example Clixsense, iGlobal Surveys or Toluna, Cashcrate is somehow similar. Or one of the very famous ones is Swagbucks but I haven't reviewed it yet because it's not working in my country Finland.
In Cashcrate you will need to finish some little tasks in order to earn extra dollars. Those tasks are:
Answering polls and surveys
Watching videos
Referring other people to join
Playing games
Buying products from online stores to get a cashback (similar to Swagbucks)
How Much Money Can You Make with Cashcrate?
This must be the greatest part but I have to disappoint you. Cashcrate is not a fast way to riches and to be honest, if you dedicate too much time to Cashcrate, you will never be rich at all. The best use of your time would be to concentrate on more profitable income streams.
You can see in a video below where one member shows how he is making money in Cashcrate. I don't know how he made $20+ in less than 2 hours because in the video he is making $0,02 in 1 minute which equals to $2,40/2 hours…
Let's say that your salary in a normal job would be $15/hour. You are making $0,25 every minute and $1 every 4 minutes (of course you need to pay taxes then but I just want to illustrate the idea). In Cashcrate and other survey sites it usually takes about 15-20 or sometimes much more time to make $1. So if your hourly salary is $15, you are earning easily 5 times better than with Cashcrate.
I would prefer to work for one hour for $15 and then have 4 hours free if the other option would be to work for 5 hours for Cashcrate surveys and then have 0 hours free. I don't understand why people are wasting their valuable time on online surveys or aren't they just using their brains?
Some Examples of Making Money in Cashcrate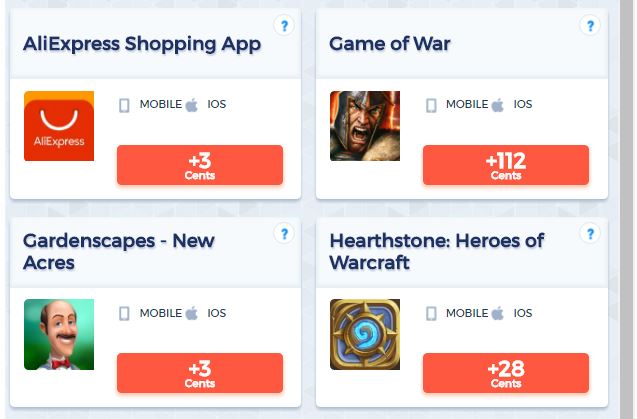 In the picture above you can see 4 applications that can make you money through Cashcrate. In order to earn 3 cents from Ali express or Gardenscapes apps or 28 cents from Hearthstone you just need to download and open the app. That will make you 34 cents in total.
Then if you want to earn 112 cents from Game of War, you need to install the app and play it until you reach Stronghold level 5. Let's say that you finish all of those 4 tasks, you will be given 146 cents = $1,46. If you would be earning in your normal job $15/hour, you would make that money in 5-6 minutes. I don't know exactly how much time it will take to install all those apps, open them and reach Stronghold level 5 in Game of war but I guess it will take at least 30 minutes or even an hour. Doesn't sound very profitable?

You can see Cashcrate daily survey offer above. I took the survey because I wanted to know how much does it take to earn that $0,75. They first asked me some basic questions which took 2-3 minutes to answer. Then they led me to a survey. In the beginning of the survey, they said it would approximately take 15 minutes to finish. So I could finish about 4 that kind of surveys. That would make my hourly "salary" $0,75*4= $3/hour.
That doesn't sound very profitable either. So I decided not to waste my valuable time on these Cashcrate surveys and tasks. I would rather concentrate on building my very own online business with the skills that I have learned from Wealthy Affiliate.
Cashcrate Referral System
Like in most of the survey sites, there's a referral system also in Cashcrate (see the picture below).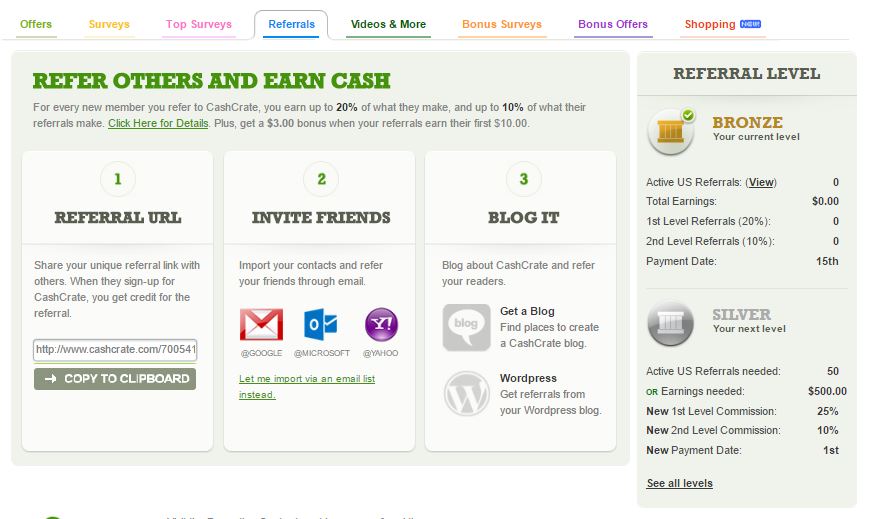 When you get new people in, you earn up to 20% of what they make and even up to 10% of what their referrals make. You will also earn $3.00 bonus when your referral earns his/her first $10.00. If you keep on bringing new people in, you will move from Bronze level to Silver level and to Gold level etc.
Their referral system can be quite profitable for you if you get a lot of people in. But my philosophy in Your Online Revenue is that we don't recommend people to join survey sites if it's not really profitable for them. I don't want to milk money from people by recommending them something that I wouldn't like to use myself. I only recommend products that I use or could use myself. See our #1 recommendation!
Pros & Cons
Pros:
Many ways to earn money
Free to use
Reliable 10-year-old company
Better than most similar sites
Cashback for products that you would buy anyway
Cons:
Do You Want a
FREE
& Easy-to-Follow
7-Day Course
to
Make Money Online
for Beginners?
Easy-to-Follow

Beginner-Friendly

My Personal 1-on-1 Support for You
Get Started for FREE Below Before this offer goes away!
Time consuming
Not possible to earn big money
Bad return for the invested time
My Final Opinion of Cashcrate
I must admit that Cashcrate can be better than many other survey sites. They have so many options to earn pennies that will keep their members somehow entertained. However, I don't know if it's a good or a bad thing because the members are just using their valuable life on answering some boring surveys or playing useless games. I don't want a life like that.
If you want to make money online I would recommend you forget all survey sites now! They will only make your life boring and you will provide minimal value with your life.
Making money online requires that you provide some value for other people. Of course, "value" can mean thousand of different things. It can mean that you write your opinions to your blog and recommend some cool products. It can mean that you provide private coaching through Skype. It can mean that you provide entertaining videos on Youtube. The possibilities are nowadays limitless.
The problem is that many people lack skills to build their own online business. It may sound cool to earn $10,000/month online but then people don't give it a try because 1.they don't believe in it and 2.they don't have skills.
I want to introduce you to Wealthy Affiliate. It is probably biggest online business community in the world. It is totally free to join and you can get in touch with some very successful online businessmen who are already millionaires. Wealthy Affiliate provides also step by step training how you can build your very own online business from 0.
They have video tutorials, community mentors ("ambassadors"), live webinars, blog training, live chat and much more. The best part of it is that you can get started for free. Starter accounts $0 so you don't need your credit card. I recommend you to give it a try today!
Cashcrate at a Glance…
Name: Cashcrate
Website: www.cashcrate.com
Price: Free
Founded: 2006
Overall Rank: 30 out of 100
VERDICT: Not Recommended.
What is your opinion about Cashcrate and other survey sites?
Can you really make money with survey sites or are they just waste of your time?
Leave a comment below and I will be more than happy to follow up with an answer.