Would you like to earn money by listening to music? Doesn't it sound like an interesting idea? I enjoy music and I think it's one of the beautiful blessings that God has given us. So why wouldn't I want to make money at the same time in Slice the Pie?
They have been around already for more than 10 years and paid more than $3,400,000 for their members so it sounds like a legitimate service. Do I recommend it for you? Is Slice the Pie a scam or a fun way to earn money online?
Let's find out.
Slice The Pie Review
---
Name: Slice The Pie
Website: www.slicethepie.com
Founded: 2007
Field: Listen to Music to Earn
Verdict: Legitimate service but not worth my time. (Check Out My #1 Recommendation, 98 Out of 100)
---
What Is Slice the Pie All About?
Somebody was wondering how to get feedback for the music they and other musicians product. Many bands just play together but would probably want to hear ideas how to improve their music further. That's how Slice the Pie started. It's a great way for musicians to get about their music.
And for you, the guy who wants to make money online, it can be another earning possibility. You will get paid for listening to music on their website and writing short reviews of what did you like.
You have probably seen other online survey sites on the Internet that promise to pay you for your opinion. The catch there is that they don't usually pay you very much. I would pay you, of course, same dollar amounts for writing me reviews of my website and business.
Musicians and business owners love to get feedback because it helps us to improve our service, make it more user-friendly and after all, make more profit.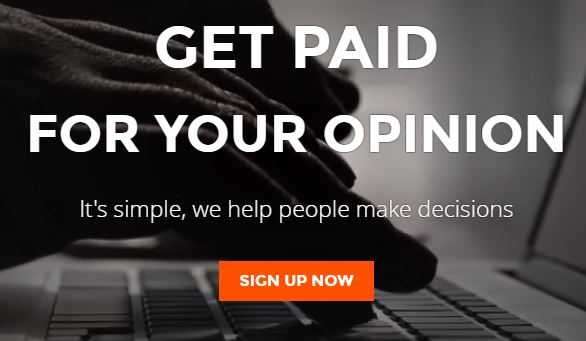 How to Make Money on SliceThePie?
First, you sign up and create a profile. Then you need to choose what music genres do you like to listen. You click the boxes and they will give you songs from those genres in the future. If you want to maximize your earning potential on this service, you choose all of them.
Then they will give you a song after another for a review.
You need to listen to a song at least for 90 and your review should be at least 60 words long. Usually, the longer review you write the more you will earn.
I recorded a short video where I walk you through the sign up process in Slice the Pie. I also tell the reasons why I don't recommend this service as a money-making opportunity and in the end I show the place where I learned to make money online. Enjoy!
How Much Money Can You Make on SliceThePie?
Every member (they call them scouts) starts with a one rating start. When you stay longer in the community and give more reviews you will get more stars up to 5. The more stars your profile has, the more money you will earn per each review.
In the beginning, you will earn around $0,05 for each review that you make. It means that you will earn $0,05 for 90 seconds of listening to a review and writing minimum 60 words. We can quickly calculate that your maximum earning potential in this phase is around $1,5 per hour if you are a machine and your Internet connection is perfect.
When you move up in the ladder, you can earn up to $0,20 for each review you make. In theory, you could earn $6 per hour but in practice, that's not possible.
It means that you wouldn't have any breaks. Then you should write 60 words always in around 20 seconds. In addition, you have already spent endless hours in order to reach this phase. Let's assume that your Internet connection is not the fastest one in the world.
I would say that the highest hourly salary you could get in Slice the Pie is around $3-4 per hour. But it requires that you have first worked hundreds of hours for $1-2 hourly salary. That's why I think this kind of websites and online surveys, in general, are not worth it.
SliceThePie Reviews – How Much Other People Earned?
I have read several reviews of people using Slice the Pie. People reported how much they were able to earn through this service. Hourly salary varies usually between $0,90 and $1,50.
Do You Want a
FREE
& Easy-to-Follow
7-Day Course
to
Make Money Online
for Beginners?
Easy-to-Follow

Beginner-Friendly

My Personal 1-on-1 Support for You
Get Started for FREE Below Before this offer goes away!
We can draw a conclusion that Slice the Pie is not the best opportunity if you are looking for ways to make a full-time income online.
Here is another proof from their website (see the picture below). It shows that 28,583,266 reviews have been submitted and $3,430,693 have been earned in total.
You can quickly calculate that you need to write 7-8 reviews on average to earn $1. It means that the average reward for one review is $0,13.

Want to Earn More Money by Writing Reviews?
I know how to make a good income online by writing reviews because I am doing it myself. I just followed this program and what it taught and now I am earning a consistent passive income online.
The idea is that you create a website (it's possible nowadays in 30 seconds). Then you write reviews of different things and leave links to those products and services. When some of your visitors go and buy something, you earn the commission.
The more visitors you have, the more you will earn. Nowadays, it's very simple to get traffic through Google. You just need to follow the steps that program teaches you.
That method will take some time but it's possible to grow your income without any limits even up to $100,000/month and more. But you won't see immediate results because it takes usually 3-6 months to see more traffic from Google for a new website.
If you want to get money immediately by writing reviews, then I would recommend heading to HireWriters or to Fiverr. There are also many other places to earn income as a freelancer writer but these are the ones that I have used for outsourcing review writing.
I am ready to pay people $20 and even much more if they write me great reviews. What do you think? Would you prefer earning $0,13 cents per review on Slice the Pie or +$20 somewhere else?
However, I don't usually write reviews for other people because I will earn even more by writing them into my own website.
Is There a Better Way to Earn Money in Slice the Pie?
Yes, there is. That's by referring other people.
You will earn 10% for all earnings of your referrals. So, let's say that your referrals have earned $100 in total. Then you will get $10.
One very successful Internet marketer called Frank tried this strategy. He referred 1,540 people into Slice the Pie. Then they consumed this service and earned some money. Frank earned extra $76 himself.
He was thinking if it was worth it or not. Frank didn't need to use so much to get those referrals because he has already lots of influence on the Internet. That's why he thought the time was well spent.
However, he said that by getting 1,540 to another service he could have earned +$10,000 and much more instead of only $76. Frank's conclusion was that there are much more interesting ways to make money online than Slice the Pie.
Conclusion – Is Slice The Pie a Scam Or Legit?
It's not a scam because they really pay if you write enough reviews. However, as we saw in my review, it's not worth our time.
Because you are reading this I assume that you are interested in making money online. That's why I recommend Wealthy Affiliate step-by-step online business training.
I have used it myself to create consistent income streams online. I have even quit my day job so I have more time to make money online. There is much more potential online than working as an employee for someone else.
Wealthy Affiliate provides you 20 interactive video lessons for free so you will get started comfortably. If you have any questions, don't hesitate to leave them below and I will be more than happy to help you out.
What are your favorite ways to earn money online? 
Have you worked, for example,  as a freelancer writer or built your own online business?
7-Day Make Money Online Email Course
Learn SIMPLE steps to make a LIFE-CHANGING INCOME online. I will help you hand-by-hand!
Let me know in the comments below! 🙂