Have you heard of Four Corners Alliance Group? It is a company that is a part of Cornerstone Alliance Group and claims to use multi-level marketing to enrich anyone who joins it. It deals with financial aid books that are supposed to empower you with financial wisdom.
A prospective participant is required to buy the book and read it. Then try and sell it before getting paid. This person should also get other readers to join the company and become members by buying a book. Does it sound like a pyramid scheme to you? Is Four Corners Alliance Group a Scam?
Our Your Online Revenue team member made a research and this is what he found out!
Four Corners Group Alliance Review
---
Name: Four Corners Alliance Group
Website: www.fourcornersalliancegroup.com
Founders: David Harrison
Price: $18-555 + $77/month
Field: Financial Education (Multi-level marketing)
Overall Rank: 20 Out of 100 (Check Out My #1 Recommendation, 98 Out of 100)
---
What Is Four Corners Group Alliance? – A Pyramid Scheme?
The reason it is not a multi-level marketing company is simple. These types of companies, first of all, do not require its sales representatives to buy their products before selling them. They make money through direct sales and encourage their distributors to get other distributors by paying them a portion of the recruit's sales.
Pyramid schemes, on the other hand, get members of that scheme to pay for whatever product they're selling in the market, who are then required to get more members who also pay to join. That money is subsequently used to pay older members.
However, a difference between an MLM and a pyramid scheme is sometimes very small.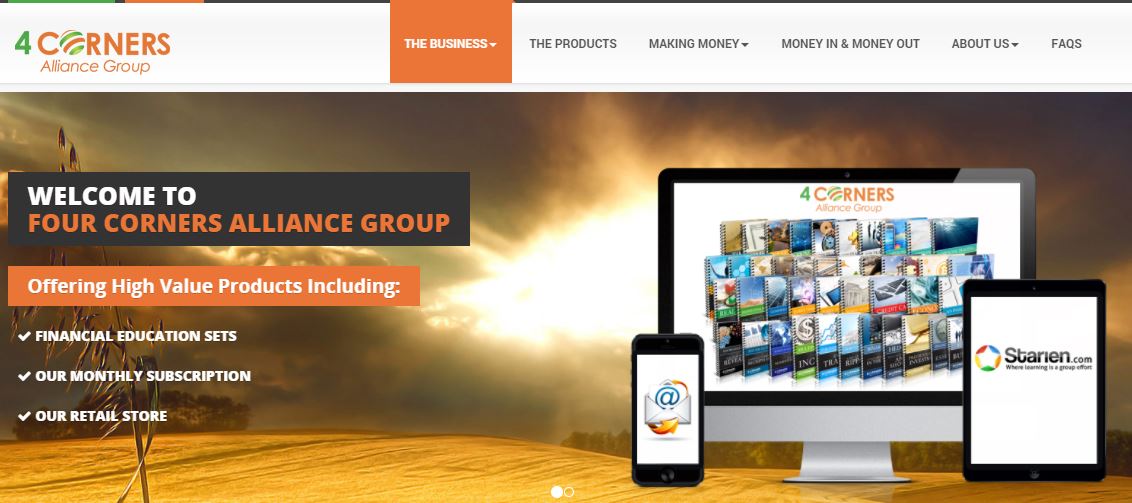 Why Is Four Corners So Popular?
Obviously, they don't come up to you and tell you that it is a pyramid scheme. They come off as a company that sells financial books, which are supposed to give their readers long term financial security. They make you believe that they care about you and that they can help make you some money. Attractive right?
After you get all comfortable, you buy their books and are promised $500,000 from the $18 that you spend to buy the first book. This is only possible if you get other people to buy their books too.
They claim that their books will give readers something close to an unfair advantage against others who haven't read them. Apparently, their writers are professionals in the financial service industry. Who wouldn't want to be associated with something that sounds that fancy?
Huge promises are often a sign that the product is a scam. Not always because some products really teach you well how you can make a full-time income online and much more. But you should be careful if somebody is promising you +$100,000/year without almost any work or something similar.
It's completely possible for anyone to earn +$10,000/month online but it requires hard work and persistence. It doesn't happen overnight like some scam artists make us believe.
How Does Four Corners Group Alliance Work?
First of all, you would have to buy a book that costs $18. They convince you to buy it by telling you that the book will not only help to improve your financial status but your buyers' finances as well. So you have to go looking for people to buy this book too (not the one you already have but their own) and convince other people in the meantime to join the company.
Once you do this successfully you are now known as a sponsor. Selling products get you money, yes, but whatever you get is divided between you, your sponsor and the company. I won't even tell you who gets the most amount of money. This leaves you with mere pocket change.
The only way to get up the ladder is by getting more recruits. It is one thing selling a product, and it is another thing recruiting a person. Keep in mind it's not just one person that you have to recruit. There are levels in this thing. It's just like a game.
When you decide to join, you are given three options. The first is to deal with an educational series of books; the second is the monthly subscription and financial newsletter and lastly, the retail store. Within this are 5 income streams that you have to get by, which are squeezed into the affiliate commission, monthly and sponsor Commission and the retail commission.
It sounds easy until you hear how much you actually get paid. When you pay the first $18, ten is for the book then four is for your sponsor and four goes to the company. Sign up four people and get $16. Sign up the next sixteen people and your total commission is $64. It goes on and on and on. I mean come on, there has to be an easier way to make money, right?

Can I Make Money with Four Corners Group Alliance?
Did I mention that you have to pay $25 to get to the third level? All this while, your recruits are supposed to help you, but it seems to me like you only get half of your total commission and it does not seem fair. Did anyone hear a part about actually reading these books? No? Because it is not there.
They don't want to share knowledge, they want people to get psyched up about getting knowledge and getting money at the same time like it comes as a package. They pay attention to recruitment rather than actually helping people like they say they want to, and that to me is a scam in itself.
Do You Want a
FREE
& Easy-to-Follow
7-Day Course
to
Make Money Online
for Beginners?
Easy-to-Follow

Beginner-Friendly

My Personal 1-on-1 Support for You
Get Started for FREE Below Before this offer goes away!
It's possible to make money. Oh yes. The process you have to go through to get there though is a whole other story. To get far you would have to be around for a really long time. Plus with every level comes a new expense that you will have to incur in order to buy the books you don't already have
To get the book on the last level will cost you $300. Makes me wonder if it comes with a full-time job, a car, and insurance because that is way too much money to spend on 'motivational' books. I am sure that I can get cheaper books in the market. So they're downloadable. I would rather take my chances with YouTube because at this point, when will I have the chance to sell, read and get recruits?
Is Four Corners Group Alliance Worth It?
Think about it. For the first few days or months or whatever time it will get you to get any money from four corners alliance group, you get very little. Hardly even the minimum wage. Then, you have to spend more time selling these books you know nothing about. (Convinced they have to be good or you wouldn't buy them.) Is anybody else's head spinning?
And selling is not enough. No, you can't leave it at that. (Unless you want to eat candy for the rest of your life because that is all you will afford if you stagnate). You MUST get recruits because they pay. That is where the money comes from, not the books. So is it really worth it?
Is There a Better Alternative to Quit 9 to 5 Job?
Our common conclusion was that Four Corners Alliance Group is not worth it. So, do we need to say in our 9-5 jobs for the rest of our lives until we get retired when we are very old? No, there is something better.
I have learned the process of making money online and it's highly interesting! You can earn money wherever you are. Sometimes you wake up and check your commissions during the night, $20, $50, $100 or even more.
The boss is not telling you what to do because you run your own business. You can set your own hours. Of course, the freedom also brings responsibility but it's definitely worth it. You learn to manage your time yourself.
I can boldly say that I CAN TEACH YOU TO MAKE MONEY ONLINE. You will get my 1-on-1 mentoring and 20 interactive video lessons for completely free. I know, it sounds almost too good to be true but you can try it out yourself without any risk.
The platform where I want to mentor you is Wealthy Affiliate. It's an online business university where you can sign up for free. When I started out there, I didn't have almost any experience of making money online. Things have dramatically changed.
Nathaniell Brenes, Kyle Loudon, and other highly successful online entrepreneurs have taught my hand by hand to earn income online. Now I want to pass out my knowledge for you. Of course, there will be many other helpful entrepreneurs supporting you as well.
I hope you have enjoyed our Four Corners Alliance Group Review. What do you think about that system? Would you try it yourself? 
If you have any questions or comments, don't hesitate to leave them below and I will be more than happy to give you a personal reply.