"Earn up to $3,000 per day!" When you hear claims like that, it's important to ask yourself, "Is Saivian a scam?" or "Is Saivian a Ponzi scheme?" In this review, I am going to give you honest and unbiased answers to all of your questions regarding their program.
I am not affiliated with Saivian so I don't earn money from them by writing this review.
At first, I was quite interested in Saivian opportunity but after making my research I became convinced that it's not worth joining. Read here why.
Saivian Review
---
Name: Saivian
Founded: In 2015 by John Seehan
Cost: $125 Membership Fee Each 28 Days (=$1625/year)
Field: Cash Back Program (Multi-Level Marketing system)
Short Review: Saivian offers a 20% cash back on all your purchases. However, it's made only to get you into their expensive membership which costs $125/28 days. Most the income in their system will come from recruiting new people in their pyramid. When new members stop joining, the system collapses.
I don't recommend Saivian because it seems to be a Ponzi scheme without any real value. If you are interested in earning a living online, I recommend taking a closer look at My #1 Recommendation. I started their program +2 years ago and nowadays I am a full-time online marketer. That training really works and you can get started for free.
If you are looking for a cash back program, then I recommend using Ebates (get $10 gift card immediately when you register for free).
---
What Is Saivian?
Saivian is a cash back company that promises to pay you 20% back for all of your everyday purchases in stores like Walmart, Target, Starbucks, etc. It sounds already pretty exciting but they offer a more lucrative program for recruiting new people into their program.
You can earn anything between $5 and $3,000 per day for recruiting new people to Saivian. $3,000 per day equals to $1,010,000 per year. I don't know about you but for me, such income would be great. Yes, I make a living online but it's still far from $1,000,000 per year. Maybe one day I'll reach it but I'm sure that I'm not going to join Saivian to make it. Read further why.

It's interesting to see that Saivian is so dramatically growing. I am quite convinced that the system will collapse in the following years because they don't have a real business.
Saivian 20% Cash Back and $125 Monthly Fees
Saivian charges a high membership fee of $125 from all their members. So, you just need to pay that money to get started. They charge it every 28 days so you'll pay it 13 times a year. It makes their yearly membership fee $1,625.
You may think that paying $125/28 days for Saivian membership isn't so much because they pay you up to $250 each 28 days. However, you need to be careful. They don't pay you $250 right away. It takes at least 90 days that you get paid.
First, you need to spend that $1,250 that they are willing to pay you $250. Then you need to wait 30 days that receipts get for Saivian staff. They will use 30 days for approving them and then after the next 30 days you will get the money. Why do they have so complicated system? To take more money from you in the membership fees.
You need to pay at least 4 monthly fees before earning $250 cash back. It means that you pay $500 (+$1,250 purchases) before getting your $250. Can you see who is winning here? Saivian is winning and the customer is losing.
I recommend having a look at a better and more reliable program for making money by clicking the picture below.

How to Make Money with Saivian?
Cash back is actually a "side product" of Saivian. You can make the much more money by recruiting new people to their system. When you move up in the ladder (pyramid) you can earn even up to $3,000 per day.
I'll show you a beginning of their ladder:
Do You Want a
FREE
& Easy-to-Follow
7-Day Course
to
Make Money Online
for Beginners?
Easy-to-Follow

Beginner-Friendly

My Personal 1-on-1 Support for You
Get Started for FREE Below Before this offer goes away!
Founder position – $5 per day (3 active recruits).
VIP Founder -$20 per day (12 recruits).
Elite Founder – $30 per day (39 recruits).
……
Presidential Ambassador – $3,000 per day (8,000 recruits).
The more people you recruit, the more you get paid. This video also explains how Saivian Compensation plan works:
NOTICE: The video contains promotional material so be careful. The presenter may not mention all the cons of the program.
At this point, you have probably realized that it's not a typical cash back program but an MLM where you earn the most of your money by recruiting new people. Is Saivian a pyramid scheme? It means that most of the focus is on recruiting rather than on the product. Or is it even a Ponzi scheme where the product doesn't have any value itself and all of the money is created from new members.
What Is the Truth Behind Saivian System?
You noticed that you need to pay a high membership fee for getting cash backs. That's Saivian's idea. They charge huge fees so they can pay you some money back for your purchases. In the long run, you will lose money if you don't have at least 3 people in your downline each month paying expensive fees as well.
In my opinion, cash back thing is just trying to deceive us to believe that they really would have a legitimate business here. But as in Ponzi schemes, the "product" doesn't really exist. It's just made up so that new members could join the system believing there is some real value. Another important characteristic of Ponzi is that they promise an extremely high return on your investments.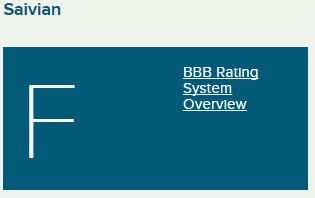 Saivian can pay you as long as new members keep on joining. If new members don't join the program, the pyramid collapses. That's how all Ponzi schemes work. That's why they don't last for long. People start to realize that it's a scam and they don't join. People who have read my Saivian Review understand that it's not worth joining.
At the moment Saivian website is down but they say new updated version is coming out soon. The future will show if it's really coming or has the system finally collapsed.
Saivian Reviews – Lots of Complaints 
Saivian is not a part of Direct Selling Association (DSA) and their Better Business Bureau (BBB) rating is the worst possible = F.
Customers have left reviews of Saivian on BBB and the average rating is 2,2 out of 5. Here's one example: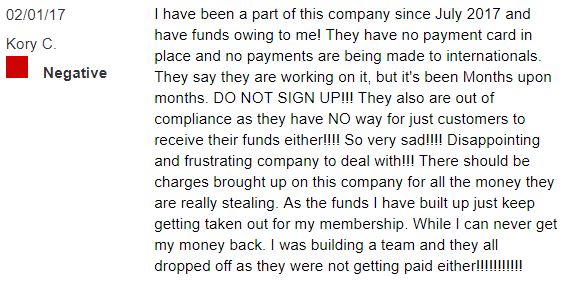 Many reliable online entrepreneurs have researched the system and they aren't recommending Saivian for their audience. Lots of negative reviews are one of the most important scam signs.
One Internet marketer said that she was earning a good money with the Saivian system but decided to stop because she realized the program wasn't providing any real value. It was just a cash gifting program like Crowd Rising or Too Damn Easy. The idea is just to move money from new members to old members. Old members make a good money while newcomers pay them.
Many members have also reported that Saivian hasn't paid them even though they promised. They have been waiting for the payment already for months but nothing happened. In addition, it's a bit frustrating to work with Saivian Support because sometimes they aren't responding and their responses are not always very polite.
Conclusion – Is Saivian a Scam?
Yes, it is. You shouldn't join their program because it's not a legitimate business. If you join their program, you can't get a refund. You're lucky that you landed on my review if you still haven't joined their program. Don't waste your money.
I have more good news for you. My website YourOnlineRevenue.com is created for teaching you to make a living online. I teach methods and tips what I use to earn money on the Internet.
I think that anyone can learn to make a living online. I have seen college students, stay-at-home moms, retired people, men, women and all kinds of people who make it. In my opinion, two most important things for succeeding are a great training and support/mentoring.
Wealthy Affiliate provides a comprehensive step-by-step training on how you can make a living online. You can get started for completely free with 0 risks (no credit cards needed). The best thing is that I'll offer you my 1-on-1 support. I want you to succeed so you can ask me any questions you need to make a living online.
What do you think about Saivian? Would you like to learn how to make honest money online?
Leave a comment/question below! 🙂
I'll be happy to give a personal response to all of your comments.