I was talking with my ex-colleague about making money online. He had just got $60 cash back after his trip in U.K. He had used so-called cash back website where they give the money back for his purchases. One of the most famous is Ebates.
Before I always thought that this kind of website can't be so good because I already know great ways to earn money online. But my friend's experience changed my mind a little bit. Is Ebates worth it? Let's find out!
Ebates Review
---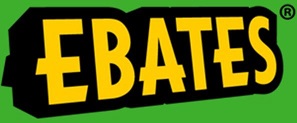 Name: Ebates
Founded: 1998 in Silicon Valley
Type: Cash Back Programs
Price: Free to Join
Overall Ranking: 91 Out of 100
Check Out My #1 Recommendation to Make Money Online. It's even much more profitable than Ebates. I have used it myself for 2 years and it gives proven results.
---
What Is Ebates All About? – One of the Biggest Cash Back Sites in the Universe!
Ebates is a cash back website where you can literally get money back for your online purchases.
Let me give a simple example: You are planning to buy a tablet from Amazon. Instead of going straight to Amazon website, you go through Ebates' link. After your purchase on Amazon, you get some money back. Sounds cool?
Ebates was created almost 20 years ago in Silicon Valley, California by two attorneys. The time went by and the company became larger because people were loving their service. Then one beautiful day the largest Japanese eCommerce company Rakuten approached the founders.
Two attorneys sold Ebates for $1 billion dollars to Rakuten. You can start to imagine how big their service is. At the moment Ebates' merchandise value is more than $2,2 billion and growing.
You can get a cash back through their website in more than 2,000 online stores even up to 25%. Wherever you see the lists of the best and the largest cash back sites, Ebates is there.

How Does Ebates Work? – "Earn Money by Shopping"
Ebates has a huge network of partners. Here are listed some of them:
Amazon
Walmart
Ebay
Lowe's
Expedia
Booking.com
Holiday Inn
If I would write the whole list of their partners, it would take ages because there are more than 2,000 in total.
You can get "discounts" in all of these online stores that are collaborating with Ebates. You just go to Ebates website, then you click their link to Walmart, buy something for $25 and get $10 back. That's how simple it is. By the way, you can get that $10 bonus through my link to Ebates.
Here is also a picture from their website which illustrates the cash back process:

Note: You can sometimes use also in-store coupons to get a cash back from Ebates.
How Much Can You Earn with Ebates?

$1o bonus for $25 purchase in Walmart is one of the best of their offers. The amount of your cash back depends on which online store you are using. You usually get a 3% cash back on Amazon. Here are some other offers:
Do You Want a
FREE
& Easy-to-Follow
7-Day Course
to
Make Money Online
for Beginners?
Easy-to-Follow

Beginner-Friendly

My Personal 1-on-1 Support for You
Get Started for FREE Below Before this offer goes away!
Choice Hotels – 

Up to 25% off hotels this summer.

 

+ 2.5% Cash Back

Holiday Inn – 9% Cash Back
Samsung store – 4% Cash Back or $200 gift card when you buy a Galaxy S8
Nike – Just Reduced Styles at Nike.com and save up to 20% off original prices
You can notice that sometimes you will get an immediate discount and also a cash back. So, it depends on the offer. I recommend you to read instructions carefully before buying through an offer. Many people have complained that they didn't get a discount they wanted because they didn't read the rules carefully.
Maximum cash back for a single purchase is $50. So, even though you would make a single purchase of $1,000, you won't get hundreds of dollars money back.
If you have any questions about earning money on Ebates, you can always ask me in the comments below. By the way, have you ever found it a bit misleading that they call it "earning money" even though you are actually spending and then you just get a discount or some dollars back?
Ebates Cash Back Visa Credit Card – Even More Money Back
If you are looking for even better discounts, you can apply for Ebates Visa credit card. Have a look at a picture below which explains how it works:

So, you will get EXTRA 3% cash back through Ebates purchases.  Notice that it's extra 3% and you can combine it with other bonuses. So, you can get first 5% cash back and then 3% extra with a card + $10 bonus on your first purchase.
Let's say that you used Ebates Visa card for a $100 purchase. With these conditions, you would get $18 back. Not bad, huh? However, you won't get $10 bonus many times because it's only supposed to use during the first time.
Ebates Referral Program – Earn $50 for 2 Referrals
Probably the most lucrative way to earn money on Ebates is their referral program. If you have lots of friends or a big audience online, you can earn quite a good money with it.
You will earn $5 for every friend you refer into Ebates. Plus, you'll get a $40 bonus when two friends join and make a purchase. If you refer 100 friends, you have already earned $500.

Ebates Payment Options – PayPal or Mail
You can easily get your cash backs through PayPal or mail. Naturally, I recommend taking it through PayPal because, in my opinion, it's easier and faster. But now, pay close attention.
Ebates is a huge company. That's why they make their payments quarterly instead of all the time. So, you will get paid every 3 months if your cash back amount exceeds $5. Remember that you need to be over 18 years old to use all Ebates services.
Is Ebates Safe? – They Have +A Rating
It's always wise to ask this question when you are spending money online. Is Ebates a scam? Does Ebates really work? I have written a great post where I explain how to spot an online scam.
Ebates is not a scam. They have paid millions of people all around the world. They are receiving positive reviews from their members over and over again.
BBB (Better Business Bureau) has accredited +A rating for Ebates which is the best that they could get. In other words, there isn't a good reason to believe why Ebates wouldn't be safe.
However, in every review, I take a look at complaints what people have written about these make money online services. There isn't a perfect service and people do mistakes. So naturally, there are some complaints of Ebates as well.
Ebates Complaints – "No Big Fat Check"
Ebates is promising to give you a big fat check every 3 months. Some of their members was a bit frustrated because his check wasn't so big and fat.
It's definitely true that you won't become rich by using Ebates. If you want to make big money online, it's better to take a look at this website. They have a step-by-step training how you can earn even +$10,000/month online.
Some Ebates reviews were writing that they didn't receive the money what they had thought. It seems that in most of those cases they didn't read the rules carefully enough. I would also like to give another tip.
When you buy something through Ebates, do it immediately. I mean that when you go to Amazon through their link, don't go surfing 50 sites before you buy a product. In addition, you must accept cookies because that's how they track your purchases.

Ebates Customer Support – A Huge Knowledge Base
Ebates has a big knowledge base where you will find an answer to most of your questions. Have a look at an image below: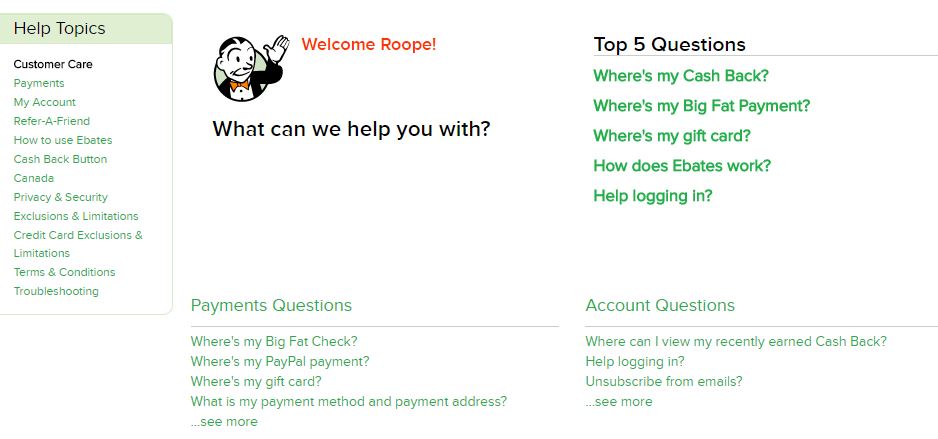 You can notice that there's also the question "Where's my Big Fat Payment?" in the top 5 questions.
If you don't find an answer in the knowledge base, you can always send Ebates an email and they'll come back to you with an answer.
How Do Sites Like Ebates Make Money? – It's Called Affiliate Marketing
You may be wondering how is it possible for Ebates to give you money for your purchases. Well, that's simple.
When you buy something through their link, they get some money from their partners also. Let's say that you make a purchase for $100.
Then Ebates earns a 5% and they share you 3%. It means that they made a 2% profit. This is how it works. It's a win-win situation. A client (you) gets a cheaper product. Ebates earns money and an online store earns money by getting a selling their products.
7-Day Make Money Online Email Course
Learn SIMPLE steps to make a LIFE-CHANGING INCOME online. I will help you hand-by-hand!
It's actually called affiliate marketing and anyone can do it. You can leave a link to your friend to Amazon, Walmart or any other online store and you will immediately earn commissions (much more than in Ebates).
If you would like to learn how to make more money with affiliate marketing, I recommend taking a look at this step-by-step training. I use affiliate marketing myself and it really works. I don't need to have my own products because I can make money online by recommending other people's products.
Conclusion – Is Ebates Worth It?
That's a crucial question. Is it worth your time? In some cases yes.
If you are going to buy something from Amazon anyway, why wouldn't you take a nice discount? Or if you are going for a holiday with your family and book flights and hotels, why wouldn't you get some money back?
Remember that you can get immediately a $10 sign up bonus to Walmart through my link.
On the other hand, do you remember the famous quote by Robert Kiyosaki? "The poor people look for discounts in the supermarket. The rich people look for discounts in the stock/real estate market."
The idea is that you should be looking for bigger opportunities instead of focusing only on small wins. That's why I recommend you to go to Wealthy Affiliate. Instead of getting a 5% cash back, you can make a living and even a fortune if you become successful. Their training takes you hand by hand to making good money online.
Another thing that you should remember when using Ebates is that don't spend more than you had initially planned. Some people sign up and spend hundreds of dollars buying stuff that they don't need because they are only looking for big discounts. Don't fall into that trap.
You are smart. Make wise decisions and you will be rewarded.
I wish you all the best!
Have you ever used Ebates or some other cashback programs? What kind of experiences did you have?
Let me know in the comments below! 🙂