You would spend money on your food anyway, right? So why wouldn't you take a little bit money back? Well, maybe because it takes some time. In this review we I am going to reveal Is the Ibotta App a Scam or not? Is it worth or just a waste of your valuable time?
Find an answer to all of your questions in this totally unbiased review! Almost all Ibotta reviews that you can find on the Internet are partners with them. They have affiliate links on their website so reviewers are earning money if you join.
I don't have any affiliate links on this review so you can fully believe that it's 100% unbiased review.
Ibotta App Review
---

Name: Ibotta
Type: Cash Back Programs
Overall Rank: 70 Out of 100
Check Out My #1 Recommendation to make money online. It has received the rating 98 Out of 100. I am
---
What Is Ibotta?
Ibotta is a mobile application that can give you cash back for shopping. It works only in the U.S. but there are more than 50 retailers in their system. So, you can get cash back and discounts in more than 50 retail stores.
You can get money back from your purchases in:
Target
Walmart
Costco
Whole Foods
Ingles
Etc.
So basically, you can get cash backs in almost every retail store in the U.S. The downside is that you can't use it yet in other countries. Another great cash back program is Ebates which is available all around the world. You can get a $10 bonus to Walmart if you sign up through my link to Ebates.
How to Make Money with Ibotta?
I think the easiest way to explain how to use Ibotta is to show you a video. Here Ashley Shaffer explains you very clearly how Ibotta works.
Let's take a quick recap.
1.Open the app

2.Choose which products you want to buy. Click "Earn $0,25 or $0,50" for each product for example.
3.Go shopping and scan the code.
4.When you have bought the products, scan the receipt.
And that's it. The whole process takes probably 5-10 minutes depending on how fast you are and how many products you are planning to buy. To be honest, I got quite excited the idea of Ibotta and it seems more interesting to me than, for example, Field Agent App which is somehow similar.
You can do the stuff so quickly. However, Ibotta is not a perfect thing and we are also going to look at their downsides.
How Much Money Can You Make with Ibotta?
It depends on how much money you are going to spend. Remember that you are not "earning" money but actually "saving" money. You can't earn anything if you don't buy products.
Do You Want a
FREE
& Easy-to-Follow
7-Day Course
to
Make Money Online
for Beginners?
Easy-to-Follow

Beginner-Friendly

My Personal 1-on-1 Support for You
Get Started for FREE Below Before this offer goes away!
As you saw in the video, it also depends on the offers. Some of them give you $0,25, $0,50 or $0,75. You can earn tens of dollars each month and hundreds of dollars per year if you use it always and you have a big family to feed. So you shouldn't count on it too much.
You can think as "working" for little money in a little time. Nothing very big but little savings.
Remember also that Ibotta wants you to buy specific products to make savings. We all know well that there are already huge differences between different brands. For some products you pay the double products just for the brand even though they are providing the same value like their cheaper counterpart.
So be careful for not spending more than you would even without this app. Let me give you a funny example.

By scrolling Ibotta website you can quickly find that lots of their offers are for alcoholic drinks. I don't drink alcohol almost at all because it's not healthy for my body and I don't want to get drunk.
That's why I always find it a bit hilarious and sad when people say to me, "Hey Roope, listen! I saved $10 on buying beer, vodka, and wine." Usually, I just reply, "Well, I earned $50 because I didn't buy the whole bottle at all."
Ibotta Referral Program – The Reason for Positive Reviews!
I have seen some famous online marketers promoting Ibotta on their websites. I know that they are not using it themselves regularly because they know much better ways to earn money online.
Some famous people are earning even thousands of dollars by promoting Ibotta. So, you really must be careful who do you listen to. Let me show a picture which explains how Ibotta referral program works.

So let's say that you refer one friend. You earn immediately $5. Then they have very lucrative bonuses for more referrals as you can see above. For example, $100 for every ten referrals. If you have lots of targeted visitors on your website, you could make even a full-time income by referring Ibotta.
Ibotta Reviews – The Company Has a Bad Reputation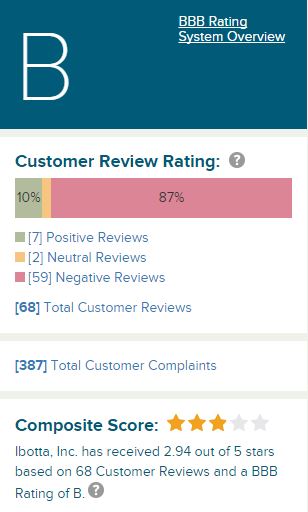 Now we come to a very important part. If I am honest, Ibotta has received lots of complaints all over the Internet. Most reviews on blogs and make money online websites ignore these complaints because they just want to earn money by referring you to join their program. But we are going to take a transparent look as always in YourOnlineRevenue.com.
Have a look at a picture on the right.
There are 68 customer reviews in total in BBB (Better Business Bureau) and 59 of them have been negative. What do you think about that number? In addition, their rating is B which is far from the best. Ebates which is another cash back program has a rating A+ from BBB. That's one reason why I would use Ebates rather than Ibotta.
Many of the reviews are very recent written within a few months. Users are saying that they earned money for Ibotta account but it was deactivated before they were able to cash out. In the other words, Ibotta was stealing their money.
However, Ibotta has replied to all those reviews and BBB website and it seems that they are doing the best to fix the bad situation. Many members reported that Ibotta worked better in the past but after some updates, the service level has been so much worse.
Ibotta Complaints – Where Is My Money?
I would like to show you a few complaints what they have received so you will be able to make up your mind if you are going to use Ibotta or not.

You can imagine how Michael has been. He has been using the app so many times, going shopping and taking pictures of all receipts. Then suddenly his account is locked. He tries to contact the Ibotta support several times but nobody answers. What a mess!
And by the way, Michael isn't alone with his experience.

Patrick reached the cashout limit thrice. Imagine. He was going to take his hard-earned money out but the application doesn't let you log in. When you finally get a chance to log in, your money is reduced to $11 and you don't have a chance to take your money out.
Is the Ibotta App a Scam? Well, at least they have a lot to improve.
Conclusion – Is Ibotta Worth It?
It depends. If you are earning lots of money anyway and you don't need some cash, I wouldn't bother. Robert Kiyosaki always said, "Poor people look for discounts in the supermarkets while rich people look for discounts in the stock and real estate market."
With Ibotta you can save $5-10 but if you buy a good real estate investment you can save $5,000-10,000. It puts the things in the right focus.
If you look for great ways to make a living online, then you would probably be interested in Wealthy Affiliate. With their training, you can earn $5,000-10,000 online and even much more if you become successful. Actually, I know many people who started in Wealthy Affiliate without any prior experience and nowadays they are earning +$10,000/month.
Even though I am not a big fan of cash back and similar services, sometimes they could be fun. However, I wouldn't waste my time on Ibotta because it has so many negative reviews. I know much more profitable ways to make money online so I don't need this kind of apps. And you don't need either because I believe that everyone can learn to make a living online.
Also, remember that you don't spend too much time on apps like this so it doesn't take your focus of the most important things. Some people get so distracted that they spend even more money when they get cash backs.
But I believe you make better choices!
Have you ever used Ibotta or similar cash back services? Do you think they are worth it?
What is your favorite way to make money online or with your mobile phone?
Let me know in the comments below! 🙂