You have probably found your way to probably the most famous social media marketing tool in the Universe, Hootsuite. When I first started out using the tool, it wasn't so easy but after a little while, my social media traffic jumped from 1-2k per day to 40k per day.
In this post I am going to answer the question, "How does Hootsuite work?" and also share all my best tips regarding this tool. I have lots of experiences of using it so I am the right person to help you out.
Hootsuite Review
---
Name: Hootsuite
Website: www.Hootsuite.com
Field: Social Media Tools
Overall Rank: 87 Out of 100. Hootsuite is my #1 recommendation as a social media marketing tool. It's simple to use and you can save hundreds of hours by using it.
If you are looking ways to make a living online, I recommend checking out My #1 Recommendation to make money online, ranking 98 Out of 100. I am using this tool all the time to boost my online income
---

What Is Hootsuite All About?
Hootsuite is one of the most popular social media marketing tools on the planet Earth. Several leading experts of social media marketing industry are recommending the tool. At the moment Hootsuite has millions of users from all around the world and it's growing all the time.
I have used their tool a lot and I will be using it as well in the future. There are several benefits of using it. Here are some reasons why people are loving their service.
You can send posts to 35 different social medias at the same time
You can schedule 350 posts at the same time (to 35 social medias if you want)
You can easily schedule all your posts for the future
You can have a free account for a lifetime and 30-day free trial for a premium membership
Hootsuite is constantly improving their platform
We can easily say that The list of Hootsuite features and benefits is pretty impressive. In a picture below I show a screenshot how my Twitter impressions literally jumped with Hootsuite. (1 impression means that 1 person saw my post.

How Does Hootsuite Work? – Check Out My Video!
I recorded a short video where I show you the exact process what I used to get 20 times more impressions on Twitter. I will also give you a look at Hootsuite Pro premium are and some of their cool features.
Enjoy!
If you have any questions regarding the video, feel free to ask in the comments and I'll give you the best answer either by writing or by creating you another video.
Let me recap the process that I did and how you can get the same results as well with around 6 mouse clicks (okay a few more but remember that I am a full-time online Marketer):
1.Connect Hootsuite with your social media accounts.
2.Prepare the posts that you want to publish on your social medias.
3.Upload the posts to Hootsuite.
That's it. You can also read more details about the process on my post "What is the best social media marketing tool?"
It's so simple that even a small child could do it. I am 100% sure that you can fully learn the process as a grown-up adult.
Do You Want a
FREE
& Easy-to-Follow
7-Day Course
to
Make Money Online
for Beginners?
Easy-to-Follow

Beginner-Friendly

My Personal 1-on-1 Support for You
Get Started for FREE Below Before this offer goes away!
I am saying this because I remember the first time when I used Hootsuite. I was a bit afraid that it's complicated to use so I went to use other tools. However, when I came back to Hootsuite I realized how simple it's to use when you just check their tutorials.
How to Publish on Hootsuite?
You can use the strategy that I gave in the video but there are also other ways to publish your posts.

In the upper left corner of Hootsuite Dashboard, you can connect social media accounts. As you can see in the screenshot, I have connected Twitter, 2 Facebook pages (Languages Are Easy and Your Online Revenue), Google+, LinkedIn and some other profiles as well.
Then I can write my message in the area where I wrote, "WRITE HERE". You can also add links easily and shrink them below that area. You can see the Twitter icon which shows how many characters I still have left. In Twitter, the maximum amount of characters per post is 140.
I can also add picture easily to my posts and schedule my posts for the future. Most successful Internet marketers including myself schedule social media posts for the future. You just take some time, let's say one hour, and you are able to schedule all of your posts for the coming week.
Is Hootsuite Effective? – Definitely Yes!
You can connect all social medias that you are using with Hootsuite including Instagram. Here is a list of some social medias that you can connect with Hootsuite:
Facebook (profiles, groups and fan pages)
Twitter
Pinterest
LinkedIn
YouTube
Google+
WordPress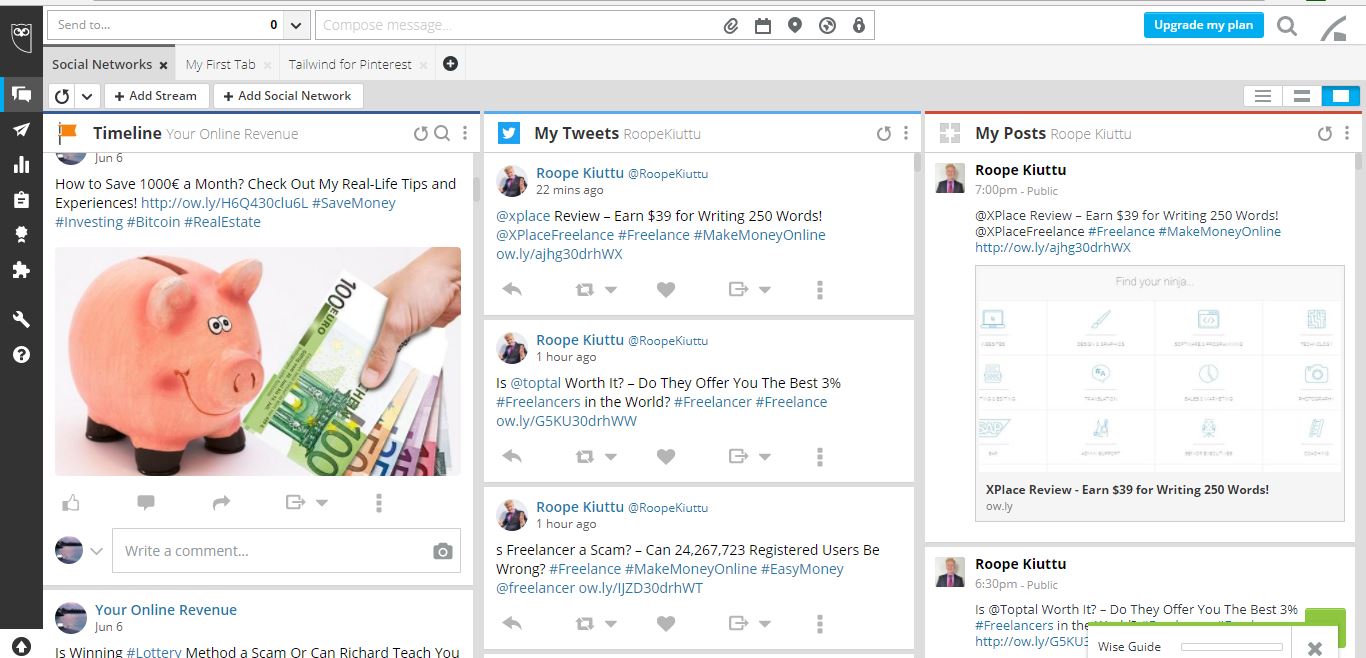 It's hard to come up with any social media that wouldn't be connected to Hootsuite. You can publish a post in all of them with just one click. Imagine how much time it would take to go through all of them one by one and set up messages. Now you can create your social media posts much more effectively.
Of course, you can go to some social media and create custom posts that are optimized for that platform if you want. Instead of spreading your energy to 100 social medias I recommend mastering first one platform and then moving to the next one. At the moment I have 15k Twitter followers, 3,5k Pinterest followers, +1k Instagram followers and now my full attention goes for building an audience on YouTube.
However, when I publish something to Twitter, I put the same post often to other social medias as well because it doesn't require any efforts from me. Then I still get some traffic without making any other effort than tapping a box. Quite effective, huh?
Social Media Marketing vs Search Engine Marketing
Even though I use social media, I get +70% of all my traffic from search engines by following this training. I love search engine optimization because I keep on getting traffic even after years of publishing a post. In order to achieve the same with social medias, you first need to build a huge audience and become somehow famous.
All regular people can quite simply get traffic from search engines even though they wouldn't have a single follower on social medias. In addition, usually the traffic from search engines is more buyer-oriented so it can bring more money in than the traffic from Facebook, for example. Many times people are just hanging around on Facebook and checking new things without any intention to buy something.
I am not saying that Facebook marketing wouldn't be effective but I am just underlining the power of SEO. On the other hand, Facebook is becoming more and more powerful year by year. At the moment they have more than 2 billion active members worldwide. With Hootsuite you can quickly publish posts on your Facebook pages and accounts with one click.
My recommendation is that you always concentrate on SEO even though you would be building social media audience at the same time. When you target a keyword, you are improving rankings and making clear to your audience what is the subject of your post. One great reason to use social medias is that links to your website boost your rankings. The more people are sharing your stuff, the more authority your site gets and Google likes you more.
If you are interested in learning how I use SEO to make money with my websites, have a look at the step-by-step training in the link below.
Hootsuite Pricing – 30-Day Free Trial Available!
Hootsuite has several plans available.
They have a completely free plan that you can always use without paying a single cent. Of course, it has its limitations. You can connect up to 3 social media accounts with a free plan and bulk scheduler is not available.
Hootsuite Professional plans costs $19 if billed annually. You can connect 10 profiles by using this plan. Then you can also use their bulk scheduler which is my favorite tool in Hootsuite. With bulk scheduler, you can publish up to 350 posts with only 1 click. Professional plans include also real-time analytics and a few other bonus features.
Hootsuite has also plans for teams and enterprises if you need Hootsuite for many people and several accounts. These plans are great for you if you need to get a Hootsuite for all of your employees and clients, for example.
Conclusion – Is Hootsuite Worth It?
If you look at the results what I and other people have received with Hootsuite, there is only one answer. It's definitely worth it. You can use their tool for completely free and also get a 30-day free trial for a pro membership. Even though you would pay for pro membership, it's only 19€ per month. You make one sale and it has already paid itself back.
Have you already used Hootsuite? Is it your favorite social media tool?
What other tools have you used in the past?
Let me know in the comments below! 🙂
If you need any help with using Hootsuite, don't hesitate to ask me below and I will be more than happy to help you out. I have received help when I started out my online business so now I want to help you. I hope that I delivered a satisfactory answer to the title, "How Does Hootsuite Work?"