One big challenge with "make money online" or "make money with your app" opportunities is that sometimes it's hard to find an unbiased review of them. Many websites are writing exaggerating reviews just to promote them. That's why our Focus on YourOnlineRevenue.com is to give always the most honest and accurate information on the Internet.
Today we will have a closer look at a new Field Agent App. It has been around only for 4 years but it has enjoyed the great publicity. Mainly because it's much better way to earn money than most this kind of apps. However, there are also some significant drawbacks that I'll discuss in this review. Are you ready? Fasten your seatbelts and let's go.
Complete and Detailed Field Agent App Review
---

Name: Field Agent
Website: app.fieldagent.net
Founded in: 2013
Price: Free to Join
Field: Mini Jobs with Your Smartphone
Overall Ranking: 60 Out of 100 (Check Out My #1 Recommendation, 98 Out of 100)
---
What Is Field Agent App?
Nowadays there are so many things that you do with your phone. One of the interesting things is to earn some money. Today we are going to reveal one way to do it.
Field Agent is an application in the app store for iPhone and it's available for Android phones as well. Why should you consider this application? Well, the very first thing is that you can find mini jobs near your location and you can also choose which ones are suitable for you. In this Field Agent App Review, you will also get the information about how to get the application and how to use it to start earning money from this application phone.
They payout is not huge for these mini-jobs varies from $3 to $12. The interesting part is that some tasks take only 4 minutes to accomplish. If you can earn for example $8 in 5 minutes, your hourly salary would be quite good. Is this almost too good to be true???
How to Find Mini Jobs on Field Agent App?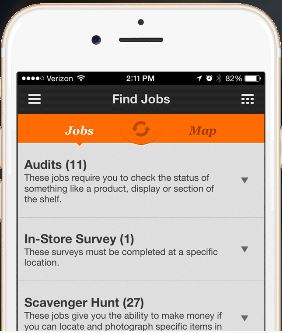 The first step is to download this application for your phone. As you know, downloading an app takes only around 1 minute. Then you sign up to this service by giving some basic info about yourself and you are ready to start. I quickly want to mention that downloading and using this app is completely free.
Then the app will show jobs available nearby your location. If you are living in a big city, there will be much more compared to big cities. I am, for example, living in a small city in Austria with 20,000 inhabitants. I am 100% sure that there are not so many Field Agent jobs on so small cities. The another reason why I can't find jobs is that this app is not available in Austria.
Here is a list of countries where Field Agent App is available. The number of countries is growing so maybe in the future it will also be available in Austria and in your country.
US
Canada
Mexico
Australia
UK
Norway
Sweden
Romania
Denmark
Let's say that you are living in a place where this app is available and the city is relatively big. What if you still can't see any jobs available? The reason can be that they are already taken. There's already a big competition of those mini jobs because many people like to earn some money with apps even though the payout wouldn't be so good.
If you want to have mini-jobs for the morning, you need to be ready to look for them already in the prior evening. At this point, you must already be wondering what kind of jobs do they provide. Let's take a closer look.
How to Earn Money with Field Agent App?

As you may assume, one way to earn money with this kind of app is that you complete surveys by answering questions. Like we already know, online surveys are never worth the time. If you disagree, I would love to hear from you in the comments below. I have experience of more than 50 survey apps and sites and none of them was worth it.
One very interesting thing about Field Agent App is that you won't be only sitting at your home answering surveys because they have also different kind of jobs. One good example is that they request you to go to Walmart or McDonald's and take pictures of some products' prices.
I don't fully understand why somebody pays you for doing that. If you know the reason, I would like to hear it. Anyway, nobody will pay you very much for taking pictures of McDonald's price list. Some people are willing to do this kind of things for very little many so you can't assume that somebody would pay you well.
If you want to earn good money, you need to develop some skills so you can provide value. But would it be an easy way to earn money if you just need to take pictures in McDonald's? Yes, but sometimes your payout will not even cover the costs for gas or transport.
Field Agent Complaints
Some people are complaining that "employers" in Field Agent are just fooling you because the payout is too small. It's obvious that you can't earn a full-time income with this app. Some people reported that they earned $100 in 5 hours but I doubt. With affiliate marketing the earning potential is much higher anyway. Even $1,400 per sale or +$10,000/month is possible.
Maybe they were able to do it a few years ago when there wasn't so much competition. The another thing is that they didn't earn so much for sure every day. Even though there are many complaints about Field Agent, the most of the reviews and testimonials that I have seen are quite positive. That is a good sign of course.
Pros & Cons of Field Agent App
There are always some good and bad things that you can find from earning money with apps.
Pros:
Do You Want a
FREE
& Easy-to-Follow
7-Day Course
to
Make Money Online
for Beginners?
Easy-to-Follow

Beginner-Friendly

My Personal 1-on-1 Support for You
Get Started for FREE Below Before this offer goes away!
You can earn money easily with Field Agent
The payout is better than other similar "make money" apps
This app can make you moving instead of just sitting on your couch. (Do you remember Pokemon Go?)
Then, here are the reasons why I don't recommend joining Field Agent.
Cons:
Even though the payout is better than in many other apps, there are still much better ways to make money online.
Sometimes tasks may take lots of time and the reward may not even cover your gas costs.
There is a tough competition and you can't beat it with hard work. You only have a limited time to play this app. It's very different than creating a real online business.
Field Agent is available only in some countries and in those countries only in bigger cities.
Conclusion – Is Field Agent App a Scam?
Even though there have been some complaints I don't think that Field Agent would be a scam. Their service has been growing during the past years because the idea is quite interesting. If you are interested in trying it, go ahead. Just download the app to your phone and see how it works.
However, I don't recommend spending too much time with this app. I would recommend choosing a more profitable way to make money online.
Wealthy Affiliate provides a step-by-step training for anyone who is interested making a living online. Their training is enticing and very practical. WA has been around already for more than 14 years so their service is developed a lot. Now they can provide the best online business training on the Internet.
With a free account, you will get 20 interactive video lessons for free. These lessons are ultimately practical because Kyle shows every step you need to take himself. It's "over the shoulder" training with tasks for you to accomplish.
Field Agent at a glance…
Name: Field Agent
Website: fieldagent.com
Founded in: 2013
Price: Free to Join
Field: Mini Jobs with Your Smartphone
Overall Ranking: 60 Out of 100
Have you ever tried Field Agent or some similar apps to make easy money? What kind of experiences did you have?
Let me know in the comments below! 🙂
I love to hear your experiences and thoughts. That's why I reply personally within 24 for every single comment we receive.