8
Is EOS Coin a Scam Or a Good Investment? Read Before Buying!
Is EOS Coin a Scam Or a Good Investment? That's a question that thousands of people have been asking all around the Internet since the Summer of 2017. EOS is a new cryptocurrency that has sometimes called "Ethereum killer".
In this EOS review, I am going to share you my knowledge about EOS and answer to your most important questions. I believe you will find this article informative and helpful. After you've read this through I would love to hear your thoughts on EOS in the comments below. Let's get going!
---
EOS Coin Review – Video Version
Before you dive into my article of EOS coin I want to give you an opportunity to have a look at the video that I just created about EOS. I share my own opinion about this project and at the end of the video I show how you can make money online because many people are asking me that.
---
EOS Review
Name: EOS
Launched: 
Type: Cryptocurrency
Short Review: EOS is another potential cryptocurrency that is still in its infancy. People who working or investing in this project have big expectations and some say that it's going to change the world. At the moment the market cap of EOS is more than $2 billion which means that many people believe in this project. However, it's impossible to be 100% sure at this stage how this is going to work out. I think that in 1, 3 and 5 years we'll see more.
If you prefer proven ways to make money online, I recommend taking a look at My #1 Recommendation.
---
What Is EOS?
EOS is a project/cryptocurrency that is pretty similar to Ethereum. It tries to improve a few things from Ether and that's why it's probably often called "Ethereum killer". EOS enables developers to create decentralized apps just like Ether but there are a few differences that I'll discuss more in detail further.
One of the main developers of EOS project is Dan Larimer who has a strong background in similar projects and he has created a few pretty successful applications like Steemit and Bitshares, for example.
Steemit is a decentralized blogging network. That's one example that you can create with EOS. BitShares, on the other hand, is an open-source, public, blockchain-based real-time financial platform. You have probably noticed the main word "decentralized" in both of these platforms. That's a common idea for cryptocurrencies and blockchain technologies in general. The idea is that a single party doesn't have too much control in the system but its more like people's project.
If you are interested in learning more details and technical parts of EOS technology, you can take a look at their white paper here.
EOS vs Ethereum
First, let me share you a few things that Ethereum enables you and other users to do.
Create smart contracts.
Create decentralized apps. Esimerkkinä on Ethereum nameservers.
Support for tokens (Initial coin offerings are possible on Ethereum).
The idea of Bitcoin is that you can transfer value (e.g.money). Ethereum makes this a bit further and it enables a programmable transfer of value. For example, I could pay you money only if you get the work done and we write this to the contract. Then you do your part and get the money without me doing any further action.
Some experts say that with EOS you can do basically everything that you can do with Ethereum added with a few extra features. With EOS programmers wouldn't need to write so much code like with Ether because EOS provides code features as a base. With Ethereum the programmer would need to rewrite the code.
They have a principle, "Anyone should be able to build anything"
With EOS you aren't supposed to pay anything for smart contracts or actions that you take. All of this sounds almost too good to be true but it will be extremely interesting to see how it will be in the future. I hope and believe for the best. It's always good when people are trying to develop something new in order to make the world a better place.
How to Buy EOS Coin?
There are clear instructions for buying EOS tokens on the official EOS website. The following screenshot is taken from their homepage:
EOS had a pretty different ICO (initial coin offering) than other cryptocurrencies. Their ICO lasts for a year. Every day people can get 2,000,000  EOS tokens in total. Persons who are willing to pay more will get more. For example, if another person is willing to pay 8 ETH for tokens and the other one pays 2 ETH, the one who paid 8 ETH gets 80% of the pot and the one who pays only 2 ETH gets only 20% of the pot.
In the picture below you can see the EOS Token Distribution schedule explained: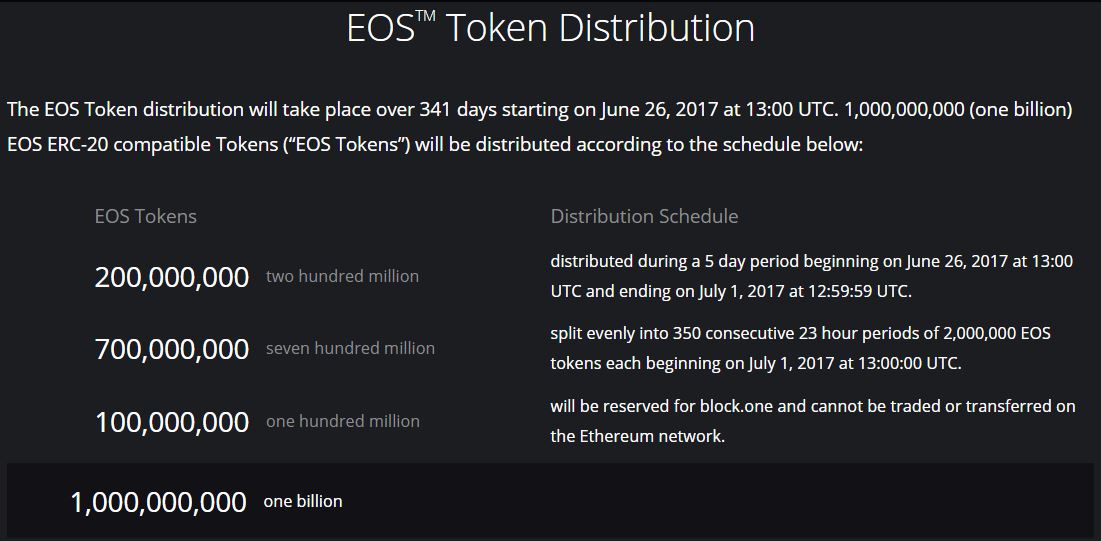 It's very interesting that EOS makes their ICO in this way. I think it's a pretty smart way to raise lots of money for the project. It remains in the news for a long time and investors may be willing to put in more money because it's like an auction.
Is EOS Worth Buying?
You can see in the picture below that the price of EOS became almost 10 times more expensive in a few months in the end of 2017.
At the moment when I am writing this article 11th December 2o17 the market cap of EOS is over $2 billion and as you can see in the graph below, it has been rapidly rising during the last 1,5 months. Just a while ago the market cap went from less than $250 million to more than $2,5 billion in one month. In the other words, the value of EOS became 10 times bigger in a month.
An interesting thing here is that this kind of growths isn't even uncommon for cryptocurrencies. I have seen many similar growths with other coins. In my opinion, we can draw a conclusion that if you are a young person and looking for great investments to make money, you'll probably find a more profitable choice in the crypto market rather than on the stock market. On the other hand, risks are also larger because if prices go up too rapidly, they always need to come down at some point.
I would say that buying cryptocurrencies, in general, is profitable but I'm not yet fully convinced of EOS. More on this in the last chapter.
Conclusion – Is EOS a Good Investment?
First, let's go back to our initial question, "Is EOS Coin a Scam?" I don't see any good reason why EOS would be a scam. They have an experienced developer Dan Larimer with a good reputation and everything looks like he's trying to build something positive with his team.
However, the drawback of EOS is that it's still its infancy. It's like a startup company that doesn't have many tangible results to show at this point. This is the case also with other cryptocurrencies that were launched just a few months ago in 2017. One of them is Cardano which went to top-10 of the world's biggest cryptocurrencies after a very short period of time after its launch.
The big reasons why so many people are investing on Cardano and EOS is that they have leaders who have a strong background in the industry. If there would be somebody that nobody really knows or they wouldn't have any proof of their past work, it would be pretty challenging to gather billions of dollars so quickly.
I may hop into the "EOS train" at some point but I'm not yet fully convinced. I would like to see something more tangible. That being said, I need to admit that there may be a great potential with EOS and I just should hop in right away. That's why I would love to hear your opinions below.
Before we wrap up, I want to mention that I have good news for those who are looking for proven ways to make money online. Cryptocurrencies are something that has never happened before in the history and it's impossible to know for sure how this will end up (even though I believe that pretty well). However, there are tons of ways that are proven and tested thousands of times that work for making good money online.
Take a look at this step-by-step training which is my #1 recommendation especially for beginners and aspiring online entrepreneurs. I have used it myself for +2 years and I can say with a hand on my heart that their training and community has hugely influenced my life in a positive way. That's why I'm always happy to recommend it to you as well.
---
What do you think about EOS?
Is it worth buying or not?
How Much will the value be in the future?
Let's discuss in the comments below! 🙂