Are you interested in Pampered Chef? Perhaps you have been looking for a review which will help you come to the right conclusion. I am in no way affiliated with this system, therefore I will tell you what it is, their products, compensation and what you should expect when you join.
Some people were also asking, "Is Pampered Chef a pyramid scheme?" and "Is Pampered Chef a scam?" You will also get an answer to these questions in the next 1-3 minutes.
I have organized meals for several 20-50-person camps that lasted 3-7 days. In addition, I have been cooking for events of more than 100 people. I am not a professional chef but I like cooking and in my opinion, it's a relaxing activity. So, Pampered Chef cooking is an interesting subject for me even though recently I have preferred eating outside to save some time.
Let's get started and get to know if this is a really good business opportunity.
Pampered Chef Review
---
Name: Pampered Chef
Founded: 1980 by Doris Christopher, in 2002, it was purchased by Berkshire Hathaway
Cost: price ranges from $99 or $159.
Type: Cooking/Cookware MLM (multi-level marketing)
Short review: There are several MLM systems, but this particular one is unique since it deals with cooking wares. For people who love to cook or bake, the pampered chef offers several cooking wares, kitchen accessories, bakeware, food products, and cookbooks. These products are sold by the system consultants at different startup prices. If you have a complete understanding of MLM system and you are very hardworking, you have an opportunity to succeed.
Whether you are interested in MLM-programs or not, I recommend checking out this step-by-step training to make a living online. I have used it myself and it works like a charm. You can use those principles in promoting other people's or your own products. The great thing is that you can do it all from the comfort of your own home (or while you are traveling around the world like I'm doing).
---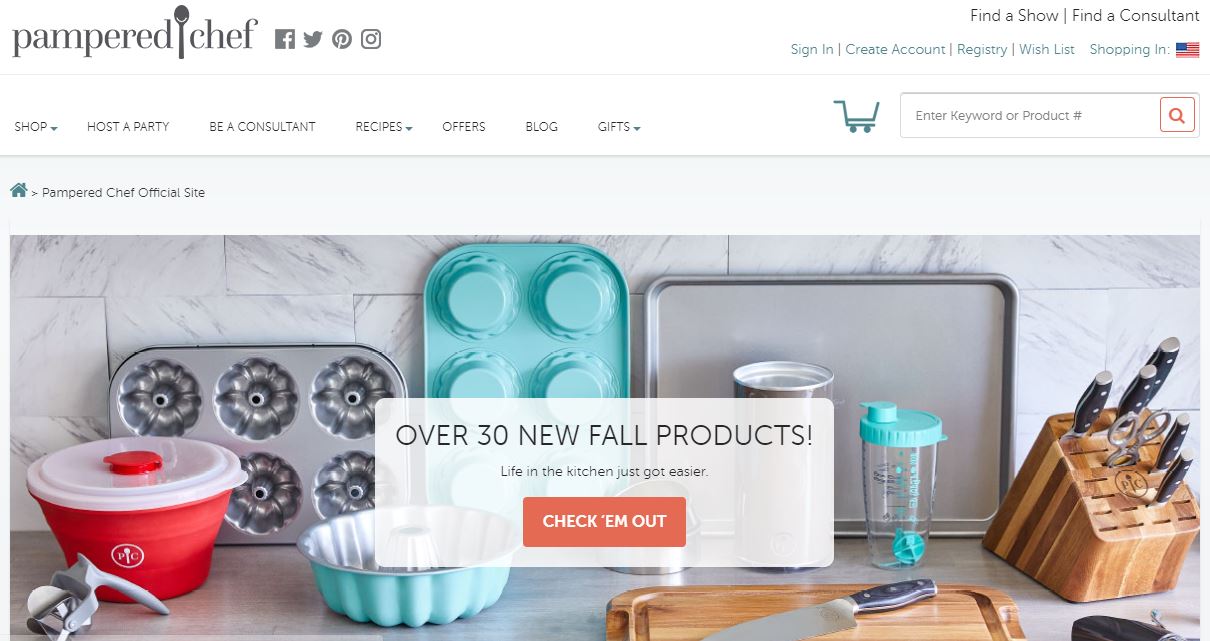 What Is Pampered Chef?
The pampered chef company started in 1980 by Doris Christopher. It sold different cookware, food products and cookbooks. In the year 2002, Berkshire Hathaway purchased the company. For me, it's a great positive sign about the company if Berkshire Hathaway has bought it. It's one of the biggest companies on Earth which is lead by the second richest person on the planet. If he sees potential in Pampered Chef, it can't be a scam.
The pampered chef is also an MLM company. It has consultants who sell their products and this can be any private individual. They sell the products at craft fairs, online websites, and house parties. I am not a big fan of MLM-programs but I would prefer selling products online because then you can reach tens of thousands or even millions of people from the comfort of your own home. If you don't know how to start promoting this kind of products online, I can help you hand by hand.
On the other hand, I know that some people are more interested in a personal interaction with prospects. Then you will be arranging home parties regularly and keep presentations about the opportunity and Pampered Chef products. Let's have a look what they offer.
Pampered Chef Products
You may not be aware of this, but many companies have similar products and offer similar services like the Pampered Chef. The competition between these MLM companies is immense. Most of the other companies offer bad services and do not deliver their promise.
The products found on the pampered chef website are displayed nicely. It is not just a cooking website, it is a business opportunity, you should know that even if you are interested in the MLM system of the company, a lot of persons are not. They are just interested in the products, are they good or not?
The information of the products on the pampered chef homepage is well laid out making it easy for new contractors to navigate through especially during their first sale. As far as this Kitchen MLM company is concerned, they do better in displaying their products than every other Kitchen MLM companies I have reviewed. You can also have a look at their products and customer reviews more in detail on Amazon.
Here is a highlight of the products which are sold
Cooking wares
Large Micro cooker for Microwave
Nylon Pan Scrapers Set of 3
Mini Tart Shaper
Parmesan-Garlic Oil Dipping Seasoning
Celebrate Celebration Gift Boxed Serving Plate
Teriyaki Sauce with Honey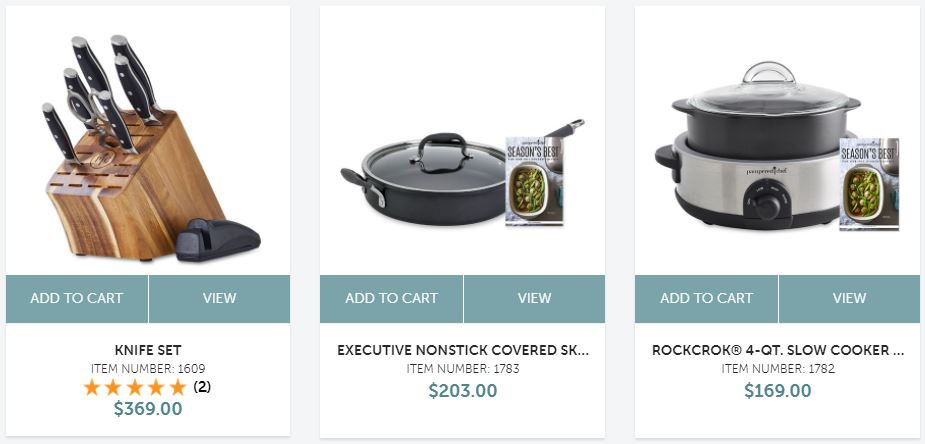 Food items
Cherry Balsamic Vinegar
Gluten-free flour
Rosemary-infused canola oil
Spicy Pineapple Rum Sauce
Cinnamon plus Spice Blend
Peppercorn Medley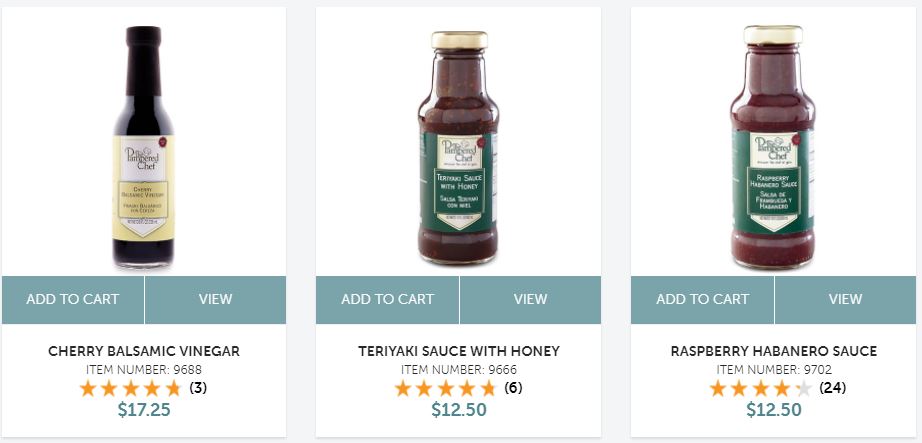 From the list above, you can see that pampered chef, does more than cooking and baking wares, it also incorporates the latest food trends. On the website, you will find a notice which says that all the meals are gluten-free. They are seasoning blends, vanilla extract and all different flavors, rubs and anything unique you require.
After seeing their products we can already say it's not an illegal pyramid scheme that only focuses on recruiting. Every MLM-program uses the pyramid form but we still don't call it officially a pyramid scheme unless they only make money by recruiting new members into their program. Some people call Herbalife, Amway, Pampered Chef and other MLM-programs pyramid schemes but they don't exactly fulfill the definition.
How Much Does It Cost to Join The Pampered Chef?
To join the pampered chef MLM business you need to purchase a starter kit. There are 3 sizes of price range from $109- $249. When you purchase a kit, you get different kitchen cookware, bakeware, and accessories. The company attaches brochures, sales receipts, catalogs, thank you card etc. if you don't have up to that amount, the company offers Host credits to its contestants to host a party. This can give you a discount of $50 from your starter kit.

Notice the marketing trick that they are using here with these kits. For example, Ultimate Kit costs $249 and they say the real value is over $1,000. That's BS. The real value really isn't over $1,000 even though it's a nice package. That's just a typical marketing trick. Anyway, at least starting is much cheaper than in MLM-programs like LuLaRoe.
Pampered Chef Compensation Plan
As a Pampered Chef consultant, you have different options when it comes to marketing. You can either create a website to promote your product for a fee of $10. Or you can advertise online on different platforms. As a consultant, you earn 20-25% commissions when you sell your products to others. For every individual you recruit, you earn 3% bonus commission. As earlier said, as a host, you can get products at a discount of $50. When you become an expert you procure commission. They are free incentives like travel openings, training seminars, etc.
On registering and buying one of the starter units, you become a consultant. From the beginning, there are 9 consultant rank levels. The Pampered Chef also offers incidental promos to its consultants. When you build a strong group by bringing in more consultants under you, the more commissions you earn. The pampered chef gives a consultant the first 90 days to recruit. This is a free way ticket to participate in the fast track to become a director program. They could also win $2000 in reward pay. There is a 30-day money back guarantee, just in case you change your mind.
Do You Want a
FREE
& Easy-to-Follow
7-Day Course
to
Make Money Online
for Beginners?
Easy-to-Follow

Beginner-Friendly

My Personal 1-on-1 Support for You
Get Started for FREE Below Before this offer goes away!
In this video I quickly explain the most important details of the compensation plan and what it really requires to make a living with Pampered Chef:
Pampered Chef  Reviews & Complaints
There is always a good side and bad side to every MLM system. I haven't reviewed any MLM system that is all clean. Well, the pampered Chef looks like it has more good than bad.
Pampered Chef has a broad market base. There are several products which can be used for any kind of cooking and by anyone. You can also sell your products in person by hosting parties or online. The products are of high quality and guarantees to be used for a lifetime.
A lot of person like the pampered chef products because they are stable. It has been around for a very long time. It makes them feel the MLM company is here to stay for a long time and not dash off with their money.
Consultants were happy because delivery is hassle-free as the products are delivered to their customers by the company. The bad reviews on this company, had to do with the price, as new consultants felt it was at the upper side. The commissions they get afterward do not match what they paid for. Other consultants complained that the products are available on Amazon, eBay, and other online stores. This made it difficult to sell to their target market.
Conclusion – Is Pampered Chef Worth It?
I have used $10 and $150 frying pans and anything in between. Was a $150-frying pan 15 times better than a $10 pan? No, it wasn't. When I buy a pan to my home I usually prefer buying one of the cheapest options. It may last a bit less than the most expensive one but I save a significant amount of money in the long run.
Pampered Chef products are on the upper end of a pricing scale. There is that typical "MLM-extra" in their pricing. It's the bonus that you need to pay their distributors when they sell the product for you. That's why I personally prefer usually buying my products from the local supermarket or Amazon instead of directly from MLM-distributors.
If you love Pampered Chef products and you are passionate about the subject, their MLM-opportunity may be a great choice for you. I want to remind that succeeding with network marketing companies requires hard work. +95% of the distributors fail and don't earn almost anything. You need to be better than the most but it's definitely possible.
Also, before starting out I recommend that you consider the marketing strategy that you're going to use to sell their products and recruit new members. You can arrange one party for your family and friends but they don't want to hear the same presentation every week.
If you want to reach thousands and even millions of people online, just follow this step-by-step training. I use it and every single day I reach hundreds or thousands of new people online. The system does the hard lifting for me once I have set up everything first. This allows you to earn passive income as well.
---
What is your experience with Pampered Chef or similar MLM-programs?
Do you prefer making money online or offline?
Let me know in the comments below! 🙂