One of my followers asked me recently about Photo Job Zone. Their website promises that you could earn $1-125 per picture and they can be sold over and over again. Is it really true or are they just trying to scam us? In this review, I'll share my honest opinion.
I didn't find many Photo Job Zone reviews online and their website is relatively new. There was also something very surprising on their site that I'll share you further!
I had seen Photo Job Zone website already a while ago but didn't take a very close look. I thought that I would investigate it later. Now came a good time because somebody requested me to tell my opinion about it. (Also if you ever need a review of some website or service, leave a comment below or contact me by email and I'll take a look.)
Photo Job Zone Review
---
Name: Photo Job Zone
Cost: 5-Day Trial $1. Afterward $24.95 per Month.
Type: Make Money Online by Uploading Pictures
Short Review: Photo Job Zone seems to be an extremely suspicious website and I recommend staying away from it. There are several red flags why I believe it's a scam.
If you are interested in earning money by photographing, I recommend investigating on YouTube what other successful photographers are doing and repeating their process.
Another great option is to follow this step-by-step training that will help you to make a living online. Your photographing skills will be a huge plus and it can help you to earn a bigger paycheck than an average Joe (like myself) who doesn't know almost anything about taking cool pictures.
---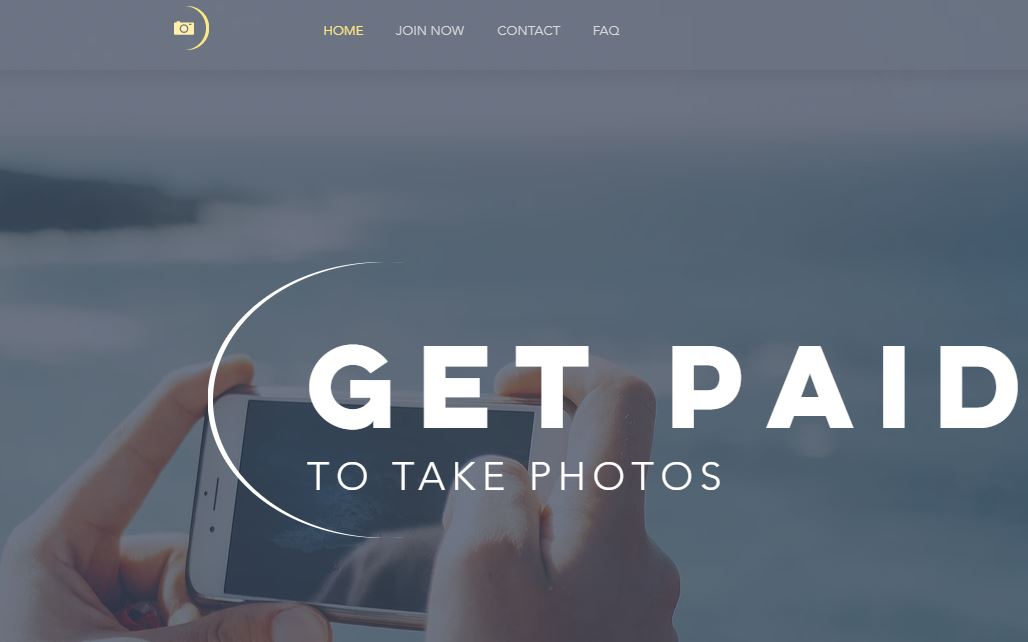 What Is Photo Job Zone?
Photo Job Zone is a website that is supposed to help you to earn money by taking pictures. Based on the information on their homepage they are the source between you and high paying corporations. "Photo Job Zone partnership makes it easy to earn thousands of dollars each month", says their website.
They promise that you can earn $1-125 for each picture. You can upload as many pictures as you want In addition, the same picture can be purchased unlimited times over and over again when your earnings will add up. Here are some other information about the job Photo Job Zone offers:
No experience needed. "You just need a camera."
5 megapixels is a minimum requirement for your camera.
Work online. Be your own boss. Set your own schedule.
You can live wherever you want in the world.
Photo Job Zone has also made aggressive Facebook marketing and used lots of money on FB ads. There are almost 40k likes on their Facebook page at the moment. Even though Photo Job Zone has an Instagram logo on their website they don't have an account there.
Okay, all of this sounds so promising so far. But let me show a few red flags why I strongly believe it's just a scam. I gave a look at all the information that I was able to find on their website. I would have also bought their membership if I would have been convinced it's a legitimate website. However, it doesn't seem legit at all and I'll tell you why.
#1 Red Flag: 

Photo Job Zone Terms

In the image above you can see a glimpse of their terms. I have highlighted an interesting text which says that a typical purchaser doesn't earn any money by using their system. Well, at least they are honest! 😉
Why would somebody buy this program if a typical purchaser doesn't earn any money? Well, maybe he doesn't notice this fine print (I have enlargened the picture. On their homepage the print was very small and hard to notice if you aren't intentionally searching for that information.)
#2 Red Flag:

 No About Page Or Information about the Company
You can't find literally any information about their company. It raises many questions:
Who is running their website?
Why don't they share any information?
Do they want to hide something?
Are they going to delete the website soon and go away without leaving a trace?
Usually, every reliable website or company tells at least something about them. For example, how long they have been operating, What is their story and so on.
#3 Red Flag:

 No Explanation About Earning Process
How the process of earning money with their membership really work? They just tell that you will upload pictures somewhere and earn money for doing that. At least I am not satisfied with that information.
If I am going to give my credit card information and money for some website I want to at least know how I would benefit from it.
Let's compare to a reliable make money online opportunity like Wealthy Affiliate. They explain on their homepage in a very great detail how you will be earning money through their training and website. There are pictures of their company members, the story how everything started and much more other information.
Do You Want a
FREE
& Easy-to-Follow
7-Day Course
to
Make Money Online
for Beginners?
Easy-to-Follow

Beginner-Friendly

My Personal 1-on-1 Support for You
Get Started for FREE Below Before this offer goes away!
In addition, it's possible to use Wealthy Affiliate membership for completely free. They only charge for the premium membership which is totally worth every penny because you earn much more than you have put in.
#4 Red Flag:

 Too Good to Be True
Photo Job Zone says that their partnership will help you to make easily thousands of dollars per month.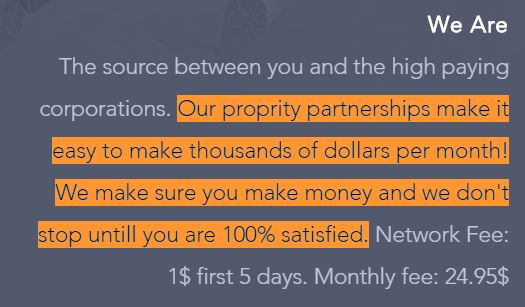 One of the most typical scam signs is that a website promises easy money. I know from my own and other people's experience that it's possible to make big money online but you need to work at first. I have friends who make +$10,000 per month online passive income but they had to work for it.
Now it's easy for them because the money just keeps on flowing in but in the beginning they didn't earn very much.
I have a good friend who has done photographing for around 10 years. His pictures looks wonderful in my eyes and the equipment is much better than "an average smartphone". Even though he isn't on the world-class level yet, his quality is already quite good.
He has recently started using photo banks like Shutterstock, Fotolia, etc. to earn passive income online. As far as I have understood, his earnings are around $5-10 during the first 4 months. Hopefully, income will start rising and it's completely passive income because he has done the work beforehand. Anyhow, we can forget the easy money here.
#5 Red Flag: 

Photo Job Zone Reviews – No Positive Ones
Usually, if some company offers a good way to make money online, there are lots of positive reviews all around the Internet. However, I didn't find even a single positive review of Photo Job Zone.
Photo Job Zone offers financial incentives for people who would promote their service. They are a part of ClickBetter affiliate network and you would earn commissions every time somebody would buy the membership through your link. Still, nobody has bothered to write a review and promote their website. There must be a good reason for that.
In addition, ClickBetter is famous of having lots of scam products inside their network. Even though they have some screening process to become their partner, there are still numerous scams.
One explanation for not having positive reviews is that their website is still relatively new. However, it has already been around almost 2 years since it was registered in 07.10.2015. I checked a few other parameters and their website doesn't seem reliable at all. They have only 1 backlink pointing to their site and some websites claim it's risky.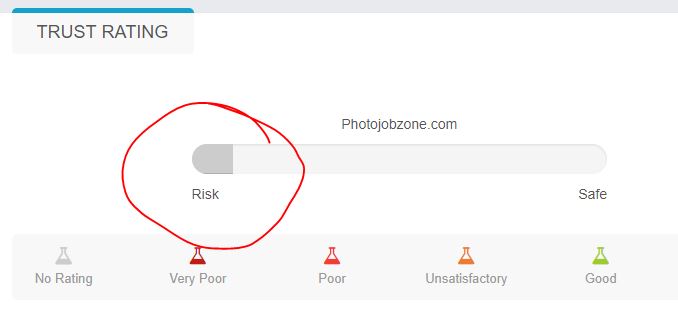 Conclusion – Is Photo Job Zone a Scam?
Based on my research Photo Job Zone is a scam. There are too many red flags that I don't want to give my credit card information for them. I was once scammed online and I don't want it to happen again. I learned my lesson that it's always good to make a little research before investing any money on any service online.
So after all, Photo Job Zone doesn't seem a good way to earn money online.
If you are interested in a better and a more reliable place to make a living online, I recommend taking a look at Wealthy Affiliate. Their step-by-step training, tools and support has taught me everything I need to earn money on the Internet.
As a bonus I offer 1-on-1 support and mentoring if you join Wealthy Affiliate through my website. I'll answer all your questions about making money online and I will provide you personal tips how you can improve your online business.
---
Have you made money online by photographing? How?
What are your favorite ways to earn money online?
Let me know in the comments below! 🙂