Today we will have a look at an opportunity where you could save hundreds of dollars. This service has been around already for more than 13 years and counting. So it should be reliable. But have you heard the recent complaints about it? Is MyPoints a Scam? Is it worth it? Give me 1-2 minutes to answer you thoroughly in this MyPoints Review.
MyPoints Review
---

Name: MyPoints
Website: www.MyPoints.com
Founded: 1996
Field: Cash Back and Reward Websites
Overall Rank: 10 Out of 100 (Check Out My #1 Recommendation, 98 Out of 100)
---
What Is MyPoints?
MyPoints is an online reward and a cash back website. It means that you can earn rewards (=gift cards) by completing small offers and tasks like answering surveys or watching videos. On their website, MyPoints claims that the company has been found already in 1996 which is quite incredible if it's true. One other source said that MyPoints was founded in 2004. Anyway, we are talking about an old online service.
Having a business running on the Internet for +13 years is a big merit and there are not so many services who have done it. The Internet is still a relatively new creation and there are so many opportunities.
When I read the reviews of MyPoints and what people have liked their service, I found out that MyPoints used to be a legitimate service but nowadays they are scamming people. But what is the idea behind MyPoints? How does it work and how can you earn money with it? Let me explain.
How Does MyPoints Work?
There are simply two steps in MyPoints:
1.Earn points by completing offers
2.Get free gift cards or cash
Now there's a question, how can you earn points and how many points you need to have before having a free gift card to Amazon, for example. This picture below explains more than a thousand words.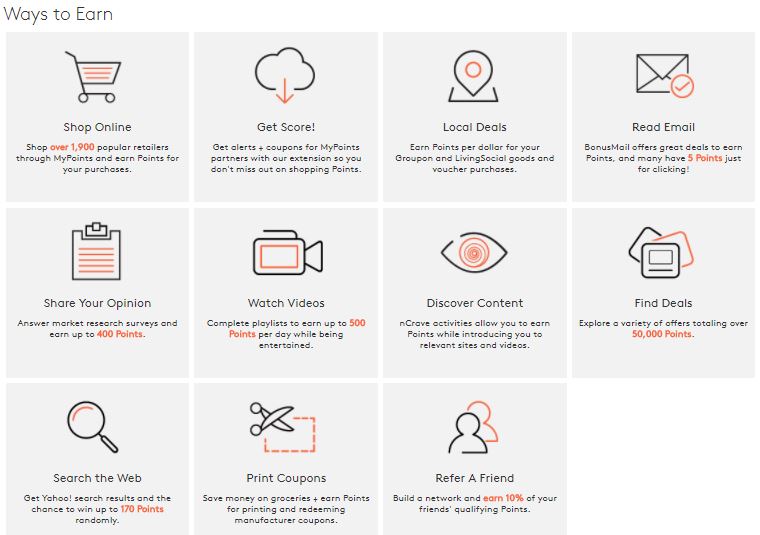 You can earn points by shopping online, answering surveys, watching videos, printing and clipping coupons, referring a friend, reading emails (ads), searching the web and so on. There are more than 10 ways to earn points.
Sounds fun and easy? Well, the reality is a bit different.
How to Make Money/Gift Cards in MyPoints?
Let me explain how the points work. $1 equals to 150-170 points. So, in order to have a $10 gift card or cash, you need to earn 1,600 points. How fast could you earn it?
Watching videos sounds fun so let's try it.
You will earn 1 point for watching 2 minutes roughly on average. So, in order to earn 1,600 points, you need to watch videos for 3200 minutes which equals to +53 hours. Imagine! You waste the whole week by watching videos to earn $10. No thanks for me. My week is much more valuable than $10. By the way, you couldn't even buy enough food with that money.
Online surveys are not worth it either because the payout is so minimal. The only interesting way to benefit a little bit of MyPoints would be using their coupons or get cashback for shopping. But! There is one big challenge. Have you heard what people are talking about MyPoints nowadays?
MyPoints is like PrizeRebel, CashCrate or Swagbucks but only a worse version than those.
MyPoints Complaints

There are hundreds of complaints of MyPoints on the Internet. I am wondering how the company is there if they are scamming people like this. Have a look at these complaints


What do you think after seeing those complaints of MyPoints? "Missing Points", "Total Disaster" and "Waste of Time". I think these words describe well what kind of service MyPoints is at the moment. It's hard to find any positive reviews of their service at the moment.
Do You Want a
FREE
& Easy-to-Follow
7-Day Course
to
Make Money Online
for Beginners?
Easy-to-Follow

Beginner-Friendly

My Personal 1-on-1 Support for You
Get Started for FREE Below Before this offer goes away!
The only positive reviews are from those who are promoting MyPoints with the hope of earning money from referrals.
Pros & Cons
Pros:
You have a possibility to get cash backs, earn gift cards and cash
Cons:
Hundreds of complaints found on the Internet about their service
They are not paying all points what they have promised
Earning potential is ultimately small anyway
The service used to be better than it's nowadays
Conclusion – Is MyPoints a Scam?
When I read people's experiences of MyPoints, I don't have another possibility but to call this service a scam. They are just stealing people's time which is the most valuable asset in life. You can always earn money back but you will never get your time back.
If you want to use your time effectively I recommend heading to Wealthy Affiliate and learn how to make a full-time income online. You can go to a college for 3-5 years get a loan and work for an average job for 40 years.
Or you can learn how to make money online and earn +$10,000/month in a few years. Which option do you like more?
I prefer making money online because the earning potential is literally limitless. In addition, you can earn money while you are sleeping or doing whatever you want. Yesterday I earned $50 while I was sleeping. Usually every night I earn some money online. That's called passive income because I don't need to earn actively anymore to earn it.
It's nice to wake up and have a look what did I earn last night. Would you have the same kind of feeling?
Wealthy Affiliate offers 20 interactive video lessons that teach you to step by step the process of making money online. I thought before that it's something difficult and it would be only for few but nowadays I know that there is actually a formula that is repeatable. Anyone can make a full-time income online.
MyPoints at a Glance…
Name: MyPoints
Website: www.MyPoints.com
Founded: 1996
Field: Cash Back and Reward Websites
Overall Rank: 10 Out of 100
What do you think about reward sites?
Have you already learned a more profitable way to make a living online? Would you like to learn it from me?
Let me know in the comments below! 🙂
As usual, I promise to answer every single comment and question personally within 24 hours in the comments section.