Is MegaTypers a Scam or Legit? That's a question you should ask yourself before using endless hours trying to earn money through their website. They promise you good earnings (up to $250 per month) on their homepage but is MegaTypers an honest company?
In this review, I'm gonna explain how you can make money through their website and how big is your earning potential. I'll also show what other reliable online marketers and normal people are saying about this website.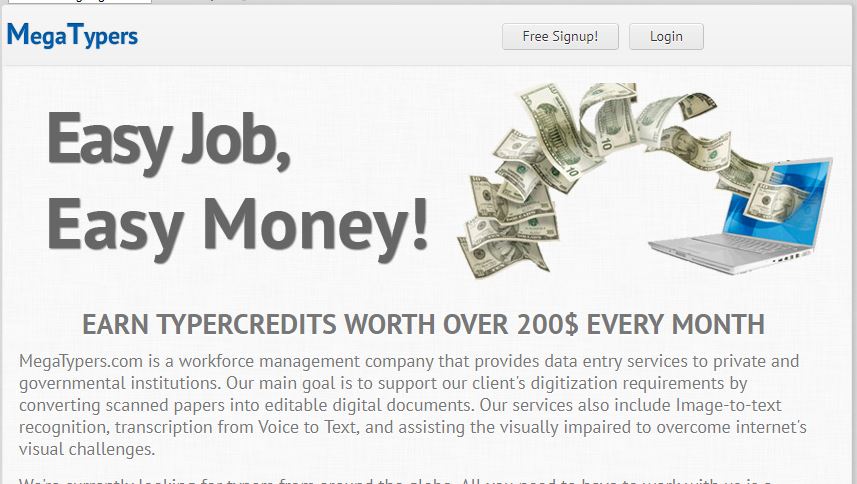 Megatypers Review
---
Name: Megatypers (also ProTypers)
Founded: 2012
Type: Solve Captchas to Earn Money
Short Review: It's possible to earn money on MegaTypers by solving captchas but your hourly "salary" will be only something like $0,10-0,50 per hour. You can earn more by referrals but that's also quite time-consuming and earning potential is much lower than on many other websites.
Just one quick comparison: Top earners on MegaTypers earn $250 per month while top earners on Wealthy Affiliate make tens of thousands of month. I gathered 5 examples on this article. All of them make +$10,000/month online.
---
MegaTypers Review 2017 – Video Version
If you prefer watching a video instead of reading a text, I recommend taking a look at my video review of MegaTypers below. In the end of the video, I also reveal a list of better ways to make money online. You can take a look at them here.
What Is MegaTypers?
MegaTypers is a website that pays their members for solving captchas. If you don't know what they are captchas, I recommend taking a look this article where I explain what they are. MegaTypers is a quite similar website to 2Captcha where your earning potential isn't very huge.
But why are they advertising $200-250 monthly earnings on their homepage? Are they really possible? Yes, it's possible to earn $200 per month with MegaTypers and I'll explain further how and whether it's worth trying or not.
In my opinion, company's name MegaTypers is a bit misleading because at least I thought it would be something related to writing. I thought it's a freelance marketplace and you could earn money by writing articles for clients. But no. It's a website where you will solve captchas. What do you think about their name? Is it misleading also in your opinion?
How to Make Money on MegaTypers?
You will be given a captcha image after another. You need to solve them as quickly as you can. The faster you solve, the more money you can potentially earn. You will earn $0,45-1,5 for solving 1,000 captcha images.
I know it doesn't sound very much because it isn't. It will most likely take several hours to solve 1,000 captchas and earn $0,45-1,5. In the other words, your "salary" will be clearly below $0,50 per hour. My estimation is that most people earn something like 10-20 cents per hour on MegaTypers.
Are there other ways to earn money on MegaTypers? Yes, they have a referral program and we're gonna take a closer look at it now.
MegaTypers Referral Program – Earn 10% for Referral's Earnings
In order to sign up to MegaTypers, you need an invitation code from a current member. My invitation code is, for example, "DH8S". You can use that for signing up if you want to try their service. Then I will earn 10% of all of your earnings. When you earn $10 I get $1. If you earn as much as $100, I get $10 passive income.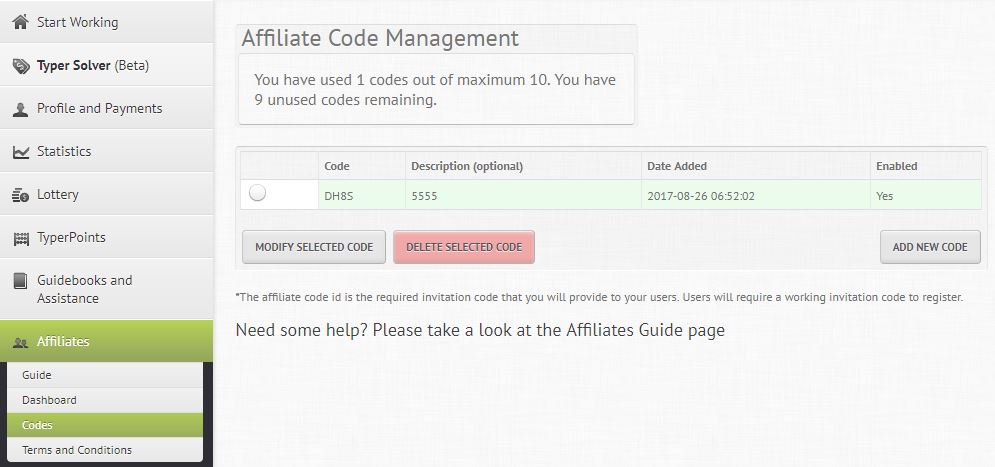 Is MegaTypers Referral program as good as it sounds? Well, not really. You would need to have hundreds of referrals to earn any significant income. MegaTypers says that their top earners are making +$200 per month. I assume that those guys have thousands of referrals.
Why would you aim for $200 per month when you can earn much more on other services. Top earners on MegaTypers earn $200 per month but on Wealthy Affiliate, top earners are already multimillionaires. Of course, it's a completely different to earn money through affiliate marketing than solving captchas. Affiliate marketing is for those people who really want to earn good money but captchas are just for people who just want to kill their time somehow.
Megatypers Reviews & Complaints
There are tens of reviews of MegaTypers on the Internet and I was curious to see what other people are saying about their service. Other people had also come to a conclusion that MegaTypers isn't worth it.
There are 28 MegaTypers reviews on SiteJabber.com and most of them gave the website only 1 star out of 5. Only 5 people gave MegaTypers 4 or 5 stars and it seems that they just don't know about more profitable ways to earn money online.
Do You Want a
FREE
& Easy-to-Follow
7-Day Course
to
Make Money Online
for Beginners?
Easy-to-Follow

Beginner-Friendly

My Personal 1-on-1 Support for You
Get Started for FREE Below Before this offer goes away!
Many people reported that MegaTypers can ban and freeze your account when you are about to withdraw some money. Then they can reduce your balance from $5 to $0,50 or something similar. Imagine that you have used endless hours to earn that $5 on MegaTypers and then they just ban your account. I don't know why they are doing it but it seems that they are not very legitimate.


Some rumors say that MegaTypers would be closing their service soon. I don't have any official information about that. If you know something about it, I would love to hear in the comments below.
All in all, most MegaTypers reviews can be summed up in 2 sentences:
"They pay extremely little money."
"When you reach your cash out limit MegaTypers is gonna ban your account."
I still want to mention that some people have cashed out money from MegaTypers but there are not any guarantees.
Conclusion – Is Megatypers Worth It?
MegaTypers is not worth the hassle. It would take so much time to earn your first dollars and still you can't be sure whether they're gonna pay you or not. As we saw above, many accounts were banned just right when they were supposed to get paid.
If you are looking for earning money by writing articles, you can use for example these websites:
All of them are reliable companies and pay their writers honestly. I have used them a lot of buying articles for my websites. If you're a good writer, you will find small business owners who are willing to pay you quite well for writing articles.
However, I don't myself earn money as a freelance writer anymore. I got offered some gigs recently but I turned them off because I prefer earning passive income through affiliate marketing. It's much more profitable in the long run and also highly rewarding. Every word you write adds up and build your own business.
If you would like to earn money with affiliate marketing like I do, I highly recommend starting a free step-by-step training on Wealthy Affiliate. It'll walk you through every step you need to take to build a successful online business. I'll offer my 1-on-1 support and mentor when you join through my website. You can then ask privately any questions what you want.
Is It Profitable to Solve Captchas for Earning Money Online?
There are several similar websites to MegaTypers where you can earn money by solving captcha codes. However, my experiences show that kind of websites usually never pay you enough. They are even worse than survey sites if we think about the earning potential.
You can't reach even $1 per hour salary by solving captchas. In my opinion, that's quite bad. A much wiser choice would be to go to work to McDonald's. 😉 But of course, there are many great ways to earn money online that are way more profitable than McDonald's.
I would like to remind you about the important principle: "Easy comes, easy goes." Anything worthwhile in life requires work and efforts. That's why you can't earn a good income by filling out captchas or answering online surveys. They offer so-called "easy money" but the downside is that easy money doesn't equate to a big amount of money.
Jim Rohn and his mentor Earl Shoaff shared always the following principle, "You earn based on the value that you bring to the marketplace." The more value you bring, the more money you earn. What are the ways that you could increase your value?
At the moment I am offering value to people through blogging and creating websites. It seems to work even better than I thought and I have exceeded goals that I set myself for this year. Thanks to Wealthy Affiliate community and training.
What do you think about earning money by solving captchas? Is it too slow in your opinion as well?
What are the most profitable ways to earn money online in your experience?
Let me know in the comments below! 🙂
I am looking forward to hearing from you. Feel free to ask if you have any questions regarding MegaTypers or earning money online, in general. I'll be happy to give you a personal reply.