What is CREDITS (CS)? Is CREDITS a good investment? CREDITS vs Bitcoin vs Ethereum – Which one is the best?
If you are looking for answers to these questions, you have come to the right place! In this CREDITS review, I am going to explain to you what is CREDITS all about and what they are trying to achieve. In addition, I'll explain whether I am going to invest in their coin or not.
---
CREDITS ICO Review
CREDITS will have an ICO (Initial Coin Offering) starting from 15.2.2018 and I am going to invest in it. Check out my video below where I explain the reasons why I'm going to invest in it and how much.
---
CREDITS Review
Name: Credits
Launch: Late 2017. ICO in February 2018
Type: Cryptocurrency. Aims to Solve the Scalability Challenge.
Short Review: CREDITS is a cryptocurrency with big promises and ambitious goals. It will be interesting to see how their project moves forward because if they achieve their goals even closely, this is going to be a huge thing in the marketplace. That's why I am probably going to invest some money in their coin. That being said, the project is still in its infancy and there are many risks along the way.
If you prefer proven ways of making online, I recommend taking a look at this step-by-step training.
---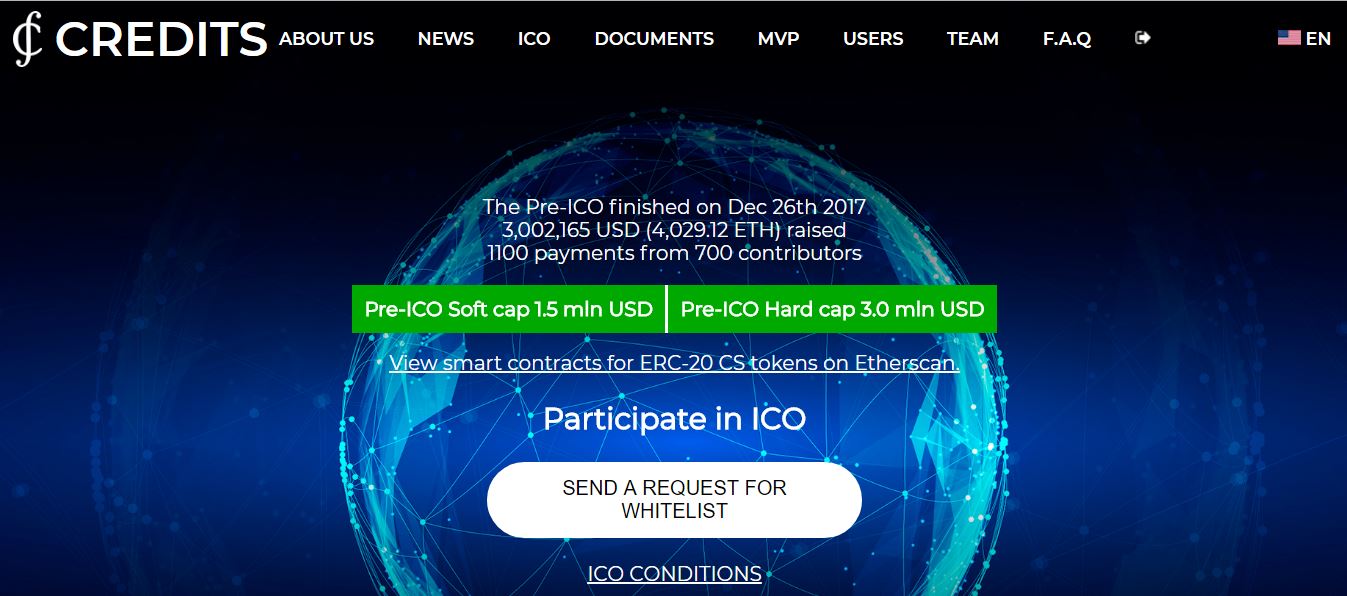 What Is CREDITS?
CREDITS is a blockchain protocol that aims to solve the scalability problems. They have an own cryptocurrency called CREDITS (CS) and smart contracts as well. Their system is coded in Java which is one of the most common programming languages in the world.
The company had a pre-ICO in December 2017 where they easily raised +$3 million. Their ICO is in February with a relatively small hard cap of $20M. I am pretty sure that they'll reach that goal because there's hype around this cryptocurrency at the moment.
Let's take a closer look at what they are planning to achieve.
How Does CREDITS Work? – Benefits of CREDITS
The picture below explains, in a nutshell, the goals of CREDITS. They are pretty ambitious, to be honest.

You probably know that nowadays a Bitcoin or Ethereum transaction can cost even $15 and take more than an hour. Imagine if you could make a transaction with a decentralized cryptocurrency faster than in a second with a $0,001 transaction fee. Of course, you can make extremely quick and cheap transactions with Ripple but it's a centralized system which is the reason some people don't like it.
1.+1,000,000 Transactions Per Second
Nowadays Bitcoin network processes around 7 transactions per second while Ethereum network manages ~300 transactions per second. Of course, these numbers vary depending on the day but these are rough estimations.
Imagine if the network could process more than 1,000,000 transactions per second. That would make the mass adoption of cryptocurrencies even easier. I believe that in the future billions of people around the world will be using cryptocurrencies as a payment method so we need to find solutions to the scalability problem.
2.Low Transaction Cost
I've paid $15 for a Bitcoin transaction and also a fairly high amount for an Ethereum transaction as well. The reality is that we can't really use them as a good form of payment at the moment. I wouldn't like to buy a cup of coffee for $2 and pay $17 in total because of the transaction fees. That would be nonsense.
However, if the transaction fee would be only $0,001 like CREDITS project aims, that would be perfect. I could definitely use it as a payment method because transaction fees wouldn't be too high.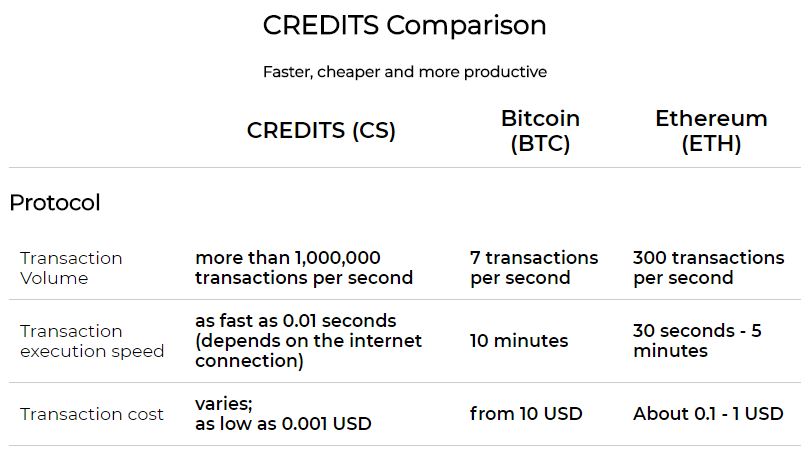 3.Advanced Smart Contracts
Bitcoin enables us to transfer money/value through the blockchain. Ethereum allows us the programmable transfer of value. It means that you can build smart contracts on their platform. "If thing x happens, then thing y will also happen."
Do You Want a
FREE
& Easy-to-Follow
7-Day Course
to
Make Money Online
for Beginners?
Easy-to-Follow

Beginner-Friendly

My Personal 1-on-1 Support for You
Get Started for FREE Below Before this offer goes away!
However, many cryptocurrencies including NEO and EOS are trying to make things better than Ethereum. That's also a goal for CREDITS.

Challenges and Risks of CREDITS
I remember the first times when I invested in Bitcoin a few years ago. There weren't many different cryptocurrencies and quite a few people knew even Bitcoin. When people talked about the benefits of Bitcoin they listed for example Almost free and instant transactions.
The price of Bitcoin was around $300, the market cap was way smaller and there was much less trading than there is today. There weren't any scalability problems. Nowadays one Bitcoin transaction may cost $15 and take even an hour. Yes, it can still be much cheaper and faster than the bank transfer abroad but we would like to see the fee closer to $0 and time closer to 10 seconds.
That brings us to challenges of CREDITS.
The Credits Project Is Still Very Young
CREDITS has big promises but we still need to remember that the whole project is in its infancy. Many other cryptocurrencies have also promised to solve the scalability problems. But what happens when they reach the same level like Bitcoin ($200,000,000,000 market cap)?
Everybody thought a few years ago that the Bitcoin could as well provide cheap and instant transactions but we saw that the mass adoption has created some challenges. On the other hand, CREDITS is using a bit different technology than Bitcoin so they have changes of solving those problems.
Let's have a quick look at the CREDITS roadmap, team, and the community. Those are the things that are eventually going to determine the market price and whether CREDITS is worth investing or not.
CREDITS Roadmap
In the picture below you can take a look at their rough roadmap. For a detailed, you can read more on their website.

CREDITS Team – Almost 50 Members
CREDITS has a large team because they have around 40 members and almost 10 advisors. It's one of the biggest teams that I've seen with new cryptocurrency projects that haven't even reached the ICO stage (I'm writing this section before the ICO). Bankera has a bit bigger team than CREDITS but very few other ones have 50 members at this stage.
That's, of course, a good sign for several reasons. 1.Many people find this project interesting and worthwhile and they are willing to put their time for CREDITS. 2.A big team can accomplish big things. If there are only 5-10 people, the results may be a bit limited. With 50 people you can already start making miracles.
The team has numerous developers, marketers, PR-people, community managers, partnership managers and so on. That's a positive thing for this project, of course. There is a cryptocurrency project that I like called BitDegree. However, they have only one community manager while CREDITS has 3 community managers. It illustrates the size of their team.
The most of the team members are Russian. You can have a look at their leaders in the picture below. You'll find more details about their team and advisors on CREDITS official website.

CREDITS Community
At the moment when I am writing this article (11.2.2018) they have the following amount of followers in different social media:
Telegram: 23,250
Facebook: 5,300
Twitter: 8,500
We can confidently say that there's a lot of interest around CREDITS. I believe that those numbers will rapidly rise if and when CREDITS starts moving forward and developing their product. On the other hand, CREDITS is not the most hyped cryptocurrencies and their Telegram group is much smaller than, for example, Friendz or Medicalchain.
I heard of Credits for the first time in Suppoman's daily cryptocurrency video. He is a famous crypto YouTuber who reviews different coins. He likes to create the hype around different coins and he has a lot of influence in the space. One reason for the hype around CREDITS is certainly Suppoman who was talking positively about their ICO in his video.
Conclusion – Is CREDITS a Good Investment?
I see a lot of potential in this project. They are aiming to solve a huge challenge and they have ambitious goals. If they eventually succeed with their plans, their cryptocurrency is going to be huge. My prediction is that the hype around their goal is going to pull up the price anyway.
Therefore, I am probably going to invest some money on their project. However, their project is so new and at the beginning that I'm most likely not going to put lots of money in.
At the moment my strategy with cryptocurrencies is finding great ICOs that are going to make big profits over the time course. Normally I am not a trader and I hold coins for a long term. I pick a potential project and hold their coins basically forever. If they make 10X gains, I may take some profits and move it to other cryptocurrencies.
If you want to learn how to make money with cryptocurrencies, I recommend taking a look at my new course called, "Make Money with Cryptocurrencies in 2018! – A Solid Strategy". A normal price is $195 but I offer it for just $10 to my website visitors and social media followers. I want that everyone can have an access to my course so I am giving it away to you just for a price of a pizza.
Even though I am actively investing in cryptocurrencies, I am also building other income streams online. In my opinion, it's good to have several income streams so you are not dependent of only one or two. If you are interested in making money online like I do, take a look at this step-by-step training or click the picture below: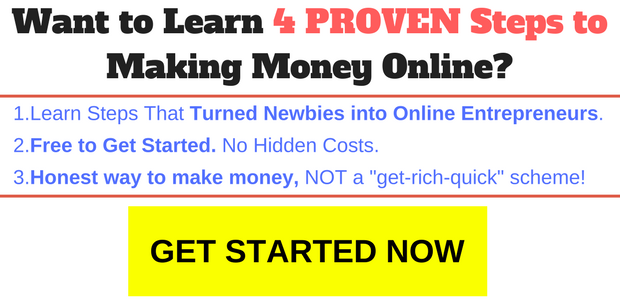 ---
What do you think about Credits?
Is it worth buying or not?
How much will the value be in the future?
Let's discuss in the comments below! 🙂