If you are looking for a comprehensive Friendz ICO review, you have come to the right place. In this article, I am going to explain everything you need to know about Friendz and their upcoming ICO. I'll also tell you 5 BIG reasons why I am going to invest myself in their FDZ tokens.
---
Friendz ICO Review – This Is Why I Invest in Friendz!
---
Friendz Review – Quick Overview
Name: Friendz
Website: www.Friendz.io
Launch: Friendz Has Started in 2016. The Blockchain Implementation and ICO in 2018.
Type: Cryptocurrency
Short Review: Friendz is one of the most promising ICOs that I have researched. They already have a product that has been launched in 2016 and it has more than 200,000 users. The company has +200 multinational clients including popular brands like Uber, Toyota, Phillips, and many others. I am certainly going to invest in their ICO. I like their project and I am convinced that investing in their tokens will give good returns for early investors.
By the way, if you want to learn to make money with cryptocurrencies, I recommend having a look at my new course on Udemy "Make Money with Cryptocurrencies in 2018! – A Solid Strategy"
---

What Is Friendz and How Does It Work?
Friendz is a fast-growing company that connects brands with their target audience. Companies and big brands will have an opportunity to advertise to a targeted audience while users can earn rewards for posting content on social media. Let me give you an example right away.
Uber wants to promote their brand and services. They set up a campaign on Friendz which gives rewards for normal users who post a brand-related content on social media like Facebook, Instagram, Twitter, etc. It's a win-win situation where the brand can have an opportunity to advertise themselves and "normal people" can earn money by posting simple content.
Friendz is already a working product that was launched in 2016. The company has been growing very fast. It has grown from a simple idea into a company of 35 employees, +200 multinational clients, +200k users and much more. The picture below illustrates the key metrics of the company:

Friendz has already acquired huge clients including Uber, PayPal, Nestle, Phillips, Sony and more. Take a look at the picture below:

3 Benefits of Friendz Compared to Many Other ICOs
I have researched and analyzed tons of ICOs over the time course. I noticed that Friendz has several benefits to many other ICOs.
1.Already a Working Product with +200,000 Users
Many ICOs are just startup with a beautiful idea. However, with most of them, there isn't any proof of success. With Friendz, things are totally different.
They have launched their product two years ago and it has been extremely popular. The growth has been convincing and the company is doing great.
2.Large Team of 35 People
Many ICOs have just a small team of 5-10 team people. Of course, the quantity of team members isn't the only decisive factors but you can imagine the difference between the project that has 5 persons working for it compared to a project with 35 people. Most likely you'll get much more done with a larger team.
3.High Quality Work in Every Area
I have seen ICOs with big promises but their quality of work has been very low on all aspects. When you go through what Friendz has already done, you can see that they are creating top-notch products and material.
Their white paper is a detailed 71 page long document that explains how the business works and how everything will move forward in the future. When you go to Friendz.io website, you see that these guys really know what they are doing.
Friendz Team 
Friendz team consists of 35 people and it seems to be growing constantly. The founders and the most of the team members are Italian. That's why the Friendz app has also been extremely popular in Italy.
Their team is actively communicating with the community through their social media channels. Friendz has already tens of thousands of members on their Telegram group. You get answers to your questions usually right away.
Do You Want a
FREE
& Easy-to-Follow
7-Day Course
to
Make Money Online
for Beginners?
Easy-to-Follow

Beginner-Friendly

My Personal 1-on-1 Support for You
Get Started for FREE Below Before this offer goes away!
How to Participate Friendz ICO?
Participating Friendz ICO is simple. Let me explain you the process step-by-step.
1.Go to Friendz.io
On their homepage, you'll find all the information regarding their company, ICO, and project.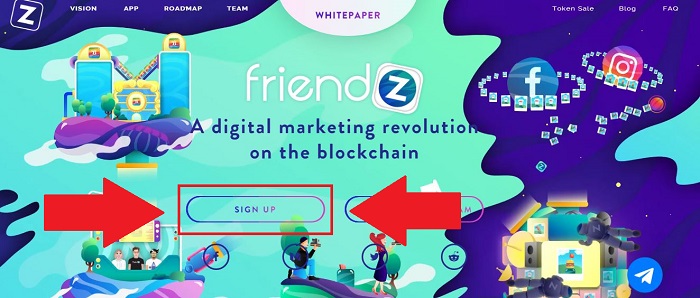 2.Click "Sign Up"
You can quickly sign up by using your Google or an email and it takes only 5 seconds.
3.Fill Out the Information and Apply for the Whitelist
When you have signed up, you'll land on the following page: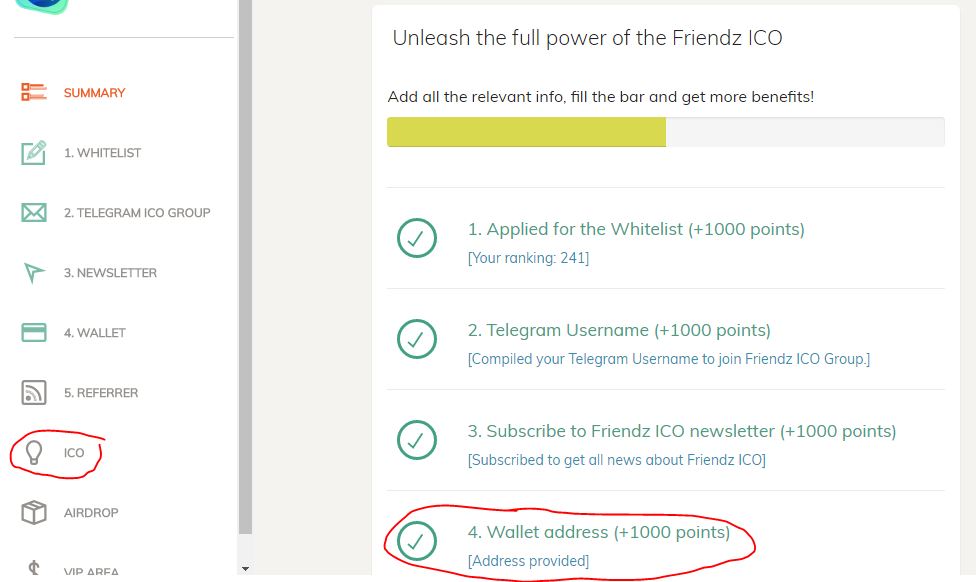 The most important things, in my opinion, are 1.Apply for the whitelist so you guarantee that you can participate the ICO and 4.Wallet address so they know from which cryptocurrency wallet you are sending the funds during their token sale.
4.KYC = Submit Your Passport and a Picture of Yourself  (for +1 ETH Buyers)
If you want to buy contribute more than 1 ETH (like I do), you need to do KYC (Know Your Costumer). It means that you need to send a picture of yourself and your passport to verify that yourself. This is a normal process and usually all ICOs require it.
You can find the KYC on the left-bottom side of your Friendz dashboard (see the picture below):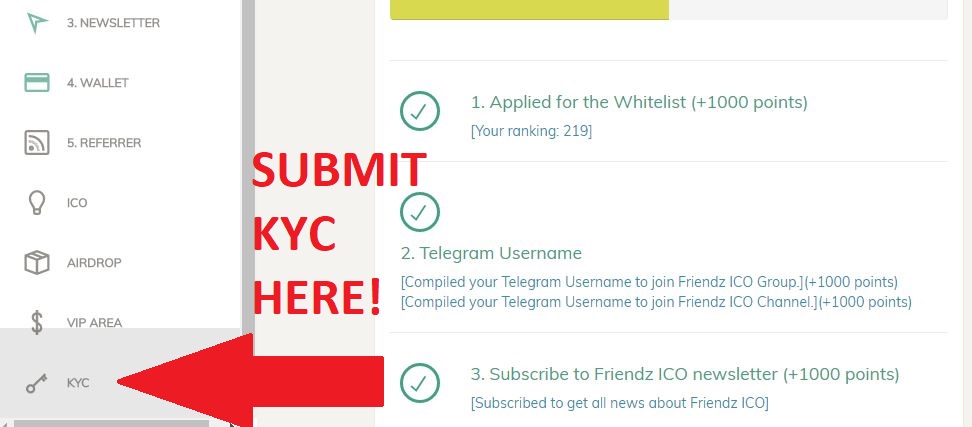 5.Participate the ICO (Starting from 1st of March 2018)
The ICO starts 1st of March 2018 and lasts until 21st of March 2018 or until the hard cap of 750,000,000 has been reached. I am pretty sure that the ICO will be sold out and they'll reach the hard cap before 21st of March. The minimum goal of the ICO is 50,000 tokens.
You can participate the ICO by going to your dashboard and clicking, "ICO" on the left-hand side as you can see in the picture above. In the picture below you will see the most important details of the ICO.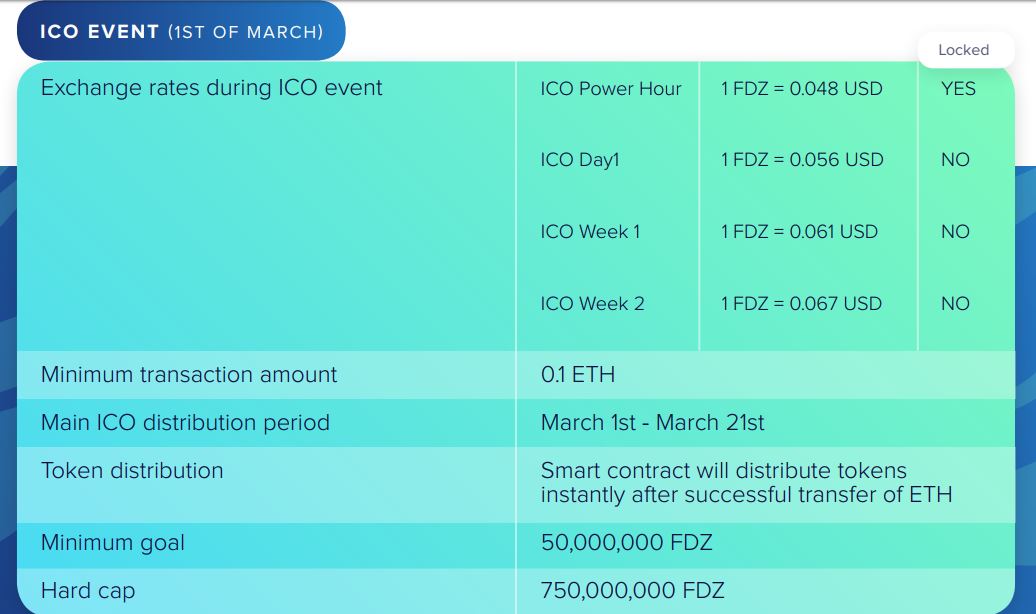 ICO Bonuses for Early Investors
As always in ICOs, Friendz also provides bonuses for early investors. The picture below explains the bonuses very well: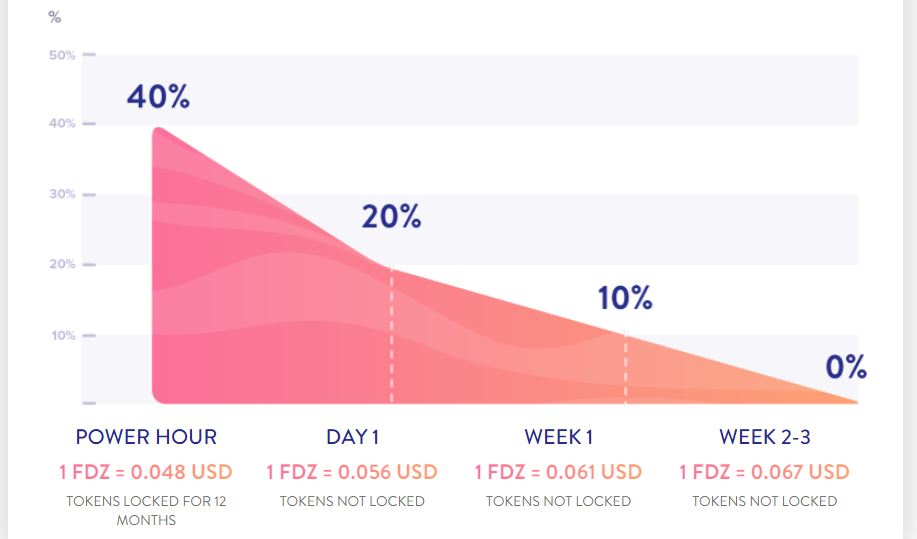 During the first hour of ICO, you can get even 40% bonus on your investment. During the first day, you'll still get a 20% bonus and during the first week a 10% bonus.
FDZ is an ERC-20 token and based on the Ethereum platform like numerous other tokens including BitDegree and MedicalChain.
Friendz Reviews – People Love It!
Friendz app has been downloaded more than 200,000 times and I wanted to have a look what kind of reviews people are giving to it. This pretty much determines how much people usually like it.
On Google Play Store they have received the average rating of 4,6 points out of 5. That's incredibly good. I have reviewed numerous apps on my website and I rarely see something so good.

Friendz ICO Reviews
Friendz ICO has also been reviewed on multiple sites. People seem to love the idea as well. For example, on ICO Bench Friendz is listed among the top-ranking ICOs with the average rating 4,7 stars out of 5 based on 30 reviews.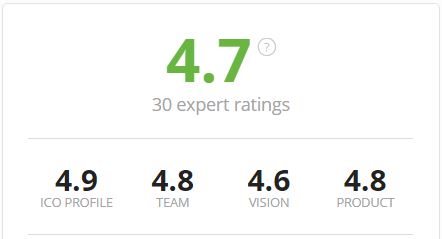 Why Does Friendz Need Blockchain And Tokens?
I was thinking about this question because many ICOs don't even have a real need for the blockchain. They just use it as a synonym for a database in order to raise more money.
However, after reading Friendz whitepaper I realized that the blockchain can be immensely useful with Friendz. Tokens will be used, for example, when users share the content on social media. Without a blockchain, the system could require much more system to do everything manually. That's only one benefit of the blockchain in this case.
It also enables the direct connection between brands and users when they are using the decentralized blockchain and the token system. The blockchain creates transparency and trust towards users and brands.
Friendz is beginning to establish partnerships with +150 huge e-commerce platforms. Users could then use their tokens when buying something online.
Anyway, if you have any questions about the blockchain and tokens, I recommend reading their whitepaper. It probably answers to all your questions. You can also contact their team by Telegram. And as always, I am ready to answer all my website visitors personally in the comments below.
Conclusion – Is Friendz Token (FDZ) a Good Investment?
I am certainly going to invest in Friendz ICO and I can recommend it to you as well. This project has so huge potential that I am excited to see how it will move forward. Actually, we are not only talking about the potential because they already have +200,000 users and +200 international clients.
Their product has received extremely positive reviews and the quality of their work is top-notch. I don't see any reason why their project wouldn't succeed.
---
What do you think about Friendz?
Are you going to invest in their ICO?
How much will the value be in the future?
Let's discuss in the comments below! 🙂
(Disclaimer: The above references an opinion and is for information purposes only.  It is not intended to be investment advice.)
7-Day Make Money Online Email Course
Learn SIMPLE steps to make a LIFE-CHANGING INCOME online. I will help you hand-by-hand!