Nowadays there are more website builders that I can even count. We have reviewed some of the best and most famous on YourOnlineRevenue.com. Today we are going to take a closer look at a website builder called Yola. Even though Yola is not the biggest one out there, it has a large number of customers and they have been in a business for many years.
Today I will tell what I liked about their builder and what would be my #1 recommendation.
Yola Review
---

Name: Yola
Website: www.Yola.com
Founded: By Linny Vingham in 2007
Field: Website Builders
Overall Rank: 65 Out of 100 (Check Out My #1 Recommendation)
---
What Is Yola Website Builder?
Yola is a website builder that allows you to create websites with ready-made templates in a few minutes. It's a similar drag & drop website builder like Weebly or Webnode which means that you can add new items to your website by dragging them.
I built a Yola website and tried how it works. To be honest, I didn't like it as much as some other website builders. Have a look at my video where I show how Yola works in practice.
Who is Yola For?
Yola is a created for anyone who wants to have own website. However, it is not meant for bloggers because you can't have your own blog anymore with Yola. Nowadays you can connect your Tumblr-blog with their service but you can't have a real blog on your website.
That's a big downside because blogging is becoming more and more popular all around the world. Many people are making a full-time living with their personal blogs. I don't fully understand why Yola doesn't support blogs anymore because they are losing lots of users with this.
However, Yola website could be an interesting option if you are building an eCommerce. They have an online store builder that can be very helpful for you. You can track all the customers and purchases easily with their software.
How Does Yola Work?

You can get started with Yola very easily. I will explain each step for you:
1.Create an account. You only need to give your username, email, and password at this point.
2.Choose a template. Yola has a number of different templates. Some of them are very modern but some very "old-school". You can have a look at 6 of the in the picture below. I didn't personally fall in love with Yola templates but they have also received positive feedback from their users.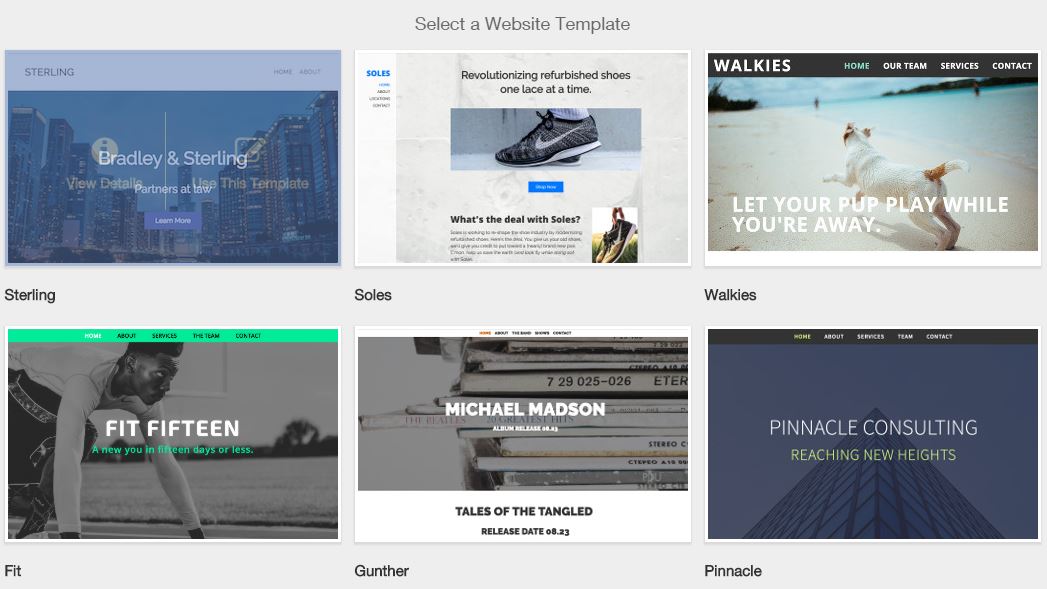 3.Start editing your website. Once you have chosen your template, your website is ready for editing. You will need to change texts and probably a few images in the original template. It's very simple because you just drag & drop items to your website.
4.Publish your website. When you are ready with editing you can click "publish" and your website is online. My tip is that you shouldn't hesitate for too long with the publishing. You will most likely be editing your website anyway over the time course.
Creating a website is a continous process that never ends.
Yola Support
Yola's support has received positive feedback in the past. They had a knowledge base (F.A.Q.-pages), telephone support and email support. Nowadays they are not using telephone support anymore but they still have a very comprehensive knowledge base.
Their support team is also available 24/7 so you can leave a ticket anytime you want and they will come back to you with an answer as soon as possible. In my opinion, it's a little drawback that they removed telephone support because many people would prefer getting help through phone rather than sending emails.
However, I am sure that they will also provide you phone support if you are paying enough for that.
Yola Pricing
Yola has 4 different pricing plans. Free, Bronze, Silver and Gold. Like with any other website builder, with a free plan, you only get started. If you really want to build a professional website, you will need to invest a few euros for a premium plan.
You can see in the picture below what Yola provides in different plans.
Do You Want a
FREE
& Easy-to-Follow
7-Day Course
to
Make Money Online
for Beginners?
Easy-to-Follow

Beginner-Friendly

My Personal 1-on-1 Support for You
Get Started for FREE Below Before this offer goes away!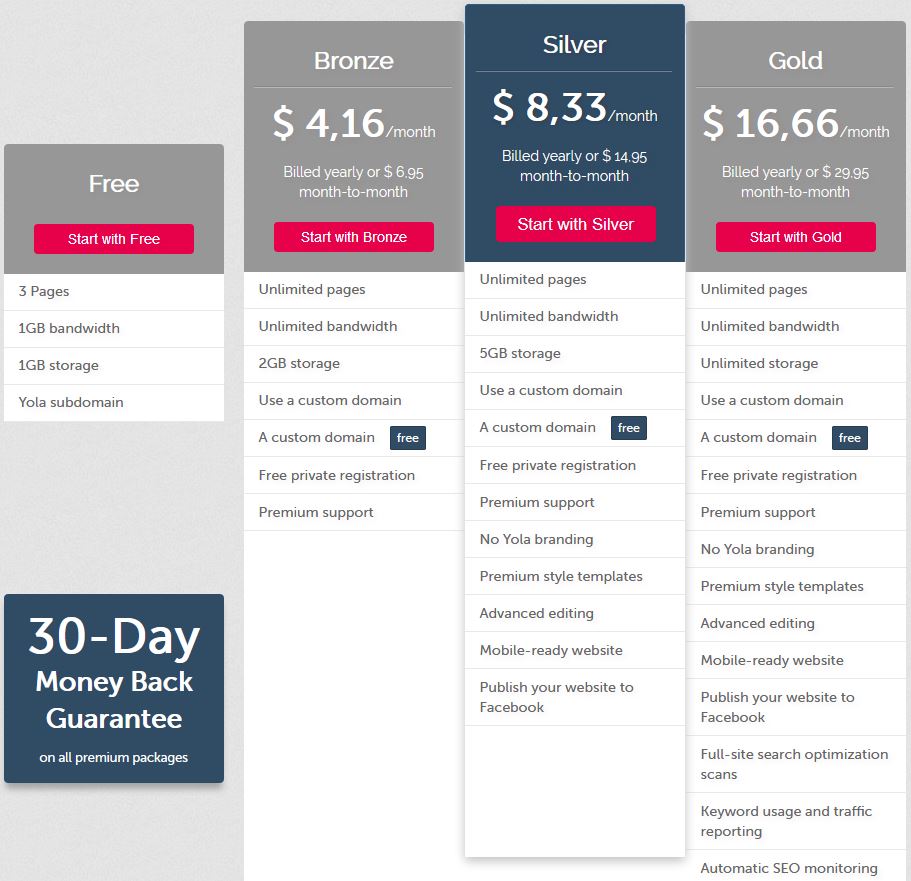 One interesting curiosity is that Yola Bronze has still Yola branding on the website. It means that their logo or ad will be in the footer at least. You don't like to have it if you are building a serious website. If website building is just a little hobby, then their branding doesn't matter but I wouldn't leave it on a professional website.
As you can see in the picture, all premium packages include a 30-day money back guarantee. It means that you are not risking a single penny. If you don't like their services, you can just ask your money back. Yola is a big company and they will be reliable to pay the money back.
Yola vs WordPress
To be honest, you can't really compare these services. It's like David (Yola) and Goliath (WordPress). Of course, WordPress beats Yola in many ways. They have more widgets, templates, more developers, you can run a professional blog, etc.
However, Yola has its own strengths and one of them is their eCommerce builder. You can create a professional-looking online store without any prior experience with their software. You can also do the same with WordPress but Yola is a great alternative.
Pros & Cons
Pros:
Easy-to-use and build a website
24/7 support has received positive feedback
eCommerce builder looks is pretty good
Cons:
You can't run a real blog with Yola anymore
Their telephone support is not available anymore
Their interface looks a bit clumsy
Conclusion – Is Yola a Good Website Builder?
I must say that Yola is a good website builder… But not the best!
Even though their company is already 10 years old, there are still dozens of things to change and develop. The fact that you can run a real blog on their website anymore is a change to worse. But I am sure that they have also many positive innovations in their mind.
I recommend trying SiteRubix website builder which allows you to create a professional-looking WordPress site in 30 seconds. They have thousands of free templates and tens of thousands premium templates. More than 26% of the websites are nowadays powered by WordPress, so it's definitely a great choice.
If you are interested in making money with a website or a blog, I recommend taking a closer look at this step-by-step training. It will teach how you can attract hundreds of thousands of visitors from Google and other search engines. It may not happen in a week or in a month but if you follow proven principles, you will get the results.
Once you get traffic to your website, it will be easy to monetize it. The training will explain you more. It's 100% free to get started and you will get 20 interactive video lessons as a gift.
Yola at a Glance…
Name: Yola
Website: www.Yola.com
Founded: By Linny Vingham in 2007
Field: Website Builders
Overall Rank: 65 Out of 100 (Check Out My #1 Recommendation)
Have you used Yola or other website builders? Which one is your favorite and why?
Let me know in the comments below! 🙂