Big mansion, new sports cars, and easy money… That is what Simple Financial Success promises. They claim to have a secret system that can make you $379/day income very quickly. Does it sound like a scam? Read this review before deciding!
Simple Financial Success Review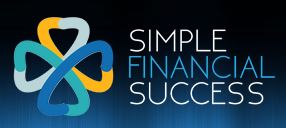 ---
Name: Simple Financial Success
Website: www.SimpleFinancialSuccess.com
Price: $97
Field: Make Money Online -Program
Overall Rank: 0  out of 100
---
What Is Simple Financial Success All About?
Simple Financial Success promises to teach you a secret system that will make you quickly $379/day. Only 60 minutes of work per day. No former experience required.

Their secret system is leaving links around the Internet. When people click these links you would earn good money. Doesn't sound very challenging. Just leave links and start earning big income. Take a look at their calculator below: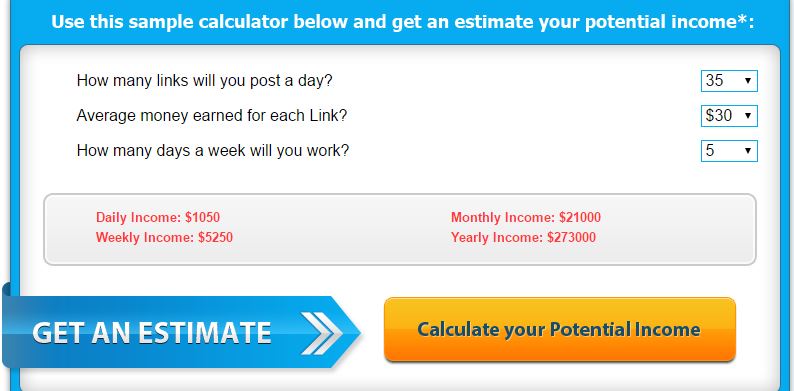 If you post, for example, 35 links a day and earn $30 per link, you will be earning $1,050/day which equals to $21,000/month.
Placing 35 links a day doesn't sound very hard. Actually, you can do it in 5 minutes with any social media tool like MassPlanner. But who would be paying you $30 per link? On their sales page of Simple Financial Success, they claim that companies are willing to pay you for placing these highly important links for them.
They are desperate for finding people to add their links. Yeah, right… Not a single company would pay $30 for a single link. In my experience companies could pay you something like $0,1/link maximum. They can anyway find people doing it cheaper and cheaper so not a single company needs to pay so much for that.
There is a more legit way of doing money by placing links. That is called affiliate marketing. It is a legit way of making money online but it's not a "quick-rich-scheme". You are simply promoting other people's products and when somebody buys something, you earn the commission. #1 affiliate marketing training is this one.
Fake News and Fake Pictures
Do you remember My Home Job Search Review on our site? In that review I described a "make money from home" – opportunity which was clearly a scam. They used stock pictures on their testimonials and even the picture of their founder was taken from the site of free stock pictures.
Surprisingly Simple Financial Success is also using stock pictures on their testimonials and stories. How is cheap scam that? They don't even bother to take real pictures but just take pictures from a free website. Well, at least it shows more clearly that they are a scam.
Then on their page is a little video clip from news from approximately 15-20 years ago. In the news, they show some people are making money from the comfort of their own home. They don't mention this program even with a single word and this scam program is probably created 10 years after that news.
They are trying to get credibility by showing this clip but actually, it shows even more clearly that this Simple Financial Success is not a legit program.

On their page, they claim that Simple Financial Success has been featured on this news but it's not true. They don't give any proof about it and the only clip from the news is taken from 10 years ago.
What Is the Price of Simple Financial Success?
Their program costs $97 but I say that, please, DO NOT PAY WASTE YOUR MONEY ON THIS SCAM. You will not learn a program that makes you $379/day but you'll end up $97 poorer.
By buying this program one can learn not to run into new scams anymore. I have got to know many people on Wealthy Affiliate who ran into many scams before finding their training. After finding WA, they didn't need to run into scams anymore because they had found a system that works.

Pros & Cons
Pros:
Sometimes dreaming is nice… At least this system talks about achieving big dreams
Cons:
Do You Want a
FREE
& Easy-to-Follow
7-Day Course
to
Make Money Online
for Beginners?
Easy-to-Follow

Beginner-Friendly

My Personal 1-on-1 Support for You
Get Started for FREE Below Before this offer goes away!
False promises
False testimonials
Fake news
High price
Conclusion – Is Simple Financial Success a Scam?
Yes, it is. They are promising you something that they can't provide. I know that it's possible to make money online by leaving links here and there but it requires work and skills. Their "system" is not even true because there are no companies that would pay you so much for leaving links. I don't know where did they get an idea for this scam…
If you want to learn how to really make money online by leaving links, then you should head to Wealthy Affiliate. They have a step-by-step training how you can create your own online business. The process simply goes like this:
1.Create a website (You can create one in 30 seconds)
2.Get traffic to your website (For example from Google)
3.Leave links to your website
4.When your visitor clicks a link (and buys something) you earn commission.
The process is pretty simple and anyone can learn affiliate marketing. But I remind that it's not a "Get-rich-quick" -scheme. You will need to work to make a big income. But it's possible to make a living and much much more. Start training today.
Simple Financial Success at a Glance…
Name: Simple Financial Success
Website: www.SimpleFinancialSuccess.com
Price: $97
Field: Make Money Online -Program
Overall Rank: 0  out of 100
What do you think about "Simple Financial Success"? Have you seen some similar scams online? Leave a comment below!