Every year more and more people are making money online. People are spending more money online than ever in the history. It opens doors for new job opportunities. My Home Job Search promises to show how you can find a job online. In this review I will show you is My Home Job Search a scam. I will also offer you a few better ways to make a living online.
My Home Job Search  Review

---
Name: My Home Job Search
Website: www.MyHomeJobSearch.com
Field: Freelancer Online Jobs
Price: Free Account or $29 Premium Account
---
What Is My Home Job Search All About?
My Home Job Search is a website that promises to connect those are looking for an online job with employers. They promise that you can work from the comfort of your own home and earn something between $14-56/hour. They say that there are so many jobs available that you can decide your own working hours. Want to work 30, 15, or 4 hours a week? You decide.
The idea sounds similar like in Fiverr which is a huge marketplace where you can make freelancer jobs or hire other people for a cheap price. At first, I thought that My Home Job Search could be even better than Fiverr to find a job online but then I found out the truth about their site.
Fake Testimonials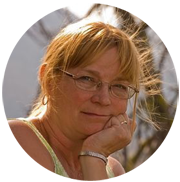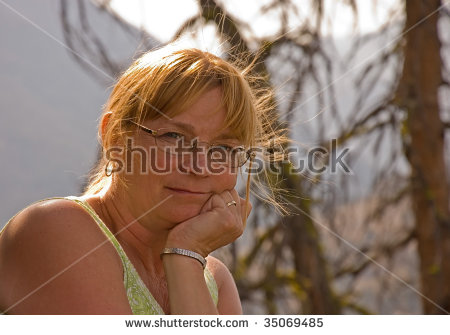 "I just wanted to write in and say thank you so much for this wonderful service. I landed a customer service position from my home paying $18 per hour and I couldn't be happier!" -Candy
This is one of the testimonials they have on their page. But take a look where the picture has taken: Shutterstock. Then they have just added a story for that woman.
There are also many other fake testimonials on My Home Job Search. Once you look at the picture, you can find exactly similar pictures on Shutterstock picture database. In my opinion, making fake testimonials is disgusting.
You may also want to know that their CEO Michael Anderson is also fake. His picture is also taken from the same picture database called Shutterstock. You may have seen the same picture also in other scams. He is a young good-looking guy so maybe that's why many scam artists like to use his picture.
Fake Facebook Likes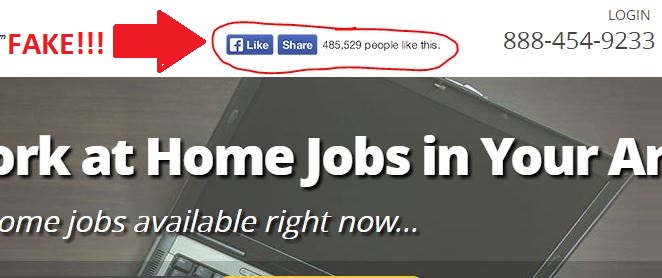 On the top of their homepage, you can see that 485,529 people like their page on Facebook. However, that's not true. When you try to click "Like" or "Share" yourself, nothing happens.
Then I tried to search for their page on Facebook and it doesn't even exist. It seems that everything on their page is fake…
Fake News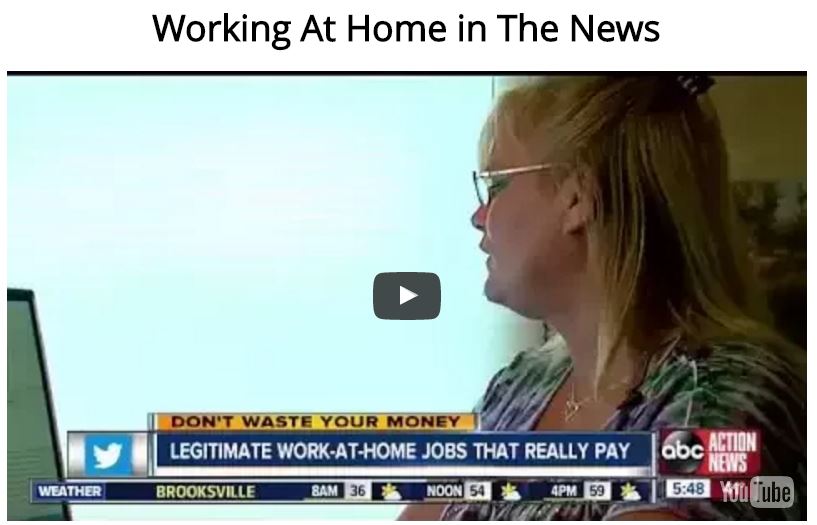 On My Home Job Search homepage, they have embedded a Youtube video which shows moms who are working online and making good money from the comfort of their own home. I know that it's true because there are wonderful opportunities to work online and create your own online business. Possibilities are better than ever in the history.
The thing is that they don't mention My Home Job Search on that video clip. They show some examples of mom who are working online but they don't mention where did they find their jobs.

They have also a picture of all those famous news brands on their website. With this picture, they want to give more credibility to My Home Job Search. The only problem is that they don't have any proof that they would have appeared on any of that news. Anyone can take a picture of those brands and put it into their website. The other thing is to prove that they really have been on the news.
Fake Employers
When you choose how many hours you would like to work per week and how much you would like to earn, you will see the following text:

Do You Want a
FREE
& Easy-to-Follow
7-Day Course
to
Make Money Online
for Beginners?
Easy-to-Follow

Beginner-Friendly

My Personal 1-on-1 Support for You
Get Started for FREE Below Before this offer goes away!
That sounds nice. Earning +1,500$ per week would make +6,000/month. With only 15-20 hours a week, hourly rate would be quite impressive. The only thing is that they can't provide it.
No matter in which country you are answering or when (every year it seems to be the same) they always say that there are 12 employers near who could provide exactly what you are looking for. They don't really have those 12 employers but they are just lying. That is so nasty and I can't stand that kind of behavior.
What Do They Recommend?
I created a free account but didn't bother to pay for the premium account. That would have been a total waste of my money. Some other people took a closer look what are the recommendations of My Home Job Search. They claim, "Make your first $100/day online!" and then they are linking some survey sites. C'mon!!! We have reviewed tens of different survey sites and we know that online surveys are not worth it. You will never earn $100/day by answering surveys.
The reality is that you will not find anything good from this fake site.
Pros & Cons
Pros:
At least they show you some ways to make money online
Cons:
Fake, fake, fake
False promises
Doesn't show you real online jobs
You can't trust them
Conclusion – Is My Home Job Search a Scam?
Yes, it is. There are so many red flags on their page. Literally, everything seems to be fake. I didn't find anything where they would be speaking the truth. That's so disgusting and I can't understand how somebody could be so deep in badness that he is just a full of lie.
If you would like to do freelance jobs online, I would recommend taking a look to Fiverr. But if you would like to earn bigger income online, then I recommend taking a look at Wealthy Affiliate's step-by-step training. You will get right away 10 interactive video lessons for free.
I know many people who started Wealthy Affiliate's training with 0 knowledge and nowadays they are running a full-time online business. But I warn you that this is not a "push-button" to riches. You will need to do your own part and work. But I can 100% honestly guarantee that Wealthy Affiliate is a real deal and it is not a scam.
My Home Job Search at a Glance…
Name: My Home Job Search
Website: www.MyHomeJobSearch.com
Field: Freelancer Online Jobs
Price: Free Account or $29 Premium Account
VERDICT: My Home Job Search is a scam
What are your favorite ways of earning money online? Do you like affiliate marketing like I do? Or is there something else that you prefer? I want to hear from you. Please, leave a comment below. 🙂