There has been a lot of buzz around this system called Lottery Dominator. You may have seen Richard Lustig in the news or on a TV talk show program explaining that he knows how to hack the lottery. He won the jackpot 7 times so should we believe in him? I will answer you in the next 1-2 minutes and show a better way to make money than playing lotteries.
Lottery Dominator Review
---
Name: Lottery Dominator
Website: www.lotterydominator.com
Founders: Richard Lustig
Field: Lottery Systems
Overall Rank: 20 Out of 100 (Check Out My #1 Recommendation, 98 Out of 100)
---

What Is Lottery Dominator?
Lottery Dominator is a system created by Richard Lustig that promises to teach how you can beat the lotto. Richard says that he created this system while learning how to win in the lottery during 25 years. That sounds quite convincing.
He has also been featured on news and other TV programs so why wouldn't we believe this guy? Well, there are many reasons why I wouldn't invest even a penny to this lottery system.
The most important reason is that this system doesn't work.
Lottery Dominator is not going to give you more wins than any other lotto scam. I will explain what kind of methods Richard recommends and why they don't work.
Oh, and by the way, the total amount of Richard's 7 jackpots was "only" around $1 Million dollars. It means that he has been playing the lotteries where the probability of winnings is higher. His first jackpot was $10,000. Can you call it even a lottery jackpot?

Lotto Tips by Richard Lustig
Let's go through some tips by Richard.
1.Don't use a lotto computer (like Delta Lotto System) to pick your numbers. He says that you need to choose the numbers yourself. You need to find out which numbers work and then focus on them. I find this kinda funny.
If you are playing heads & tails for 10 times and you got heads every time. Should you choose heads again because it seems to occur more often? The probability is still 50% for both so it doesn't matter which one you choose. The same principle applies to lotto.
2.Don't change the numbers. Richard says that if you have found the good numbers why should you change them. Hmm… Even a 7-year-old schoolboy can say that there are no bad and good numbers in the lottery. There are just numbers that all have the same probability to be chosen.
3.Play consistently. Of course, you will win more often if you play more. But the downside is that you will also lose more. Tthe math says that the more you play, the more you'll lose. Not the other way around.
What do you think about those tips by Richard? I find them a bit hilarious.
How Did Richard Won 7 Times? What Really Happened?

There are more than 325,000,000 citizens in the U.S. According to studies each citizen is using $300/year on different lotteries on average. That's a huge amount of money in total.
Then we go through 25 years.
Isn't it quite probable that there will be even one guy who wins 7 times if there are so many people, they play so much and for 25 years? Let's put it another way. If there wouldn't be anyone to win 7 times, it would be quite surprising.
Then this guy, Richard Lustig, who happened to win 7 small lotteries, started to show off in the news and everywhere else and claims himself to be a lotto guru.
What Is the Price of Lottery Dominator?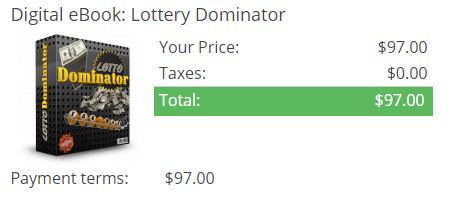 Most of the time lottery systems cost something like $17-49. Lottery Dominator eBook is much more expensive. Before they were even selling it for $147 but now the price has been lowered to $97. It's still pretty high.
What will you get? An eBook that claims to teach you how to beat the lottery. You already saw above what is the level of those tips. Tips in this book will not increase your chances to earn money in the lotteries.
Why Are There Positive Reviews of Lottery Dominator?
You may have found some positive reviews or YouTube videos that are aggressively promoting this system. Why are they doing it? What if Lottery Dominator really works?
Do You Want a
FREE
& Easy-to-Follow
7-Day Course
to
Make Money Online
for Beginners?
Easy-to-Follow

Beginner-Friendly

My Personal 1-on-1 Support for You
Get Started for FREE Below Before this offer goes away!
There are two reasons why some people are promoting Lottery Dominator:
1.They earn at least 75% commissions for each sale. If you pay $97 for the Lottery Dominator eBook, the guy who promoted it for you earns at least $70. Let's say that 100 people buy through their affiliate links. Then they have already earned +$7,000. Not a bad extra income, huh?
2.They are dishonest. I can't stand that people are promoting scam programs on the Internet. They don't have a clean conscience after all. I know that I could make lots of money by promoting many kinds of programs on the Internet but I have made a decision that I only recommend products that really work.
Pros & Cons
Pros:
At least Richard gives something to think about.
Cons:
Lotto systems don't work
Even a 7-year-old-schoolboy can calculate the maths and declare that you can't beat the lotto
The more you play the more you will lose on lotteries
Lottery Dominator is very expensive
Conclusion – Is Lottery Dominator a Scam?
Yes, I would call it a scam. I don't know if Richard honestly believes in his lottery tips but we can clearly see that they are not gonna give you a jackpot.
If you are interested in earning money online, I have still good news for you.
YourOnlineRevenue.com is dedicated to teaching people how to make a living online and many people have started because of this website. During the years I have reviewed more than 200 "make money online" programs and there are a few good programs out there.
My #1 recommendation is Wealthy Affiliate because it has helped many people to quit their 9 to 5 job and live the life of their dreams. Some people have succeeded even well and are nowadays making +$10,000/month online.
It's not a "get rich quick" scheme or something like that. Wealthy Affiliate teaches you proven methods to make money online but it requires hard work. First, you learn and then you earn.
It costs nothing to get started. You will get 20 interactive video lessons and 2 high-quality websites for free. I will also provide my 1-on-1 mentoring to help you succeed. I know that it sounds almost too good to be true. But you can find out yourself in 30 seconds that it's 100% true.
Lottery Dominator at a Glance…
Name: Lottery Dominator
Website: www.lotterydominator.com
Founders: Richard Lustig
Field: Lottery Systems
Overall Rank: 20 Out of 100
Have you ever tried lotto systems? What kind of experiences did you have?
Would you like to learn how to make a full-time income online?
Let me know in the comments below! 🙂
I would love to hear from you. I promise to reply you personally (usually within 24 hours or less).