Is Vindale Research a Scam Or Legit opportunity to earn money from home? That's a question you have probably asked yourself. I think it's very important to think about that before you start spending any time on Vindale Research.
They have bold claims, "Earn $14 per survey!" "Earn $75 per offer!" "More than $5,9 million paid in cash for our members!" Sounds a bit suspicious.
In the next 2 minutes, I will reveal if this a scam or a very good opportunity to make money online. I will also show a more profitable way to earn a full-time income on the Internet.
Vindale Research Review
---

Name: Vindale Research
Website: www.vindale.com
Price: Free to Join
Field: Online Survey Sites
Overall Rank: 5 Out of 100 (Check Out My #1 Recommendation, 98 Out of 100)
---
What Is Vindale Research?
Vindale Research is quite a typical survey site where you get paid a little money for giving your opinion about some products. Vindale offers a sign-up bonus of $2 and they claim on their homepage that more than $5,918,497 has already paid their members in cash.
Then they have ads which show that you could earn $14 per survey and even $75 for some offers. There must be some catch. And there is. I will tell it further. The reason that I wanted to make research on Vindale is that one of our writers was praising Vindale on his review about NiceQuest.
I have personally made a review of more than 60 survey sites and none of them is worth my time.
How to Make Money on Vindale Research?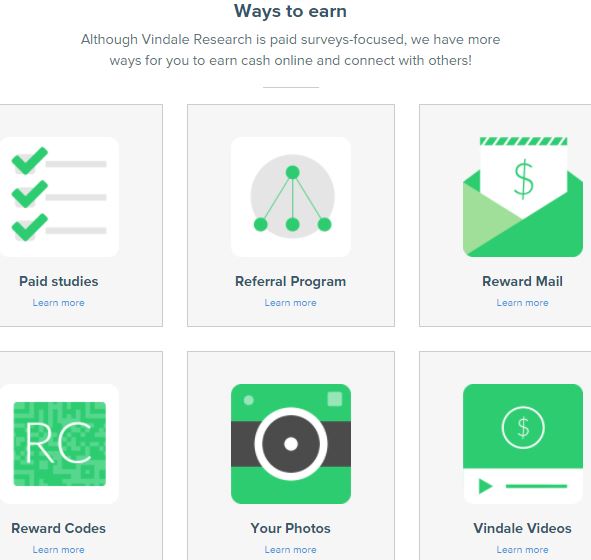 Why do I say that "in theory" there are 6 ways? Because Vindale doesn't usually pay you in practice. It just promises payments but the reality can be many times a bit different. I will explain you below with comments from their former members.
1.Paid Studies/Surveys
Answer surveys related to different products and companies. Many big companies are willing to pay some money for getting opinions and feedback from their customers.
Highest paying opportunities on Vindale Research are offers where you a buy a product and then write a review or fill out a survey regarding that product. You can earn something between $5-75. But they didn't mention that you need to pay also for the product so your profit will be much, much smaller.
2.Referral Program
You can naturally earn money by inviting new people to join their program and doing the tasks. The referral program is included nowadays to almost every online company. The action that you recommend some other people's products and earn commissions is actually called affiliate marketing.
3.Reward Mail
You will get sometimes emails from Vindale and from their partners. Then you can earn up to $0,10 by interacting with these emails.
4.Reward Codes
You can get discounts or cash back on products that you buy with Vindale reward codes. Notice that here you are not actually earning money but spending more money!
5.Your Photos
You can earn up to $5 by submitting a photo of you and your payment. Vindale wants to pay for this because then they can show to other people that their service really works. Another reason is that most likely you have used tons of hours of their services if you have received the payment.
Do You Want a
FREE
& Easy-to-Follow
7-Day Course
to
Make Money Online
for Beginners?
Easy-to-Follow

Beginner-Friendly

My Personal 1-on-1 Support for You
Get Started for FREE Below Before this offer goes away!
6.Vindale Videos
You can earn up to $0,25 by watching their short videos. This can be an easier way to earn money than filling out surveys but it's still very slow.
How Much Money Can I Make on Vindale Research?
On their website, you can find their advertisements (see below) that declare, "Highest paying surveys in the industry." Then they have pictures of surveys where you could earn $14.00 in approximately 12 minutes. It would mean that your hourly salary would be more than $60/hour. Even a 7-year old schoolgirl understand that they are lying.

The catch is that in order to complete that $14.00 offer you need to buy a product that costs almost $14. Let's say that you pay $13 for the product.
First, you use some time ordering the product. Then you wait that it comes. Then you use the product a little bit. And finally, you can write complete the survey. All of this takes much more than an hour and you earn $1. What do you think?
Any survey sites that claims that you could earn $14 per survey must be a scam. Do you remember for example Part Survey?
There is also another catch. Let's have a look at the complaints of Vindale Research.
Vindale Research Complaints

The average rating of Vindale Research on Consumeraffairs.com is 1,5 out of 5 starts and there are already 93 votes. It means that almost all have given only 1 star out of 5 for Vindale. It sounds pretty bad, huh?
Let's have a look at a few examples.
This review was written around 10 days ago = 25.5.2017.

Kayllin had spent 30 minutes answering a survey and then they said that you were disqualified and didn't earn anything. Was this the unique review like this or did other people also had similar experiences? Let's take a look what Laura says.

Laura had a totally similar experience like Kayllin. She has spent countless hours submitting information and giving opinions but she didn't earn a dime. In other words, Vindale Research was just scamming her.
There are tens (if not hundreds) of similar reviews on the Internet. It seems that Vindale Research is just a scam website that fools people. Vindale promises that they would pay but then they just say that you are not qualified. After all, they have your opinions for free even though you were supposed to get paid for it.
I don't know if they have really paid almost $6 million for their members but I must doubt it. There wouldn't be so many negative reviews if they would really pay their members honestly.
Pros & Cons
Pros:
Cons:
Available in 4 countries: U.S., UK, Australia and Canada.
Minimum cashout limit is very high $50
Bad support: Doesn't respond to tickets and complaints
Hundreds of negative reviews on the Internet
You need to spend hours answering surveys and you may end up with 0 earnings like Laura
The income potential is much smaller than in affiliate marketing where you can earn +$10,000/month
By answering surveys you are not able to earn passive income
Conclusion – Is Vindale Research a Scam Or Legit?
Vindale Research seems to be a scam. They are promising something that they don't deliver. It's an important scam sign and I want to stay far away from such services.
If you are still interested in making money online, I have good news for you: IT IS POSSIBLE and there are honest services where you can learn to do it. I am making more and more money each month through Wealthy Affiliate.
There the earning potential is not only $14 per survey but +$10,000/month by building a real online business. You don't need to have any prior knowledge before starting in WA. There are more than 850,000 members who have joined WA and I bet that most of them didn't have any experience.
Even though people didn't have any prior knowledge before WA, nowadays many of them have been able to quit their 9 to 5 job because they are making a full-time income online. Usually every week I meet a new person who is making a full-time income on the Internet with the skills that you can learn with their training.
IT COSTS NOTHING to get started. $0, €0, £0, nada. You will get 20 interactive video lessons and 2 high-quality websites as a gift for joining. That is cool!
If you have any questions or doubts, don't hesitate to leave a comment below and I will help you out.
Vindale Research at a Glance…
Name: Vindale Research
Website: www.vindale.com
Price: Free to Join
Field: Online Survey Sites
Overall Rank: 5 Out of 100
Have you ever used online survey sites? What kind of experiences did you have?
Have you already learned a better way to make money online like I do?
Let me know in the comments below! 🙂
Comments from visitors enrich the website and bring an interesting point of views. I always promise to reply to every single comment personally on YourOnlineRevenue.com (usually in a few hours). Don't you believe it? Give it a try by leaving a comment below and I'll reply faster than you think. 😉