What is VeChain? Is VeChain a Good Investment? Should I Invest in VeChain?
Are you in need of an answer to any of the above questions? Well, you have come to the right place. In this article, I will be discussing VeChain in detail and give you My Opinion on Whether VeChain is a Good Investment Opportunity or Not.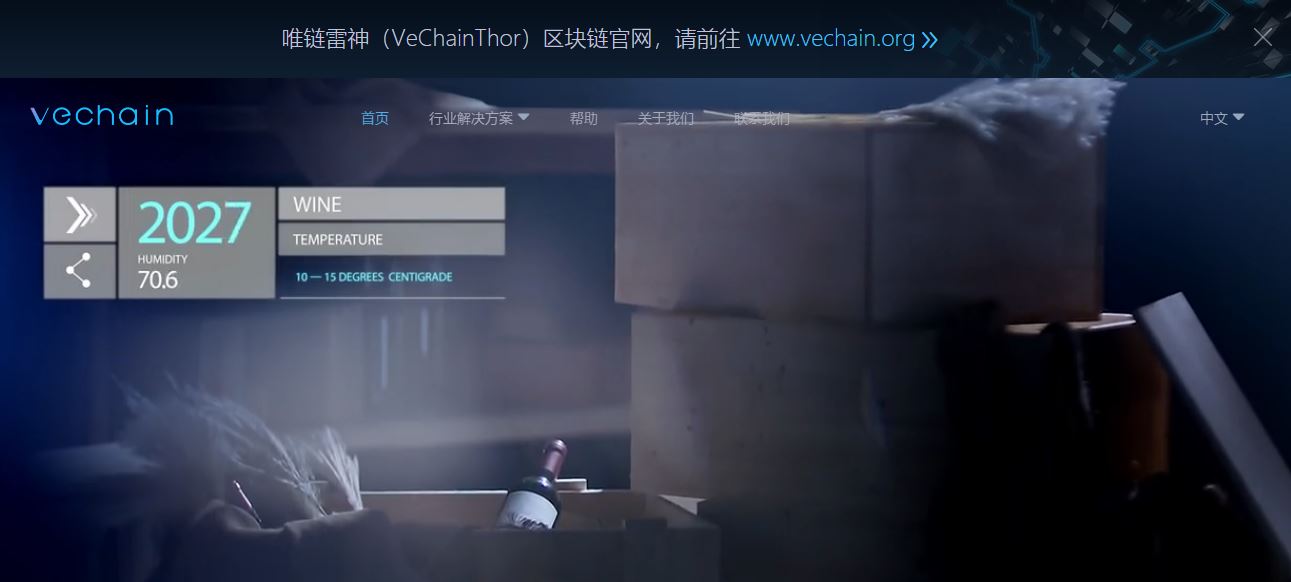 An original VeChain homepage is in Chinese because their core team is from China.
VeChain Review
---
Name: VeChain
Launched: 2017
Type: Cryptocurrency
Short Review: VeChain forms the leading blockchain platform for products and information. VeChain uses the blockchain technology to create a trust free distributed business ecosystem. VeChain has made the management, collection, and sharing of product information with consumers and vendors secure and straightforward. It is designed for companies such as luxury goods, logistics, food/drug, agriculture, and governments.
It will be exciting to see how VeChain project moves forward in the future. The project looks promising but nothing is 100% sure in the world of cryptocurrencies. If you want to minimize your risk and maximize your profits, take Roope's cryptocurrency training for a 95% discount.
If you prefer more secure ways for earning money online, I recommend following this step-by-step training.
---
What Is VeChain?
VeChain is a Blockchain-as-a-service company with the goal of building "a distributed and trust free business ecosystem to facilitate a transparent flow of information, high-speed transfer of value and efficient collaboration. The project has been in operation for two years and a number of companies have adopted it.
There is a lot that a company can do with VeChain. One can use the technology to track items through a supply chain, ensure quality and authenticity of goods and control the quality of food products.
How Does VeChain Work? / Benefits of VeChain
VeChain was primarily started as a supply chain company but it has announced that there are plans to transform it into a Dapp platform. VeChain mixes the blockchain and smart chip technologies for tracking items throughout their entire lifecycle. There are different IoT (Internet of Things) items on which the smart chip can be integrated including QR codes, RFID trackers, and NFC chips.
This may not sound like an interesting technology, but it ensures that companies produce quality products. A good example is the luxury goods sector. This industry has been wrought with counterfeit goods worth over $450 billion.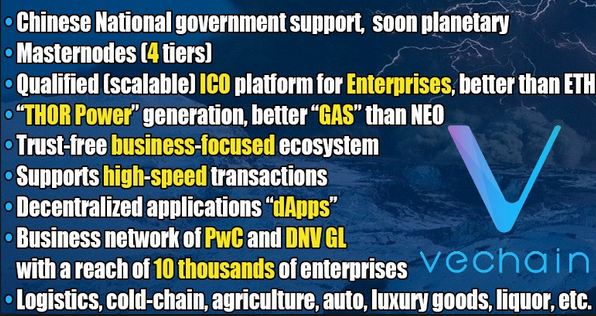 For an item such as Louis Vuitton purse changing hands numerous times during production and distribution processes, there is a need for you to be sure the person before you passes what is authentic. VeChain has done away with the need for this trust. At each step of the process, it is possible for you to scan a smart chip on every item in order to be guaranteed you are receiving what you should be receiving.
The blockchain is in the form of an immaculate ledger, hence you can stay assured the information you receive is accurate. This technology may soon get into consumer's hands and they will be able to check the authenticity of items by scanning them with their phone.
Other than protection against counterfeits, VeChain helps in improving logistics systems via simplified product tracking. Logistics is a complex process that involves different systems across businesses. This can make tracking products in a supply chain a complex process. This even becomes harder when there is a need for switching between processes or when the data must be entered manually.
When using VeChain, you are only expected to scan the smart chip of the item and you will get all of its details. This way, businesses can get accurate and updated information about an item. When integrated with IoT, VeChain can help in quality control. This is very useful in the food and agricultural industry in which something such as temperature change of few degrees may ruin an entire product batch.

Risks of VeChain
Despite the potential that the VeChain has, it faces a number of challenges. When you consider the state of logistics in the world today, a lot of growth is expected to happen. This means that we may observe a lot of adoption of this technology some years to come.
Do You Want a
FREE
& Easy-to-Follow
7-Day Course
to
Make Money Online
for Beginners?
Easy-to-Follow

Beginner-Friendly

My Personal 1-on-1 Support for You
Get Started for FREE Below Before this offer goes away!
However, as it is now, it is less likely that there will be a high adoption of the VeChain technology in the coming 12 to 24 months. The adoption of this technology in most businesses may only be some years to come when a number of players will be using the chain. However, this may not be necessarily a problem but an advantage to those who adopt the technology early.
VeChain Team 
The company behind VeChain is based in Singapore and it has used the blockchain technology to implement the VeChain. The project has attracted an international team of experts drawn from various fields including technology, operations, the blockchain, business, and support. The group currently has 150 employees.
The team is led by Sunny Lu who is the CEO and a fluent English speaker with a great experience in IT and Information security for luxury retails brands. He formerly worked with Louis Vuitton China as a CIO and IS&T Director. Jie Zhang is the CGO while Bo Shen is the company advisor.
Below are the key members of the VeChain team:
Sunny Lu- The Project Leader
Richard Fu- The PR and Marketing Director
Chin Qian- The Channel and Sales Director
Jay Zhang- The Finance Director
Scott Brsbin- The General Counsel
Jerome Grilleres- A Business Developer
VeChain Community
As part of expanding the VeCain community, the team has entered into partnerships with big companies in the world such as DNV GL and PwC. VeChain takes part in the PwC incubator program which gives it access to the worldwide network of clients for the company. Its partnership with DNV GL will also open a great door for it to reach many clients.
The Chinese government has also chosen VeChain as the blockchain technology partner for the government of Gui'an. This government runs under regulations which are expected to contribute significantly to the growth of VeChain.
You can also find VeChain on the following social media networks:
Facebook – 6,5 members in their group
Twitter- Their page has over 73,000 followers.
Telegram +20k members
Their SubReddit is active daily with discussions sprouting up every minute.
Is VEN Worth Buying?
Similarly to the other blockchain projects, you must be wondering about the future of the VeChain blockchain. The project will be rebranded soon to become VeChain Thor blockchain. The VeChain token, that is, VEN, is expected to be rebranded to VET. A proof-of-authority consensus model will also be introduced to ensure any changes made are in line with VeChain vision.
These changes are expected to impact the project positively. If this happens, it will lead to a MASSIVE adoption of the technology, and the value of its coin will rise. I will advise anyone to buy this coin.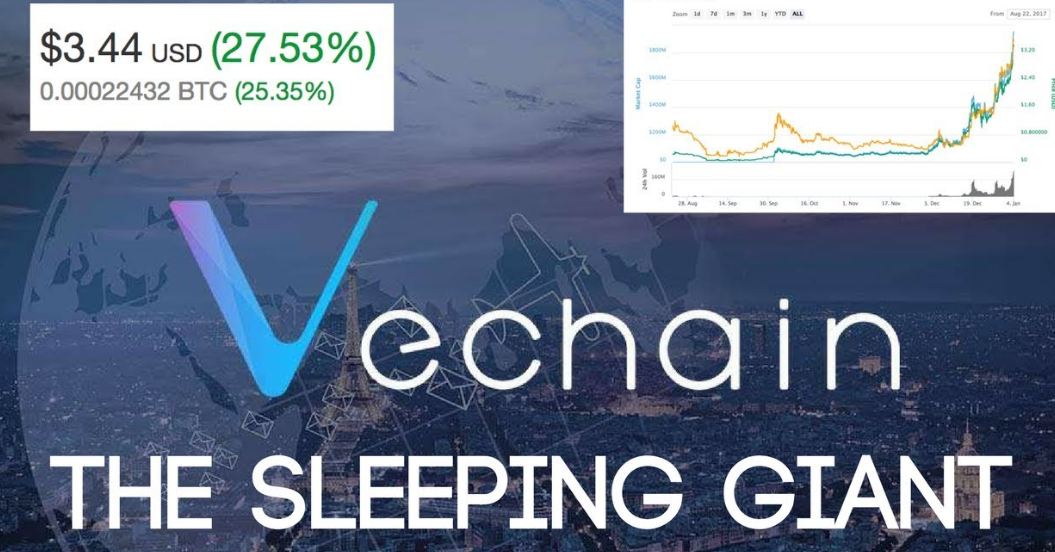 Most blockchain projects are currently simply a proof of concept. However, with VeChain, things are different and in a good way. Three products have already been developed by use of this blockchain and they are all targeting different markets. This means the team is serious with the project.
VEN Price Prediction
The VeChain has been designed to run on Ethereum platform and it is powered by its own token known as VEN/VET. After rebranding of the VeChain, all the existing VEN tokens will be exchanged for VET tokens. The token is now priced at USD5.367 with a market cap of USD1, 713, 081, 262. A total of 277 million tokens is now under supply.
If you need to invest in a profitable cryptocurrency, VEN might be an interesting option for you. An optimistic prediction shows the following picture that you can see below (of course, it's a bit of a joke 😉 )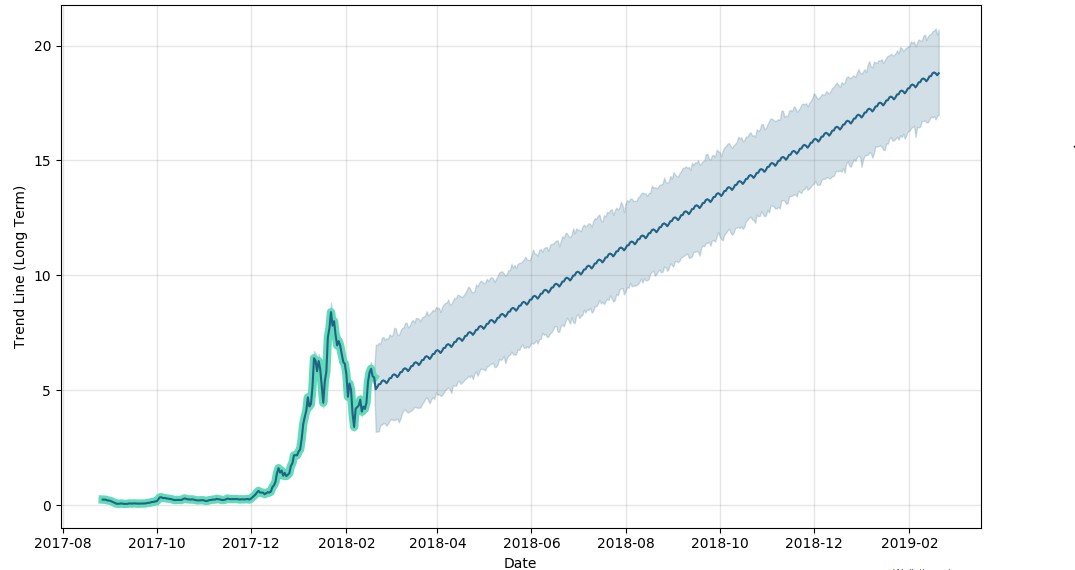 We could again say the cliche, "Do your own research!" but I think a better way to educate yourself about cryptocurrencies here so you will spot whether VeChain will be a winner or not.
Where to Buy VEN Tokens?
Binance is the best exchange from which you can buy VEN tokens. If you have Ethereum or Bitcoin cryptocurrencies, then you can exchange them for VEN. This means before buying VEN tokens, you should first buy bitcoins or Eth from exchanges such as Coinbase, GDAX and Gemini.
After acquiring the bitcoins or Eth, you can transfer them to Binance exchange on which you can trade them for VEN tokens. Below are other exchanges from which you can buy VEN tokens:
BigOne
HitBTC
Liqui
Lbank and QRYPTOS.
Where to Store VEN?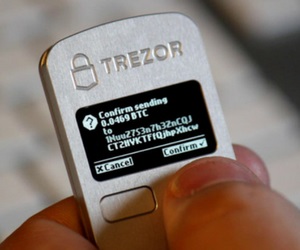 Currently, you can only store VEN in a wallet with an ERC20 support. A good example is MyEtherWallet which has a good community trust.
To get an extra security layer, use a hardware wallet such as Ledger Nano S. This is an offline wallet that can be connected to MyEtherWallet for storage of funds. Below are other desktop wallets in which you can store your VEN tokens:
Conclusion – Is VeChain a Good Investment?
VeChain is now amongst the established blockchain companies in the world. Their team is made up of professionals with experience in their target industry. They have also partnered with the Chinese government and giant companies like PwC, meaning that they have no problem with growing their clientele.
If VeChain continues with its current pace, you will see it become one of the best performers in the cryptocurrency world.
That being said, you always need to take the responsibility for your investment and make sure that you have studied all the details diligently. For those of you who prefer building a sustainable and a profitable online business, I recommend having a look at the training below.
It will also help you to make more money with cryptocurrencies.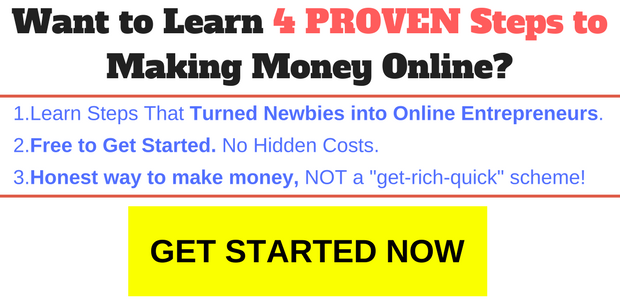 ---
What do you think about VeChain?
Does it have a bright future?
Would you Invest in VeChain?
I Will Be Happy to Hear your Genuine Opinion about VeChain!
Let's discuss in the comments below! 🙂
(Disclaimer: The above references an opinion and is for information purposes only.  It is not intended to be investment advice.)