Looking for a way to rake in some extra cash from the comfort of your home? Well, you're not alone on that one. There are thousands of visitors regularly on our website looking for the same thing. I know how to make money online because I am doing it all the time.
In this post, I am going to quickly show I make money online and also analyze is Tellwut a Scam? I have researched more than 60 survey sites and I must say that I don't use any of them regularly because there are much more lucrative ways to earn money.
Now the thing is, most people tend to rely on online surveys for a source of extra cash but are they really worth it? Tellwut is one of the many survey companies that claim to reward its members for their opinions, but it's still crucial to know if the website is worth your time or not. Just read this Tellwut review to find out.
Tellwut Review
---

Website: Tellwut
Type: Online survey
Founded: 2012
Overall Ranking: 30 Out of 100
Check out the program that I use to make money online. My income is growing each and every month. I have already quit my 9 to 5 because I saw that it's possible to earn more money easily online than in any regular job.
---
What is Tellwut? – Online Survey Site
Tellwut stands for "tell us what you think." It's an online survey company that gives you the opportunity to earn points for completing and creating surveys. Once the points grow to a certain level, you'll be able to redeem the same for gift cards including Amazon, Walmart, Starbucks and the like.
Furthermore, Tellwut is sure to come in handy for businesses looking to get respondents for their market research. They'll also need to subscribe to the website to use its services.
Here is a video where I explain if Tellwut is worth it or not. I also quickly walk you through the process how I make money online that I explain in the end of this article.
How Does Tellwut Work? – Free and Easy-to-Use
Membership on Tellwut is free; in essence, it's not a "pay to join survey site" like Gold Opinions. You'll get to log in to the site after verifying your email and start taking surveys. When you sign up, you also get a sign-up bonus of 100 points.
The good thing is, most of the surveys are short — containing just four to five questions. This is sure to work great for people with limited time as well as those that hate the idea of spending unnecessary amount of time taking surveys. Another thing is, everyone is likely to qualify for the surveys irrespective of their demographics. NOTE: Only if you are living in the U.S. or Canada!
One good thing about Tellwut is that they care about user engagement. In other words, most of the surveys are crafted by other members of the website — so you can expect them to be a lot more fun than your regular market research survey.
Furthermore, users claim that Tellwut has a lot of surveys and you won't have to wait for an email to take surveys. In essence, members can access the site at anytime they want and participate in surveys for a few points a day. This means that you can take surveys every other day and earn a couple of gift cards (there's no cash option!).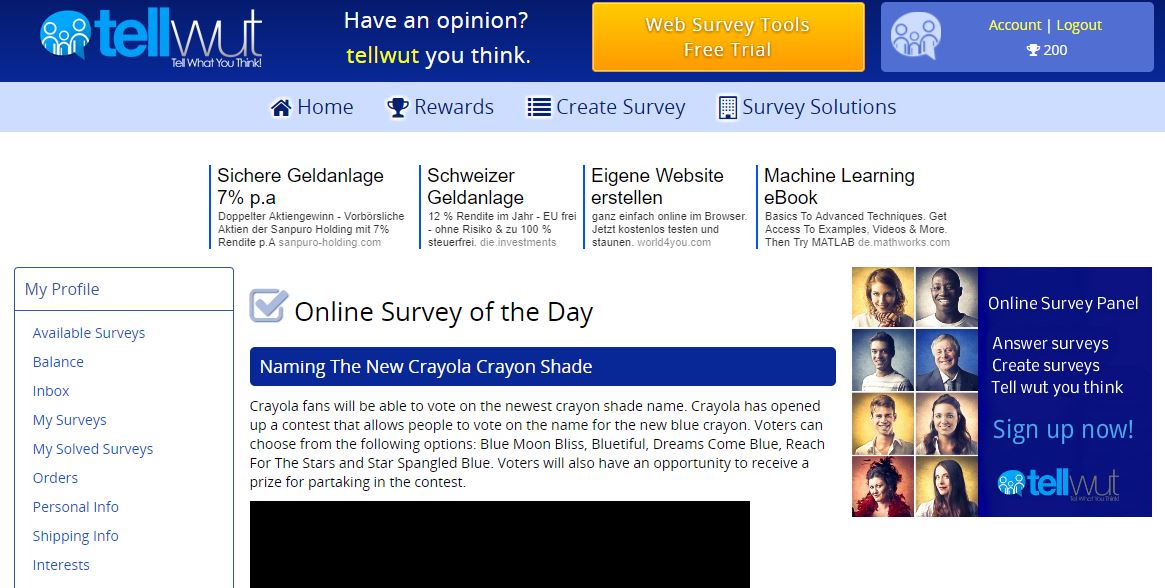 How to Make Money with Tellwut?
Tellwut won't earn you something reasonable enough to replace your regular income (Not even close). You can join them if you're looking to get a couple of gift cards for some of your basic needs. As I mentioned earlier, Tellwut rewards you with points for every relevant action taken on their site.
You'll get to earn 100 points after signing up to the website, and you can also get extra 200 points when you give them a little more information about yourself. One good thing is, Tellwut doesn't disqualify anyone for taking surveys but you have to put in a lot of time to get enough points to cash out.
For the most part, you'll need to get up to 4000 to cash out for a $10 gift card. So we can quickly calculate that $1 equals to 400 points.
You should also know that most surveys can only earn you 10 points but the good thing is, they're not long and exhaustive. However, 10 points are only worth 2,5 cents, less than one candy in your local supermarket. You need to brace yourself to complete up to 400 surveys.
Do You Want a
FREE
& Easy-to-Follow
7-Day Course
to
Make Money Online
for Beginners?
Easy-to-Follow

Beginner-Friendly

My Personal 1-on-1 Support for You
Get Started for FREE Below Before this offer goes away!
Once you get the recommended points (4000), Tellwut will process the gift cards for 10 to 15 days before it gets to you. The gift cards you're likely to get include Amazon, Starbucks, Walmart, Target, AMC Cinemas, Home Depot, Tango, etc.
Creating Surveys
Members can also earn points and ultimately get gift cards for creating surveys. It's important to note that Tellwut will have to review your survey before it gets approved. You can get between 15 to 20 points once it gets approved. Members can also earn 5 to 10 points for filling out polls.
Make Money Through Referrals
Users can also get extra points through Tellwut's referral program. You just have to refer a friend to get 25 points. The thing is, you can't sign up your entire household through the program since they limit accounts to one per household.
Notice that referring friends to earn 25 points is ultimately slow and not profitable at all. You need to refer 160 people before you have earned one $10 gift card. If I would refer 160 people to some other online service like this, I already earn much more than $1,000. You can see a big difference.
Conclusion – Is Tellwut a Scam?
Tellwut is not a scam. It has received the average rating 3,8 stars out of 5 in Surveypolice based on 234 reviews. Many people have reported that they really send you gift cards when you have reached the limit.
However, we gave them only 2,0 out of 10. Why? Because the earning potential in Tellwut is so low. Those people who give it a better rating don't know about better ways to make money online.
You will probably spend 3-4 hours to earn your first $10 gift card if you are very fast on answering surveys and your Internet connection is great. That's much lower than a minimum salary in U.S. or Canada.
In the beginning of the post, I promised to tell you how I make money online. Here we go!
How I Earn Money Online? – No Surveys Included!
I have researched more than 60 survey sites and 250 make money online programs in total. I can't recommend any survey sites because the earning potential was so low. But there are a few step-by-step training programs that I can recommend. All of them are created by successful Internet marketers and they know very well how to earn a living online.
Here are my top 3 recommendations:
1.Wealthy Affiliate – The Best. 15 years in the industry. Everything you need for a successful online business.
2.Chris Farrell Membership – I love the way Chris Farrell teaches. Simply but effectively.
3.Zero Hour Work Days – Inspirational and cheap program by a young online marketer.
These programs teach slightly different strategies for making money online but I am using the one that Wealthy Affiliate teaches. It goes like this:
1.Choose an interest. (What is your passion? What is your main hobby? What do you like doing?)
My interest is at the moment making money online. I have also many other interests for example language learning, fitness and I can make money with those interests as well. Actually, I have a language learning website where I am using the same strategy and earning income as well.
2.Create a website. Nowadays it's possible to build a website in 30 seconds.
I created this website YourOnlinRevenue.com. Here I am teaching a different kind of strategies for making money online and reviewing make money online programs. Your website can be anything you want. I have seen some very successful mom or fitness blogs for example.
3.Attract visitors.
It doesn't help if you have a website but nobody visits there. You will get visitors by writing engaging articles to your website. Most of my traffic (70-80%) comes from search engines and the rest comes directly from writing my website's name or from social medias like YouTube, Facebook, Twitter and so on.
You can use whatever source of traffic you want by I recommend Google because it brings me consistent traffic whether I do anything or not. I can also teach you everything you need to know about getting ranked high on Google.
4.Earn revenue.
This is the most exciting part. I earn income by leaving links to different kind of products on my websites. When people go and buy something, I earn a commission. I follow the principle that I am only recommending products that I would use myself. That's why I don't recommend survey sites for example.
Would You Like to Earn Income Online Like I Do?
I guess that you are probably interested in making money online because you have come to my website. Then I have good news for you. You can learn the whole process what I explained above and make a full-time income (and much more!).
I recommend starting a step-by-step training in Wealthy Affiliate for completely free. You will immediately get 20 interactive video lessons, 2 high-quality websites, support from successful online entrepreneurs and much more when you join. You don't need a credit card or anything else.
I will welcome you in and lead you hand by hand to your online success. What do you think? 🙂
7-Day Make Money Online Email Course
Learn SIMPLE steps to make a LIFE-CHANGING INCOME online. I will help you hand-by-hand!