Ever heard of companies that give you expensive gadgets in exchange for your review? To be honest, this sounds way too good to be true. I'm pretty sure you've come across companies that give out free stuff like shampoo or chocolate samples in exchange for reviews, but giving out an iPhone 7 or MacBook retina for free?
Product Testing UK is a company that claims to give out expensive stuff in exchange for a review(s). But is this true? Can you just review and keep those pricey gadgets? Well, there's only one way to find out — enter this Product Testing UK review!
Right now, I'm going to review the company so you can understand how it works and see if it's worth a shot. Sounds good? Let's get started!
Product Testing UK Review

---

Name: Product Testing UK
Founded: 2012
Field: Product Testing
Overall Rank: 30 out of 100
Check out the system that I use to make money online. I write reviews of different kind of products and my income is steadily rising each and every month. It's so good that I have even quit my well-paying 9 to 5 job!
---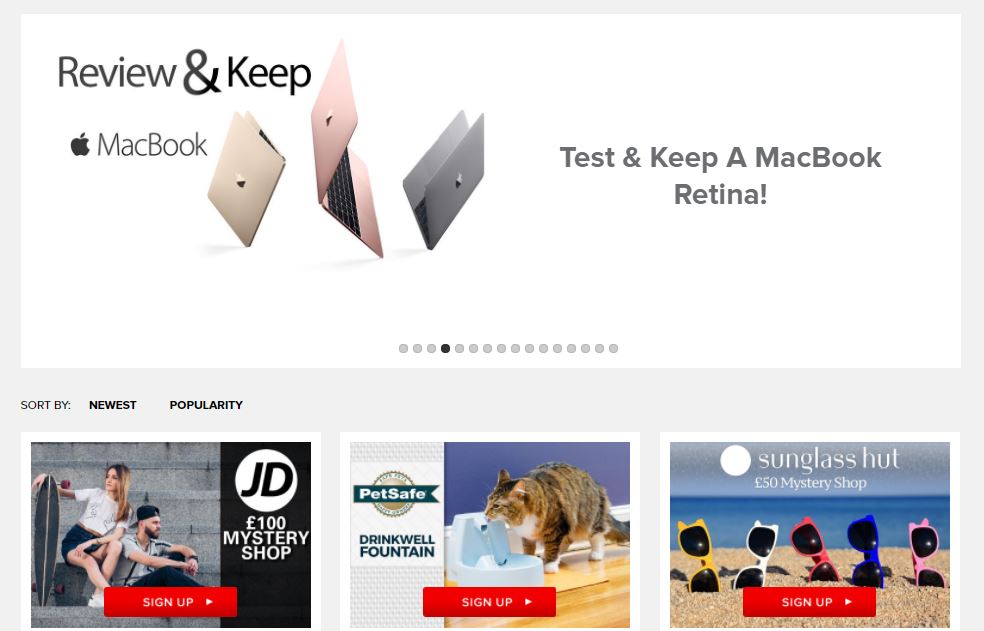 What Is Product Testing UK All About?
Product Testing UK is a website that gives out expensive products for review purposes. In other words, you're likely to get those pricey gadgets in exchange for your reviews. The site also claims to give you the opportunity to earn money as a mystery shopper.
The site has tons of products in various categories including gaming, technology, beauty, health, and fitness, etc. I'm pretty sure most people would be more interested in smartphones, laptops, gaming consoles and the like — well, the site has it all.
As I mentioned earlier, members can also make money as mystery shoppers.  This means that you can get paid when you visit a particular supermarket, shop and write a review about your experiences.
So, it's pretty clear that the site is all about getting free products to review and becoming a mystery shopper. Now, the issue is how you can actually get those products and make money as a mystery shopper. Let's proceed to the next phase of the review!
How Does Product Testing UK Work?
According to the site, you'll have to pick the product you want to test, receive the chosen product (based on selection) and test, review and keep the product for yourself. Sounds simple right?
For starters, when you enter their site, you'll get to see a number of products that you can select and apply to become a tester. You'll need to sign up and provide some personal details including your phone number, address, email, etc. There's also a long survey you'll need to fill before proceeding.
For the most part, Product Testing UK only accepts testers from the UK, USA, and Australia — so, people from other countries are unlikely to be accepted. What you should know is, Product Testing only give free products to people that are more likely to provide the type of feedback they need.
According to some users, you'll have to fill out a plethora of forms and eventually get tons of emails that are chock full of spam messages. Don't know about you but I really hate spam emails.
The truth is, this website actually gives out products for free in exchange for your review, but they only do so to a selected few. Once you visit their website, they'll make it seem like everyone will receive free products and that's misleading.
So, we can assume that the site is likely to pick ten to fifteen people out of thousands that sign up to get free products or make money as mystery shoppers. In other words, Product Testing would only choose the people they feel are capable of providing the exact kind of feedback they're looking for.
Moreover, the site is great at sending tons of spammy emails and offers to every applicant, and I'm pretty sure you're not a fan of spams. Some users who gave out their phone numbers also talked about receiving cold calls from time to time. Well, they stated this in their privacy policy — so it's more like getting what you signed up for.
Product Testing UK Reviews – Frustrated Clients
It's always wise to take a look what other people have liked their service. It can give us some very valuable information.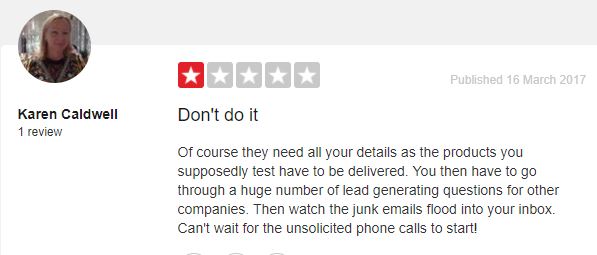 Karen writes in her review that Product Testing UK was asking so many details sending lots of junk email. We can logically also conclude that she didn't get any products that she would have wanted.
Do You Want a
FREE
& Easy-to-Follow
7-Day Course
to
Make Money Online
for Beginners?
Easy-to-Follow

Beginner-Friendly

My Personal 1-on-1 Support for You
Get Started for FREE Below Before this offer goes away!

Tommy points out the same thing as Karen. He received lots of spammy emails and no products to review. He doesn't trust this company. Let's have a look at one more review.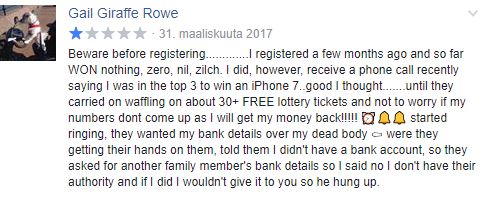 They also called Gail asking for his bank details which sound very strange and suspicious.
Despite all these negative reviews, there are also some positive reviews out there. Some members have really received some products from Product Testing UK. However, the problem is that probably 1% or less will get qualified for reviews.
Conclusion – Is Product Testing UK a Scam?
I can't say it would be completely a scam but at least it's giving lots of false hope and promises. They make it seem so easy to get many kinds of products for free but eventually only very few will be applied.
All in all, it's not worth the hassle. Most likely you will end up spending endless hours filling out their information sheets and papers without any reward. I think it's like playing the lottery. You may win something but the odds are against you.
Let's say that you would spend 1-2 years on their website and would receive one or two products for a review. It would be a mistake to think that they are free products for you. Time is money. What if you would have spent that time working what you have now spent on Product Testing UK website?
You would have earned the money to buy these products and much, much more. The conclusion is that I don't recommend joining this service. However, if you like to make money and get free products by writing reviews, I have great news for you.
I make money online by writing reviews. I have even quit my well-paying day job to have more time to do this. Let me explain how it works and how you can do it as well.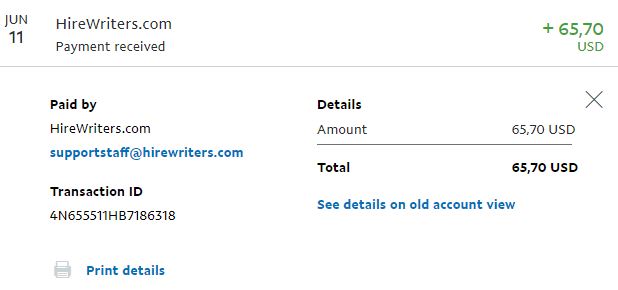 A Better Way to Make Money by Writing Reviews (I Use This Myself!)
First of all, you must choose an interest. What is the subject that you would like reviews? On YourOnlineRevenue.com we are writing reviews of "make money online" products and opportunities. On my other website LanguagesAreEasy.com, I write reviews of language learning programs and resources.
How do I make money with this?
I leave links to products that I like and I think would be useful for my audience. Wealthy Affiliate, for example, has taught me everything I need to make money online.
Their step-by-step training by Kyle helped me to create a website and start adding content. Then the training taught how I can get lots of visitors to my websites through Google and other search engines.
Traffic itself is not enough but Kyle, Carson and other online entrepreneurs in Wealthy Affiliate have helped me to convert my visitors into customers. Then I earn money by just leaving links to good products.
When I started out I didn't know anything about Internet marketing or websites. But many things have changed since joining Wealthy Affiliate. If you would like to learn also to make money by writing reviews, start a training for Wealthy Affiliate for free.
It's 100% free to join WA. I don't get any commissions when you register because you don't need to pay anything. You will get:
2 free websites
20 interactive video lessons to teach you how to make money online
Access to training classrooms
My personal support and all premium features for one week
Free website and all lessons you can have for a lifetime
You may be asking, "How much is it possible to earn by writing reviews?" Well, there is no limit. Some people are earning $1,000/month, some earn $5,000/month and some earn +$10,000/month and much more.
I hope you have enjoyed our Product Testing UK review.
What do you think about this opportunity?
What do you think about Product Testing UK?
I would love to hear from you in the comments below. I promise to reply to all of your comments personally. If you have any questions about making money online by writing reviews or any other thing, don't hesitate to leave them below! 🙂