Is Purium a Pyramid Scheme? How does their company work? Are the products worth promoting?
In this article we am going to take a look at Purium business opportunity. I'll explain you what their system is all about. I'll also give you my personal opinion and I think I can say a thing or two because I have researched more than 100 similar network marketing companies.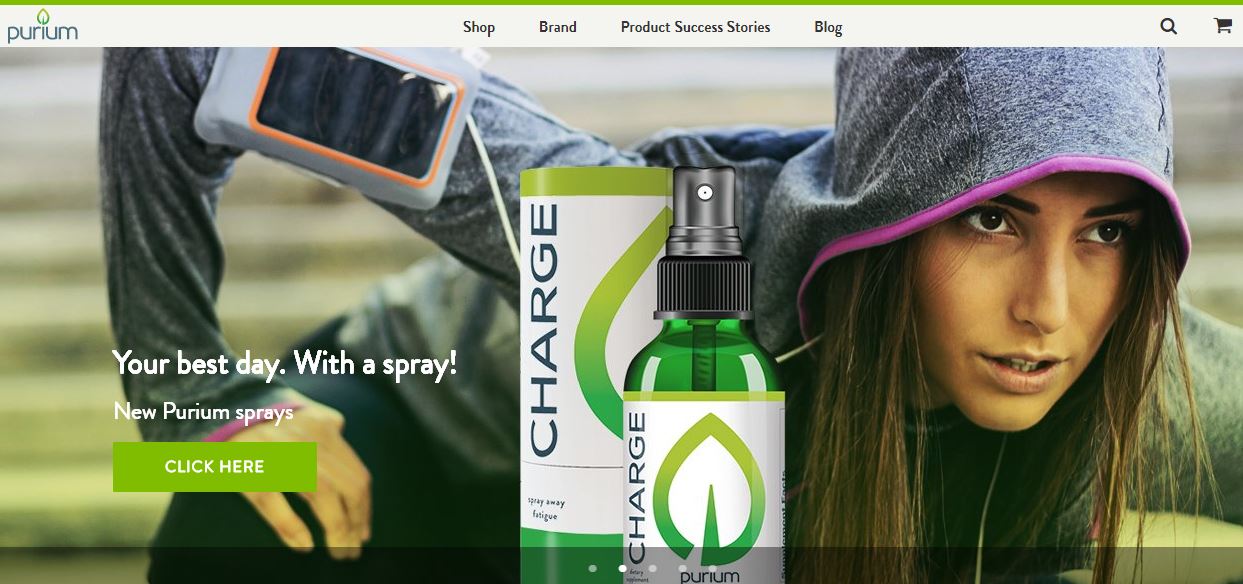 Purium Review
---
Name: Purium
Founded: In 1993 by Dave Sandoval
Type: Multi-Level Marketing. Health Products.
Short Review: Purium is a typical MLM-company selling overpriced products in the health & fitness industry. I don't get very excited about this company because they have so many negative customer reviews and the reputation is pretty controversial.
In my opinion, there are much better alternatives available for buying fitness products or making money from home. My #1 Recommendation for making money online is Wealthy Affiliate. Because their training has taught me and thousands of other people to make money online. They teach how you can earn money by promoting any products you want.
---
What Is Purium?
Purium health is a multi-level marketing company involved in selling health and diet related products. It was once known as Organic by Nature before it was re-branded to its current name. Founded in 1993 by Dave Sandoval, Purium adopts a holistic approach to life, and most of its products adhere to the principles of Naturopathy.
Its flagship project which is touted as the healthiest, simplest and fastest weight loss program is its 10-day transformation program that promises you a lifetime chance to lose between 5 to 20 pounds in 10 days while also resetting your metabolism. While this company may be legit product-wise, there are better options available out there especially if you are only interested in the online business opportunity. So, is Purium a pyramid scheme? Here are the facts.
Purium Products
One of its major product is the 10-day Transformation Program mentioned earlier whose kit includes several of the company's products, a tape measure, gym bag as well as an instructional guide. Basically, Purium Health boasts of over 100 products that are grouped into five categories namely weight loss, athletes, anti-aging, family nutrition and greens.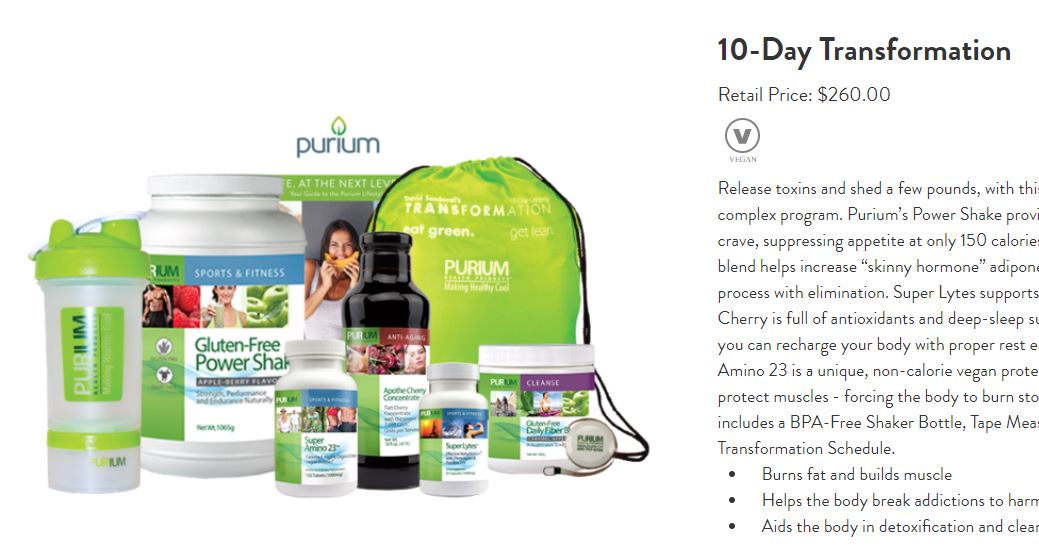 Weight loss products include a series of shakes, meal replacements/supplements while athletes products include supplements and shakes designed to improve the performance of an athlete as well as a 10-day transformation Program designed specifically for athletes.
Anti-aging products include skin creams and supplements designed to counter the effects of aging as well as products that take care of heart health, joint health among other parts of the body. The family nutrition products consists of meals and products that are specifically designed for the health of children. Greens are composed of supplements and organic juices produced from a variety of natural green plants.

I don't know what do you think about the pricing but in my opinion they are on the upper-side of the scale. That's why I am not a big fan of network marketing. I prefer buying and promoting products that have the best price/quality ratio. By the way, you can learn it as well by clicking the link below.
Purium Compensation Plan
The company says that the payment system at Purium Health is unique compared to similar multi-level marketing companies such as Herbalife, Kannaway, Mannatech, Visalus and others. Purium adopts a Gift Card marketing system where members get a set of $50 gift cards which they then distribute at their own will.
The members do not pay anything for the Gift Cards but will only receive any money after the Gift Cards have been redeemed for a 10-day Transformation Program kit. At this point, they make $50 with things getting even better if the person who redeems the Gift Card becomes a member too.
The idea behind this plan is that signing up new members is easy and quick through handing out gift cards while also giving you an opportunity to grow your network and increase income on purchases made by other people. Purium Health also comes with an array of bonuses and incentives for their Git Card distributors as they rise up the company's ranking system.
BUT
Notice that you get that "$50 gift card" only by spending money on their products. So actually it's just a discount from their  overpriced products. In the other words, it's just a marketing trick to try to get you to buy their products!
Anyway, I let one of their members explain you their compensation plan in a detailed manner. But before you check it out I remind you that he's trying to sell you their products and the system. Keep that in mind and don't get lured in by their hype.
Do You Want a
FREE
& Easy-to-Follow
7-Day Course
to
Make Money Online
for Beginners?
Easy-to-Follow

Beginner-Friendly

My Personal 1-on-1 Support for You
Get Started for FREE Below Before this offer goes away!
This is what they say in Purium, "The company also hires a Naturopath who offers its members free nutritional consultation services as well as recommend products based on an individual's medical history and lifestyle. Anyone who adopts a holistic approach to his or her health will find these products extremely beneficial.
Besides, these products are certified organic which is another advantage for those conscious of their health. This confirms the company's seriousness and commitment to creating and selling healthy products."
Well, all MLM-companies sing the same songs. They say their products are the best in the Universe, tested by top professional and doctors, blaa, blaa, blaa… 😉
Purium Reviews – BBB and Other Sources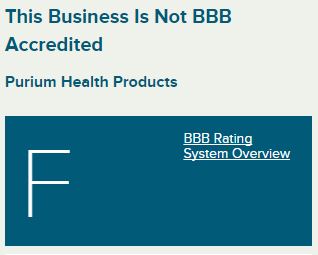 At the moment Purium is not BBB (Better Business Bureau) accredited and their BBB rating is F as you can see in the picture on the right side.
They have an average rating of 2,1 stars out of 5 based on 12 reviews on BBB. In my opinion, that's not very good. Also, their average ratings on Amazon aren't good compared to hundreds of other similar products.
Let me give you one example now and more in the next chapters:

A Purium Complaint
Purium Side Effects and Other Concerns
The 10-day Transformation Program has been regarded as too expensive, costing way over $200 plus this 10-day program is not backed up by any health or clinical research. The claims made about this program by Purium Health cannot be confirmed by any independent studies as well which means there are no guarantees. Participants of the 10-day program have also reported some side effects. Further, the company recommends that anyone contemplating on attempting its 10-day Transformation Program consult a doctor first before doing so especially those on any medication whether over-the-counter or prescription. This further raises doubts about the program.
Another issue with Purium Health regards several unresolved complaints most of which are filed under the Better Business Bureau. The fact that Purium Health has failed to resolve these complaints either willingly or otherwise is a matter of concern with regard to its customer service and business practices.
Another issue with Purium Health regards several unresolved complaints most of which are filed under the Better Business Bureau. The fact that Purium Health has failed to resolve these complaints either willingly or otherwise is a matter of concern with regard to its customer service and business practices.

Most customers have complained about experiencing side effects and that they were not able to drink the shake no matter what they mixed it with. Some of the side effects that most of these people experienced included nausea, headaches, stomach cramps, indigestion, low blood sugar, diarrhea, increased bathroom usage, reduced electrolytes, insomnia, extreme thirst, an inability to function normally and fatigue. Those who experienced extreme side effects were hospitalized with some actually collapsing while on the 10-day Transformation Program.
Is Purium Safe?
This is what they say on Purium, "Purium Health is a unique multi-level marketing company that is certainly an interesting option for those in need of an efficient and quick way to lose weight or anyone interested in Naturopathy or holistic living. Their compensation plan unlike most MLM firms could be a fruitful venture for those with a marketing and sales background. Its flagship 10-day Transformation Program has not been scientifically endorsed or independently verified by researchers hence it should only be used with approval from a licensed physician.
Purium Health products are regarded as wholesome with most of these with a primary purpose to support people on fasts. The benefits of this program is that it improves metabolism, keeps blood sugar levels stable, burn fat as well as promoting the well being of a person. Purium produces its products in a strictly GMP certified facility to ensure routine quality and 3rd party inspections. The philosophy behind their supplements is to provide minerals and vitamins in their naturally occurring chemical context.
This means that most of their products are isolates or extracts from herbs, vegetables and natural fruits as opposed to individual nutrient supplements. This ensures provision of minerals, vitamins and other biologically beneficial compounds such as phytonutrients. This also makes their supplements more expensive and more complex."
I think it's probably just BS. Take a look at this Purium review:

For many years now Purium has been on a slow decline in terms of popularity and the time will show whether it will turn or start going down.
Conclusion – Is Purium Worth It?
In this article I wanted to raise awareness of risks of Purium. In addition, I want to remind that making money with multi-level marketing doesn't ever happen overnight. If you have experience if building a business, you know what I am talking about.
Recently, I confronted with a company that was promising big income like $5,000-20,000/month with a little effort but I realized that their marketing strategy and the company itself is dishonest. If somebody promises you big money within a short period of time, don't run into that without making a huge research.
My #1 recommendation for making money online is Wealthy Affiliate. They have a completely honest training has taught me and thousands of other newbies for making a life-changing income online. They don't promise you riches overnight but you can for sure make +$10,000/month online if you work hard and persistently.
---
What do you think about Purium? What kind of experience do you have of other similar MLM-programs and products?
Let me know in the comments below! 🙂