Wouldn't it sound fun to earn money by listening to music? Especially if you are a music lover, it may sound very intriguing. You may be wondering if it's really possible or not. If you have already some experience of making money online, you can be thinking that the reward is probably very low.
Anyhow, in this article I am going answer all of your questions, "Can you really make money with MusicXray?" "Is Music Xray a Scam?" "How much money can you earn?" etc. If you don't get the answer immediately, you can always drop a question below and I will answer all of your comments and questions personally.
I have experience of more than 300 make money online opportunities so you can be 100% sure that I know what I'm talking about. 😉
Want to Get My 7-Day Email Course to Make Money Online?
Enter Your Email Below to Steal My PROVEN Formula to Create Your Own "Money-Making Machine" In a Week...
We respect your privacy. No Spam.
Music Xray Review
---
Name: Music Xray
Type: Earn Money by Listening to Music Online
Short Review: You can earn some little cash for playing Music Xray but the income is close to nothing. If you like listening to music, you can try it out but the income is so small that I wouldn't use it for that reason. If you are looking for better ways to earn money online, have a look at My #1 Recommendation for making money online.That program taught me to make a living online and nowadays I have a freedom to live wherever I want in the world.
---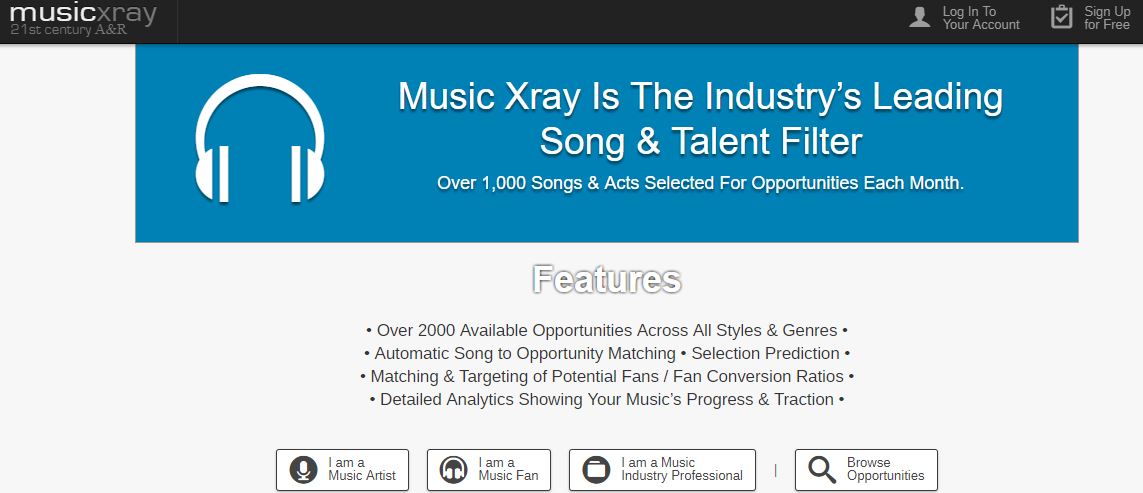 What Is Music Xray?
Music Xray is a website where you can earn money by listening to music. There are a few similar services on the Internet. You may know Slice the Pie, for example. As you can already assume, earning potential with such websites is very small. In my opinion, it's mainly a psychological trick to get more members.
If you are an artist or an aspiring musician, you can get feedback for your songs through Music Xray. It naturally costs something but it can be worth it if you get great feedback from listeners.
On the other hand, many members join Music Xray mainly because they hope to earn some extra cash instead of giving you the best feedback. It means that feedback for your songs can be sometimes quite monotonic: "Great song. I like it." "Thank you for creating this song." But of course, some members give more valuable feedback.
Next, we'll take a closer look at the process of making money on Music Xray.
How to Make Money on Music Xray?
Let's go through the process of making money on Music Xray step-by-step.
1.Register
Naturally, you need to register first. You can choose from 3 different account types: Music Artist, Music Fan or Music Industry Professional. If you want to earn some extra cash with Music Xray, you would choose Music Fan. Other two account names are quite self-explanatory.
Here's a video how Music Xray advertises their opportunity for their prospects: (Notice that they are advertising Music Xray here so the video is promotional.)
You need to choose your favorite genres and bands before you will get any new offers. Then you have a chance to get their offers but you still need to wait for a while. Music Xray will send you email invitations so that you can listen to new songs. It may take a moment or two.
2.Wait for Their Emails
When the time passes you will get offers to your email for listening to new songs. Then you'll click their link and start listening.
3.Listen to Songs and Give Feedback
You need to listen to one song at least 30 seconds before you can give feedback. They ask you a couple of questions so the artist will get some valuable insights about their song. For each song that you listen, you will earn $0,10 = 10 cents. Sounds like easy money but read further to find out if it really is.
4.Cash Out!
Music Xray has a payout minimum of $20. It means that you need to give feedback to at least 200 songs before you can get any money out of their website. You can imagine how much time it will take. You will need to check your emails regularly, listen to songs, answer their questions, etc… 200 times! Before earning your first dollars. (They will pay you through PayPal.
Do You Want a
FREE
& Easy-to-Follow
7-Day Course
to
Make Money Online
for Beginners?
Easy-to-Follow

Beginner-Friendly

My Personal 1-on-1 Support for You
Get Started for FREE Below Before this offer goes away!
You can already see that the earning potential from Music Xray is very low. If you are interested in better ways to earn money online, just click the picture below. I'll show you the way how I learned to make a living online.

Music Xray Reviews & Complaints
I have read several reviews of Music Xray. I'm always interested in hearing what other people have to say about these money-making opportunities. Here are some phrases what people said. I have added my comments below their reviews.
"It's fun to earn money by listening to music."
If it really is fun, you can go for it. However, you should think it rather as a hobby that takes your resources (time) rather as a good money-making possibility.
"The payout is so small that I'm just wasting my time."
Many members realize that Music Xray pays only very little. Even though you could earn 10 cents for each song that you listen to, there are not enough songs available for you.
"No songs available. I can't earn anything!"
In Music Xray, you need to patiently wait for new songs and opportunities. They don't offer you new songs all the time. If you could listen to their songs non-stop, you could earn almost $5 per hour. But in reality, your earnings with Music Xray are closer to $1 per hour.
"I couldn't listen to a song even though they sent me an offer."
If you want to listen to Music Xray songs, you need to be checking your email regularly. Otherwise, offers are gone when faster members go and check the offers first. Checking emails all the time to look for Music Xray offers can be a huge time-waster and a distraction if you would like to concentrate on more important things.
All in all, Music Xray reviews are not very positive. Have a look, for example, in the picture below. The payout is even smaller than in online surveys and you can't earn passive income through Music Xray.

Conclusion – Is Music Xray Legit Or a Scam?
Music Xray pays their members so it's definitely a legitimate company. However, I am not using their services myself because the pay out is so small. There are a million more profitable ways to earn money online.
I enjoy listening to music and it would be nice to get paid for that but with Music Xray, you will only earn something very little. I'd rather divide my time like this: 1.Work to earn money and 2.Listen to music to relax. Then I will earn many times more than I would make from Music Xray and I'll enjoy the music more as well.
With Music Xray, you need to accomplish several other tasks in addition to listening to music. Check your email regularly, click their emails, give feedback and ratings, etc.
If you are interested in earning money online, I recommend taking a look at Wealthy Affiliate. Their training has taught me and thousands of other people all around the world to earn a living online. At the moment they have already more than 850,000 members (and counting).
I know also many music-lovers who are making money through Wealthy Affiliate. One amateur musician called Alex Sol, for example, achieved a great success. He has been making +$10,000/month online with WA-training. Some people make less but that's just an example. If you want to earn only some extra income, that's also fine. Who wouldn't like extra $500 per month?
What do you think about Music Xray? Have you tried similar services?
What are your favorite ways to earn money online?
Let's discuss in the comments below! 🙂
I'll be more than happy to reply personally to all of your questions and comments. I love hearing your thoughts.